My soft and chewy cookie dough is packed with all the sweet, spicy flavours of Hot Cross Buns; mixed peel, raisins, sultanas and mixed spice. This is an Easter treat which will have you coming back for more!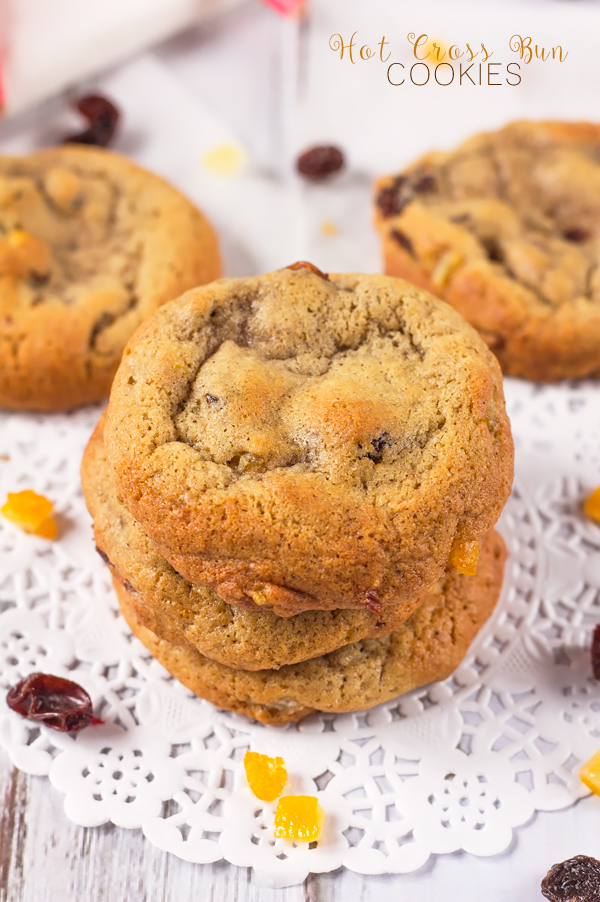 Hello!! I am SO excited for today's post because 1) cookies and 2) Annie's Noms has had a serious makeover!!
Do you like it??!?!? It's been in the works for the last few months and I'm so happy with it. I've added in a little more colour and personality and hope that the site is much more user friendly and visual. I really hope you'll have a look around and see for yourself!
A quick note: We *THINK* we got everything moved correctly, but of course there's always a risk we missed something; so if you find any errors/dead links etc. drop me an email and we'll rectify it, thank you!!
Now, whilst, I may have designed all the visual elements for the re-design; this honestly wouldn't have been possible without my IT genius fiancé. I am going to be saying thank you for a LONG time! He has been wonderful, working on the weekends on my site, whilst also running huge projects at work all week. I think I'll keep him…
I also think these Hot Cross Bun Cookies might start me off on the right foot to thanking him…
For me, Easter is allllll about Hot Cross Buns (and Creme Eggs….oh and possibly Mini Eggs) – toasted with butter, straight out of the packet… as long as they're soft and full of fruit I'm in.
So, what is a cookie monster like me to do? Take all the elements from Hot Cross Buns and turn them into the most insanely delicious cookie ever. Obviously.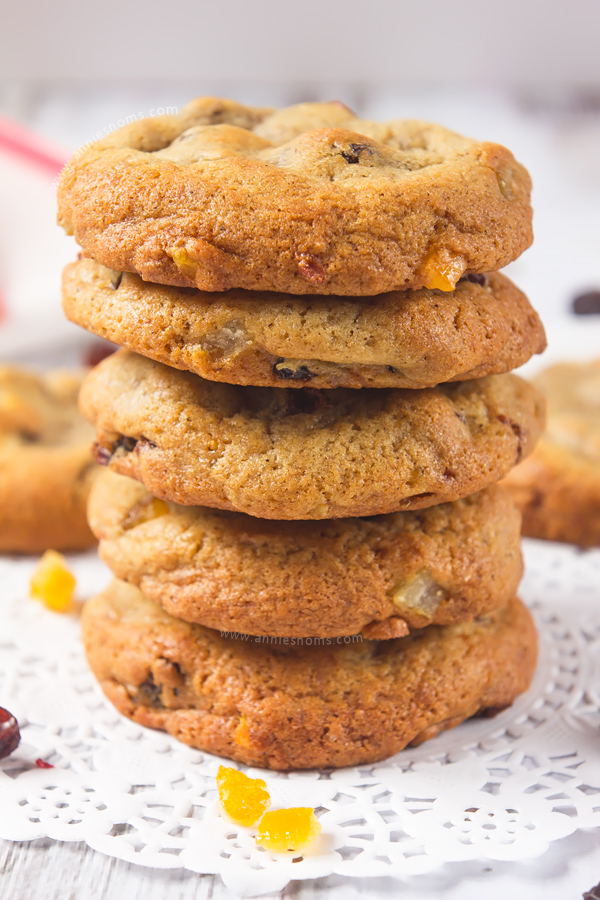 SHOCK HORROR. These cookies DON'T have ANY chocolate. I honestly never thought I'd see the day when a cookie came out of my kitchen without chocolate. There are always a ton of oozing, melty chunks in every cookie I make.
However, for once in my life, I decided to be traditional and stick to the fruit filled wonders of proper Hot Cross Buns.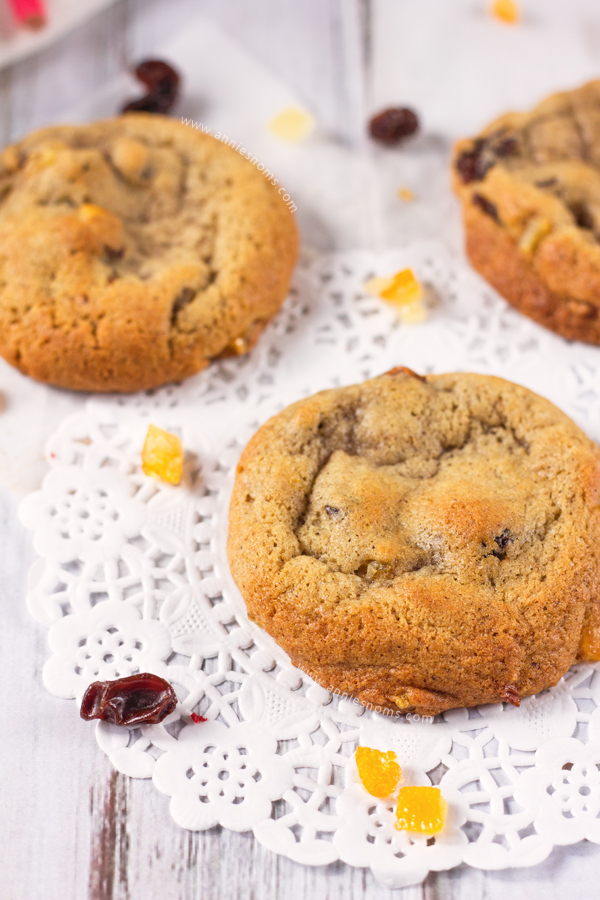 And I'm glad I did. Of course, I had to make sure that there was either a sultana, raisin or some mixed peel in each bite, so there's almost two full cups of dried fruit in the dough!
Along with that plenty of mixed spice, 1 tablespoon please. It seems like a lot, but it's the perfect amount – you'll totally thank me once they come out of the oven and you bite into one. 🙂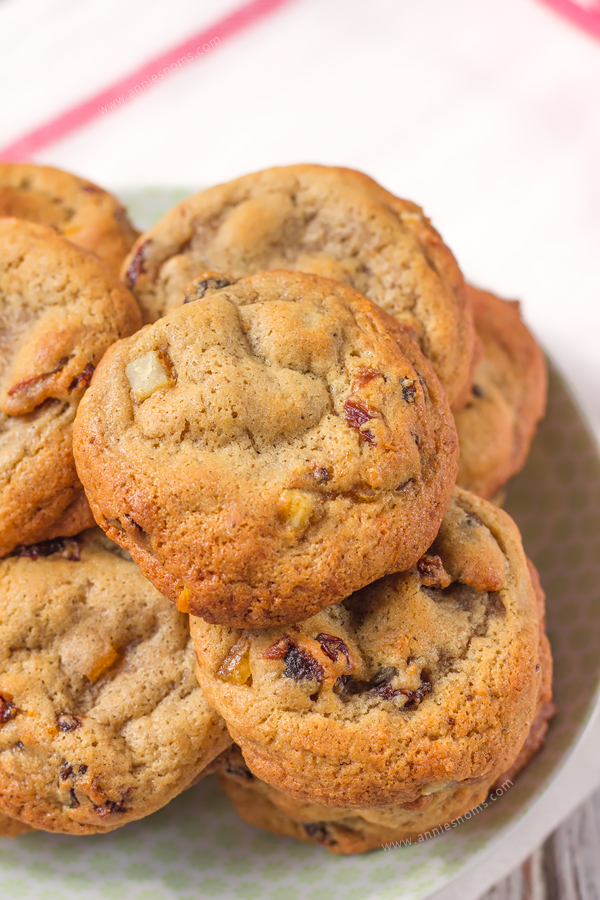 I actually learnt something when making this dough too: the correct difference between raisins and sultanas! I always thought one was made from dried white grapes and the other from red; that is true of currants and raisins, however, sultanas and raisins are both made from white grapes!! Did you know that?
OH has asked me what feels like 100 times the difference and I've been wrong all along!! Whoops, sorry! 😀
Raisins are dried white grapes, whilst sultanas dried seedless white grapes – I did know that they are plumper and sweeter than raisins, but now I fully know the difference!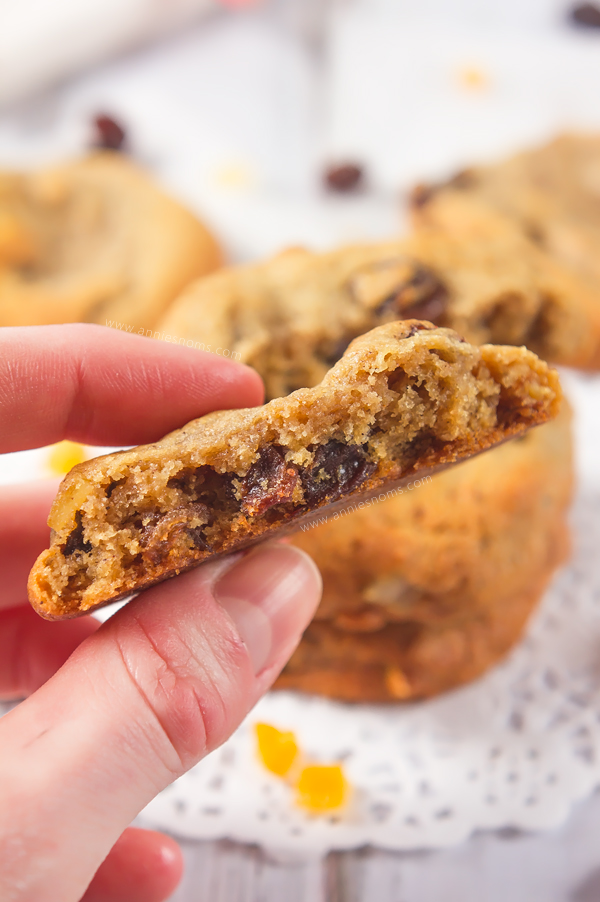 In these cookies there's 3/4 cup of each meaning you get rich, dark raisins and juicier sultanas (golden raisins in the US) all mixed up with tart mixed peel!
Each bite of a cookie is a huge taste sensation, the flavours just explode in your mouth and all those flavours inside my perfect soft, chewy cookie dough makes the best cookie I've had in a while! – You simply must make these cookies!!!

Hot Cross Bun Cookies
My soft and chewy cookie dough is packed with all the sweet, spicy flavours of Hot Cross Buns; mixed peel, raisins, sultanas and mixed spice. This is an Easter treat which will have you coming back for more!
Ingredients
1/3

cup

(65g) mixed peel

3/4

cup

(125g) raisins

3/4

cup

(125g) sultanas;

golden raisins in the US

2

cups

(280g) plain flour

1/2

cup

(70g) bread flour

1

tbsp

cornflour

1

tbsp

ground mixed spice

1 1/2

tsp

bicarbonate of soda

Pinch of salt

3/4

cup

(150g) light brown sugar

1/2

cup

(100g) caster sugar

1 3/4

sticks (200g) unsalted butter,

at room temperature

2

large eggs

1/2

tsp

vanilla extract

1/2

tsp

lemon juice
Instructions
No need to preheat oven yet, this dough needs to chill!

Place mixed peel, raisins, sultanas, flours, mixed spice, bicarb and salt into a medium sized bowl and stir until the fruit is coated in flour. Leave to one side.

Place sugars and butter into a large bowl, or the bowl of your stand mixer and beat until light and fluffy, about 2 minutes on med-high speed.

Add in the eggs, vanilla and lemon juice, scraping sides of bowl as necessary, and mix until well incorporated, about 1 minute on med-high speed.

Tip the flour mix into your egg mixture and mix on low until a soft dough forms.

Tip dough back into the bowl you measured your flour into and cover with clingfilm.

Place in the fridge for at least 6 hours, overnight if possible. Once chilled, preheat oven to 180C/350F and line 3 baking trays.

Using a 1.5tbsp cookie scoop, place balls of dough 2 inches apart on your lined trays. Flatten each ball ever so slightly to stop them rolling away!

Place in the oven for 9-11 minutes, until risen, golden around the edges, but still a little soft in the centre - you want them a little under baked in the centre, but if they still look wet/greasy in the middle, they're not quite done, return to oven for 2 minutes, then check again.

Leave to cool on the trays for at least 10 minutes, before transferring to a wire rack to cool completely.

Once cooled, cookies will keep in an airtight container, at room temperature for a week.
Notes
Recipe by Annie of Annie's Noms