These Marshmallow Swirl Creme Egg Brownies are too decadent for words! Super fudgy brownies, packed with smashed Creme Eggs and swirled with sweet, sticky Marshmallow Fluff – a chocolate filled treat for Easter!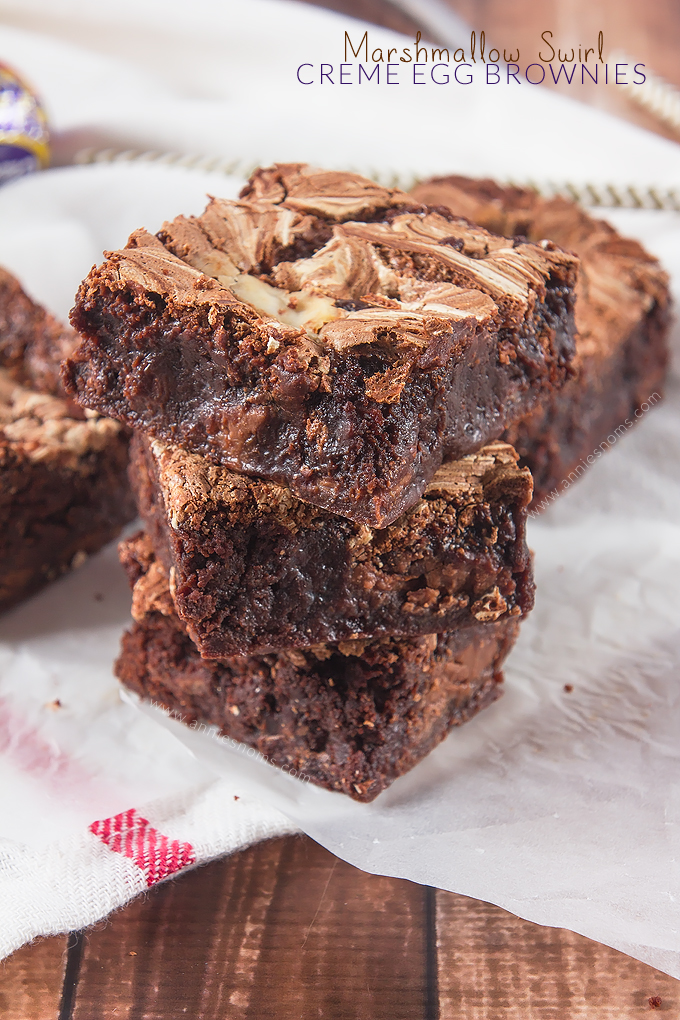 Ever do a photo shoot and just know it went badly?
Then you upload all the photos to your Lightroom and your worst fears come true when you find that even though your brownies were the most fudgy, decadent, chocolate-y, gooey heaven ever, the photos are just… YUK.
Yeahhhhh…. that happened with these. Brownies are something I have always struggled with. I adore making (and eating) them, but I can NEVER do them justice in photos.
#foodbloggerproblems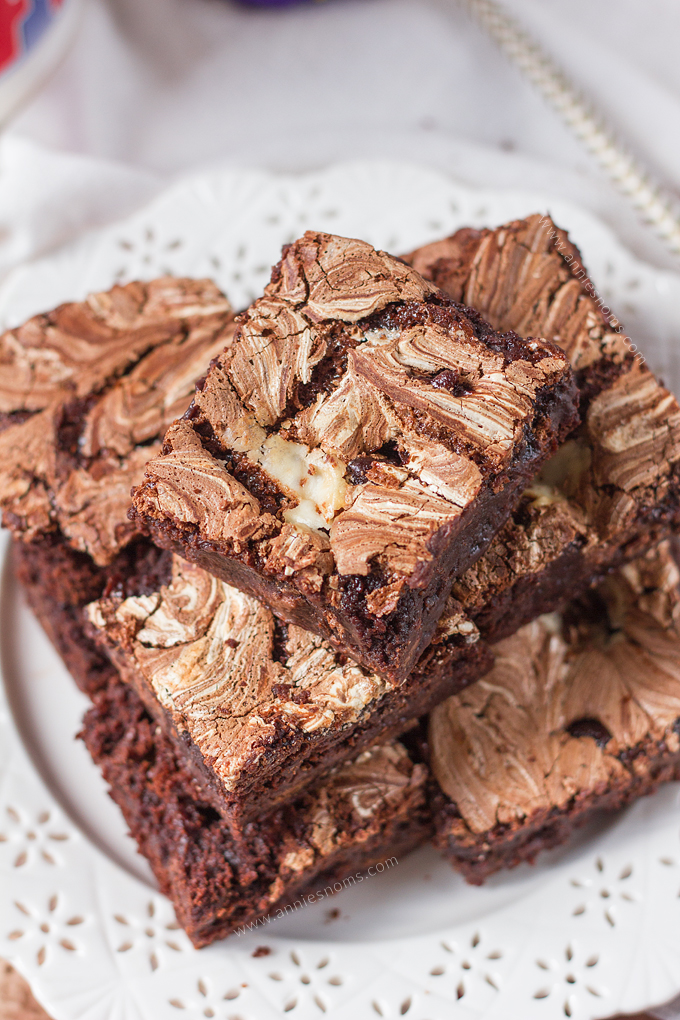 Any of you have any tips for making brownies look edible in photos?
Leave them below – I need all the help I can get! 😀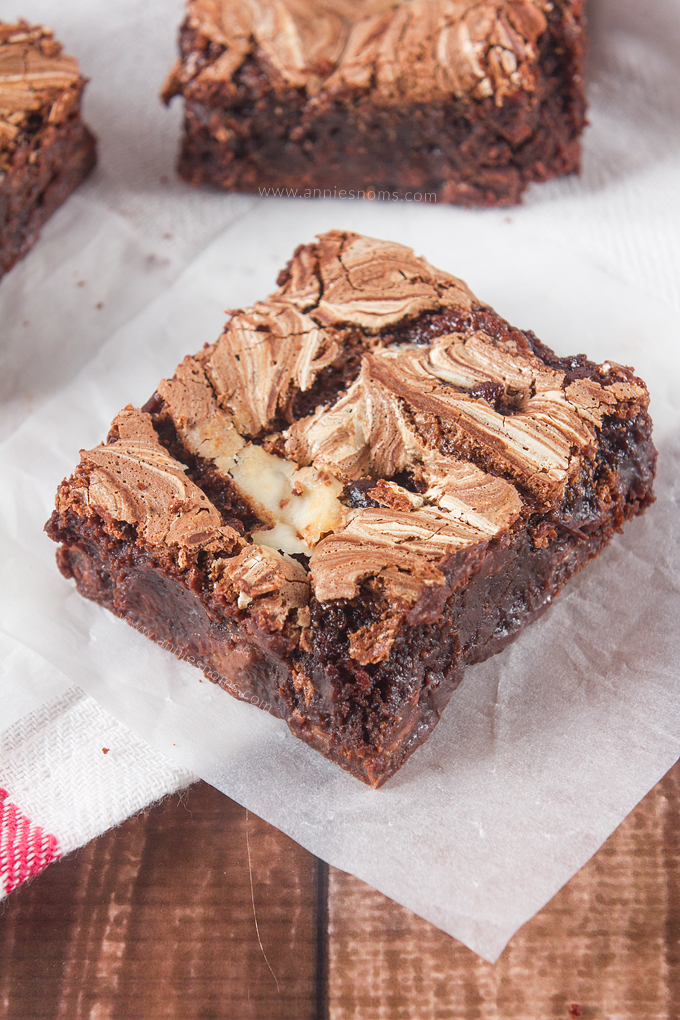 So, ignoring the fact I can't take a photo of brownies, I'm going to attempt to tell you how AWESOME these brownies are.
I was going to just make Creme Egg brownies… but I've seen them before and whilst I know they'd have been amazing (because… Creme Eggs. Duh.) I just felt like they needed an extra something.
Enter Marshmallow fluff.
100% sugar high in a jar.
But it tastes SO GOOD.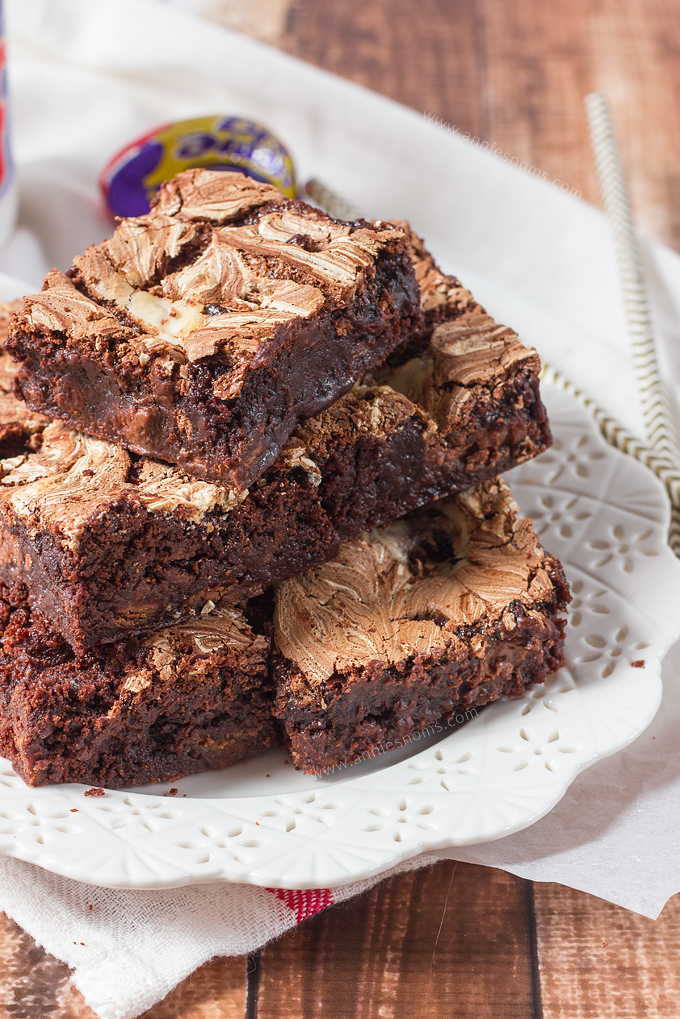 To create the most epic brownies I've ever tasted, I made my super fudgy cocoa powder and melted chocolate filled brownies, before folding in some smashed mini Creme Eggs, swirling in some fluff and then finishing them off with full size creme eggs.
Honestly, people will kill for these brownies. Hands down the best ever.
The marshmallow fluff gives the most chewy top to your brownies. Then there's the creme eggs.
I used 1 cup of mini Creme Eggs, then I used 4 full sized ones, cut in half and placed in the top to bake into the top of the brownies. Just bliss.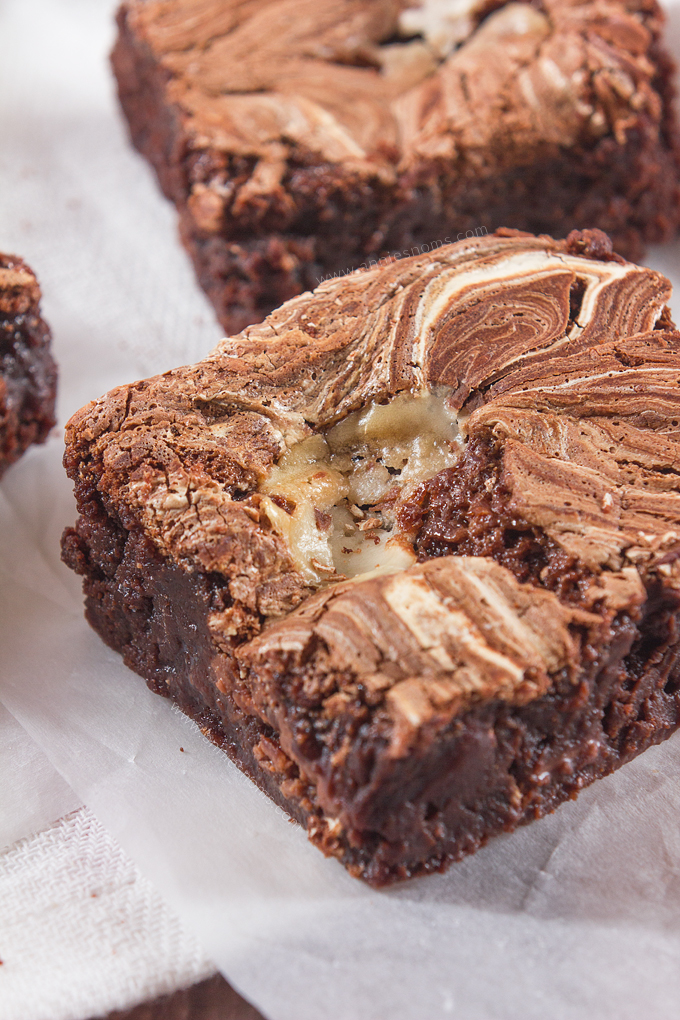 I totally dug straight in with a spoon 0.5 seconds after I took them out of the oven. That's perfectly OK right? (at 9am????).
I may or may not have burnt my tongue with molten Creme Egg goo… No pain, no gain, right?
If you're anything like me, #allthechocolate is why I love Easter so much. Hence, these brownies. I don't think they could get any more decadent, but you can be the judge of that when you go make them. NOW.

Marshmallow Swirl Creme Egg Brownies
These Marshmallow Swirl Creme Egg Brownies are too decadent for words! Super fudgy brownies, packed with smashed Creme Eggs and swirled with sweet, sticky Marshmallow Fluff - a chocolate filled treat for Easter!
Ingredients
3.5

oz

(100g) dark chocolate

I always use Green and Blacks

1

stick (113g) unsalted butter

2

large eggs

1

cup

(200g) light brown sugar

1

tsp

vanilla extract

1/2

cup

(70g) plain flour

1/4

cup

(25g) cocoa powder

1/2

tsp

baking powder

Pinch salt

1

cup

(185g) mini Creme Eggs

4

full size Creme Eggs

3.5

oz

(100g) Marshmallow fluff;

around 1/2 a 7oz jar
Instructions
Preheat oven to 180C/350F and grease and line an 8 x 8 inch square tin.

Place dark chocolate and butter into a heat proof bowl and place in the microwave, in 20 second increments, stirring in between until melted and smooth. Leave to one side.

Place eggs, sugar and vanilla extract into a large bowl and whisk until well combined and slightly frothy. Leave to one side.

Sift flour, cocoa powder, baking powder and salt together into a small bowl. Leave to one side.

Take your slightly cooled melted chocolate and pour into your sugar/egg mixture. Whisk until well combined and smooth.

Tip in your sifted flour mix and fold in gently with a spatula, just until the mixture is combined.

Place mini Creme Eggs into a Ziploc bag and beat with a rolling pin until you have Creme Egg rubble. Some large and small bits are fine.

Tip the Creme Egg rubble into your brownie mix and fold in gently.

Tip brownie mix into your greased and lined pan and smooth until level.

Place marshmallow fluff into a small bowl and microwave for 15 seconds (optional, but it makes it easier to work with!)

Spoon marshmallow fluff evenly over the brownies and then take a skewer and swirl the two mixtures together.

Slice your 4 full size Creme Eggs in half and place in the top of the brownies (I did 3 halves at the top and bottom and 2 in the middle, so 3 rows in total)

Place in the oven for 25-30 mins until risen and puffy. The edges will be done, but the middle will still be soft and pillowy, so at this stage turn the oven down to 160C and bake for a further 15-20 mins, until a skewer into the centre comes out with just a few solid crumbs.

Once baked, leave to cool in the pan completely.

Once cooled, transfer to a cutting board and slice into 9-12 bars.

Brownies will keep in an airtight container, at room temperature, for 4 days.
Notes
Recipe by Annie of Annie's Noms