This Lime Biscotti has flakes of coconut inside it and is then dipped in melted white chocolate before being covered in more coconut flakes. Easy to make and the perfect accompaniment to your afternoon coffee!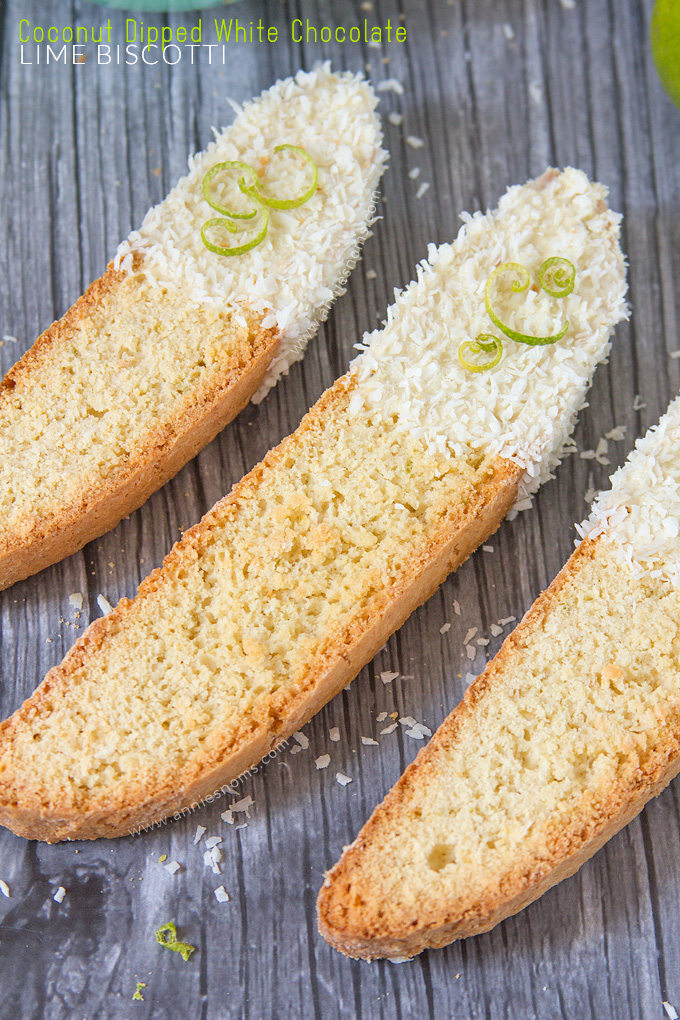 You have no idea how long my fiancé has been asking me to make Biscotti.
We are talking years people.
But, being a food blogger, other things frequently come to me at the most inconvenient times and these things I simply must.make.now.
So biscotti just kept getting put further and further down the list even though I know I love it and wanted to make it!
#foodbloggerproblems
Too much chocolate syndrome. I think of all the decadent chocolate cakes, cookies etc. and little old biscotti falls off my radar.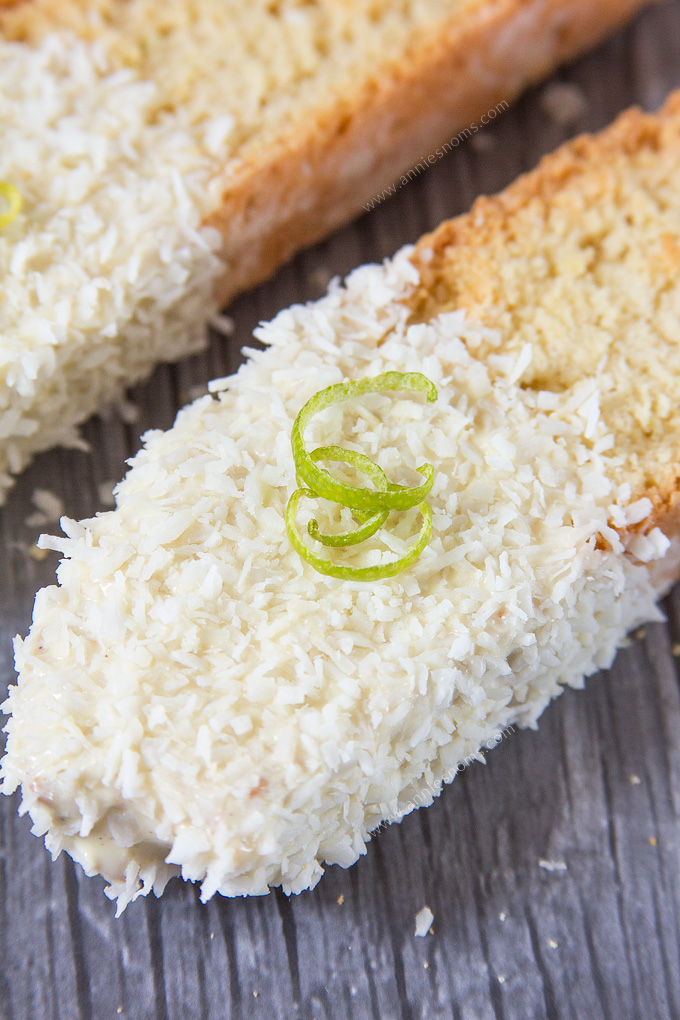 But, boy am I glad I finally got round to make it!
It's super simple, you get this nice, soft dough, but you don't have to knead it – which is a huge plus in my book as dough is one thing I don't enjoy.
You just shape it into a flat-ish loaf and bake until golden.
Then you have to have some patience (of which I have none) whilst it cools enough to slice.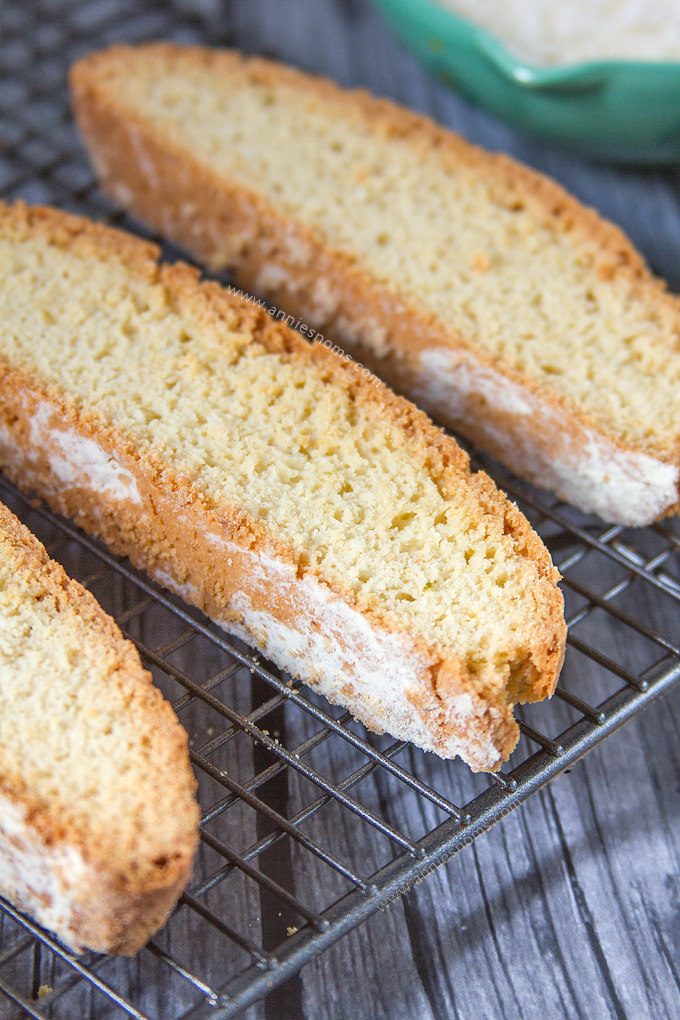 It's this slicing and double baking which gives the biscotti it's super crisp edges and that glorious crunch we all know and love.
I'm not normally a dunker, but with biscotti I cannot help myself. That baby goes straight into my coffee.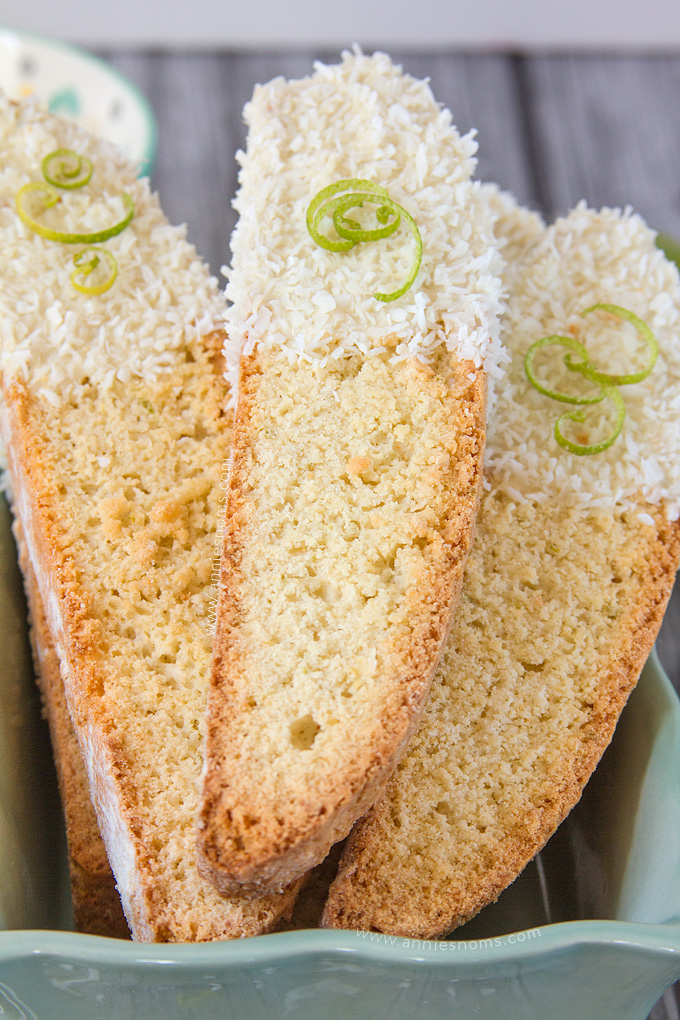 So, let's talk about the flavours. Lime zest is placed in the biscotti mix, with some coconut flakes in there for good measure. I contemplated putting white chocolate inside the biscotti as well, but OH agreed he thought that would be too much as I was already planning on dipping it in white chocolate.
There's only 1/2 a stick of butter in this recipe along with 2 eggs and some lime juice. That's it in terms of wet ingredients, there are 2 1/2 cups of flour along with 1 cup of sugar to create an easy to work with dough.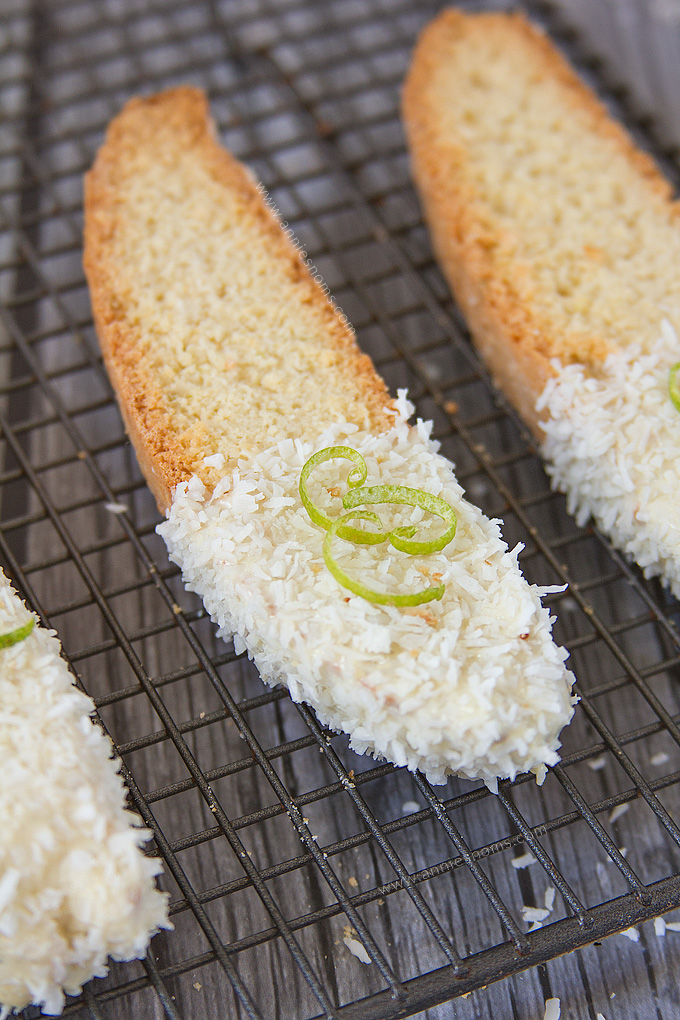 Now, the fun part, tipping that dough out onto a floured surface to shape it into a loaf. Many recipes I've read divide the dough in half and make two loaves. Well, when I tipped my dough out it didn't look like it would make two loaves, so I made one loaf which was probably 10 x 5 inches.
Then it was like puffy magic in the oven. It at least doubled in size. I looked through the oven door and was like :O :O :O :O it's HUGE!
But when I took it out and sliced it up, I actually didn't have a problem with the size. I ended up with good sized biscotti. So, I'm giving you the directions for making one larger loaf, or two smaller loaves in the recipe box. 😉
Just because I like big biscotti doesn't mean you do!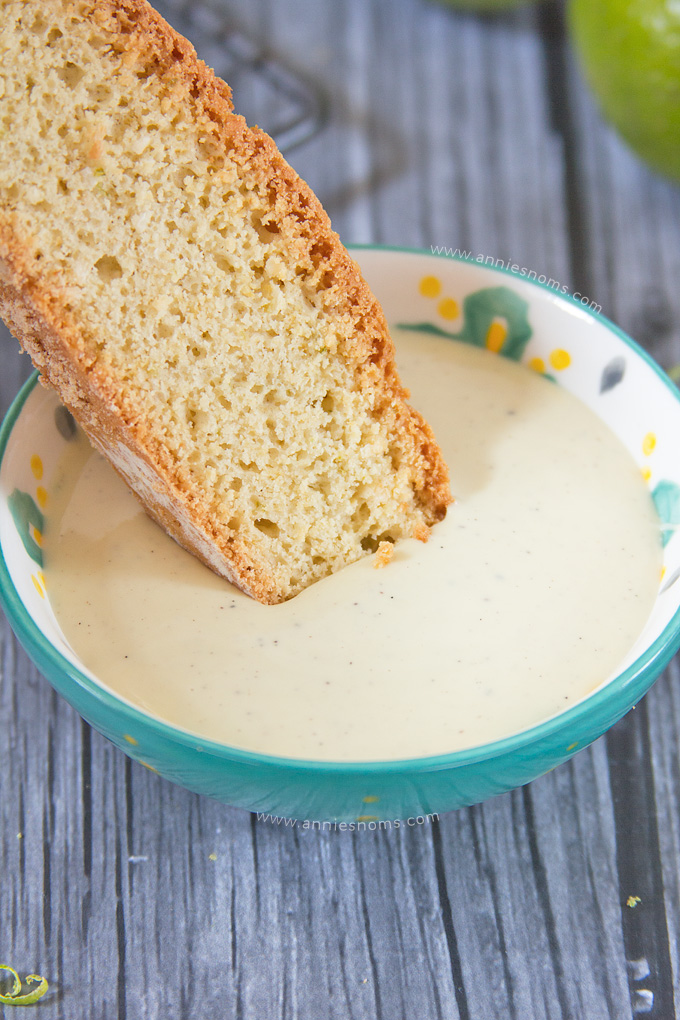 The biscotti will be ever so slightly soft in the very centre when you take it out of the oven for the second time, but feel crisp everywhere else. This is fine as it will harden as it cools. The crust should be evenly golden, not a very dark brown otherwise they will cool to be like rocks.
Nobody wants biscotti rocks you could build a house from.
Once they've cooled, I melted some Green and Blacks white chocolate and brushed it over the ends of my Biscotti. To finish off I dunked the melted chocolate into desiccated coconut/small flakes.
(The only "flakes" of coconut I could find were absolutely huge, so I used desiccated, but I have seen bags labeled as "flakes" being more like desiccated coconut in other shops!)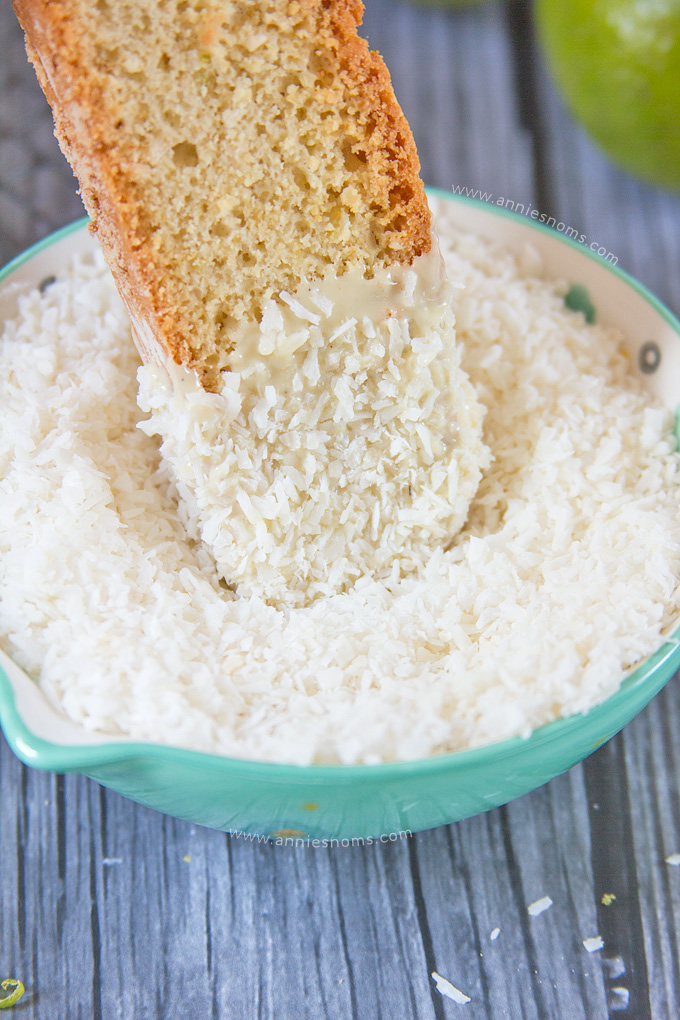 Try to let the chocolate set and then get to work, dunking your crunchy, zesty, chocolatey biscotti into that coffee mug.

Be sure to hashtag any of my recipes you make with #anniesnoms on Instagram!!
Coconut White Chocolate Dipped Lime Biscotti
This Lime Biscotti has flakes of coconut inside it and is then dipped in melted white chocolate before being covered in more coconut flakes. Easy to make and the perfect accompaniment to your afternoon coffee!
Ingredients
For the biscotti:

1/2

stick (56g) unsalted butter,

at room temperature

1

cup

(200g) caster sugar

Zest of 2 limes

2

large eggs

1/2

tsp

vanilla extract

3

tbsp

lime juice

2 1/2

cups

(350g) plain flour

1

tsp

baking powder

1/2

tsp

bicarbonate of soda

1/3

cup

(30g) desiccated coconut

Pinch salt

For the topping:

7

oz

(200g) white chocolate

2/3

cup

(60g) desiccated coconut
Instructions
Preheat oven to 180C/350F and line a baking tray with a silicone mat/silpat or grease-proof paper. I prefer a silicone mat.

Place butter, sugar and lime zest into a large bowl or the bowl of your stand mixer and beat until all the butter is combined with the sugar. It will not come together as if you're making a cake, it will be crumbly. This is fine.

Add in vanilla extract and eggs, scraping sides as necessary and mix until well combined.

Add in lime juice, flour, baking powder, bicarb, desiccated coconut and salt and then mix on low until a soft dough forms. The dough will start to pull away from the sides of the bowl.

Flour your lined baking tray and tip the dough directly onto it.

Lightly flour your hands and then shape into an oblong loaf, around 2 inches thick,10 inches long and 5 inches wide.

For 2 loaves: tip dough onto floured baking tray, divide in half and then shape into two oblong loaves, leaving 3 inches between the loaves on your tray.

For 1 large loaf: place in the oven for 25-30 minutes until the top is slightly cracked, the edges are golden and it feels crisp to the touch in the centre, it shouldn't feel very soft in the middle as this means it's still raw in the middle!

For 2 loaves: Place in the oven for 15-20 minutes, follow directions as above to tell when they are done.

Leave your biscotti to cool for 15 minutes, but do not turn off the oven. Once you can handle the loaf, slice into 1 inch thick slices using a serrated knife, you can cut them straight or at a slight angle, I sliced mine at an angle as I think they look nicer!

Leave biscotti standing up as you've sliced them, but leave a little space around each one.

Place back in the oven for 15-20 minutes until the crust is golden all over and the middle of the slices feels firm to the touch. In the very, very centre they may feel ever so slightly soft, this is fine, they will harden as they cool.

Leave biscotti to cool completely, before placing white chocolate into a heatproof bowl and heating in the microwave, in 20 second intervals, stirring in between, until melted.

Dip one end of each biscotti slice into the melted chocolate and then use a pastry brush to brush the chocolate 1/3 of the way up your slice.

Dip chocolate covered end into desiccated coconut and then place on a wire rack to set. Repeat until all your biscotti are dipped and covered in coconut.

Once set, biscotti will keep in an airtight container, at room temperature, for 5 days.