This shop has been compensated by Collective Bias, Inc. and its advertiser. All opinions are mine alone. #CollectiveBias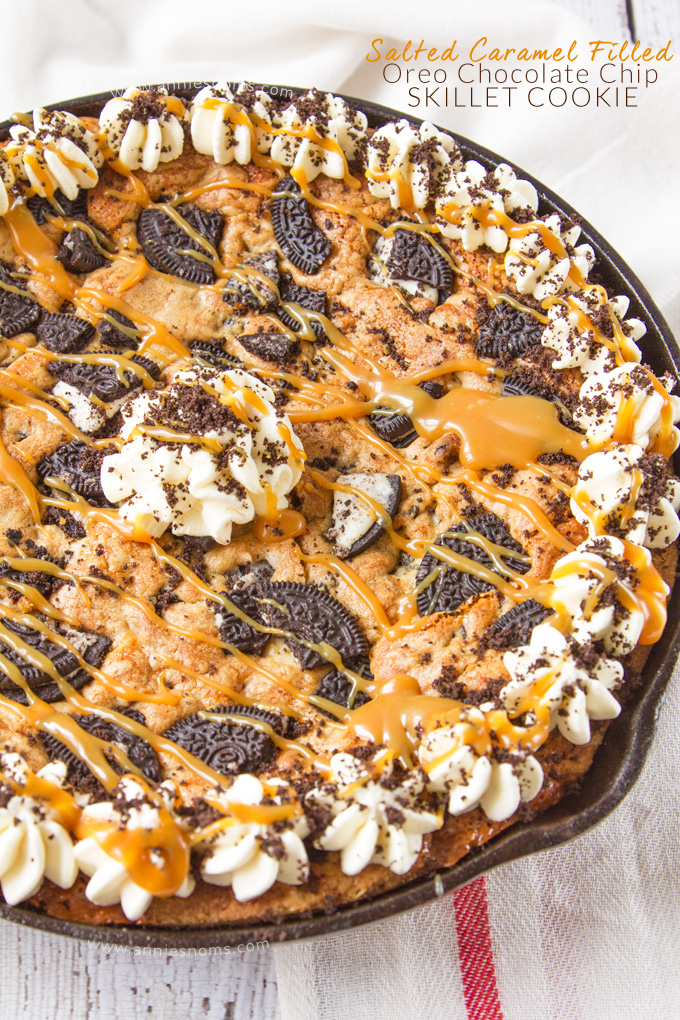 Oh my goodness, do I have a recipe for you today?!
You know how I've been going on for ages how I must make a skillet cookie?
Well I finally got round to it and I went completely overboard and created the most insane Salted Caramel Filled Oreo Chocolate Chip Skillet Cookie.
Try saying that quickly.
By now you must know I'm an Oreo addict. This, these and these are just a few of the Oreo concoctions I've developed recently, which inevitably means Oreo's are often on my shopping list.
This week, when we headed to our local Tesco, it was no different. I headed straight to the biscuit aisle and loaded up on more Oreo's to make this skillet cookie. A single pack was not enough for this amazing recipe, so a double pack it had to be!
Then came the fun part of developing the recipe and making it! I based the recipe on my favourite cookie dough and made sure to add plenty of Oreo's. There's a full sleeve inside the dough alone.
Then I added in 1 cup of semi-sweet chocolate chips because cookies simply MUST have chips in… I'm sure you'll agree… 😉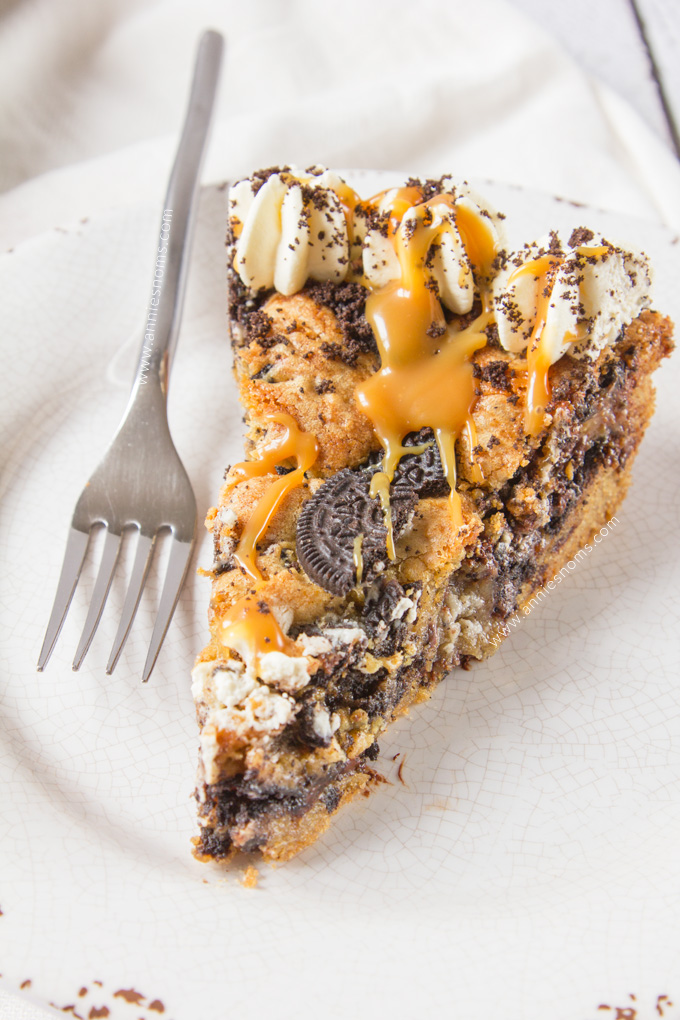 I normally wait for my dough to chill before shaping it and baking into cookies, however, with this skillet cookie, there's no chilling, you just tip the dough straight into your greased skillet.
Which also means in less than 45 minutes you could be face planting this skillet cookie.
I started by placing 2/3 of the dough into my skillet, then spooning 1/2 cup of salted caramel sauce all over it. That's right, there's a layer of salted caramel inside this cookie too!
Then I topped the salted caramel with the remaining cookie dough and made sure to press a few shards of Oreo cookies into the top to make it look pretty. 🙂 Of course you can just add these straight into the dough if you want.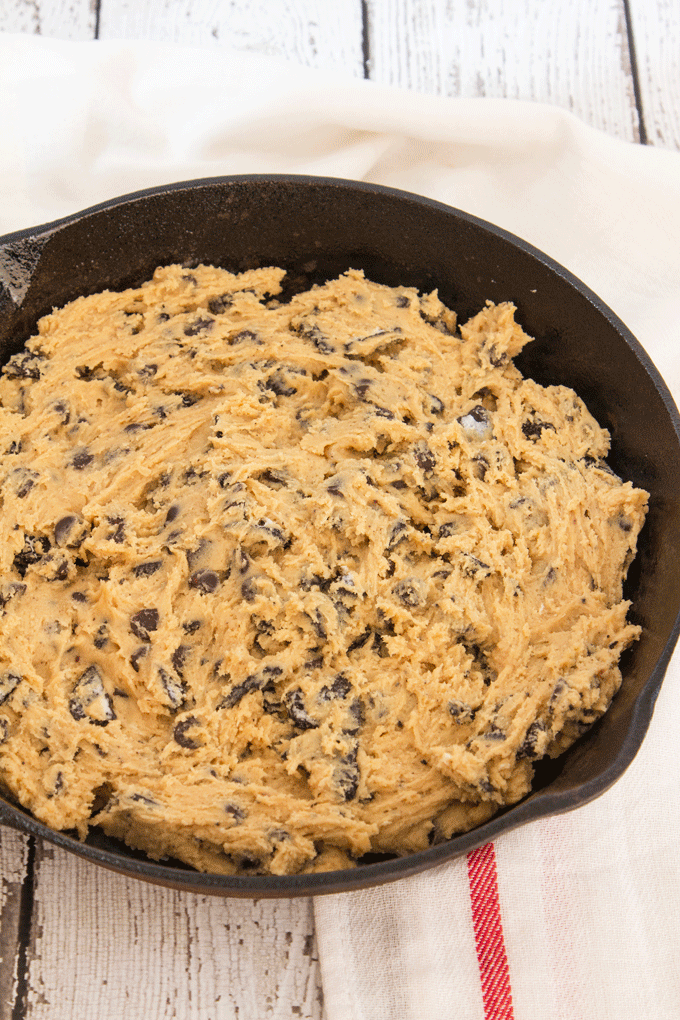 Place it in the oven for 23-28 minutes and you'll have a golden, bubbling, gooey, Oreo, chocolate, caramel stuffed cookie that you will want to eat forever and ever. Get your fat pants ready.
I am not ashamed to admit, I got a spoon straight out and tried a bit. Hence the picture only showing you half the cookie… well someone has to taste it, right?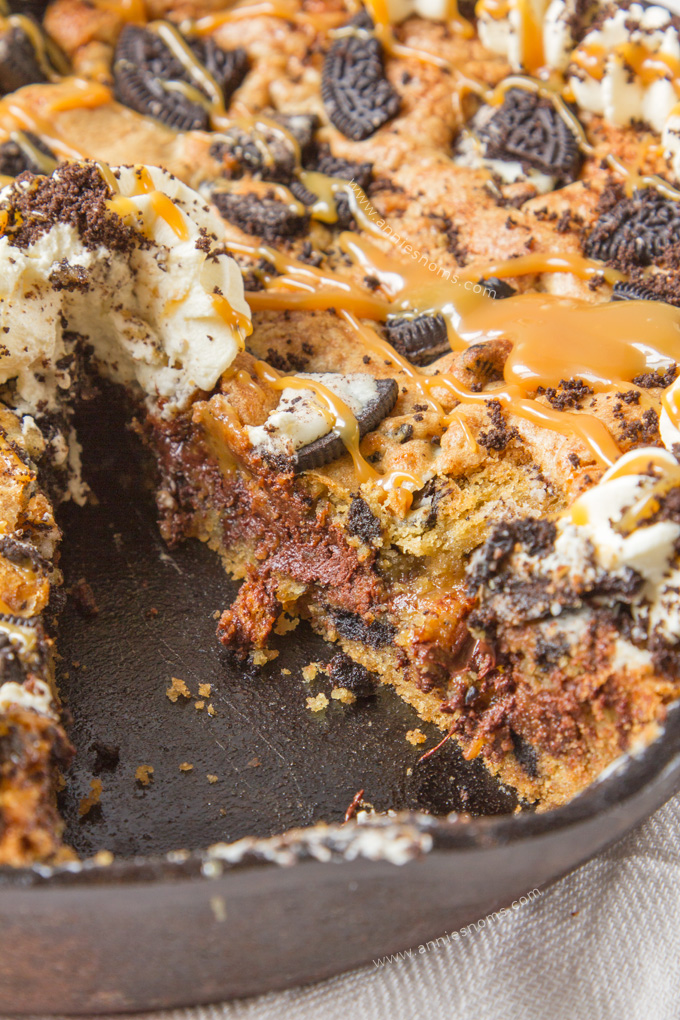 Just look at all that gooey-ness. Whilst still warm, the melted chocolate/caramel/soft Oreo combination is just to die for. I can't even put it into words.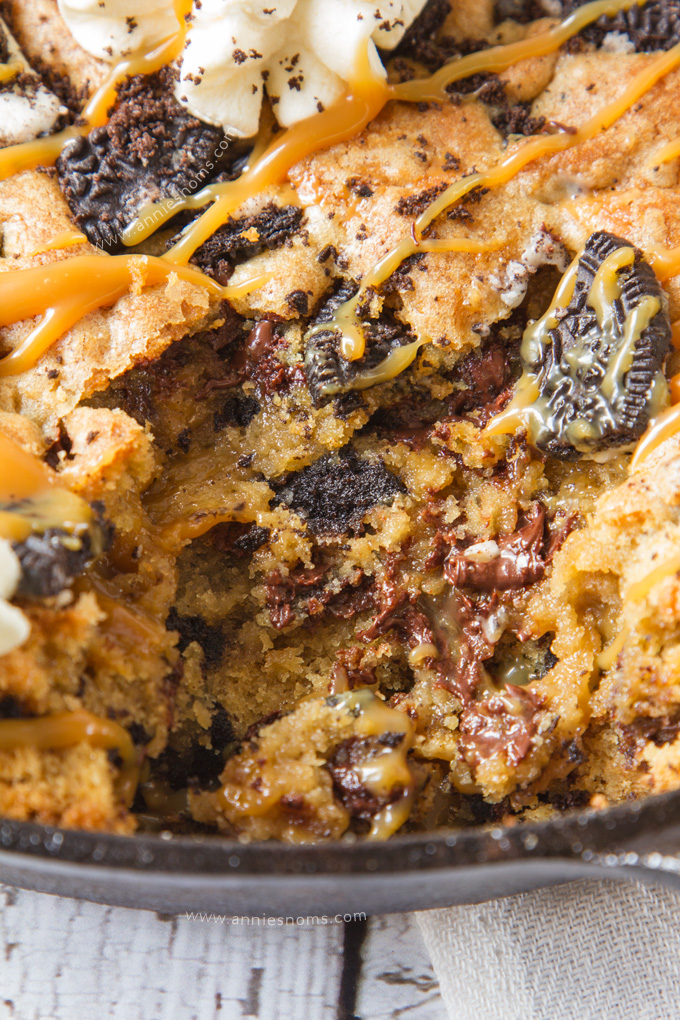 And then, I went and piped some fresh whipped cream on top, some Oreo crumbs and a rather large drizzle of salted caramel. You know, just because…?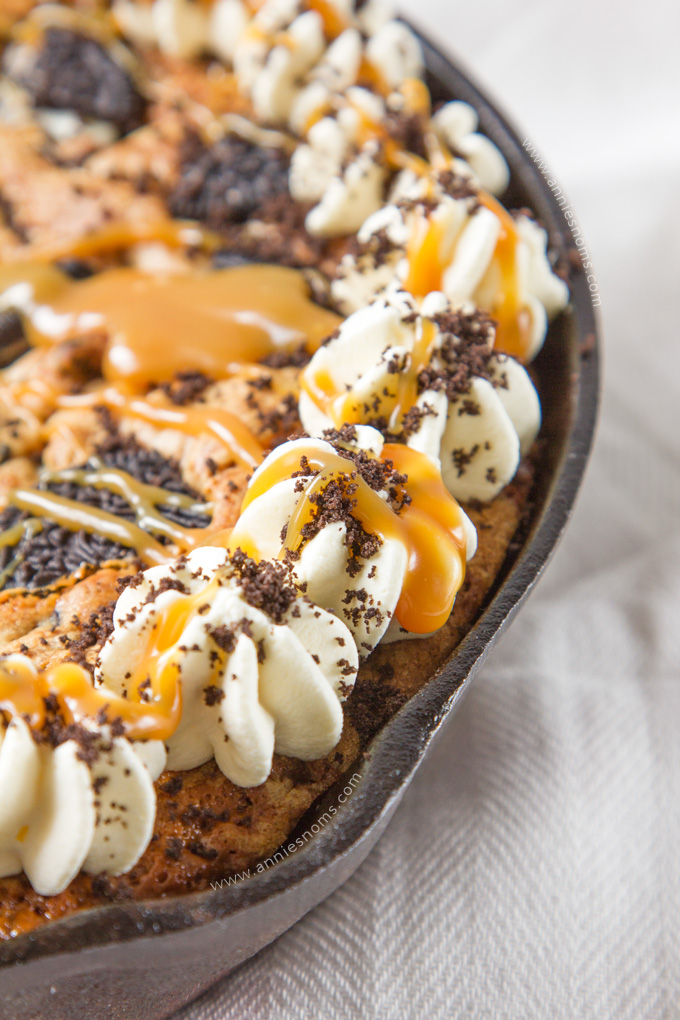 Yeah. I don't have any words either. Apart from you need to make this right now, then grab a spoon and just devour it. This could be the most amazing thing ever to come out of my kitchen.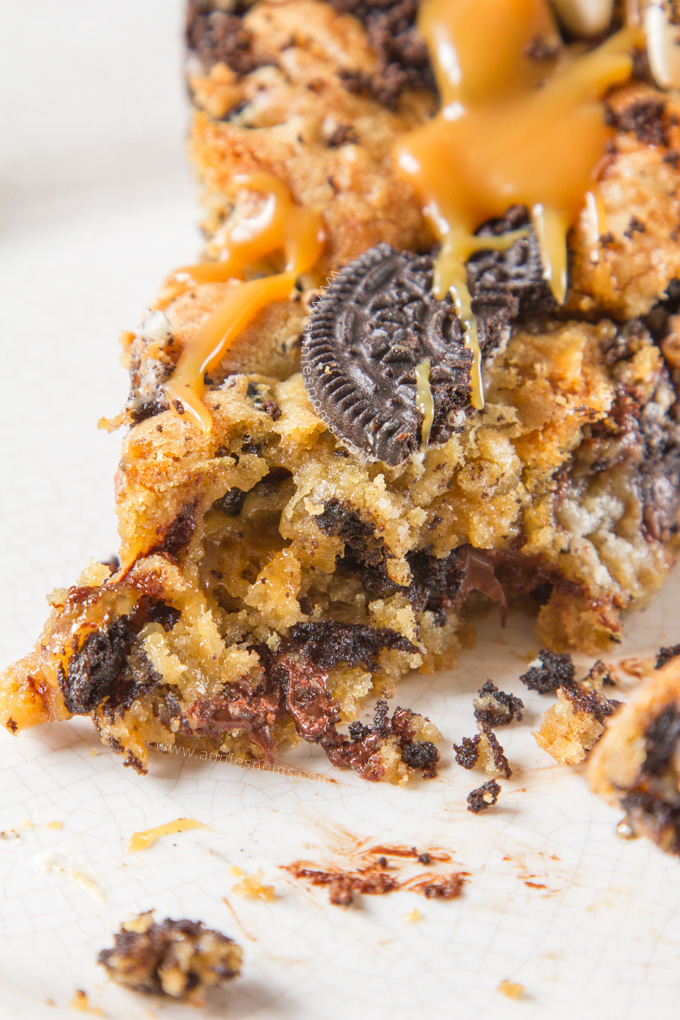 Happy Sunday!

 Be sure to hashtag any of my recipes you make with #anniesnoms on Instagram!!
Salted Caramel Filled Oreo Chocolate Chip Skillet Cookie
Oreo and chocolate chip stuffed cookie dough with an oozing middle of salted caramel sauce and a topping of more cookie dough and Oreo's. Bake it up and you will have a gooey, golden, rich, sweet and salty dessert which tastes like pure heaven.
Ingredients
For the skillet cookie:

One 154g/5.4oz sleeve of Oreo's

1

cup

(175g) semi-sweet/dark chocolate chips

2

cups

(280g) plain flour

1/2

cup

(70g) bread flour

1

tbsp

cornflour

1 1/2

tsp

bicarbonate of soda

Pinch of salt

3/4

cup

(150g) light brown sugar

1/2

cup

(100g) caster sugar

1 3/4

sticks (200g) unsalted butter,

at room temperature

2

large eggs

1

tsp

vanilla extract

1/2

cup

(135g) salted caramel sauce;

I used Tesco Finest

For the topping:

3/4

cup

(180ml) double cream

1/4

cup

(67g) salted caramel sauce

3-4

crushed Oreo cookies
Instructions
Preheat oven to 180C/350F and spray a 10 or 12 inch skillet with cooking spray. (I use Bake Easy).

Break up your sleeve of Oreo's by hand into larger and smaller chunks and place in a medium sized bowl. Take out a handful and leave to one side if you plan on pressing Oreo's into the top of the cookie.

Add your chocolate chips, flours, bicarbonate of soda and salt into the bowl of Oreo's and mix until all the chocolate and Oreo's are coated in flour. Leave to one side.

Place sugars and butter into a large bowl, or the bowl of your stand mixer and beat until light and fluffy, about 2 mins on med-high speed.

Add in eggs and vanilla extract, scraping sides of bowl as necessary, and mix until well incorporated and smooth, about 1 minutes on med-high speed.

Tip your flour and chocolate mix into your egg mixture and mix on low until a soft dough forms.

Tip 2/3 of your dough into your prepared skillet and smooth until level. I just went in with my hands as I found it easiest, use a spatula/spoon if you prefer.

Spoon 1/2 cup salted caramel sauce all over the cookie dough and use the back of a spoon to smooth it out over the cookie dough - leave a 1/2 inch gap around the edge to prevent leakage.

Dot the remaining 1/3 of cookie dough around the skillet and then smooth it over (again I used my fingers) it doesn't matter if not every single bit of caramel is covered, but it probably will be!

If you have reserved some Oreo pieces, press them into the top of the dough.

Place in the oven for 23-28 minutes until risen, golden and the middle is set. An inserted skewer into the centre will have a few crumbs on it, but the outside will not.

Leave to cool in the skillet completely before making the topping: Place double cream into a medium sized bowl and whisk until it holds a peak. If you over whip it and it starts to get broken up and lumpy, add a little splash of milk and fold in with a spatula, this should bring it back together.

Place into a piping bag fitted with an open star nozzle and then pipe all around the edge of the cookie and a larger "star" in the centre.

Crush 3-4 Oreo's into fine crumbs (I used a mini food processor) and then sprinkle over the peaks of cream.

Place 1/4 cup salted caramel into a small heatproof bowl and microwave for 20 seconds to make it more workable.

Drizzle salted caramel all over the skillet cookie with a spoon or squeezy bottle.

Skillet cookie will keep covered, in the fridge for 4 days. Microwaving it for 20-30 seconds will make the centre extra gooey again, or serve at room temperature. It's great whatever the temperature!!!
Notes
Recipe by Annie of Annie's Noms