This quick and flavour packed Strawberry Coconut Smoothie is the perfect pick me up. With coconut milk, fresh, juicy strawberries, and a frozen banana base, it's super smooth, creamy and ready in 5 minutes!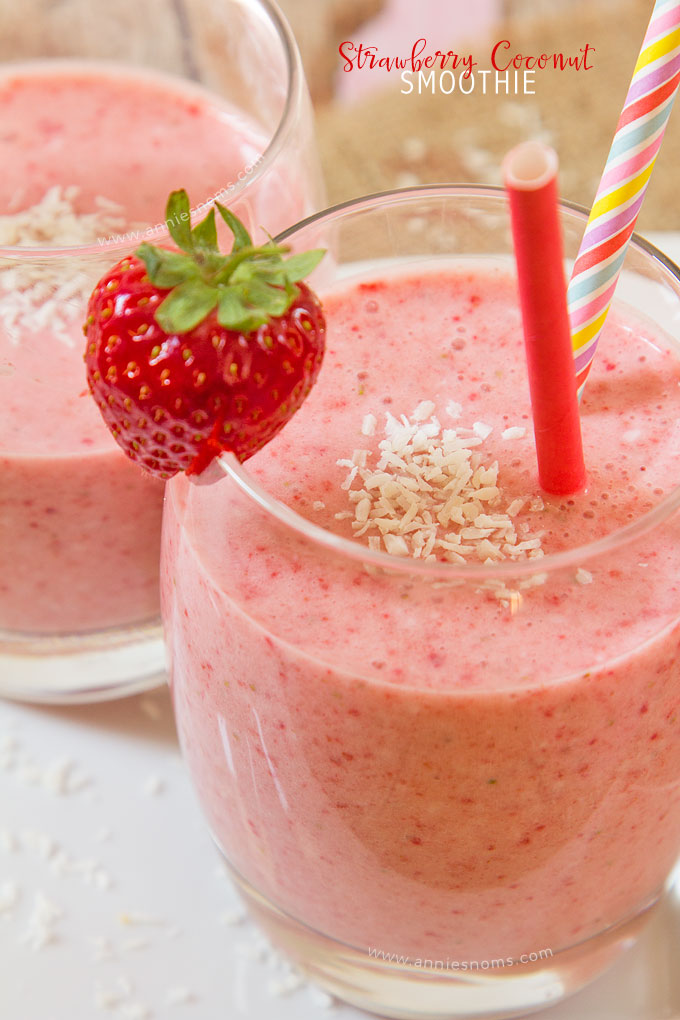 After this insane, rich, salty, sweet, Oreo filled Skillet Cookie, I felt like our jeans could do with something lighter… enter this Strawberry Coconut Smoothie.
But first… I'm sure you all know about my back problems. After feeling like I didn't have the energy to go back and start another long fight with the Doctor to find out what is going on, I just had to a couple of months ago because the pain got even worse and for the past 6 months I haven't had one pain free day and it's exhausting.
Now, I'm stubborn, but it was so bad I had to do something. After a lot of nagging from my fiancé!
Fast forward to a couple of weeks ago and I was sent for an X-ray. As with everything else, I wasn't expecting much, however, this time it showed something.
I was so relieved I almost cried in the Doctor's surgery. I was like "oh my goodness it's not all in my head, they believe me!"
But then the next day I started feeling really rubbish and sad. Because whilst I have the beginnings of an answer, it's degenerative and even with management, at the end of the day it's going to get worse and I'm stuck with it for life. And that's only the X-ray results, next will be another MRI
So, things have been a little quiet around here. I've been trying to keep positive and not think about the fact I'm going to be in agony for my whole life… And I haven't really been feeling the kitchen. For that I can only apologise.
I refuse to be defined by illness and hate when it stops me doing things, but I'm coming to the realisation that my being stubborn and trying to do a million things a day until I almost collapse, really isn't helping me.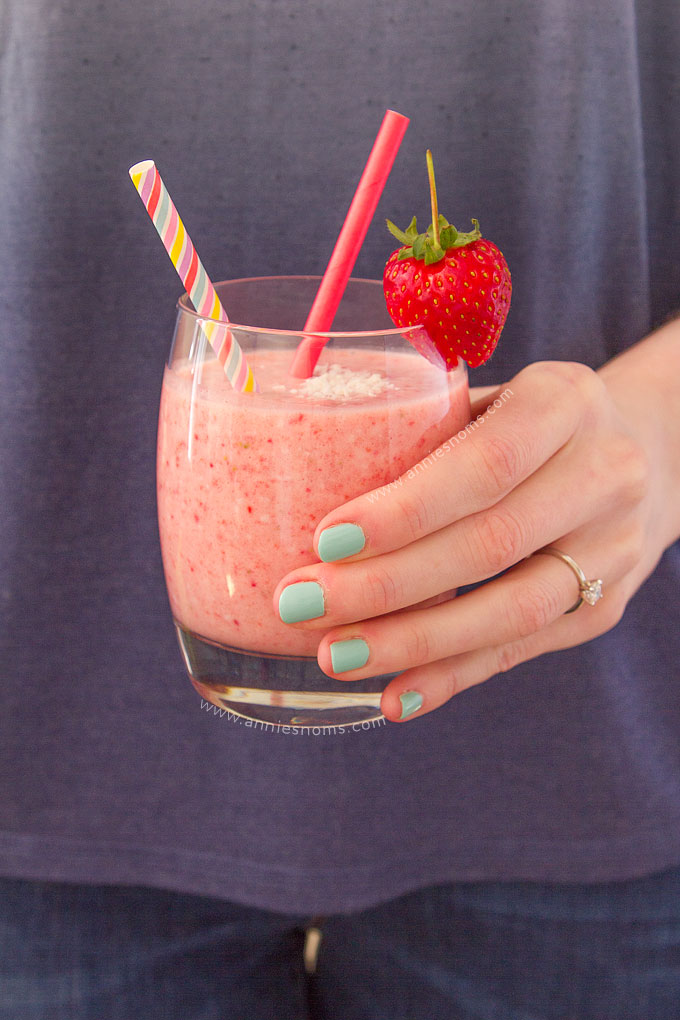 Anyway. I'm on a real coconut kick at the moment, I never used to like it, but I guess our taste buds change as now it's actually quite nice and I can totally understand why everyone loves it! Although, I have always been partial to a Bounty… now I like coconut milk and desiccated coconut too!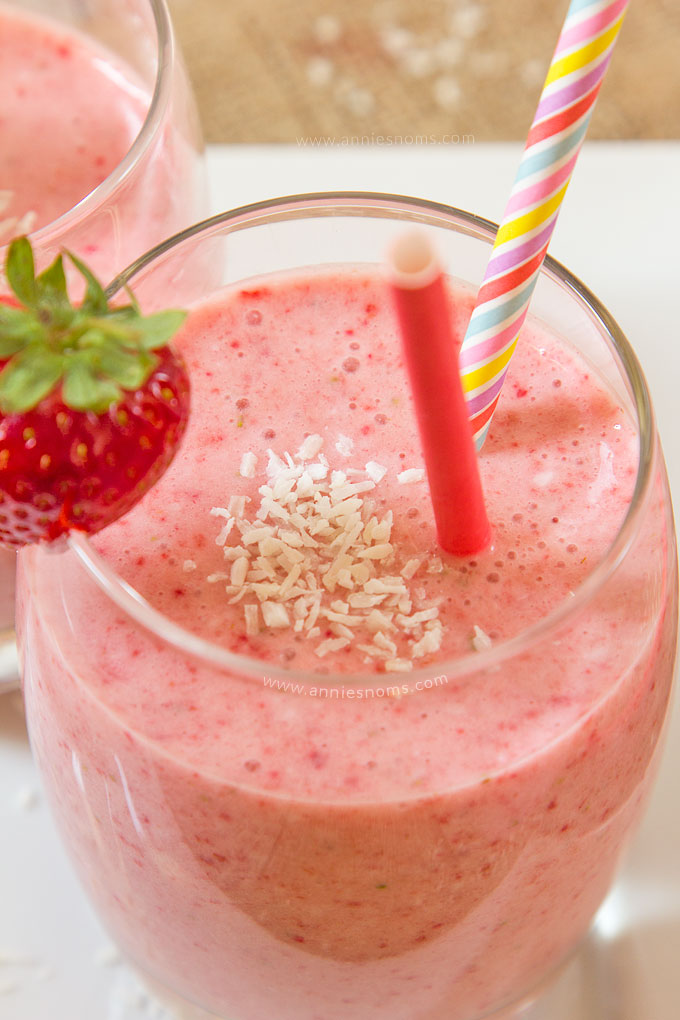 This smoothie is SO simple to make! Strawberries are finally starting to come into season (YAY!) and I already can't get enough of them, so I hope you're ready to be overloaded with strawberry recipes.
I have been waiting too long for the strawberries in our local store to actually taste like something again. I mean, yeah, it's great that we can get everything year round nowadays… But, the strawberries over Winter do not taste great. Give me seasonal British strawberries any day.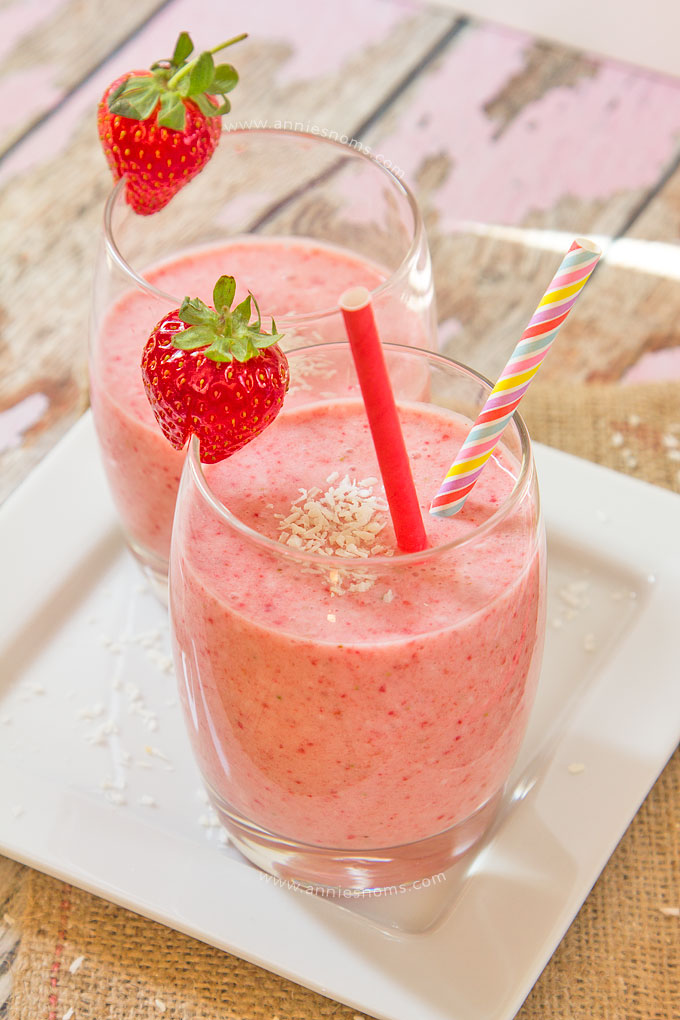 Maybe I should rename myself the Strawberry Monster… scratch that, I'm still the cookie monster.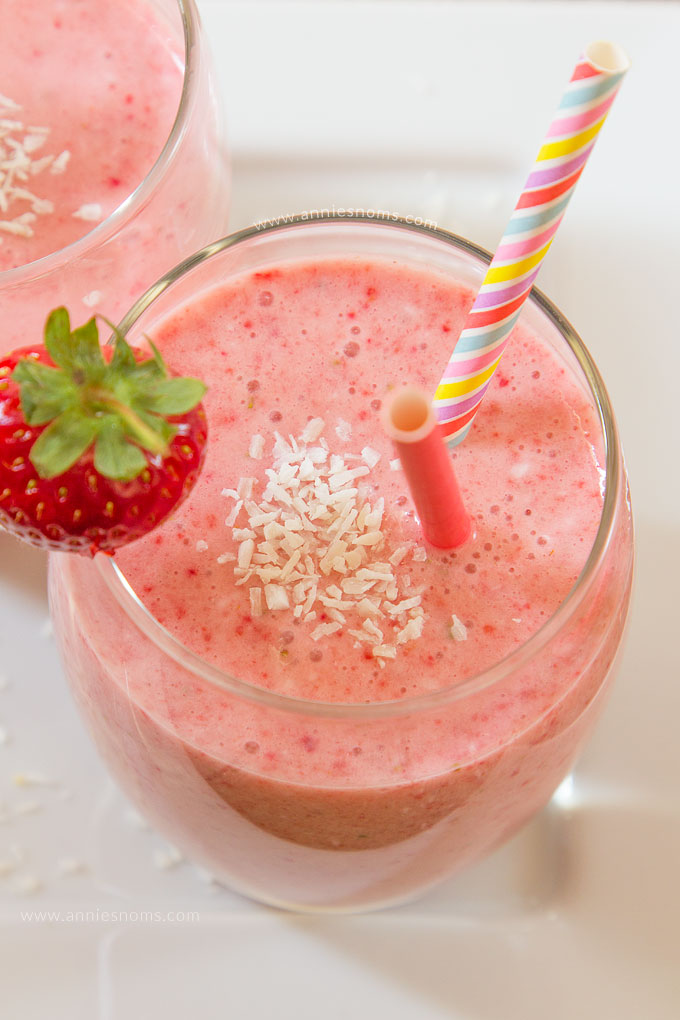 To make this smoothie, I took 1 and 1/2 cups plump, juicy strawberries, a frozen banana (to give it a creamy base), reduced fat coconut milk and desiccated coconut. That's it. I had written in my notes about sweetener, but my strawberries were so sweet I definitely didn't need any.
If you find your smoothie isn't sweet enough, give it a squirt of Agave Nectar, honey or a tsp of natural sweetener.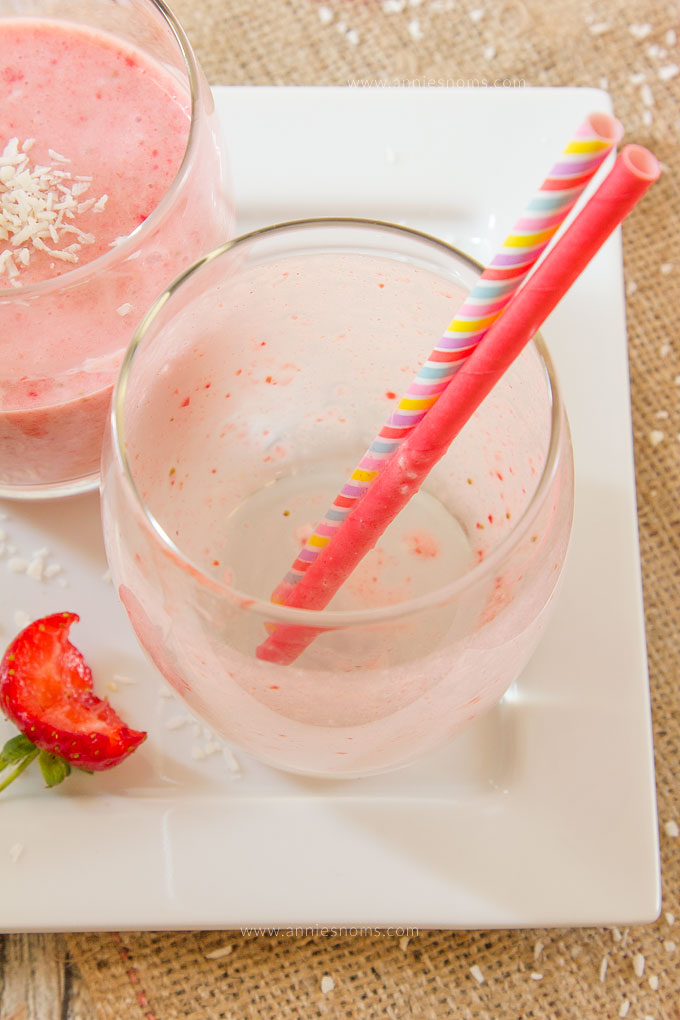 I put 1/4 cup of desiccated coconut into the smoothie as well as the coconut milk. Coconut milk is thicker than normal milk, which adds a gorgeous silky, richness to this smoothie. The desiccated coconut adds a bit of bite and some texture and I used a frozen banana to make a creamy base. I just adore using frozen banana in milkshakes and smoothies!
You seriously need to make this smoothie!! It's packed with flavour and the perfect morning pick me up. I've been sipping them like they're going out of fashion and I don't plan on stopping any time soon!

Strawberry Coconut Smoothie
This quick and flavour packed Strawberry Coconut Smoothie is the perfect pick me up. With coconut milk, fresh, juicy strawberries, and a frozen banana base, it's super smooth, creamy and ready in 5 minutes!
Ingredients
1 1/2

cups

(225g) strawberries

hulled and halved

3/4

cup

(180g) reduced fat coconut milk

1

medium sized banana,

previously sliced and frozen

1/4

cup

(23g) desiccated coconut

Sweetener,

to taste, optional
Instructions
Place strawberries and coconut milk into a blender and then top with frozen banana and desiccated coconut.

Blitz until smooth, begin by pulsing the mixture until the frozen banana has been blitzed, then continually blitz for around 30 seconds until the whole smoothie is gorgeously smooth!

Taste for sweetness, if required add a little agave nectar/honey/sweetener and then serve immediately.
Notes
Recipe by Annie of Annie's Noms