My Malt Chocolate Doughnuts are filled with malt powder, topped with a silky milk chocolate glaze and topped with crushed Maltesers. Baked and not fried, you can enjoy these with your afternoon coffee. A malt lover's dream!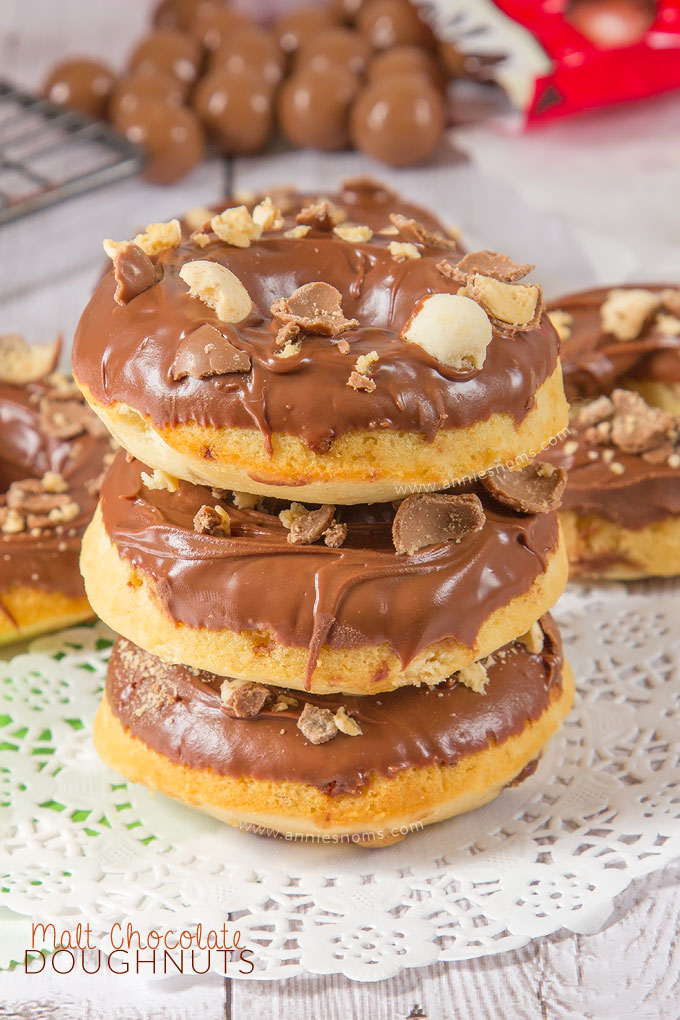 Don't you just love it when technology fails?
The other week my phone started playing up, but to begin with I thought it was just a signal problem.
Then people were ringing me and could never hear me, but I could hear them…
I still didn't really thing much of it, it was more annoying than anything. My phone is always being used. Social media is a huge part of my job, so my phone's always going off with notifications and I get important emails every day as well.
The technology genius that is OH, then looked at it properly and realised on "Voice Memos" that it really wasn't picking anything up, so we booked a slot with a "Genius".
Long story short, the microphone, which is the tiniest thing ever, but part of a whole piece including the charging and earphone socket, was broken. But they "don't do" microphone repairs. £200 please for a new phone.
Uhhh… no thanks. I can upgrade in 6 months, I'm not spending out on a phone twice in one year.
THEN, when I tried to back my phone up, someone (…OH) had clicked "Encrypt back-up" on iTunes, so without that password it won't do anything. There are only a few combinations of password I use, I wrote all of them down and then wrote a whole bunch of ones I don't ever remember using, but may have and sat there for an hour ticking them off as I tried them and it said no thank you.
An hour of my life I'll never get back. In the end we sent it all up to the cloud and prayed for the best.
I needed a doughnut after that trauma.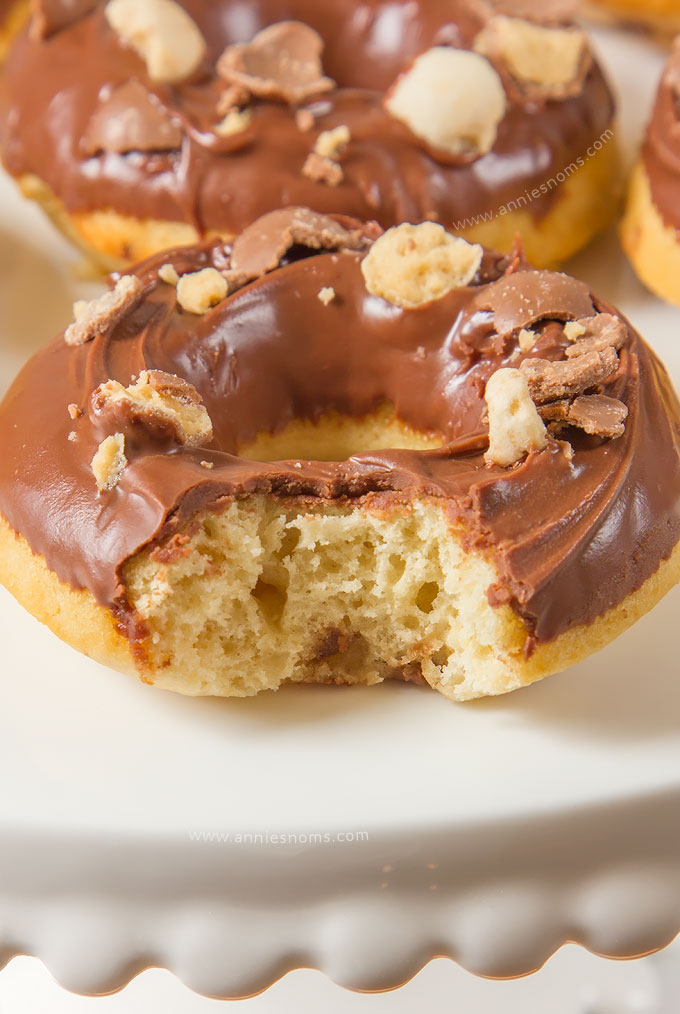 I've been craving Malteser "something" for weeks. I even bought the bag of Maltesers (Whoppers in the US) and they stayed in the cupboard for a couple of weeks whilst I thought what I could make.
Then I started thinking doughnuts, I haven't made any a while and the other week I finally treated myself to a second doughnut pan, so I can actually make a whole batch in one go! 😀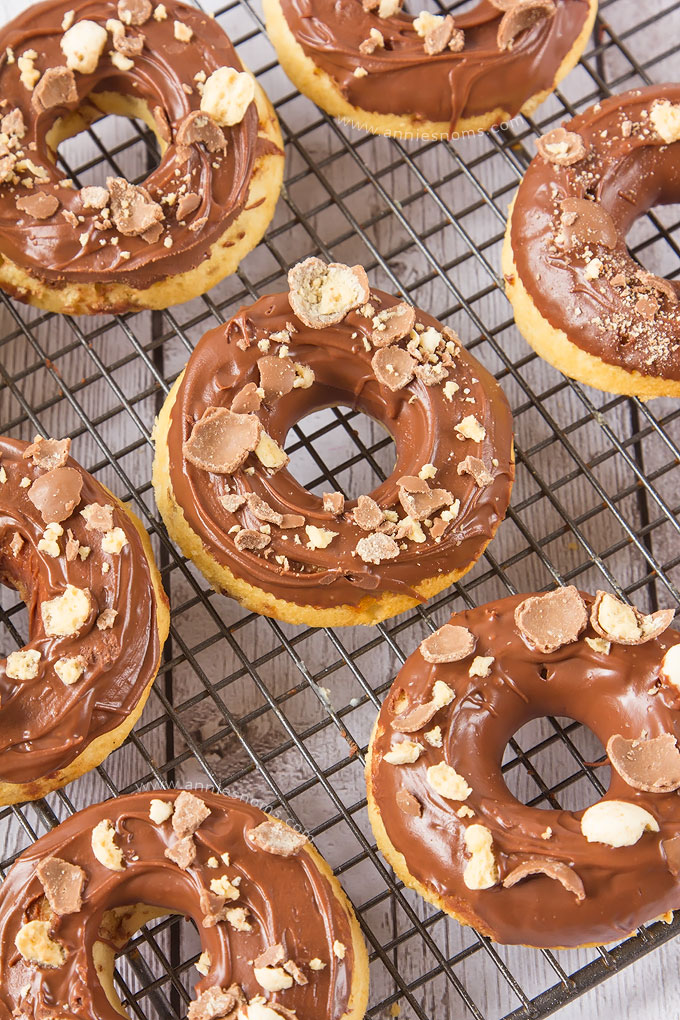 Who thought it was a good idea to make a 6 hole doughnut pan? Who makes 6 doughnuts? Certainly not me.
For the past 3 years, I've made a batch of 12, baked 6 then whipped them out onto a cooling rack, washed, resprayed and then refilled the pan to bake the other 6.
Honestly, it's so much easier just having two pans.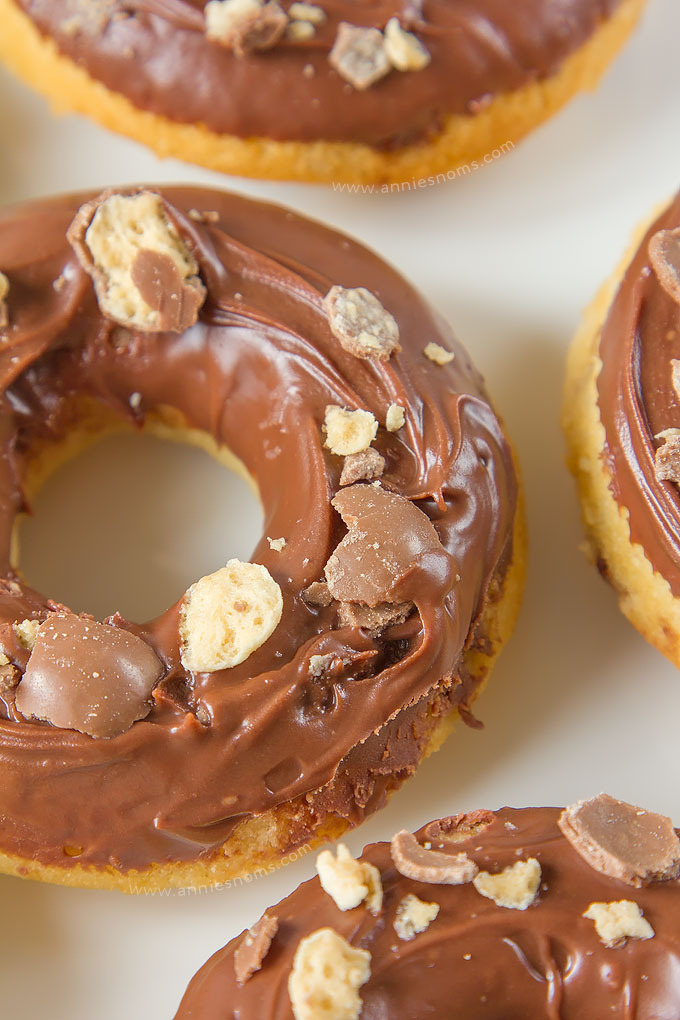 So, onto these bad boys. I put 1/3 cup malt powder into the batter as well as adding in some smashed up Maltesers – I just find malt powder is so underrated, I really should use it more as I simply adore it.
I find baked doughnuts really easy to make; you can make them by hand as they don't need beating. The batter is quite thick, but that's what you're looking for as it makes it super easy to pipe them into your doughnut pan!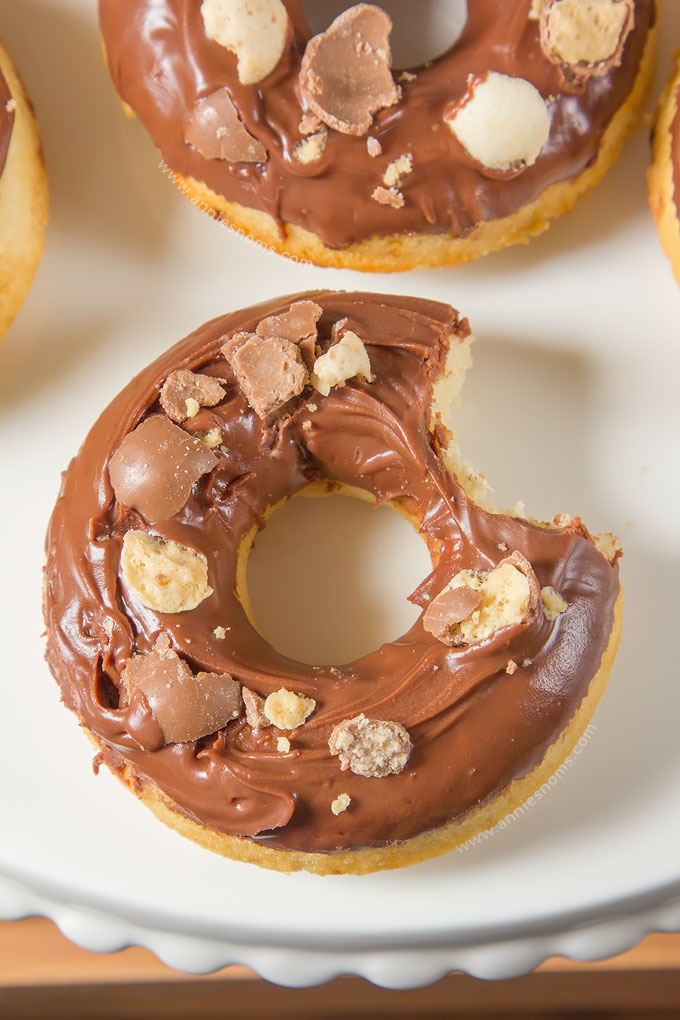 I used milk as my main wet ingredient, but also added in 2tbsp of melted butter for added flavour. Butter gives a depth that nothing else can give! Along with the malt powder, these doughnuts have a ton going on. The Malteser middles melt down slightly and become these pockets of chewy malt, amazing!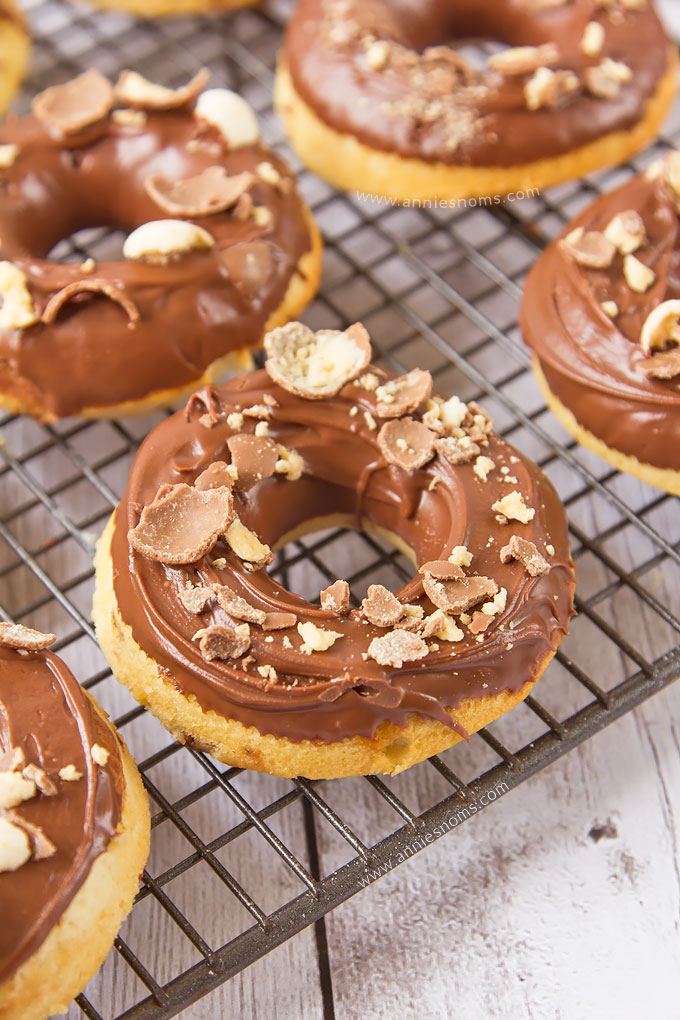 Now, let's talk about that glaze. I tell you, it was almost a disaster. By 9am yesterday, I already had two failed glazes, so I was like "screw this" and I went away and left it for an hour. Once I came back to it, the third one worked a charm!
I was obviously trying to over-complicate things because really all these doughnuts needed as a topping was melted Green and Blacks milk chocolate. Smooth, creamy and utterly divine.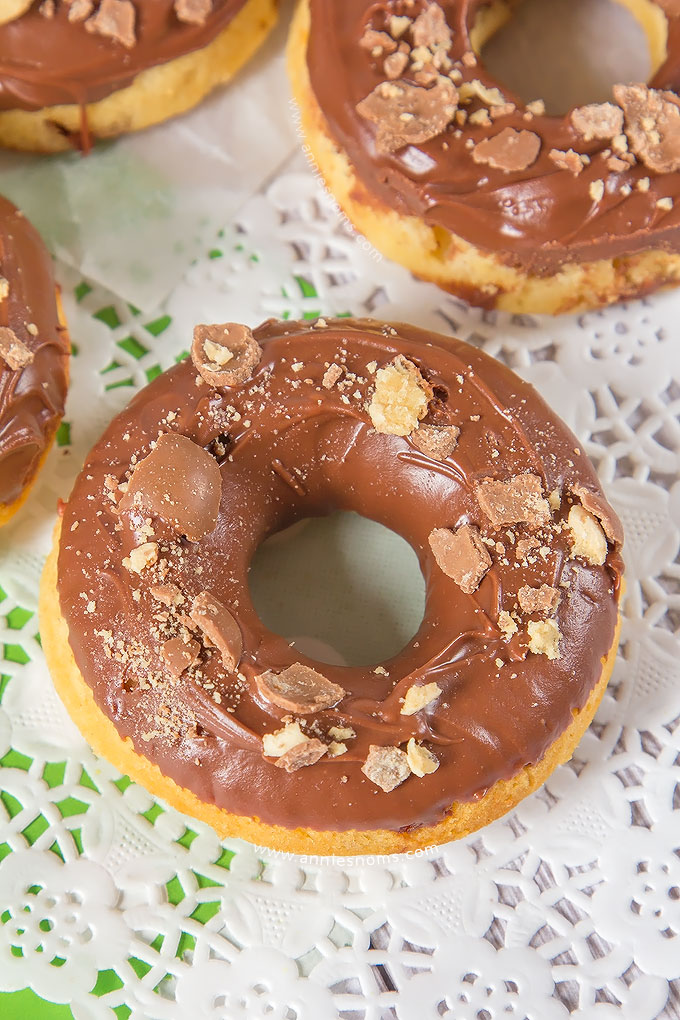 To finish them off I crushed up some more Maltesers and sprinkled them onto the melted chocolate. Super decadent, yet super easy to make.
Leave them to set (if you can) then sit and relax with a mug of coffee and one of these tasty Malt Chocolate Doughnuts. 🙂

Malt Chocolate Doughnuts
My Malt Chocolate Doughnuts are filled with malt powder, topped with a silky milk chocolate glaze and topped with crushed Maltesers. Baked and not fried, you can enjoy these with your afternoon coffee. A malt lover's dream!
Ingredients
For the doughnuts:

2

cups

(280g) plain flour

1/3

cup

(45g) malt powder,

I used Horlicks

2

tsp

baking powder

Pinch salt

1/2

cup

(100g) caster sugar

1

large egg

1

tsp

vanilla extract

2

tbsp

unsalted butter,

melted and slightly cooled

3/4

cup

(180ml) milk

1/3

cup

(35g) Maltesers/Whoppers,

crushed with the end of a rolling pin*

For the glaze:

6

oz

(170g) milk chocolate

3

tbsp

butter

1/2

cup

(52g) Maltesers/Whoppers,

crushed with the end of a rolling pin
Instructions
Preheat the oven to 180C/350F and spray one or two doughnut pans with cooking spray. (I use Wilton Bake Easy).

Place flour, malt powder, baking powder and salt into a medium sized bowl and stir briefly to combine. Leave to one side.

Place sugar, egg and vanilla extract into a large bowl and whisk together until combined and slightly frothy.

Add in the melted butter and mix until combined.

Add in 1/3 of your flour mix, then 1/3 of your milk, mix until well combined, then repeat until everything is incorporated and you have a thick batter.

Add in the crushed up Maltesers and fold in with a spatula, until they're evenly distributed.

Take a piping bag and fit a 1/2 inch plain nozzle, then place your batter into your piping bag and pipe into each doughnut hole. If there is a peak where you lifted the nozzle up, just dab it with a damp finger, (they will probably smooth themselves out though).

Place in the oven for 8-10 minutes until risen, a pale golden colour and an inserted skewer into the centre comes out clean.

If you only have one doughnut pan, tip doughnuts onto a cooling rack immediately, wash pan, respray and then repeat the piping process.

Leave doughnuts on a cooling rack until completely cooled, then make the glaze.

Break the milk chocolate into a heatproof bowl and add in the butter. Microwave in 20 second increments, stirring in between each one, until melted and smooth.

Place kitchen towels underneath your cooling rack to catch any drips and then take each doughnut and dip it into the melted chocolate. Once dipped place back on the cooling rack. If you need to, smooth the glaze with the back of a spoon.

Once all doughnuts are glazed, sprinkle with crushed up Maltesers and leave to set.

Once set, doughnuts will keep in an airtight container, at room temperature, for 3 days.
Notes
*You'll want to make sure the pieces of Malteser are pretty small else you'll find it difficult to pipe the batter into your doughnut pan. Recipe by Annie of Annie's Noms



I link up at these great Link Parties!