These Lime Possets are velvety smooth, creamy and filled with fresh, tart lime juice. Topped with a fresh no-cook raspberry sauce and fresh raspberries, these are easy to make, yet totally divine!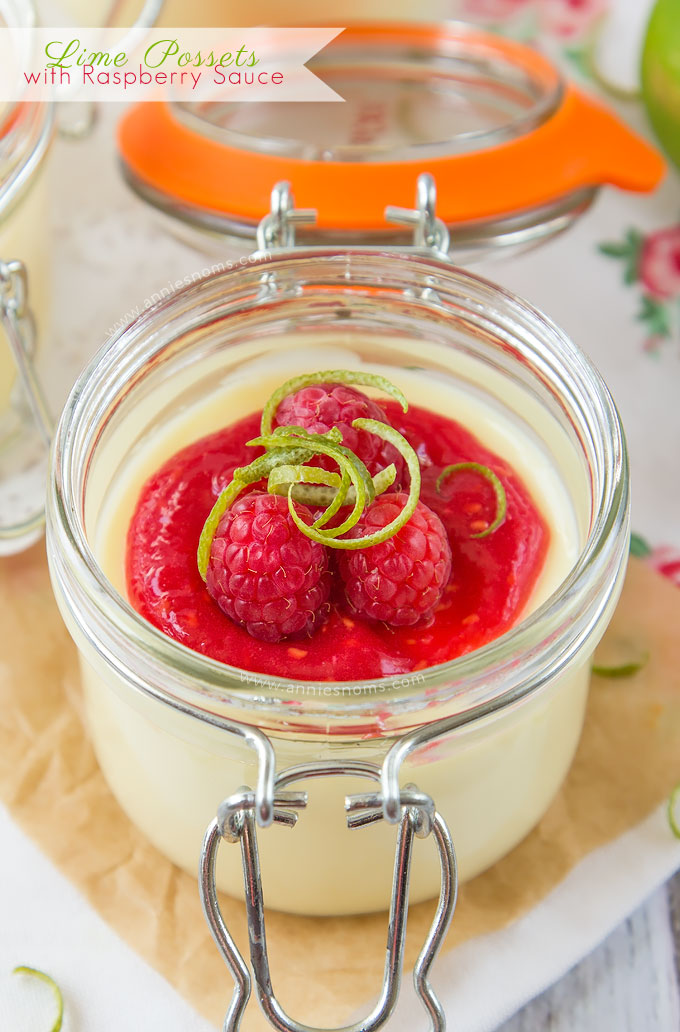 I don't know why, but I somehow had it in my head that Possets were super difficult to make…?
I've wanted to make them for ages, but as I'm sure fellow food blogger's can relate, the list of things I just have to make increases daily and some stuff just keeps going down the list!
There's just too much choice when it comes to food… Mind you, we'd all be bored if there wasn't. I love how I get inspiration from all over. TV programs, walking down the confectionery aisles in the supermarket, magazines, dreams… The list is endless!
And as I found out, Possets are actually really simple to make.
Like, 10 minutes prep and cooking time, then waiting for it to chill easy.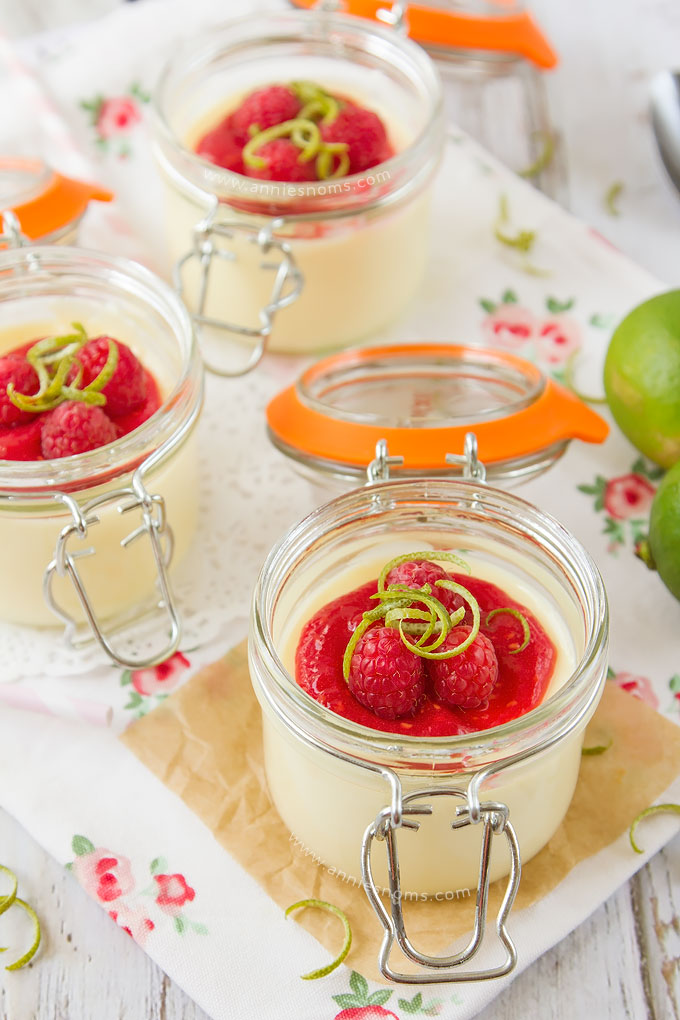 The base of Possets is cream and sugar, then you add zest (if you want) and juice from limes, lemons etc. Most Possets I've seen are lemon, but I really fancied lime paired with some raspberries.
I didn't add the zest into my Possets as they had plenty of lime flavour from just the juice. I used the juice from 3 limes which was the perfect amount of juice to give these creamy, velvety smooth Possets a citrus kick.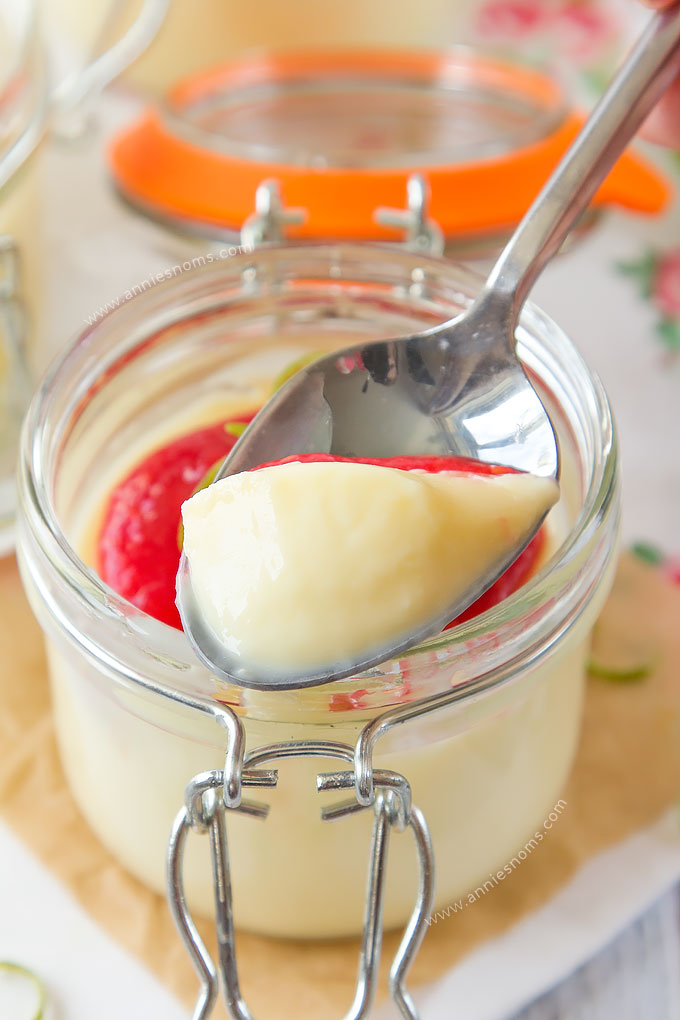 And just look at how pretty they are: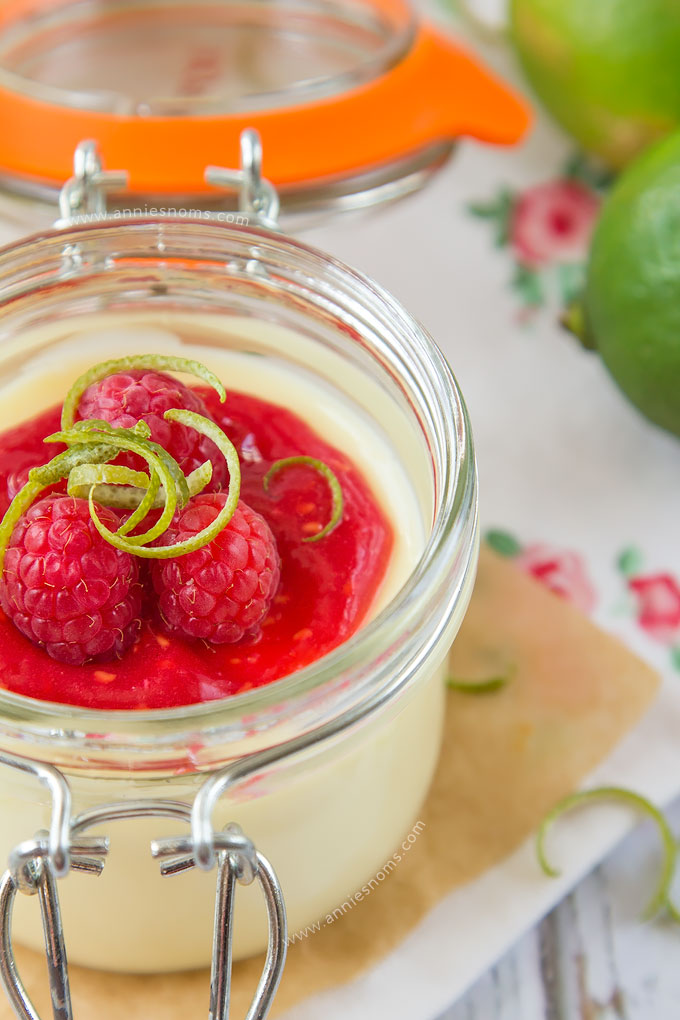 To make them, you place the sugar and cream into a saucepan over a low heat, bring it to a boil and then boil it vigorously for 1-2 minutes, before adding in the lime juice and decanting into ramekins/serving dishes. Then you have to wait for them to cool a little, before placing them into the fridge to set properly.
Let me warn you: you REALLY need to stay with it whilst it boils, it rises insanely quickly and almost made a hideous mess of my clean hob!!
As long as you stir it whilst it's boiling, it keeps the mixture from rising too quickly and you won't have a big mess to clean up! 😀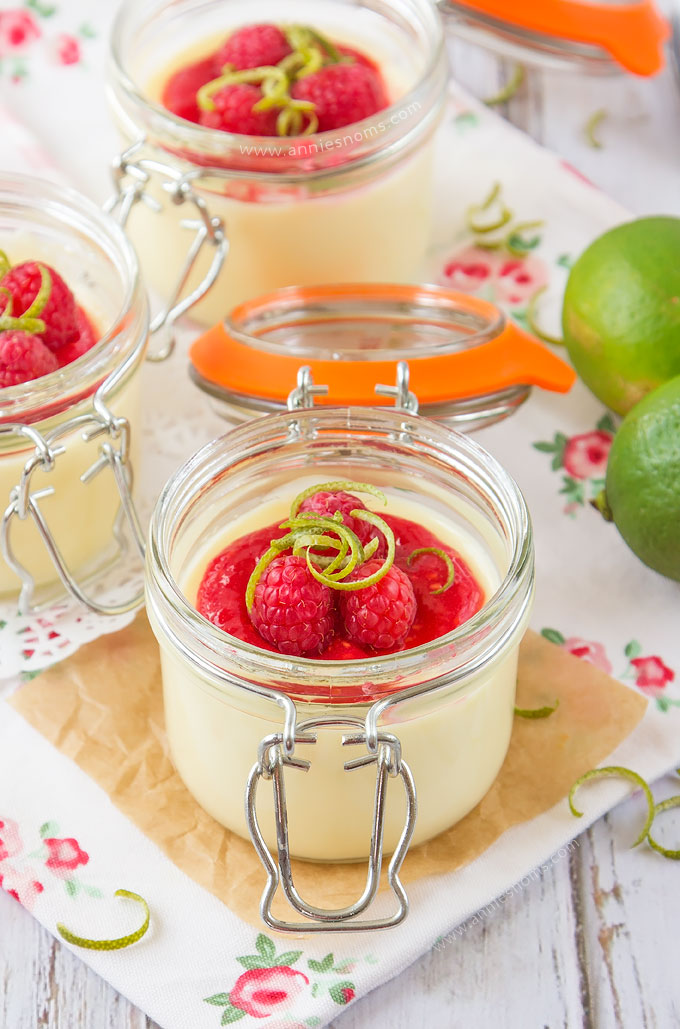 So, let's talk about that no-cook raspberry sauce. I was going to call it a drizzle, or may be a purée. But I guess it is a sauce… Either way, it's really easy to make.
1/2 cup fresh raspberries and 1tbsp agave nectar/honey blitzed together until smooth. That's it. The agave really brings out the flavour of the raspberries and gives a lovely sweetness which contrasts with the tart Possets.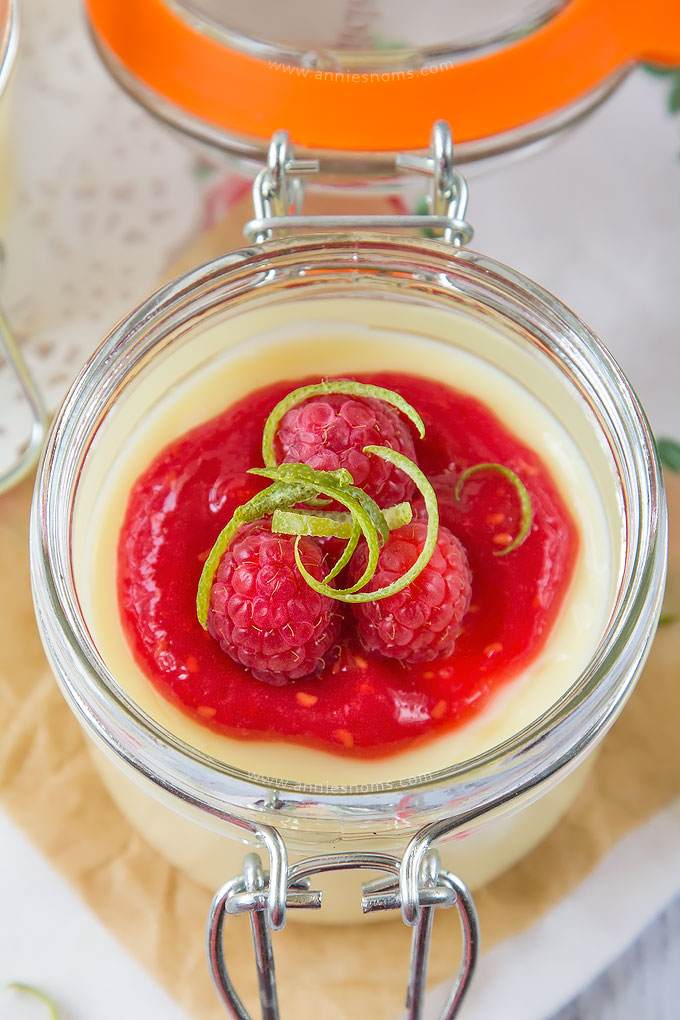 These are the perfect Spring/Summer dessert. They're easy, make-ahead and everyone will fall in love with them! You get a lovely creamy texture and taste, then you're hit with fresh lime and just a hint of sweetness. Topped with that raspberry sauce… they're just heavenly and you need to make them now!

Lime Possets with Raspberry Sauce
These Lime Possets are velvety smooth, creamy and filled with fresh, tart lime juice. Topped with a fresh no-cook raspberry sauce and fresh raspberries, these are easy to make, yet totally divine!
Ingredients
For the Possets:

2

cups

(480ml) double cream

1

cup

(200g) caster sugar

Juice of 3 limes;

reserve some zest for garnish if desired

For the Raspberry Sauce:

1/2

cup

(75g) raspberries

1

tbsp

agave nectar/honey

12

fresh raspberries to garnish,

optional
Instructions
Place the cream and sugar into a large saucepan and place over a low heat. Whisk gently, to ensure there are no lumps of sugar. Don't whisk vigorously otherwise you'll end up beating air into the cream and making it too thick.

Bring to a boil and then turn the heat up to medium and boil vigorously for 2 minutes, stirring continuously with a wooden spoon. Be sure to stir gently though.

Remove from heat, let the mixture settle for 15 seconds and then add in the lime juice. Stir until combined and then divide the mixture into 4 single serve ramekins/dishes/jars. (I used small 200ml jars).

Leave to cool to room temperature and then place in the fridge for 2-4 hours to set completely.

Once set, make the raspberry sauce: Place 1/2 cup raspberries and agave nectar into a mini food processor and blitz until smooth.

Pour mixture through a sieve to remove seeds if you want (I didn't) and then spoon over each Posset.

Garnish with 3 raspberries and a little lime zest, then devour!

Possets will keep covered, in the fridge, for 3 days.
Notes
Recipe by Annie of Annie's Noms



I link up at these great Link Parties!