These Blueberry and White Chocolate Cupcakes are my new favourites! A vanilla cake, with a blueberry jam centre topped with melted white chocolate and fresh blueberries. Sweet, flavour filled and the perfect treat for your sweet tooth fix!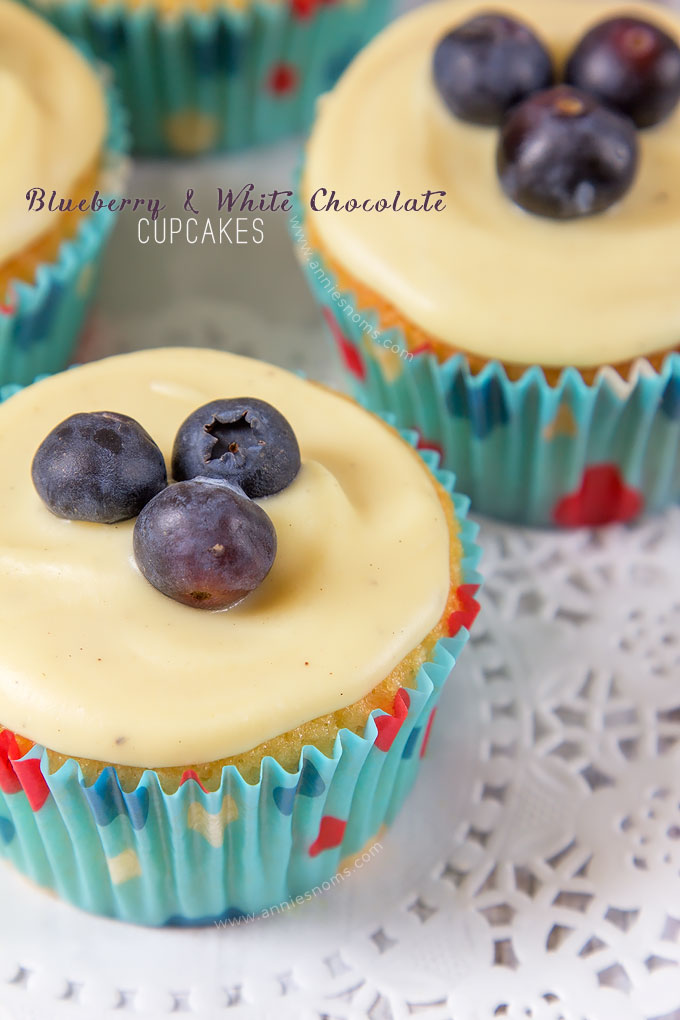 I feel like I was conned into doing burpees yesterday in my workout.
I'm aware how ridiculous this sounds, so let me elaborate.
As I write this, I feel about 90 and can't walk because my hips and legs are SO dead! I decided recently that I need to change up my workouts. I'm getting kind of bored with the cross trainer and bike and feel stagnant and a little blobby.
I really want to tone up myself a little. This year is by far the best I've been since I accepted the fact I have an eating disorder, but I do still struggle. I'm starting to enjoy food more, but this also means that sometimes I get very frightened because I bake for a living. There are always cakes etc. around the house and sometimes I cannot stop picking. I've put on about 1/2 a stone which is good because the Doctor told me I had to, but when someone goes "You look so healthy" it's still very hard for me to not take that as "you've put on weight and you're fat".
I know that being a baker for a living seems like a totally stupid thing to do, but I love to be in the kitchen and share recipes with you guys and I will not let illness stop me from pursuing my dreams.
Anyway, back to this workout video. It was an Interval Cardio with Strength Training one and looked like fun. It was all going well until these things called "jump kickouts" happened.
I went ahead and managed to do them, albeit a little slower than the super fit pencil on the TV, but afterwards I was like "OMG I'm dying. Hang on, I'm sure they were basically burpees. OMG they were nearly burpees, no wonder I feel like dying"
Bar the actual push-up (which I can't do for love, nor money) they were burpees and they were killer!
And now I feel like the walking wounded. Mr Annie's Noms is still laughing at the fact I didn't realise until after the event… Anyway, I made you cupcakes.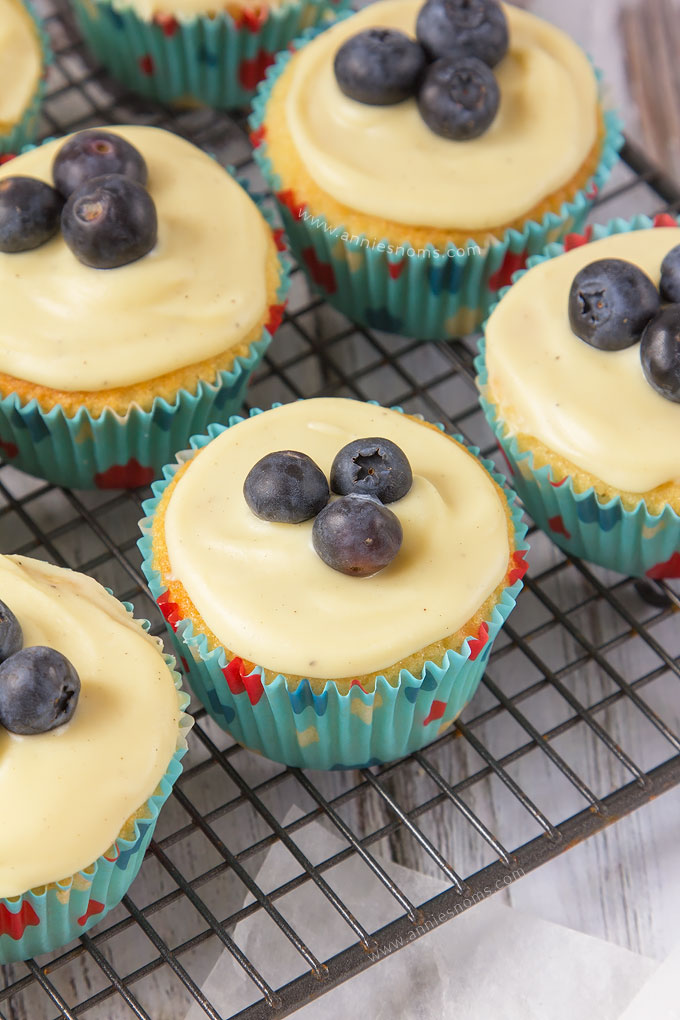 I had a request from OH's work colleagues for cupcakes, so my brain immediately went into over drive thinking of flavour combinations!
I eventually decided on blueberry and white chocolate. I'm a berry fiend and of course I love chocolate. Who doesn't?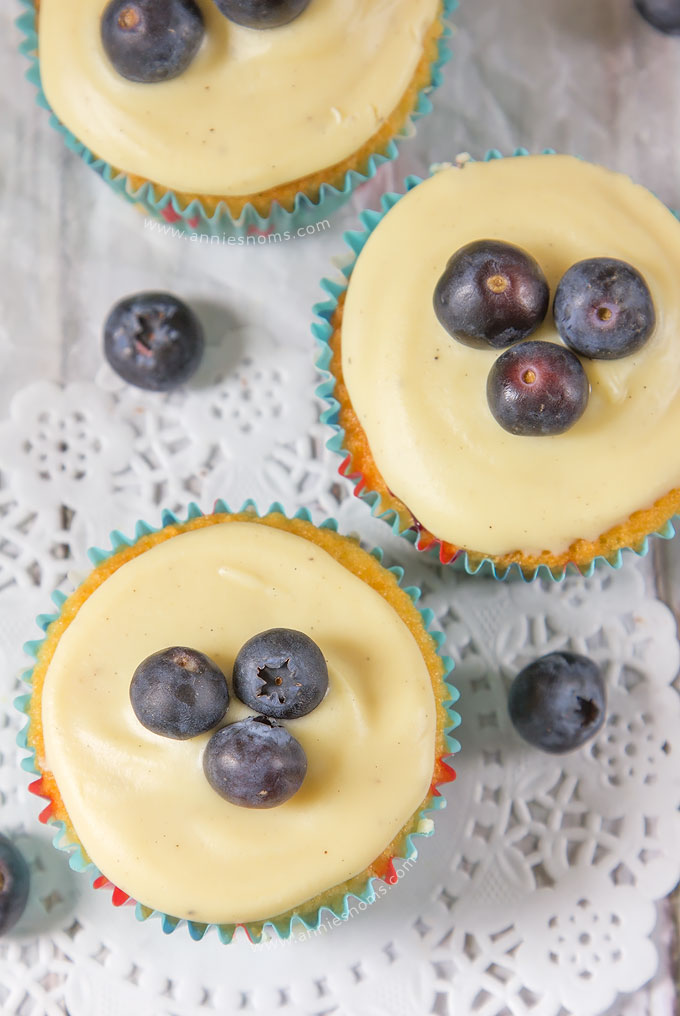 I was going to do a chocolate chip cupcake or maybe a blueberry one, but then I thought how delicious it would be to core the cupcakes and fill them with blueberry jam.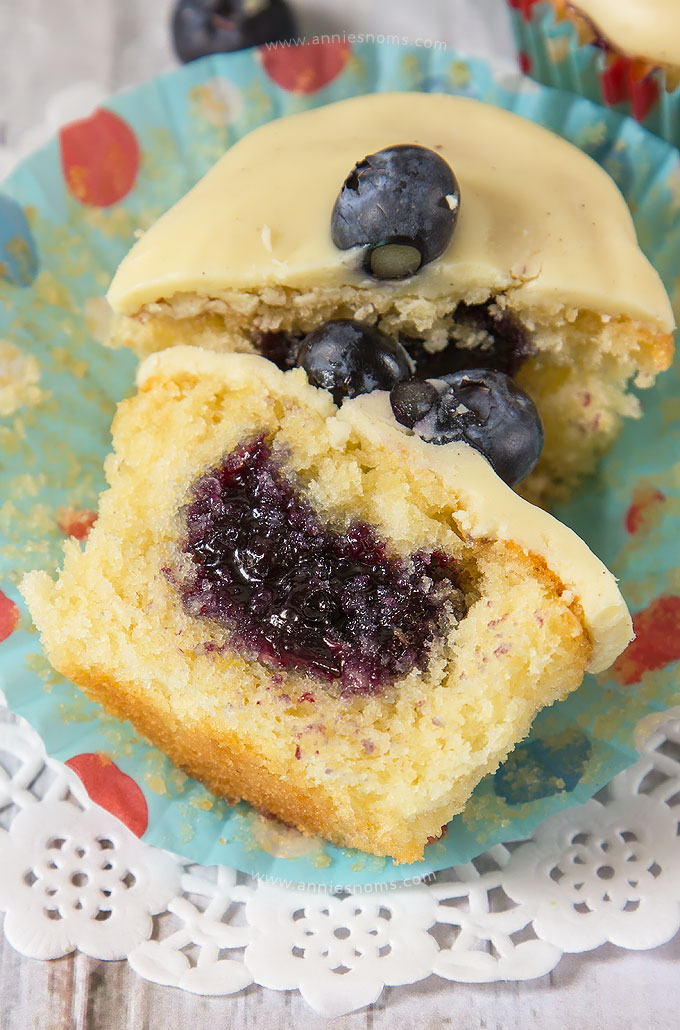 And yes it was! With a cupcake corer, it took under 10 minutes to core and fill each cupcake, these are so easy to make it's unbelievable! Let me show you: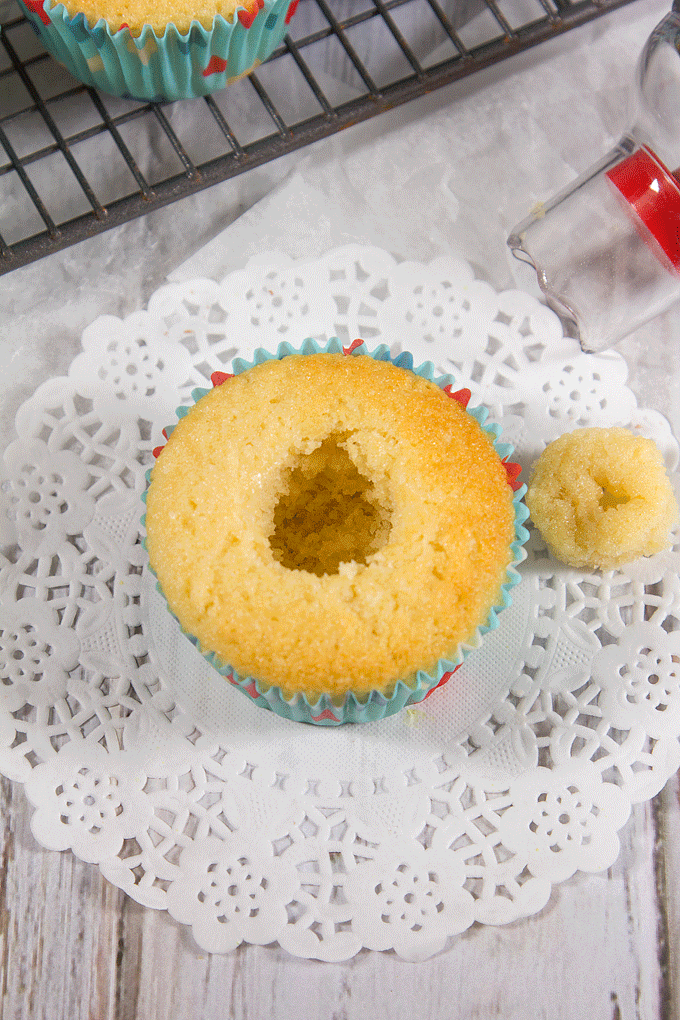 This time, I didn't pipe any frosting either, so topping them is super easy too!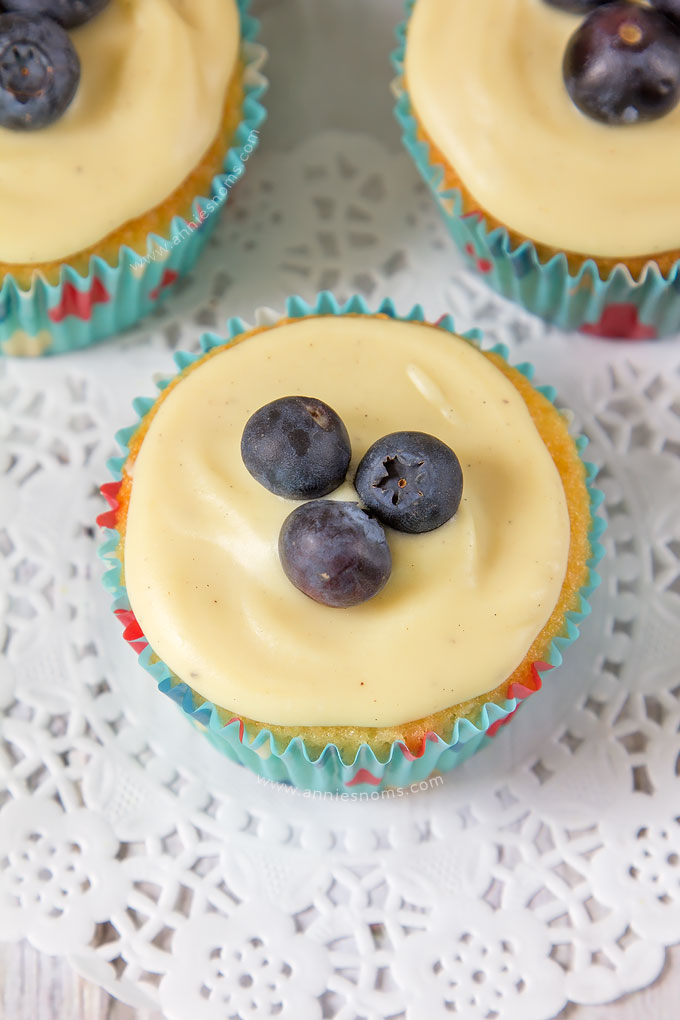 You end up with these perfectly tender cupcakes with a sweet jam centre, topped off with melted white chocolate and fresh blueberries. Whenever I think of blueberries I immediately think of lemon as a pairing, but this time I wanted to try something different and guess what? White chocolate is absolutely delicious with blueberries too!
These are definitely perfect for those of us with a sweet tooth!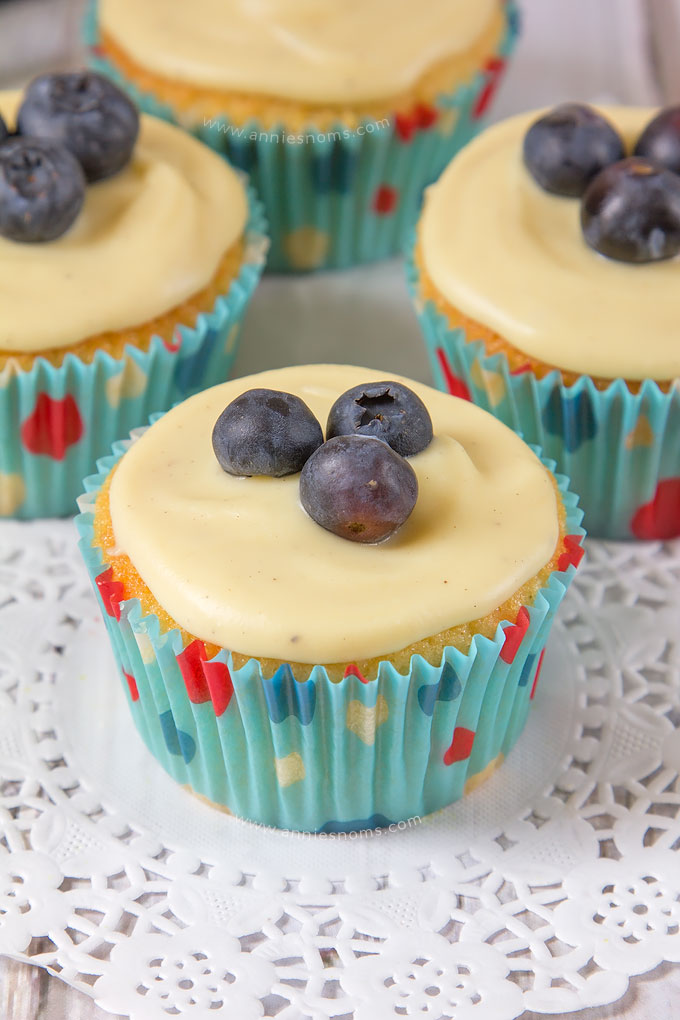 If you're looking for the perfect cupcake to make this week, then these are the one's for you. So easy to make, pretty and tasty!

Blueberry and White Chocolate Cupcakes
These Blueberry and White Chocolate Cupcakes are my new favourites! A vanilla cake, with a blueberry jam centre topped with melted white chocolate and fresh blueberries. Sweet, flavour filled and the perfect treat for your sweet tooth fix!
Ingredients
For the cupcakes:

1

stick (113g) unsalted butter or margarine,

at room temperature

1

cup

(200g) caster sugar

2

large eggs

2

tsp

vanilla extract

1 1/2

cups

(210g) plain flour

2

tsp

baking powder

Pinch of salt,

ONLY if you're using unsalted butter

1/2

cup

(120ml) milk

1/2

cup

(around 140g; a scant 1/2 cup) blueberry jam/conserve

For the frosting:

6

oz

(170g) white chocolate

1/2

stick (56g) unsalted butter

36

fresh blueberries for garnish,

optional
Instructions
Preheat oven to 180C/350F and line a 12 hole cupcake tray with cupcake liners.

Place butter/marg and sugar into a large bowl, or the bowl of your stand mixer and beat until light and fluffy, 2-3 minutes on medium-high speed.

Add in the eggs an vanilla, scraping down sides of bowl as necessary, and mix until well incorporated and smooth, about 1 minute on med-high speed.

Add in the flour, baking powder and salt, if using, and mix on low until it begins to come together.

Add in the milk and then mix on low-medium speed until well incorporated and smooth.

Fill each cupcake liner 3/4 full and then place in the oven for 18-22 minutes, until risen, lightly golden and an inserted skewer into the centre comes out clean.

Transfer to a wire rack immediately (I find if you leave the cupcakes in the pan, the liners peel away) and leave to cool.

Once cool, it's time to core the cupcakes! With a cupcake corer (I use the OXO Good Grips one) push into each cupcake, twisting as you go to remove the centre of the cupcake. Don't push it all the way down, you still want some cake at the bottom.

If you don't have a cupcake corer, use a small knife to cut a 1 inch wide circle out of the centre.

Don't throw away your cupcake cores, but cut them in half, so that you have a top to cover the filling.

Once all cupcakes are cored, place the jam into a heatproof bowl and microwave for 20 seconds. Using a teaspoon, divide the jam between each cupcake, leaving a little space at the top for you to put the cupcake tops back on.

Once all the cupcakes are filled and have their tops, place the white chocolate and butter into a heatproof bowl and microwave in 20 second increments, stirring in between, until melted and smooth. Leave to cool for 5 minutes, before spooning around 1tbsp onto each cupcake and smoothing with the back of your spoon until the cupcake is covered.

Place 3 fresh blueberries on top of your melted chocolate and leave to set.

Once set, cupcakes will keep in an airtight container, in the fridge for 3 days. Cupcakes are best served at room temperature.
Notes
Recipe by Annie of Annie's Noms



I link up at these great Link Parties!