What is better than a fresh, homemade scone for breakfast? A homemade Peach and Raspberry Scone! Light, flaky, buttery and filled with fruit, these are the perfect start to your day!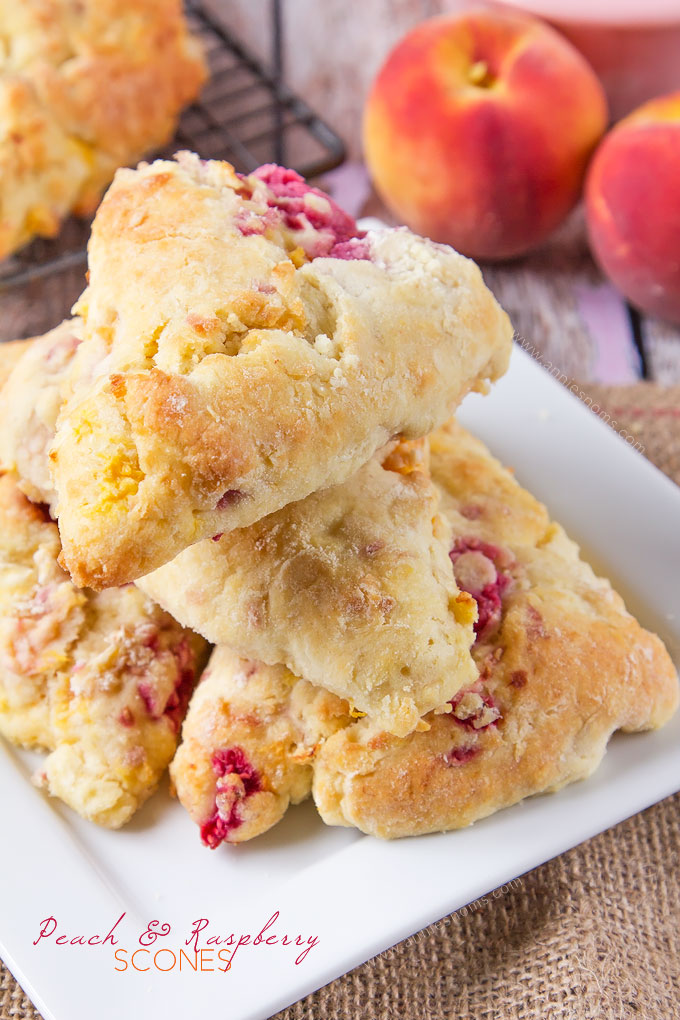 Can we have a chat? About who took the damn Sun?
Because I'm about to spend a ton of money fixing the Air Con in my car because it was so hot last week I wanted to die. And ever since I booked it in, it's been cold, wet and windy.
Thanks Mother nature!
Well, the good news is, I'll have a car as cool as an ice box.
Anyway. Scones.
There was a time when I was absolutely obsessed with homemade scones, couldn't get enough! But as a blogger, I can't just post scone recipes, you'd get pretty bored! With a pretty hectic schedule, I'm always wanting to make new and exciting things for the blog and things get pushed down the list.
However, I think it's been long enough since I posted a scone recipe, so I hope you love these as much as I do!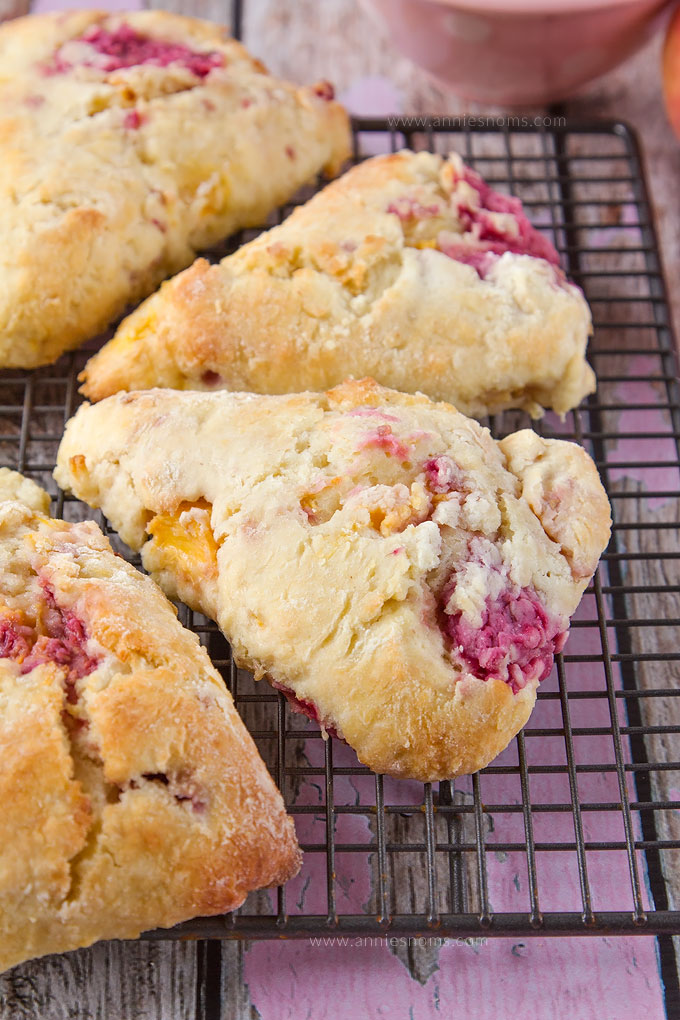 There's a whole argument about whether or not scones should be round or triangular. It seems to me that in the UK we like them round and I do think round when I think of a scone. However, it's easier to photograph triangular scones and I also felt like trying my hand at making them triangular to see how I liked them. They won't win any beauty contests, but they taste pretty darn amazing.
But… I still think that a classic scone with clotted cream and jam… should be round.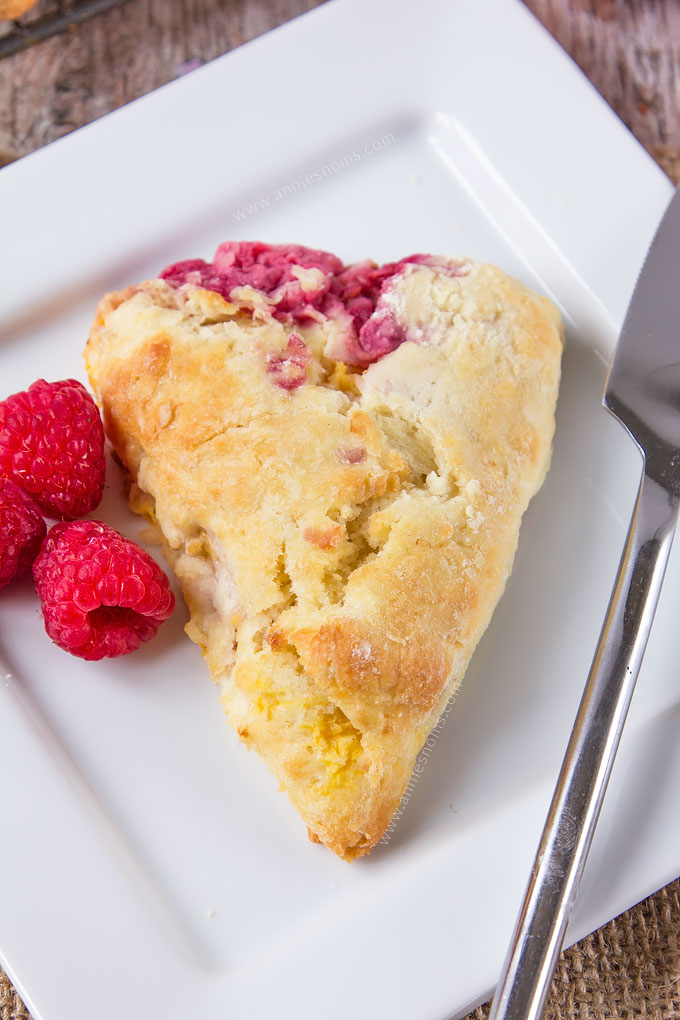 These aren't classic scones though, they're filled with peach and raspberry and let me tell you, they're divine!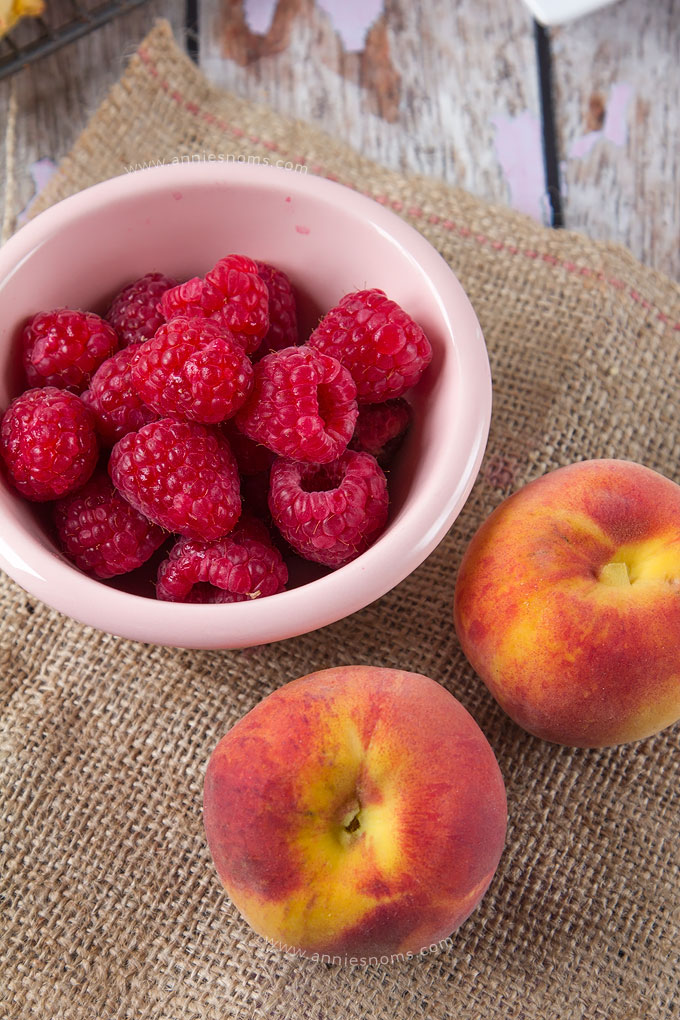 Now, what constitutes a great scone?
For us Brits, it's the light, airy texture, them not being overly sweetened or particularly savoury and being able to be eaten alone as well as with butter, jam and/or cream.
A dense, dry scone just doesn't cut it.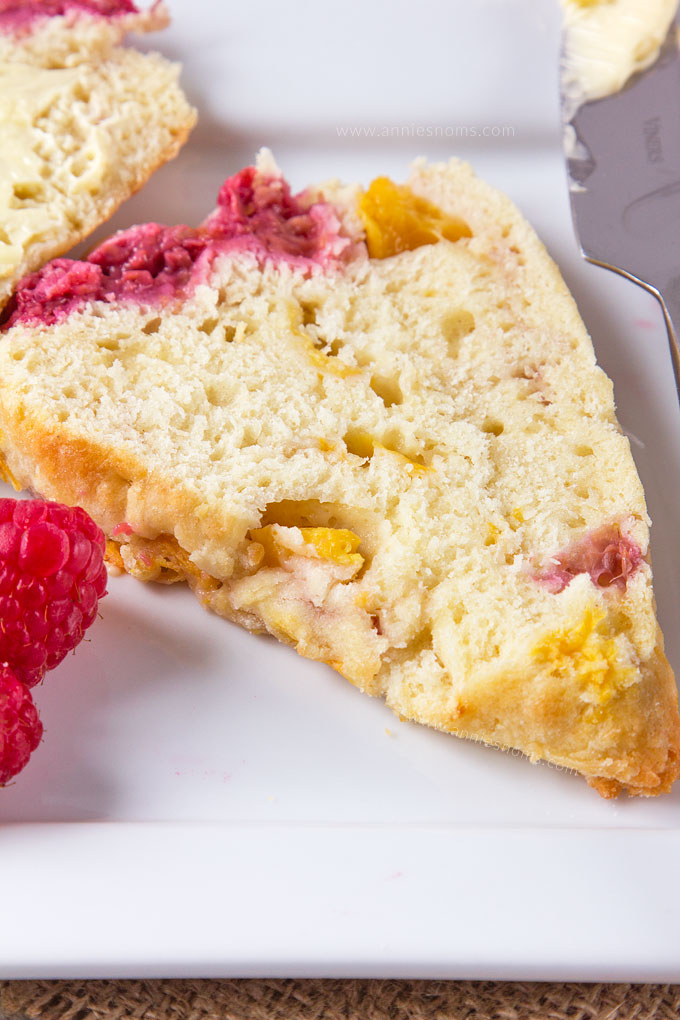 I've read so much about how scared people are to make scones. I've always found them rather easy. As long as you have cold cubes of butter, milk, eggs, flour, baking powder, a little sugar and your fingers to rub the flour and butter together, you've pretty much got it.
Of course, it would probably be even easier if you have a pastry blender, but I still haven't got round to buying one, so fingers it is.
The key to a good scone, I believe, is not overworking the mixture and using cold butter. The warmth of your hands can easily soften that butter, which you don't want, but I don't have that problem because my extremities have always been ice cold. I say it's because I have a heart of ice, but that's not so true since I fell in love.
OH seems to have melted my icy heart somewhat…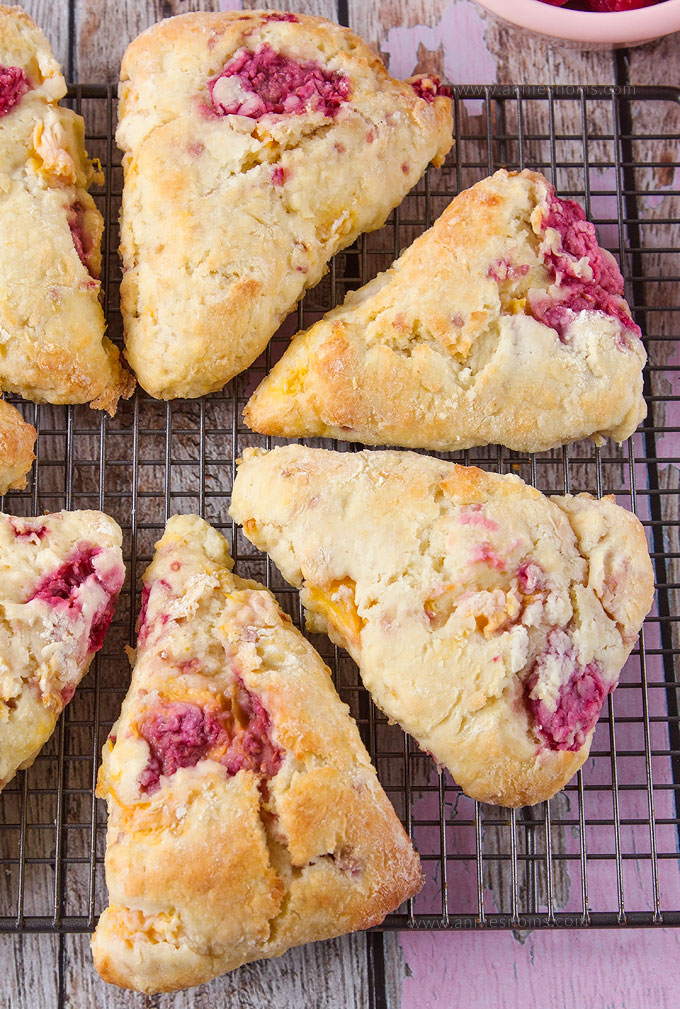 Another key point is to not knead the dough too much. For a plain scone, I don't knead it at all. I just tip it out, bring it together and then roll it out. However, with the addition of fruit, I made the scone mixture, tipped it out and then added in the fruit by folding gently.
If you want, you can add the fruit in whilst you're bringing the mixture together, but I find it easier to add it afterwards. It means you can get the perfect scone mixture first without beating, over working etc. it to add in the fruit.
It's a gentle process, but worth every second when you bite into that warm, soft, light scone for the first time.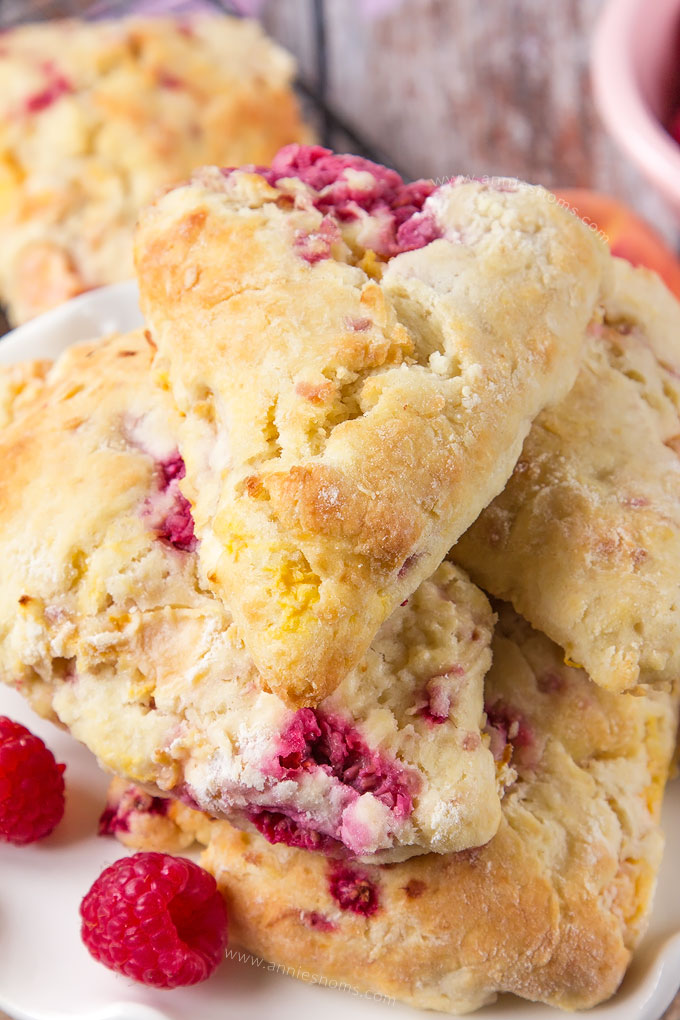 You can add fresh or frozen  fruit to the mix, frozen is easier to work with and keeps the mixture cold, fresh can make a little mess and the dough can get a little wet, but if you use a floured mat and hands then you can get the fruit evenly through the dough. And I do love the little juicy bursts you get from fresh raspberries.
But, I would advise the use of frozen fruit. Especially if this is your first time making scones.
My biggest piece of advice? Just go and make these scones. They're slightly sweet, full of fruit, light, flaky perfection. And I may have eaten 2 as soon as they came out of the oven…

Peach and Raspberry Scones
What is better than a fresh, homemade scone for breakfast? A homemade Peach and Raspberry Scone! Light, flaky, buttery and filled with fruit, these are the perfect start to your day!
Ingredients
1

stick (113g) cold unsalted butter,

cubed

2 1/2

cups

(350g) plain flour

2

tsp

baking powder

Pinch salt

3

tbsp

caster sugar

1/2

tsp

vanilla extract

2

large eggs

1/2

cup

(120ml) milk

3/4

cup

(93g) frozen raspberries

3/4

cup

(160g) frozen peaches,

small cubes are best
Instructions
Preheat oven to 200C/400F and line a baking tray with a silicon mat, silpat etc. I use a silicon mat.

Place cubes of cold butter, flour, baking powder, salt and sugar into a large bowl and rub the butter and flour mix together until you have a fine/coarse breadcrumb texture with a few larger lumps. Alternatively, you can use a pastry blender to cut the butter into the flour.

Place vanilla extract, eggs and milk into a jug and beat lightly.

Add almost all of the milk mixture to your flour mix and stir gently with a wooden spoon until it starts to form a dough. If your dough is still dry and not coming together, add in the remaining milk mixture and stir until you have a soft dough.

Flour your worktop well, or use a silicon pastry mat (life saver!) and lightly flour it. Tip your scone dough out onto your floured surface and add in 1/3 of your peaches and raspberries.

Gently fold in the fruit, not kneading as you would a bread dough, just gently pulling and folding.

Repeat with the next third of fruit, then the final 1/3 of fruit; your fruit should be evenly distributed throughout the dough.

Transfer the dough to your lined baking tray.

Pat the dough into a circle, around 1/2 an inch thick and then slice into 6-8 wedges.

Place in the oven for 12-14 minutes until risen, golden and an inserted skewer comes out clean. You can also tell by gently tapping on them; if they sound hollow they're done.

Leave to cool for 15 minutes before digging in! Scones are best warm with plenty of butter!

Keep completely cooled scones in an airtight container, at room temperature, for 2 days.
Notes
Recipe by Annie of Annie's Noms



I link up at these great Link Parties!