My Salted Caramel Cheesecake Bars marry velvety smooth cheesecake with the salty sweet gorgeousness that is Salted Caramel. With caramel in the cheesecake and on top, these are a caramel lovers dream!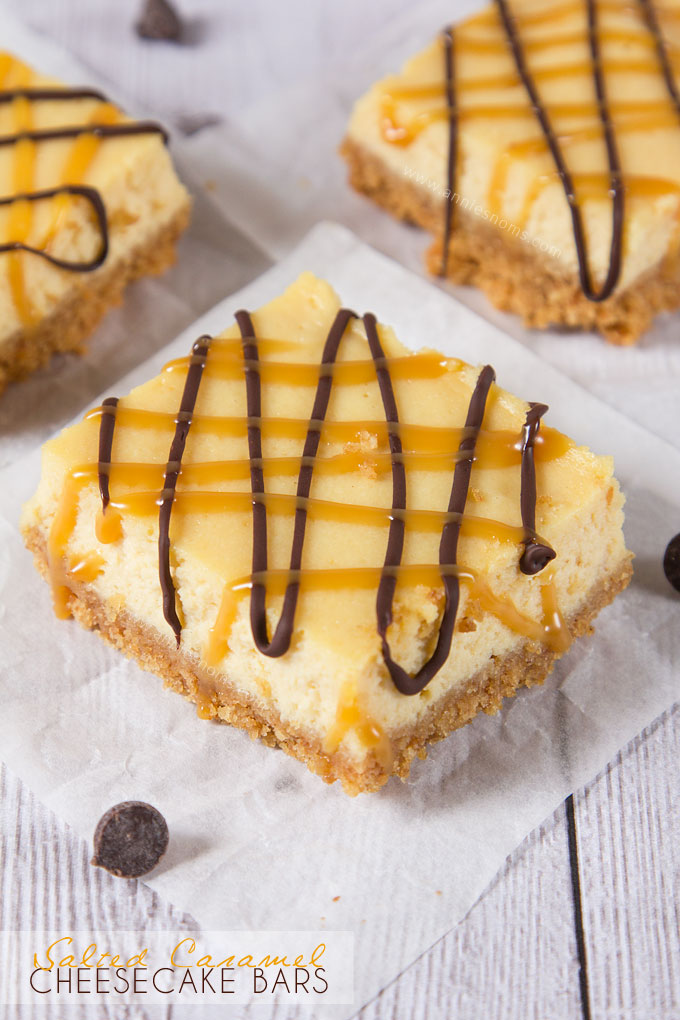 So, we've finally decided on a year and a country for our wedding; Lapland in 2018.
But, now everyone is like "Why are you waiting so long?"
At first, when we got engaged, it was immediately "WHEN ARE YOU GETTING MARRIED?!?!?!?!" – and we were always like "Don't know"
Now, we've come up with a time, people still aren't happy…
Basically, we're doing what we want to do. We want to get married in Lapland because we want to see the Northern Lights and we're waiting until 2018 because we won't be able to afford it next year and I don't like odd numbers, so 2017 is definitely out. Yeeeesh 17 is a horrible number.
I would marry OH tomorrow, but in order to have the wedding we want with no drama we have to go elsewhere in the world. And he kind of has his heart set on a wedding abroad now even though I said how cool would it be to just run away get married and then throw an engagement party and go "Actually, we're already married!"
Another reason for Lapland is that when I was a kid I always dreamed of getting married in the snow with my bridesmaids in dark green. I find snow a bit magical and it will look so gorgeous in photos!
I do struggle with the cold though… so maybe it's not the best choice; I don't want to go blue and be shivering in my wedding photos haha!
Now, who wants velvety smooth cheesecake in portable form?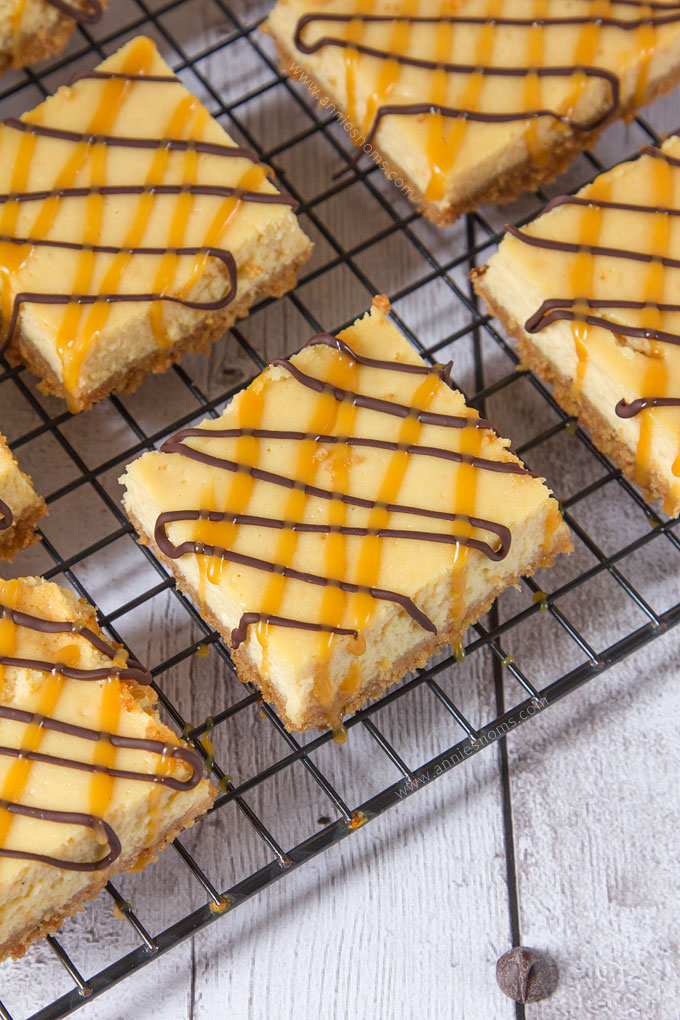 I adore making cheesecake bars. It's not that I'm against a whole cheesecake, I made this one over Christmas, I just like easy desserts that you can carry around with you because let's face it, I always have eleventy million things going on and I don't have time to sit and eat dessert, it has to be eaten whilst rushing round the house photographing, tidying, blogging, styling, editing…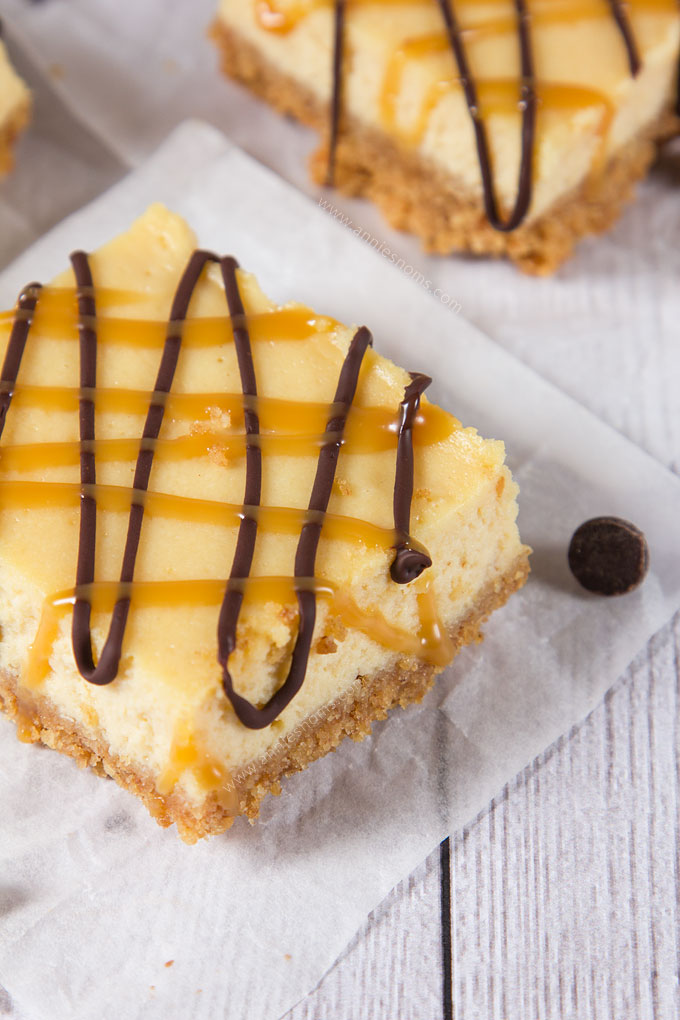 When the whole salted caramel thing took off I really wasn't sure if I'd like it. I have this weird thing with sweet and savoury. I'm kind of grossed out by it; jam on toast? No. Chocolate spread on toast? Definitely not.
But, when I had my first mouthful of that sweet, rich, slightly salty sauce it was love at first… lick?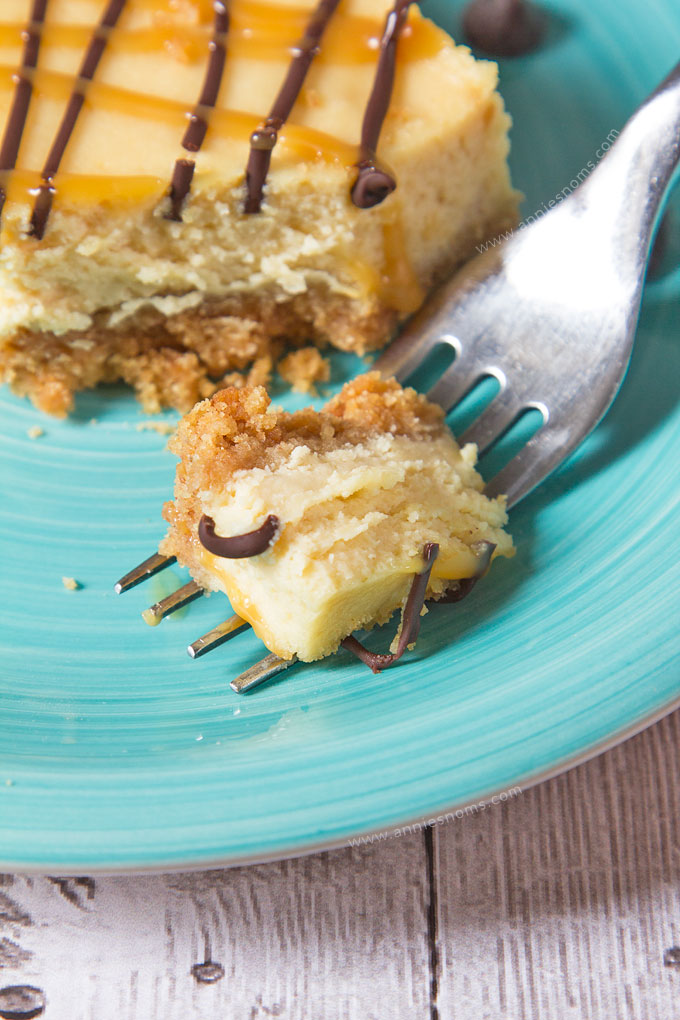 I thought it only natural to marry fluffy, smooth cheesecake with rich, sticky caramel. I put 1/3 cup of caramel into the cheesecake batter and baked it all up before drizzling more caramel on top with a little drizzle of dark chocolate to cut through the sweetness.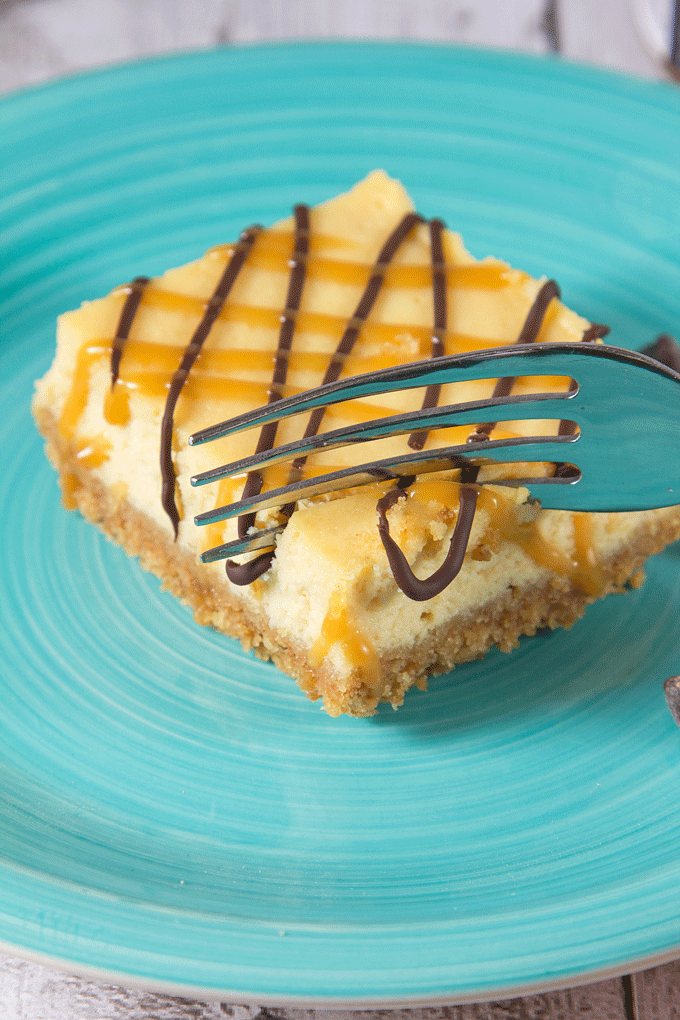 I contemplated putting chocolate chips into the cheesecake too, but I wanted the salted caramel to be the star of the show! And it totally is.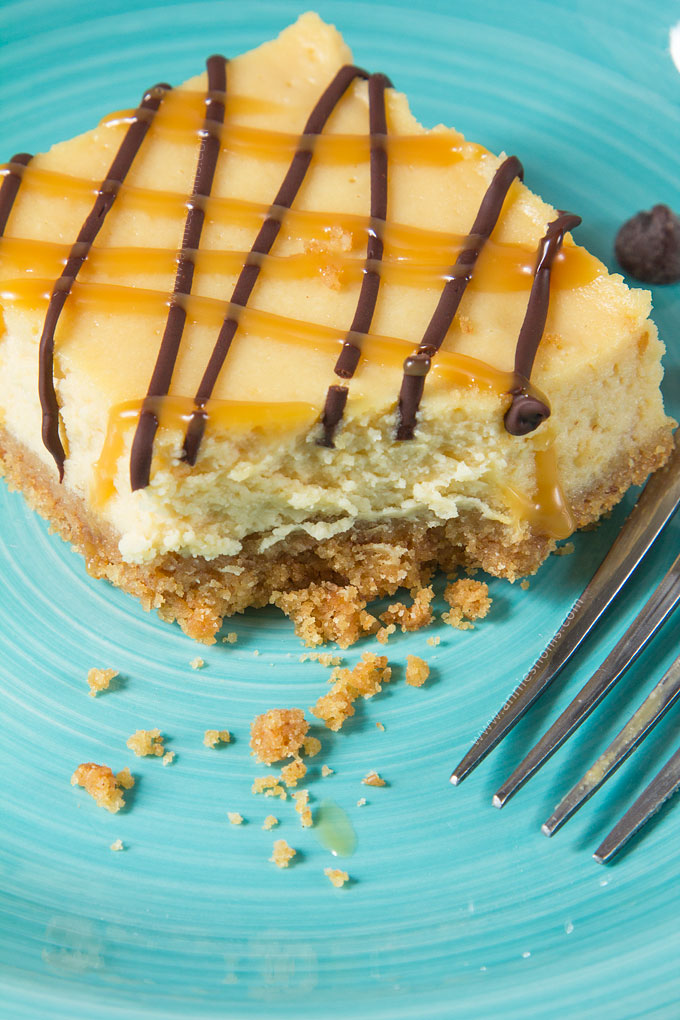 You get the tang of the cheese, a salty hit and then rich, sweet notes. All together it's blissful. I stuck with a traditional digestive/graham cracker crust and they are the perfect biscuit for this cheesecake bar! Not too sweet, a little crumbly and a tiny bit caramelized.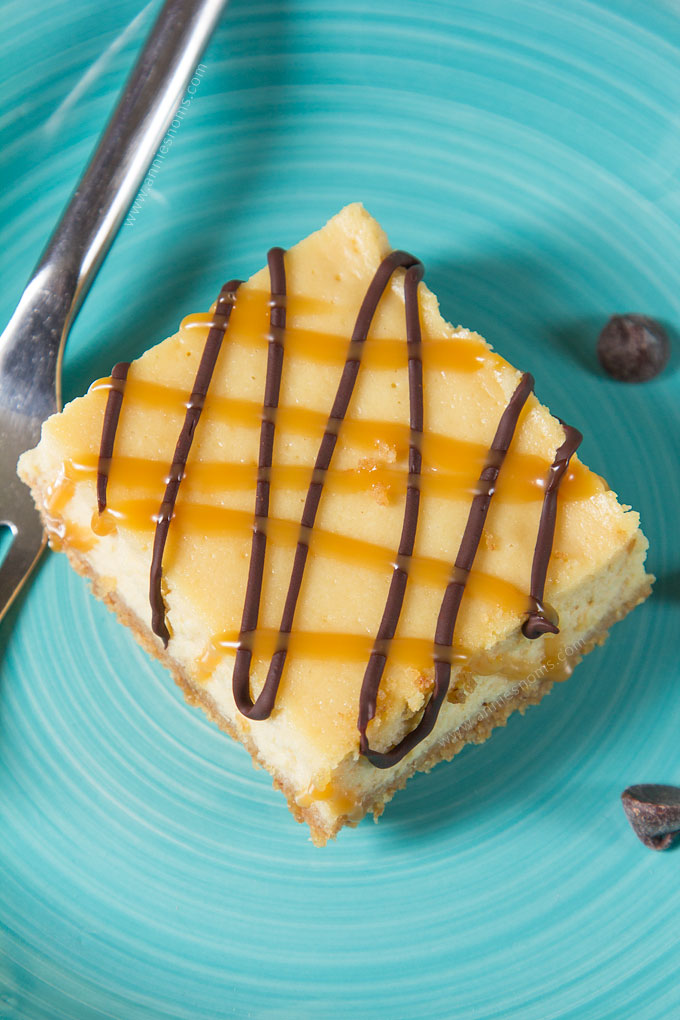 Man, I love digestives.
You need these bars in your life. They're baked in 30 minutes then you just have to wait for them to cool before slicing, drizzling and devouring.

Salted Caramel Cheesecake Bars
My Salted Caramel Cheesecake Bars marry velvety smooth cheesecake with the salty sweet gorgeousness that is Salted Caramel. With caramel in the cheesecake and on top, these are a caramel lovers dream!
Ingredients
For the crust:

2

cups

(240g) digestives/graham crackers,

crushed

1

stick (113g) unsalted butter,

melted and slightly cooled

For the cheesecake:

12

oz

(340g) full fat cream cheese

at room temperature

1

tsp

vanilla extract

2

large eggs

1/2

cup

(100g) caster sugar

Pinch salt

1/3

cup

(90g) salted caramel sauce

For the topping:

1.5

oz

(42g) dark chocolate chips

3

tbsp

salted caramel sauce
Instructions
Preheat oven to 180C/350F and grease and line an 8x8 inch square pan.

Place crushed digestives into a medium sized bowl and then pour melted butter over them. Stir until all the crumbs are coated in butter and then tip into your lined pan.

Press into the pan with the bottom of a cup/spatula/your hand until you have a level layer, pressed pretty firmly into the pan.

Place in the oven for 10-12 minutes until firm to the touch and slightly crisp.

Whilst the base is baking, make the cheesecake filling: Place cream cheese, vanilla extract, eggs, sugar and salt into a large bowl and beat with a hand mixer or by hand with a whisk until smooth, light and well combined with no lumps.

Add in the caramel sauce and beat until well incorporated.

Pour the cheesecake mixture over your baked base and smooth over with a spatula.

Place in the oven for 20-25 minutes until golden around the edges, set in the middle with the slightest wobble and the whole cheesecake should be slightly yellow/golden. You can insert a small knife as well; it should cut cleanly with no cheesecake sticking to it.

Leave to cool in the pan for at least an hour before transferring to a chopping board to slice into 9-12 bars.

Place cut bars onto a wire rack with kitchen paper underneath (to catch drips) Place dark chocolate into a small heatproof bowl and place in the microwave in 20 second increments, stirring in between, until melted and smooth.

Transfer to a small Ziploc bag/piping bag and snip a tiny bit off of one corner. Drizzle melted chocolate diagonally across all bars.

Place salted caramel into a small heat proof bowl and microwave for 20 seconds.

Place into a small Ziploc/piping bag and snip a tiny bit off of one corner; drizzle the opposite way to the melted chocolate, across all bars.

Leave to set before storing in an airtight container, in the fridge, for 3 days.
Notes
Recipe by Annie of Annie's Noms



I link up at these great Link Parties!