Fresh, juicy strawberries, chunks of white chocolate and oats make these Strawberry and White Chocolate Oatmeal Muffins hearty, full of flavour and just perfect for breakfast on the go!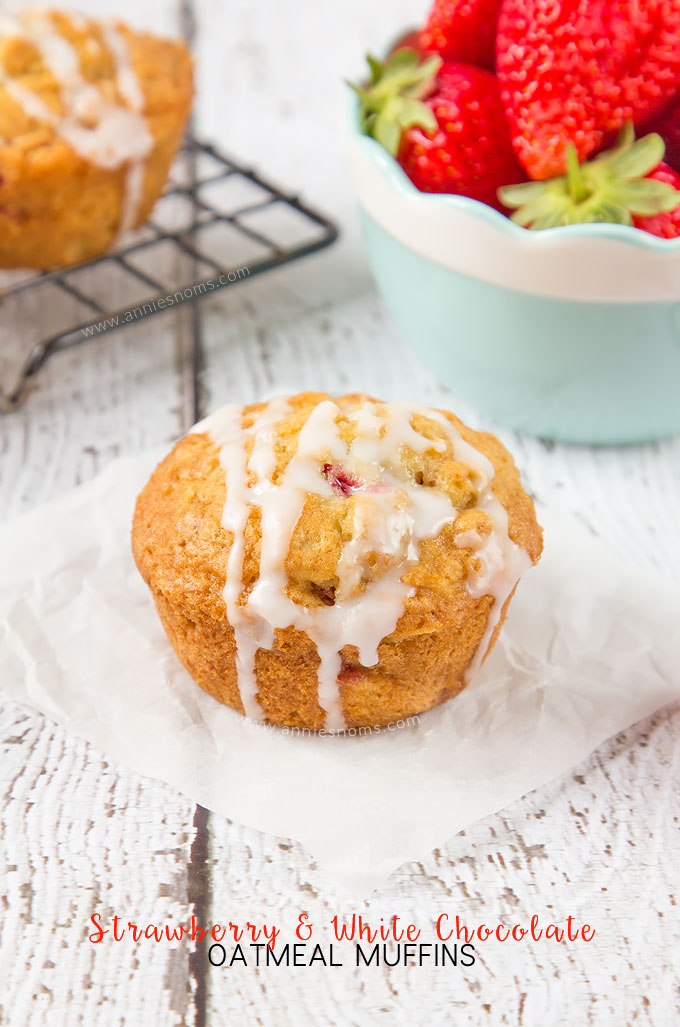 Boy am I looking forward to this weekend!
This week has been long and stressful and I can't wait to relax and stick my head in a book. Although my idea of relaxing probably isn't really relaxing at all to most people. I'll still be in the kitchen baking for the blog and then I'll have to photograph the recipes too, but apart from that and a little scheduling I will hopefully have some time to chill!
It also looks like Summer has finally arrived and the weekend is looking bright and sunny. I would say this means I'll sit in the garden reading my book, but 1) I'm like a vampire and I frazzle in the sun and 2) our garden is currently 80% weeds and 20% a wild strawberry plant that's trying to take over.
We really should do something about that…
I'll settle for sitting on the sofa with the door open looking at the sunshine and my very weedy garden.
I may also have to have another one of these muffins, because they are amazing. Soft, juicy, sweet… with pockets of white chocolate and plenty of oats.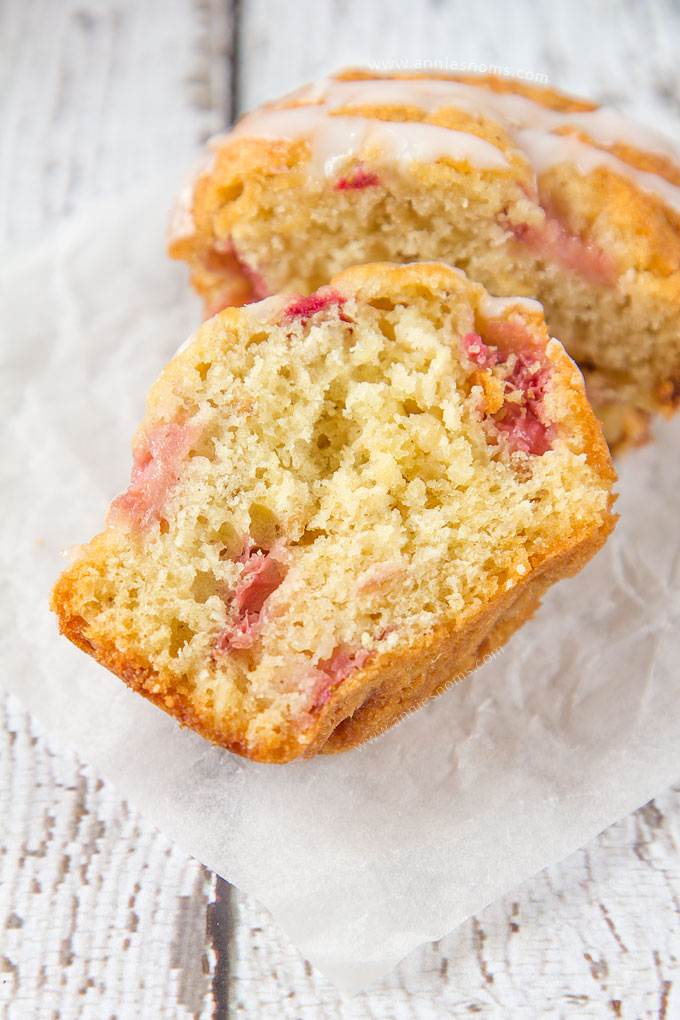 As I put oats in, these are breakfast right? Even with the chocolate? I figure the heart healthy oats balance out the chocolate…
Well, that's my way of justifying eating chocolate for breakfast. 😉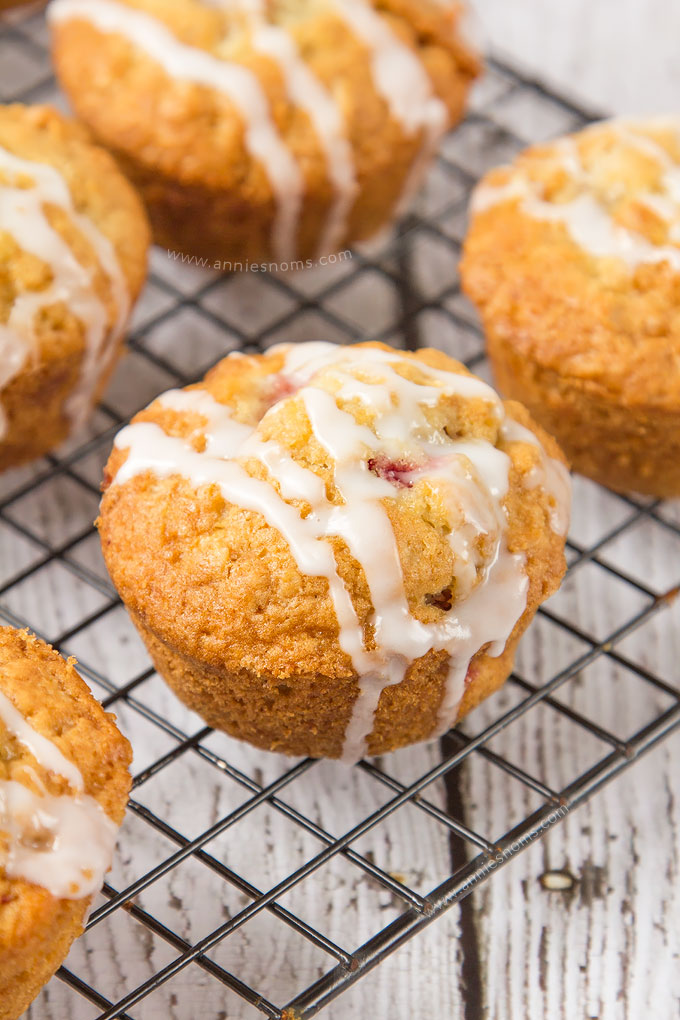 This also marks the first baked strawberry recipe this year. (I did make this smoothie, but that's different!) . I don't quite know how I've held off for so long, because I've been eating them like they're going out of fashion for weeks.
Seriously, when I see that the strawberries in the supermarket are from the UK, I stock up on those babies.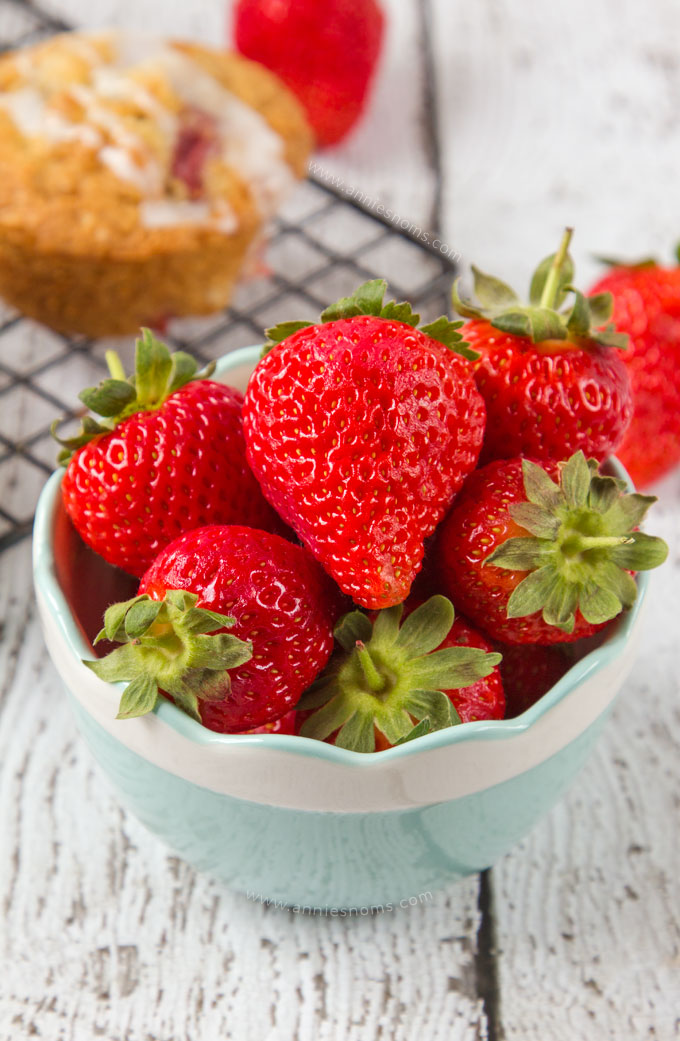 Doesn't everyone eat 1kg of strawberries a week…?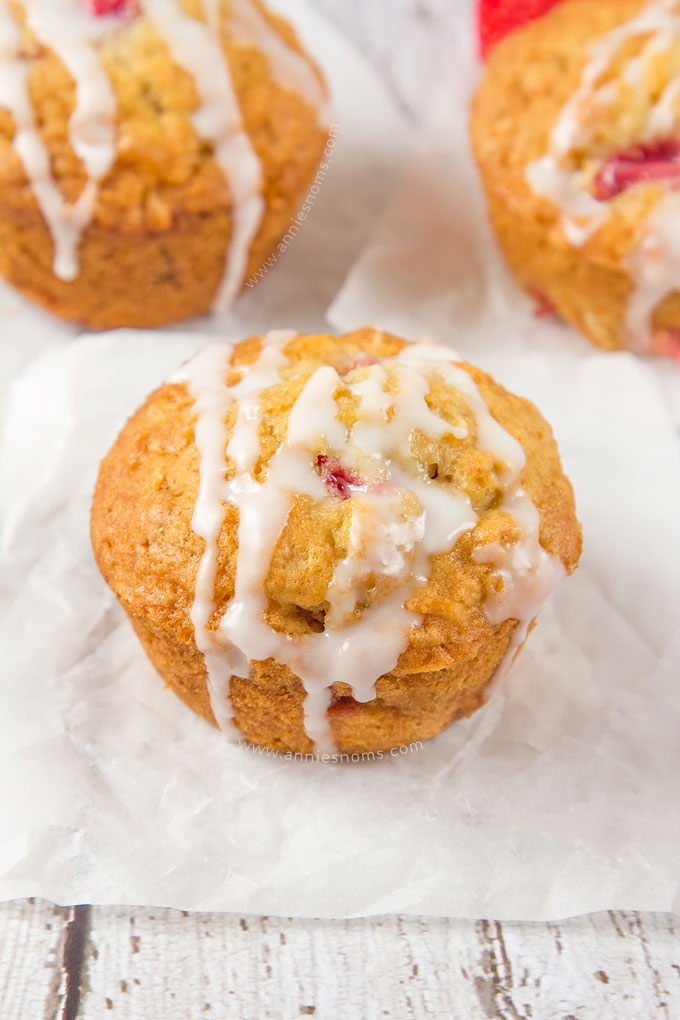 I know that strawberries go with most things, but one of my favourite combinations is strawberries and white chocolate. The sweet, vanilla-ry flavour goes SO well with strawberries and they really are a match made in heaven in these muffins!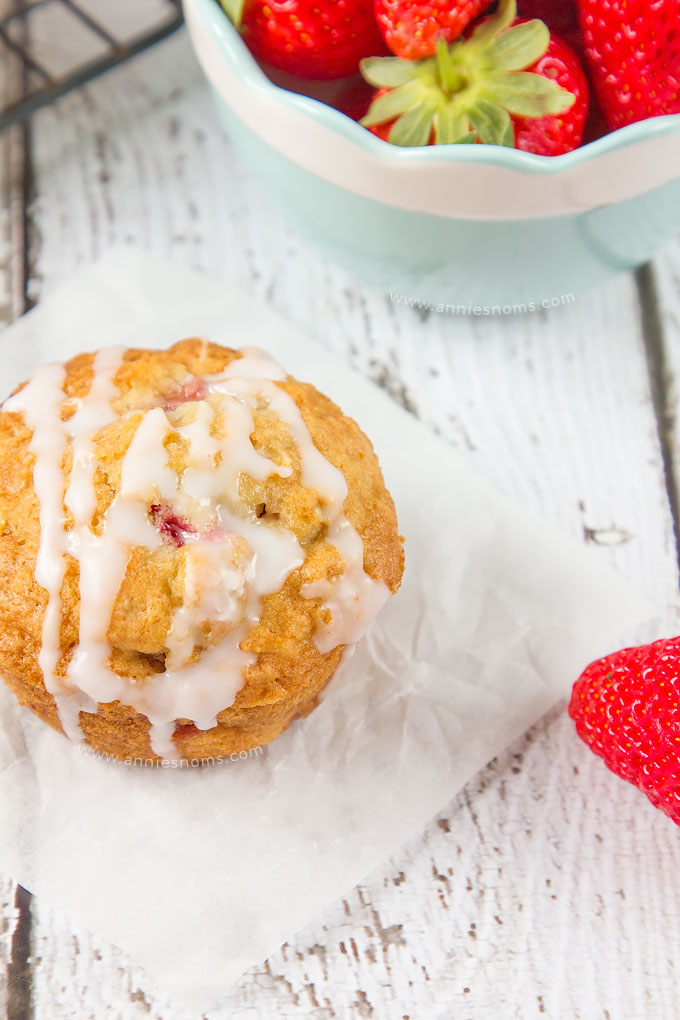 I would say, that buying good quality white chocolate is a must though. I always use Green and Blacks as it's texture and flavour is unrivaled by any other I've tried.
You will notice if the white chocolate doesn't taste great, because it's one of the star ingredients and there's 3/4 cup of chunks in them.
Now, normally I add in 1 cup of sugar into my muffin recipes, but as strawberries are super sweet and in season and because of the white chocolate, I reduced it to 3/4 cup; that was the perfect amount, these aren't overly sweet, but… they're not for people who have no sweet tooth!
To finish them off I drizzled on an optional glaze; just icing sugar and a little water. I left half without a glaze and they were still fabulous, so it's up to you if you want to add it!
Ready, steady, bake – you won't regret it! 😀

Strawberry and White Chocolate Oatmeal Muffins
Fresh, juicy strawberries, chunks of white chocolate and oats make these Strawberry and White Chocolate Oatmeal Muffins hearty, full of flavour and just perfect for breakfast on the go!
Ingredients
For the muffins:

2

cups

(280g) plain flour

1

cup

(80g) rolled oats,

not quick cook

2 1/2

tsp

baking powder

1/2

tsp

bicarbonate of soda

Pinch of salt

3/4

cup

(150g) caster sugar

1

cup

(150g) fresh strawberries,

hulled and diced

3/4

cup

(130g) white chocolate chunks

2

large eggs

1

tsp

vanilla extract

1/2

cup

(120ml) milk

1

stick (113g) unsalted butter,

melted and slightly cooled

For the glaze:

1/2

cup

(60g) icing sugar,

sifted

1

or 2tbsp water
Instructions
Preheat the oven to 180C/350F and spray a 12 hole muffin tray with cooking spray. (I use Wilton Bake Easy).

Place flour, oats, baking powder, bicarb, salt, sugar, strawberries and white chocolate chunks into a large bowl and stir until all the strawberries are coated in flour.

Place eggs, vanilla extract and milk into a jug and beat lightly.

Pour the egg mixture into your flour mix and then pour in the cooled melted butter.

Stir until just combined and there are no lumps of flour, do not beat otherwise your muffins will be rubbery and dense.

Divide the mixture between your greased holes, fill them level.

Place in the oven for 15-20 minutes until risen, golden and an inserted skewer into the centre comes out clean.

Leave to cool in the pan for 15 minutes before transferring to a wire rack to cool completely.

Once cooled, place some kitchen towel under your wire rack and then make the glaze (if making): Place the icing sugar into a small bowl and then add 1/2tbsp water. Mix into a paste and check consistency, then add another 1/2tbsp of water. Repeat until you have desired consistency. I needed around 1 and 1/2tbsp water. You want a consistency that coats a spoon, but also drizzles off easily. Although, if it's too thin it will run straight off the muffins, so be careful adding in the water!

Drizzle the icing over each muffin and then leave to set, before placing in an airtight container. Keep at room temperature for 2 days, or in the fridge for 4 days.
Notes
Recipe by Annie of Annie's Noms



I link up at these great Link Parties!