My individual sized Black Forest Trifles are packed with rich chocolate cake, whipped cream, fresh cherries and a gorgeous, thick chocolate custard. A make ahead, no-bake dessert the whole family will love!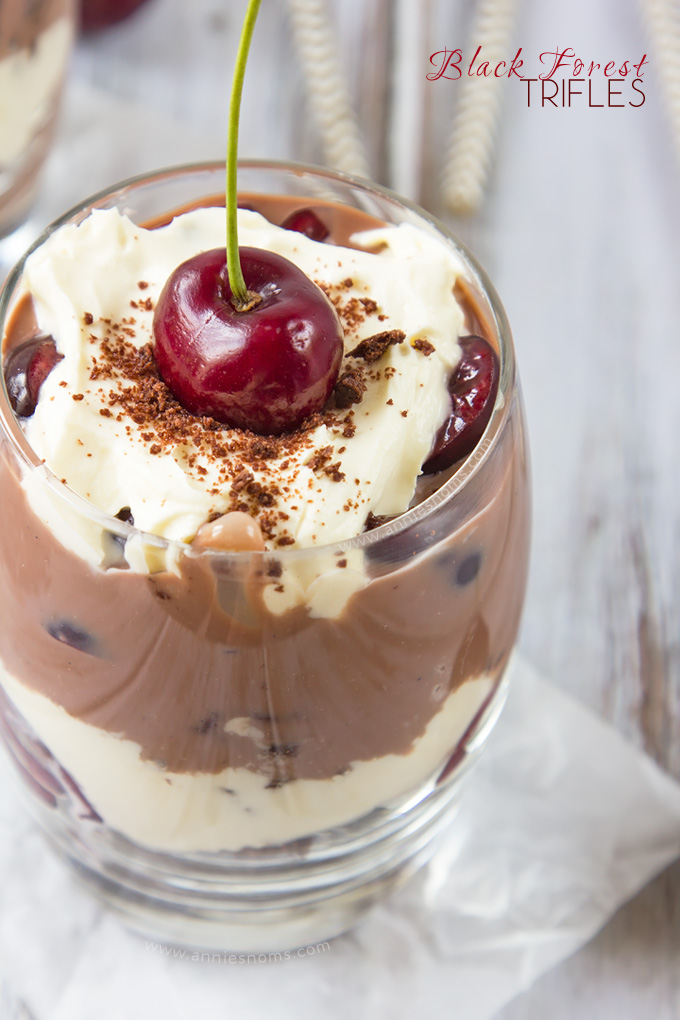 You guyyyyyys! Today's recipe is literally the BOMB.
I can't even begin to describe to you how divine-amazing-mouthwatering-rich-delicious they are.
With optional kirsch of course… Although to most of you it won't be optional which is totally OK. We're just alcohol free in this house because OH is allergic and I am on a crazy amount of medication that would make me super ill if mixed with alcohol.
I've been wanting to make "something Black Forest" since Christmas. I knew I didn't want to make a traditional cake, so I had a brainstorm back in February and then, of course, I got side tracked by a million other divine desserts I just had to make.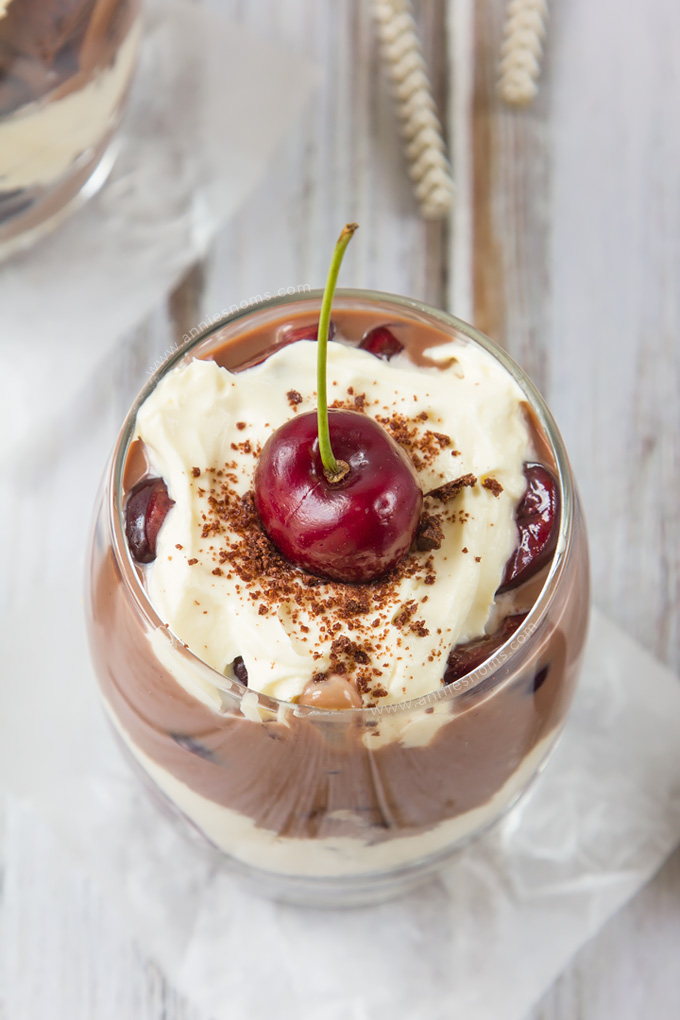 #foodbloggerproblem number 3485968676: never making anything twice because you have so many other things to make and it's your job, so like, nobody wants the same recipe every week.
It's a real problem…
And I'm frequently moaned at by OH because I didn't "make that thing that was really delicious again" I'm just like "WHAT THING?! I MAKE HUNDREDS OF DELICIOUS THINGS!"
And he's like "Yeah, I know. They are all delicious… but that one thing… please make it again"
The man doesn't even remember what he ate for dinner last night, so that really doesn't help. BUT. He raved about these so much and begged me to make them again even though he doesn't really like chocolate, so I figure they really must be that good and I've promised* him I'll make them again.
* – unless he forgets. Then I'll continue making a million other things.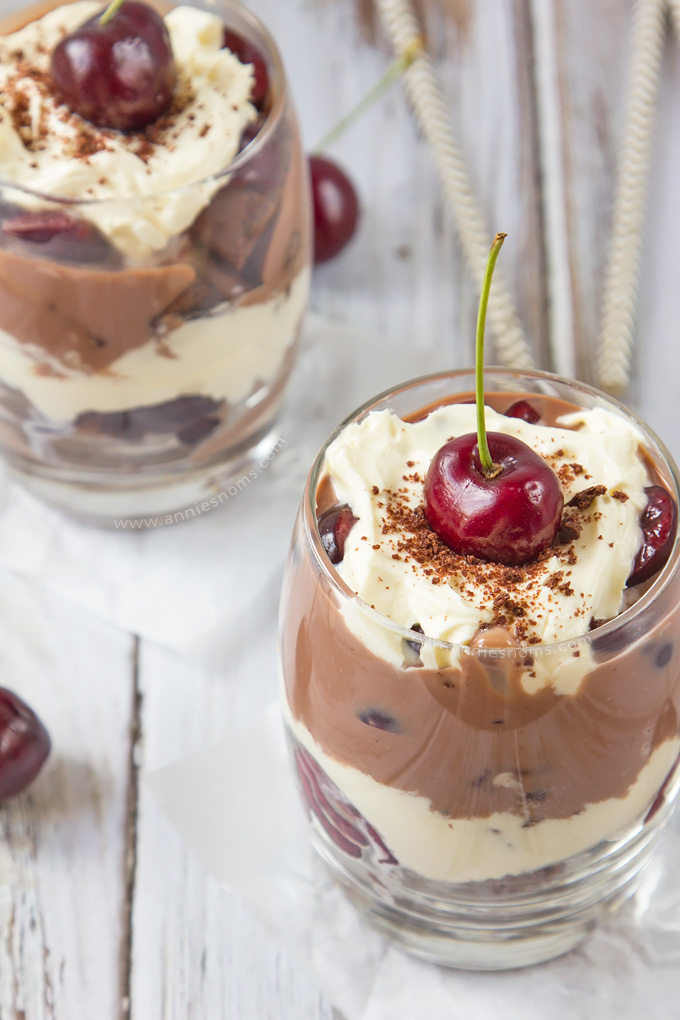 Back to these trifles. Originally I was going to make a big trifle, but then I couldn't find the right bowl…
Yes. I'm that person who spends an hour walking round the same few aisles in a store, looking at the same few bowls unable to decide which one I want, then deciding I don't want any of them because they are not like I imagined in my head.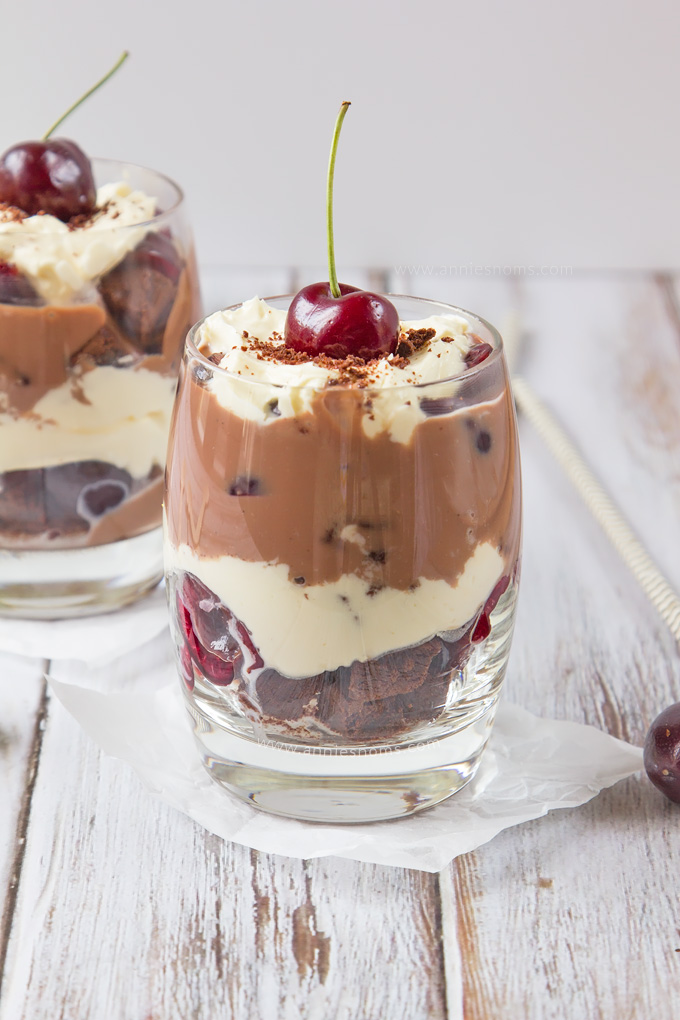 So, then I decided to make individual sized trifles in cute rounded glasses. Because glasses aren't only for drinking out of.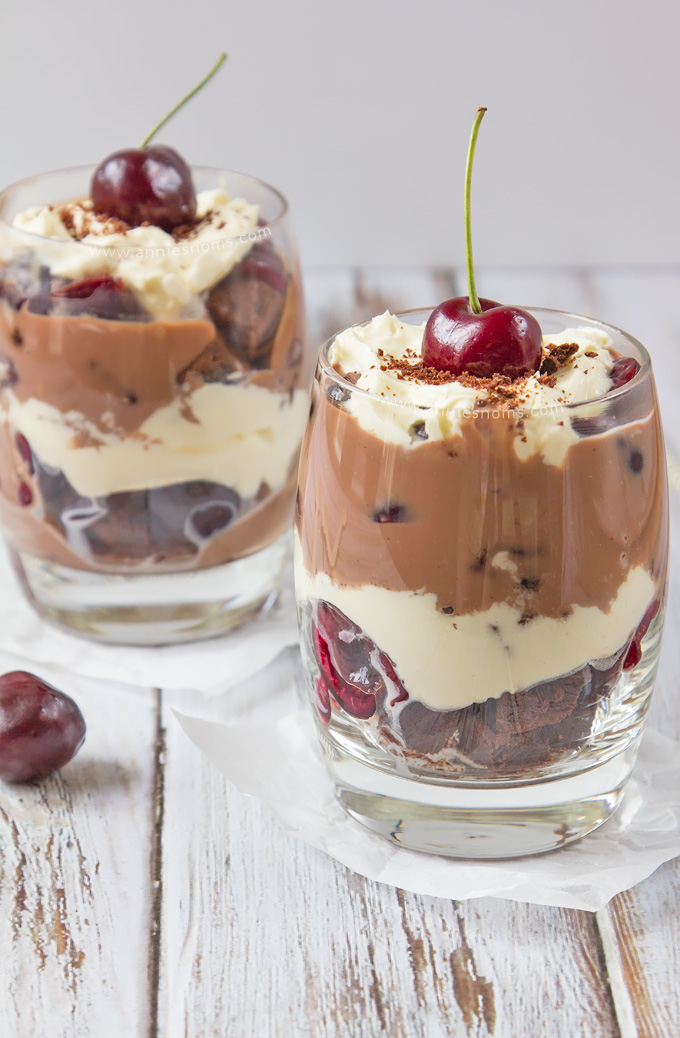 To build these trifles I started with chunks of rich chocolate cake, then fresh, juicy cherries (you put the kirsch on at this point) then cream, more cake, luscious, thick chocolate custard, more cherries, more cream and then a cherry on top.
You can use any plain chocolate cake you have leftover, or buy one, or use chunks of brownie; it's up to you, just make sure it's gorgeously chocolatey. 😉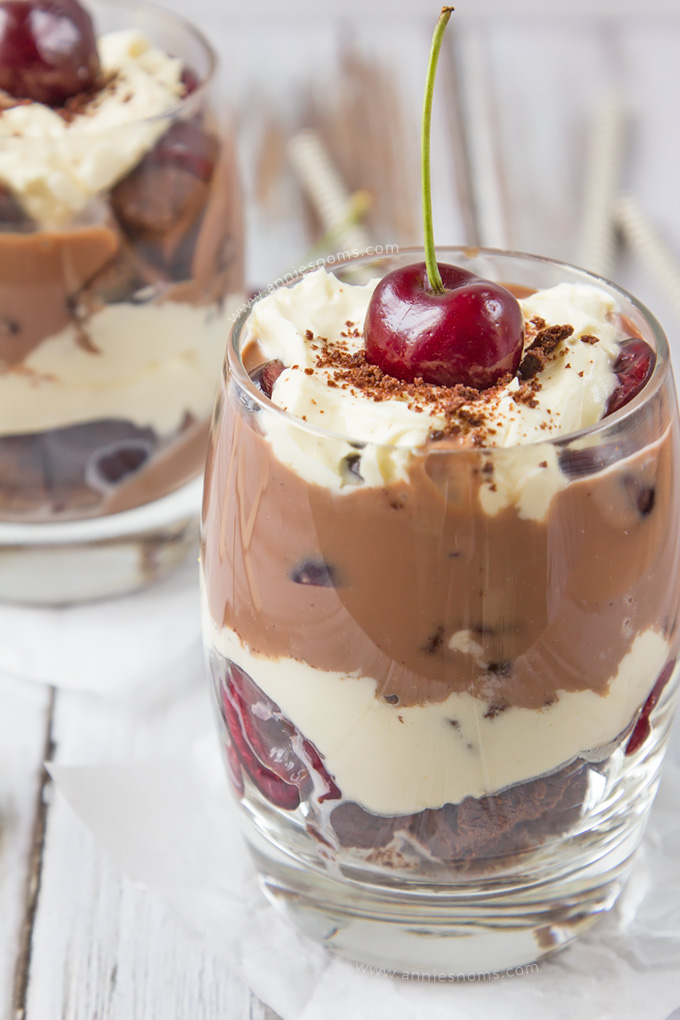 To make the custard I kind of cheated. But that's OK sometimes. I bought some really nice Madagascan Vanilla custard with flecks of vanilla, then warmed it up with some good quality milk chocolate until the chocolate had melted down and created a custard so delicious I just wanted to get a straw and drink it.
I kept the cream plain and just whipped it, and I crumbled a little piece of cake to use as a garnish on the top. You can use chocolate shavings if you want, but I quite like the link to the layers below.
NOW, I get the whole Black Forest thing. The combination of the chocolate, cake, cherries and cream is utterly divine. The cherries cut through the sweetness of the custard and then there's the rich element from the cake and then the cream. GAHHHH. I don't normally like cream, but its velvety smooth texture along with all the other components just make this dessert out of this world.
So seriously, make these. And then devour.

Black Forest Trifles
My individual sized Black Forest Trifles are packed with rich chocolate cake, whipped cream, fresh cherries and a gorgeous, thick chocolate custard. A make ahead, no-bake dessert the whole family will love!
Ingredients
1 1/2

cups

(360g) good quality custard

4

oz

(113g) good quality milk chocolate

Pinch of salt

1 1/2

cups

(360ml) double/heavy cream

2

cups

(340g) halved and pitted cherries,

plus 4 whole cherries for garnish

3

tbsp

kirsch,

optional

2 1/2

cups

(250g) plain chocolate cake/brownies,

cut into small chunks
Instructions
Place custard and chocolate into a medium sized pan and place over a low heat. Stir continuously until the chocolate has melted, do not boil. Once the chocolate has melted, add in a pinch of salt and stir until combined. Leave to one side.

Place double cream into a medium sized bowl and beat until almost stiff peak. You want a little more movement than a full stiff peak, but you still want it to hold its shape. Leave to one side.

Take 4 glasses/dessert dishes and get ready to layer! - Place a heaping tablespoon of cake chunks into the bottom of each glass, then top with cherries. Bear in mind you need two layers of cherries and cake in each glass, so as long as they pretty much cover the previous layer, that's enough, don't heap them up high!

Place 2 teaspoons of kirsch over the cherries and cake, if using.

Place 2 heaping tablespoons of whipped cream on top of the cherries, and smooth over to create an even layer which covers the cherries.

Add another heaping tablespoon of cake chunks and divide the remaining kirsch between each glass. Reserve a couple of cake chunks and crumble them to create a garnish.

Next, add a heaping 1/4 cup of chocolate custard into each glass, divide the remaining cherry halves between each glass, then top each glass with the remaining cream.

Sprinkle each trifle with the cake crumbs and then top with a whole cherry.

Serve immediately, or place in the fridge until ready to serve. Leave out for 10 minutes before serving, once refrigerated.

Black Forest Trifles will keep covered, in the fridge for 2 days.
Notes
*I used rounded tumblers which were 4 inches tall Recipe by Annie of Annie's Noms

I link up at
these
great Link Parties!