All the flavours of a Blackberry Pie, sandwiched between flaky, golden puff pastry. This easy braid comes together in next to no time and is ready to eat in under 45 minutes. Fruity, crunchy and simple, this braid is pure fruit filled, pastry perfection!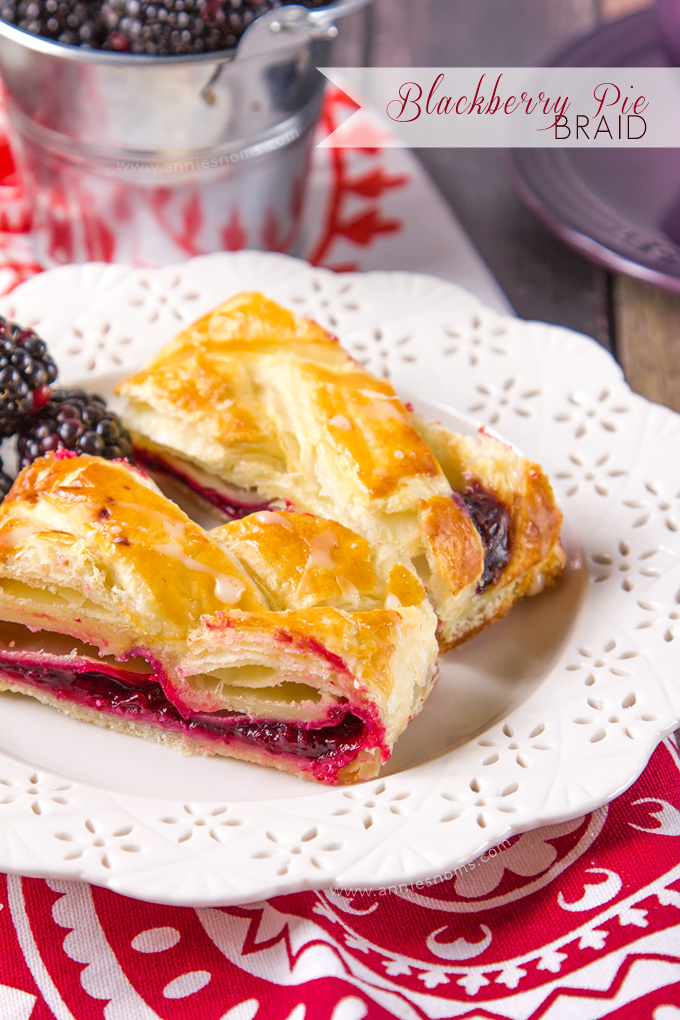 Happy Thursday! How has another week almost flown by already?!
The Autumn baking is well underway and you can expect some pumpkin recipes in the very near future!
But, today we're talking blackberries.
I love blackberry pie, but I also can't always be bothered to make an entire pie. Sometimes you just want golden, flaky pastry with a sweet, yet tart fruity filling.
Enter my Easy Blackberry Pie Braid. I used ready rolled puff pastry and a quick homemade jam to create this epic dessert… or breakfast. You decide!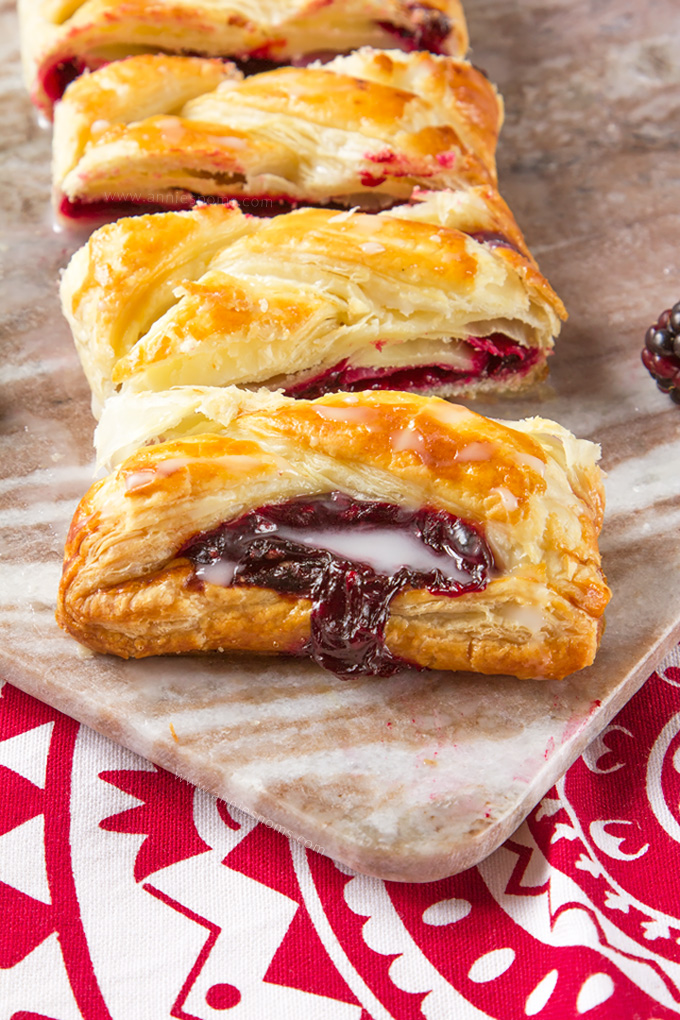 As it turns out, I'm actually going to share with you my base shortcrust pastry recipe next week, but for this particular recipe, I wanted puff pastry. And I also wanted to make it look pretty, so I did the most simple braid known to man because that's the only one I can do! 😀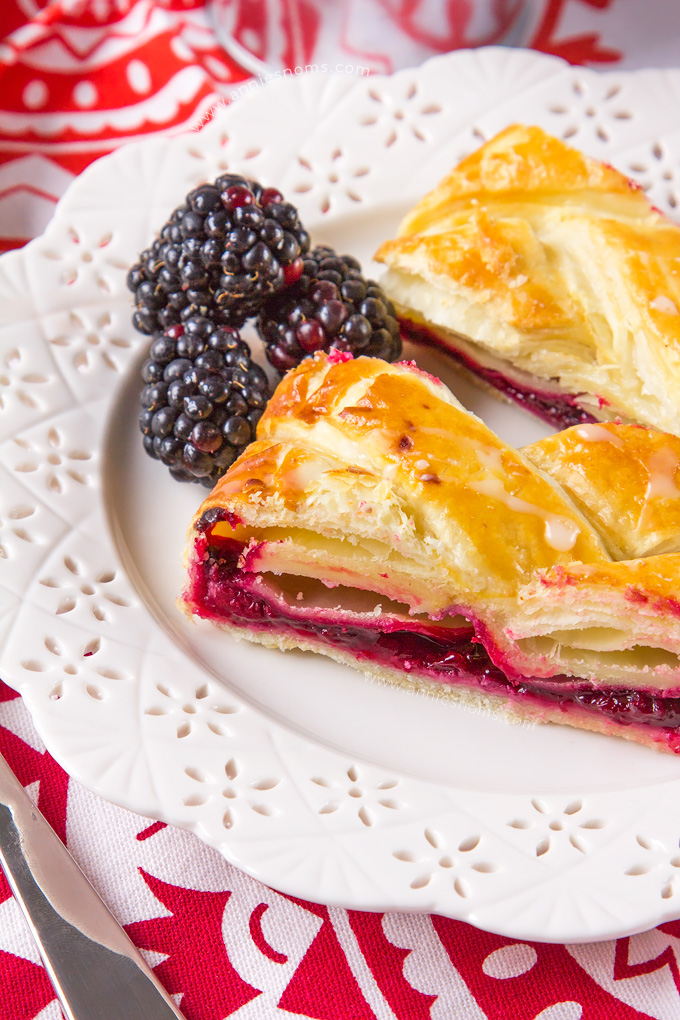 I wish I could braid well. I envy people who can do French plaits and fishtail ones. I have the hair skills of a 5 year old and it's rather annoying.
I have a friend who is amazing at doing hair and I always want to know how she does it, but even when she tells me I still can't do it. Ugh. I'm just useless at hair!
Anyway, let's talk filling.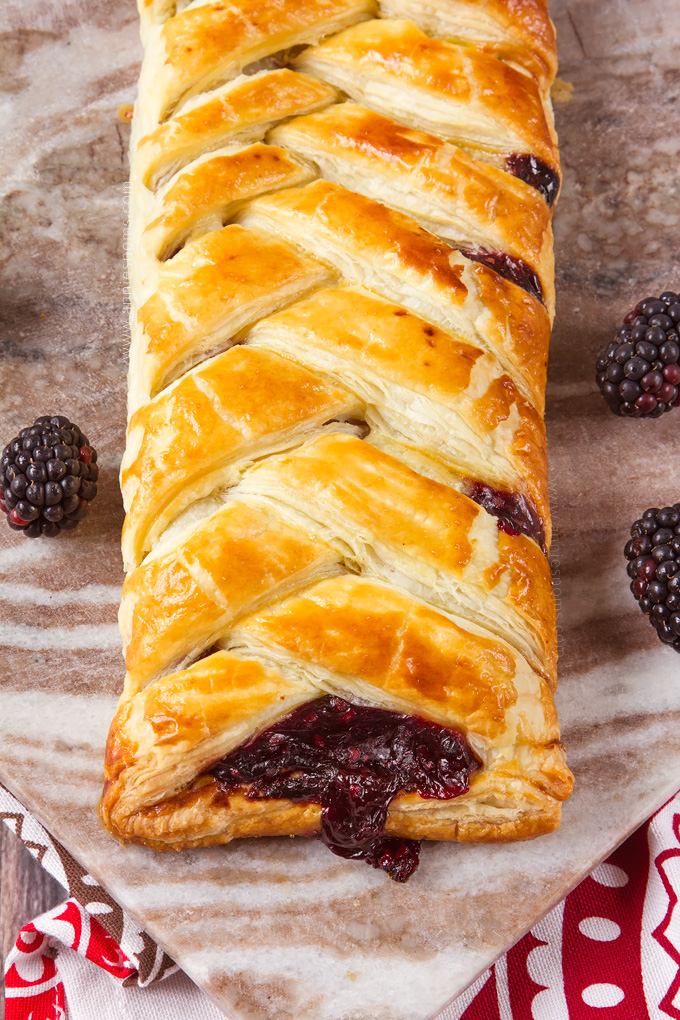 I placed blackberries, cornflour, sugar and a little lemon juice into a medium sized saucepan and brought it to a boil over a medium heat. Once it's boiling, you just stir until the blackberries become soft and you have a thick jam like texture. A little mash with a fork and you have a super quick and easy jam filling for your braid!
To make the braid, I took a ready rolled sheet of puff pastry and divided it into three by scoring 2 lines into the pastry, very lightly. I then cut my strands in order to create the braid. For more detailed instructions on how to make the braid and step-by-step pictures, see THIS recipe.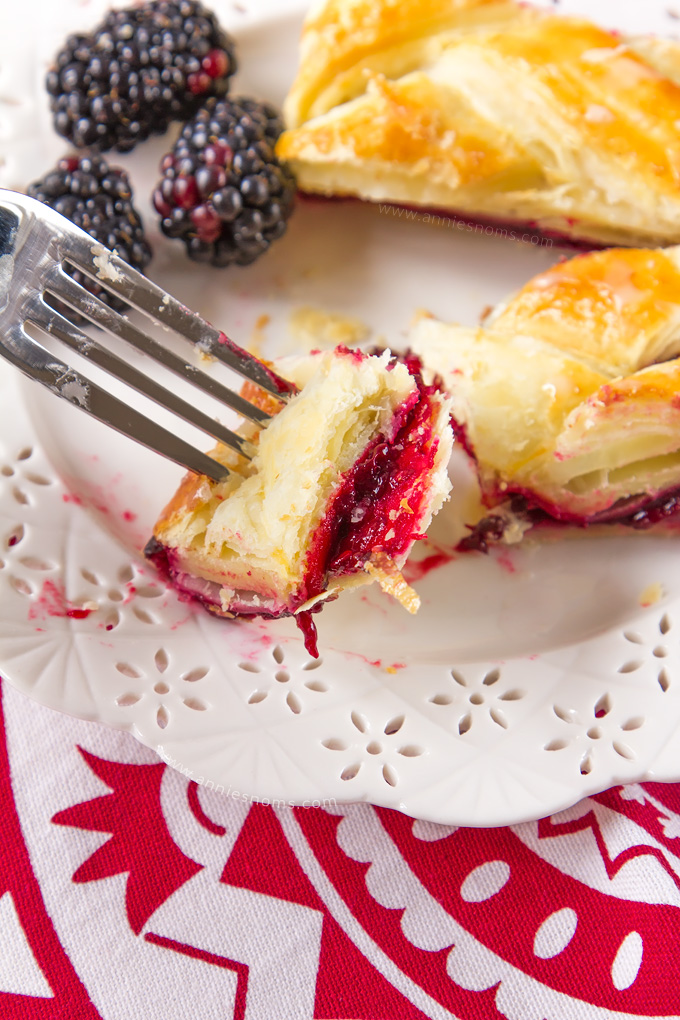 A little egg wash and then into the oven this baby goes. Bake for 17-22 minutes until rise, puffy and gloriously golden. Then try not to face plant it… 😉
You can of course serve as is, warm or cold, BUT I was feeling a glaze, so I mixed some icing sugar with a little water and drizzled it over the braid. It was just the finishing touch I needed before I sunk my teeth into a huge slice.
Honestly, you guys, this is so easy to make, yet looks amazing and tastes even better! Mr Annie's Noms couldn't stop eating it either and you all know what he's like with sweets/baked desserts… this is the man who doesn't really care what our wedding cake flavour is as he doesn't really like cake.
Anyway, if you have some blackberries and puff pastry lying around, you're already halfway to having this awesome dessert, so you should go make it! 😀

Easy Blackberry Pie Braid
All the flavours of a Blackberry Pie, sandwiched between flaky, golden puff pastry. This easy braid comes together in next to no time and is ready to eat in under 45 minutes. Fruity, crunchy and simple, this braid is pure fruit filled, pastry perfection!
Ingredients
For the blackberry filling:

2

cups

(300g) fresh blackberries

2

tbsp

cornflour

2-3

tbsp

caster sugar

1

tbsp

lemon juice

For the braid:

One 375g/13.5oz sheet of ready rolled puff pastry

1

egg

For the glaze:

1/4

cup

(30g) icing sugar,

sifted

Up to 1tbsp water
Instructions
Preheat the oven to 200C/400F and line a baking tray.

Place blackberries, cornflour, sugar and lemon juice into a medium sized saucepan and place over a low-medium heat. Stir frequently and bring to a boil.

Once boiling, stir continuously until the mixture is thick and the blackberries are soft. It should stick to your spoon.spatula. Turn off the heat and then use a fork to gently mash the blackberries. Leaving a few lumps is absolutely fine! In fact I loved having larger and small lumps of blackberry for variety!

Leave to one side whilst you prepare the puff pastry: Place the sheet off puff pastry onto your lined baking sheet, then divide it into thirds by very lightly scoring two lines along the length of the pastry. Leave the centre of the pastry as it is.

With the outer two "sections", cut the corner off at the top of each side, to give you a guide for your braids. Then mark every 3/4-1inch and follow your diagonal edge to slice each braid. I had 11 braids on each side of my pastry. Once you've sliced the last braid, there will be a triangle at the bottom of each side of the pastry, cut this out and discard.

Spoon the blackberry filling into the centre of your pastry, all the way along. You may have some leftover. Smooth it out with the back of a spoon, you want a good layer, but not so much it's completely over flowing and going everywhere. My filling was around 1/2 an inch thick.

Take the first braid of the right side and bring it over the filling, then the left side, repeat until you get to the bottom. At the top and bottom there will be a flat part of pastry, bring it up and join it to your braids to tuck in the filling.

Place an egg into a small cup and beat lightly. Brush the egg over the top of your pastry, it doesn't matter about getting every nook and cranny, but make sure you get the tops of all the braids and the ends.

Place in the oven for 17-22 minutes until rise, puffy and golden on top. The filling should be bubbling slightly at the ends.

Remove from the oven and leave to cool completely on the tray (you can also serve it warm).

Once cool, if desired, make the glaze: place the icing sugar into a small bowl and add 1tsp of water at a time, stirring in between each addition, until you have a smooth mixture which coats a spoon, but still drizzles off. Use a spoon to drizzle the glaze all over the cooled braid.

Blackberry Braid is best served the same day, but is still good the next day if kept in an airtight container at room temperature.. If you keep it longer than 2 days, it will go soft.
Notes
Step-by-step photos of making the braid can be found HERE Recipe by Annie of Annie's Noms

I link up at
these
great Link Parties!