These Pumpkin Nutella Thumbprint Cookies are little bites of heaven. Spiced cookies, baked until slightly crisp, with gooey, rich Nutella spooned into the middle make these cookies simply irresistible!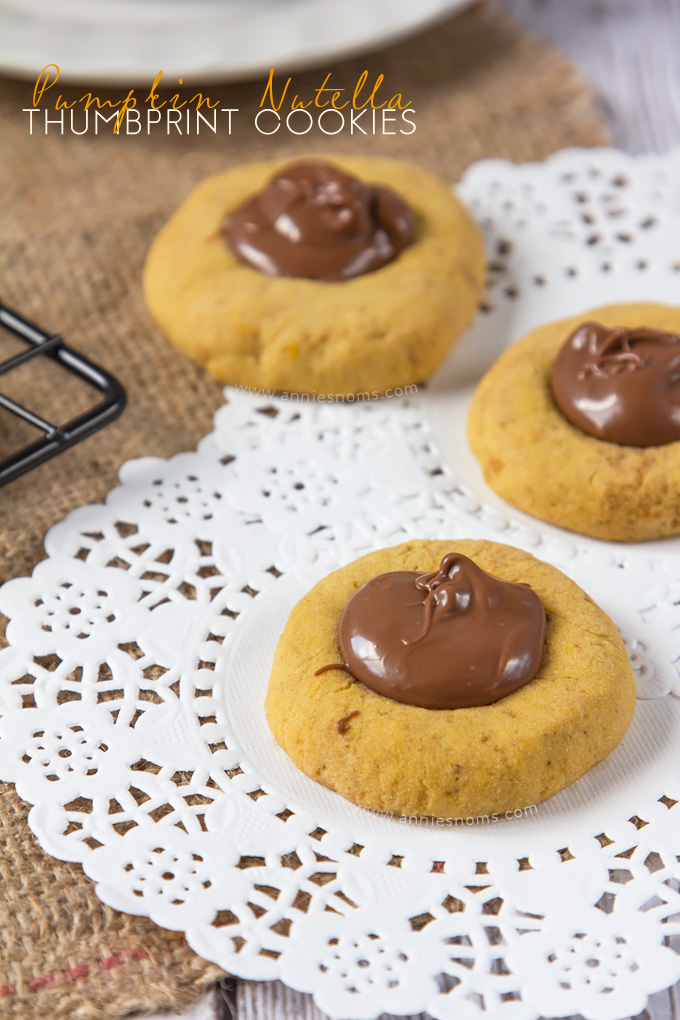 I was all set to tell you how the designer in my head escaped over the weekend and told me I just had to re-design my logo, but on Saturday evening life changed in a moment.
I was sitting in bed reading when the phone rang. It was Mum, so I knew something must be wrong as she normally texts. We have this unwritten rule that a phone call means it's serious.
It was my Granddad (Dad's side) – he'd had a heart attack and the paramedics were trying to bring him back. In that moment our family was thrown into chaos, shock and later on that evening, grief.
You see, they couldn't bring him back this time. It seems it was his time to go. It was so surreal. About 1 minute before Mum rang me to tell me he'd gone, I just knew. It was bizarre, but I just had this feeling that he'd gone.
We are so shocked. I only spoke to him last week. It didn't properly sink in until 3am Sunday morning. And it still doesn't feel 100% real, but I have done the only thing I know how to do and thrown myself into work. I'm worried about my Dad and so worried about my Nan. I spoke to her yesterday and it was the hardest conversation I've ever had.
So, that's why things have been a little quiet on social media. You'll have to bear with me in the coming weeks. I'm trying to keep busy with work and blogging, but I don't know how things will pan out.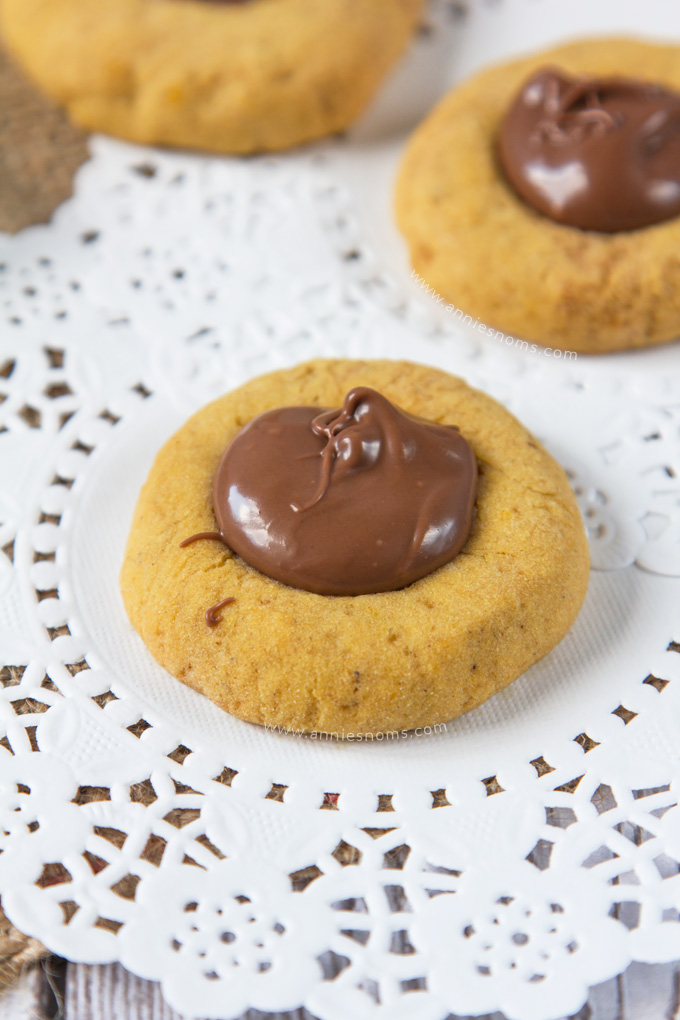 I managed to get three recipes made and shot on Sunday and these Pumpkin Nutella Thumbprint Cookies were one of those bakes.
I used my Dulce de Leche Thumprint Cookies as the basis for this recipe and Autumn-ified them. Yeah, I'm just making up words now.
There's 1/2 a cup of pumpkin in these cookies along with plenty of spices. The dough is slightly stickier than my other thumbprint cookies, but that is the pumpkin. Although… I'm not pointing any fingers… pumpkin is a necessity and I won't blame it for its moisture levels.
So, in order to shape the cookies, I lightly floured my hands every so often. It made it a lot easier to roll the cookies into little balls.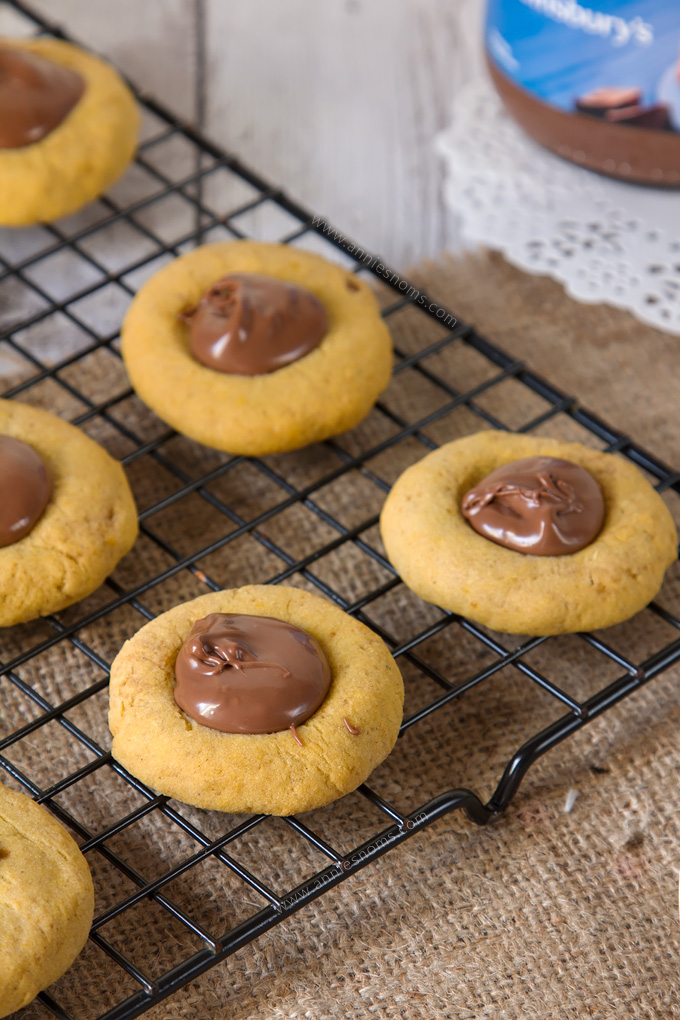 What I love about thumbprint cookies (apart from being able to poke the dough and "play" with my food) is that they don't need much chilling. 15-20 minutes in the fridge, makes them plenty cool enough to stop spreading when being baked.
As much as I love my go-to cookie dough, sometimes it's a chore waiting 6 hours for it to chill.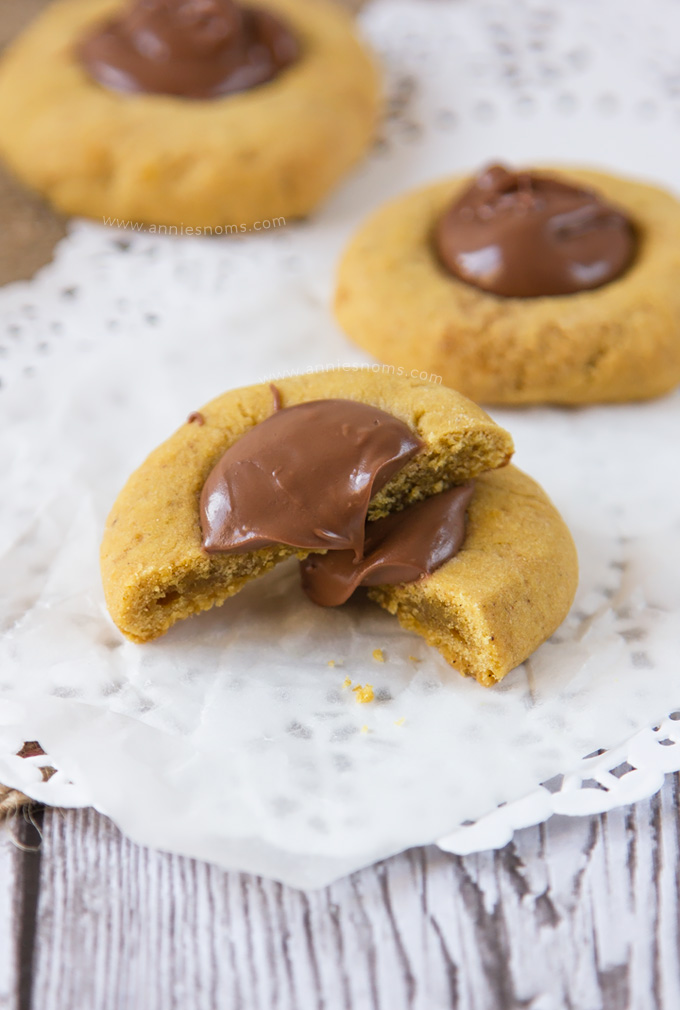 I find it's best to make the thumbprint both before and after baking. Sometimes the dent just rises slightly in the oven. If you wait a couple of minutes after they come out and then press into them again, you get a deep enough hole to fill with plenty of Nutella. Or plain chocolate spread, which I had to do on my ones as I'm allergic to nuts.
"Pumpkin Chocolate Spread Thumbprint Cookies" just didn't have the same ring to it.
Another tip: I don't actually use my thumb to make the hole. I know I'm a traitor to my own recipe, but I've already burnt the end off of one finger because of dipping it into sauces to taste, I don't need to lose the end of my thumb too… I actually use the end of a small, plastic rolling pin. Honestly, it's the perfect size for these cookies!
I believe it's a little 19cm long fondant rolling pin and the end is about 1 inch across. It's worth it.  All your middles will by uniform and you don't get burnt when they're still hot from the oven. Win, win.
Now, go make these. I won't tell anyone if you gobble down 5 in 30 seconds. They are mini anyway, which mean no guilt!

Pumpkin Nutella Thumbprint Cookies
These Pumpkin Nutella Thumbprint Cookies are little bites of heaven. Spiced cookies, baked until slightly crisp, with gooey, rich Nutella spooned into the middle make these cookies simply irresistible!
Ingredients
For the cookies:

2/3

cup

(132g) light brown sugar

1 1/2

sticks (170g) unsalted butter

at room temperature

1

large egg yolk

1/4

tsp

vanilla extract

1/2

cup

(120g) pumpkin puree,

NOT pie filling

1 3/4

cups

(245g) plain flour

2

tbsp

cornflour

1/2-3/4

tsp

ground cinnamon;

depends how strong you like it

1/4

tsp

ground ginger

1/4

tsp

ground nutmeg

Pinch of salt

For the filling:

1/2

cup

(100g) Nutella or other chocolate spread
Instructions
Line 2 baking trays and leave to one side. I use silicone mats, but grease proof paper works too.

Place the sugar and butter into a large bowl, or the bowl of your stand mixer and beat until light and fluffy, 2-3 minutes on medium-high speed.

Add in the egg yolk and vanilla extract, scraping down the sides as necessary and mix briefly to combine.

Add in the pumpkin puree and mix until well combined. The texture may look a little odd (some small lumps) at this stage, don't worry, it will come together when you add the flour.

Add in the flour, cornflour, spices and salt and mix on low-medium speed until you have a soft dough, around 1 minute.

Lightly flour your hands. Using a 1tbsp cookie scoop or measuring spoon (I used a spoon), scoop out level tablespoon of dough and roll into balls. Place balls 2 inches apart on your lined baking sheets. Re-flour your hands as necessary.

Once you have all of your dough balls, use the palm of your hand to lightly pat the dough balls into 3/4 inch thick discs. Then use your thumb or a small rolling pin (mine was about an inch across) to create a dent in the middle of each cookie. Don't press all the way through, just make sure you have a crevice you can fill with Nutella.

Cover each tray loosely with cling film and place in the fridge for 15-20 minutes, until cool and firm to the touch.

Whilst chilling, preheat the oven to 180C/350F. Once chilled, remove cling film and place the cookies into the oven for 12-15 minutes.

They will be firm and slightly crisp to the touch. Some may also have a few cracks around the edge. You don't want much colour on them at all, they should be evenly a very pale orange all over.

Leave to cool on trays for a couple of minutes, before going over all of the cookies with your thumb or the end of a rolling pin to ensure the middles are deep enough for filling. Then leave to cool completely on the trays.

Once cooled, place nutella into a small bowl and place in the microwave for 20 seconds, just to make it more workable.

Place around 1/2tsp into the centre of each cookie. Leave to set for 30-40 minutes, just until the Nutella has cooled and firmed up slightly.

Thumbprint Cookies will keep in an airtight container, at room temperature, for 4 days.
Notes
Recipe by Annie of Annie's Noms

I link up at
these
great Link Parties!