Craving a Salted Caramel Mocha, but not near a Starbucks? Then make my version of their delicious, sweet and salty drink in under 10 minutes!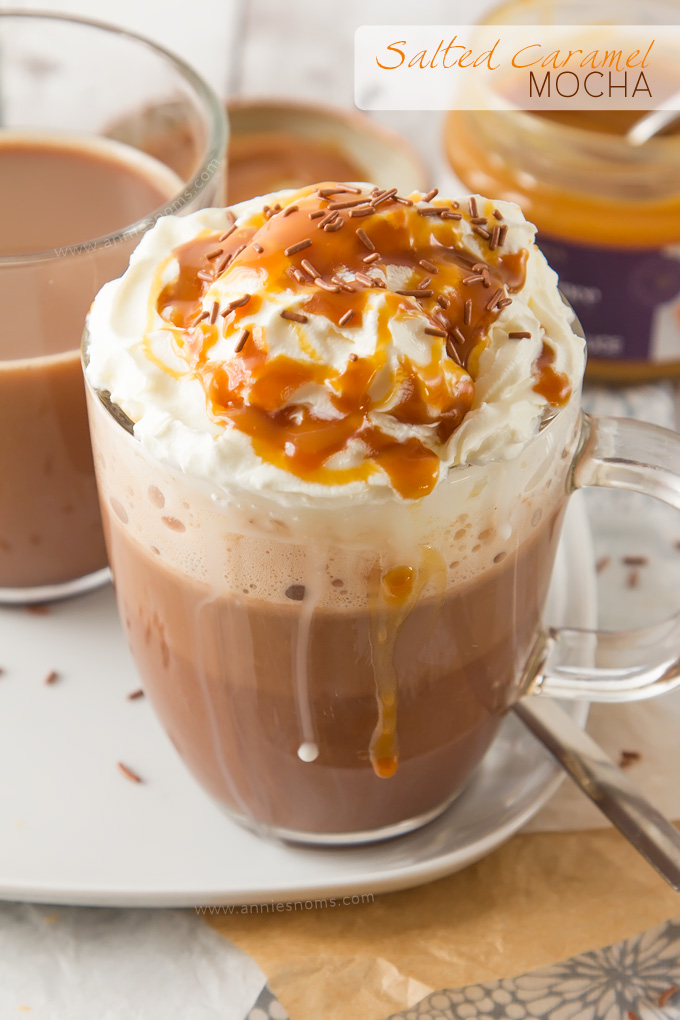 There was a time when I could not even manage one mouthful of coffee.
What the heck was wrong with me?! I loved the smell, but that was it.
Then something magic happened and suddenly I could drink a pretty weak coffee, then it got stronger and stronger. And now I'm addicted and can't get through a day without a mug of freshly brewed coffee.
And if I walk past a Starbucks? I HAVE to go in and either have a Caramel Macchiato, Pumpkin Spice Latte or a Peppermint Mocha. I'm a creature of habit. Depending on the season I like to stick to the same drink.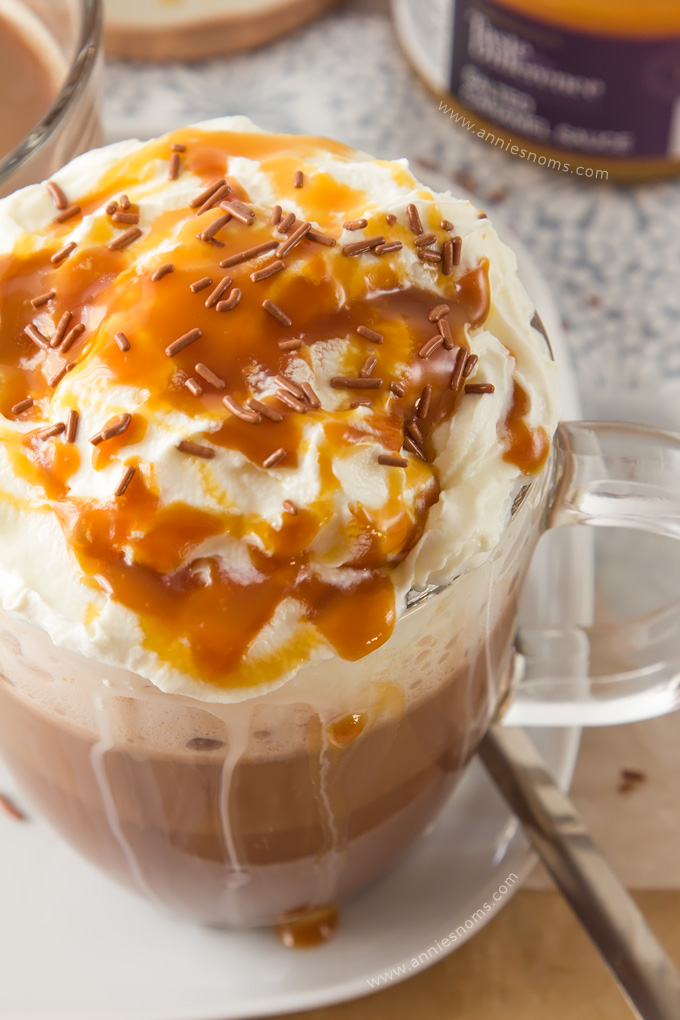 My Dad will tell you I grew up, that's why I like coffee now. But maybe not, I still don't like Mushrooms and he told me my entire childhood that I'd grow up and like them! 😉
Anyway. I've seen and heard about the Salted Caramel Mocha for such a long time, but it has toffee nut syrup, so even though some people say there aren't any nuts in it, I still like to err on the side of caution. I spend half my life at the Doctors or hospital anyway, so I'd rather avoid going any more than I already have to.
So, what's a girl to do when she just has to try caramel, salt, coffee and chocolate together?
Make her own of course!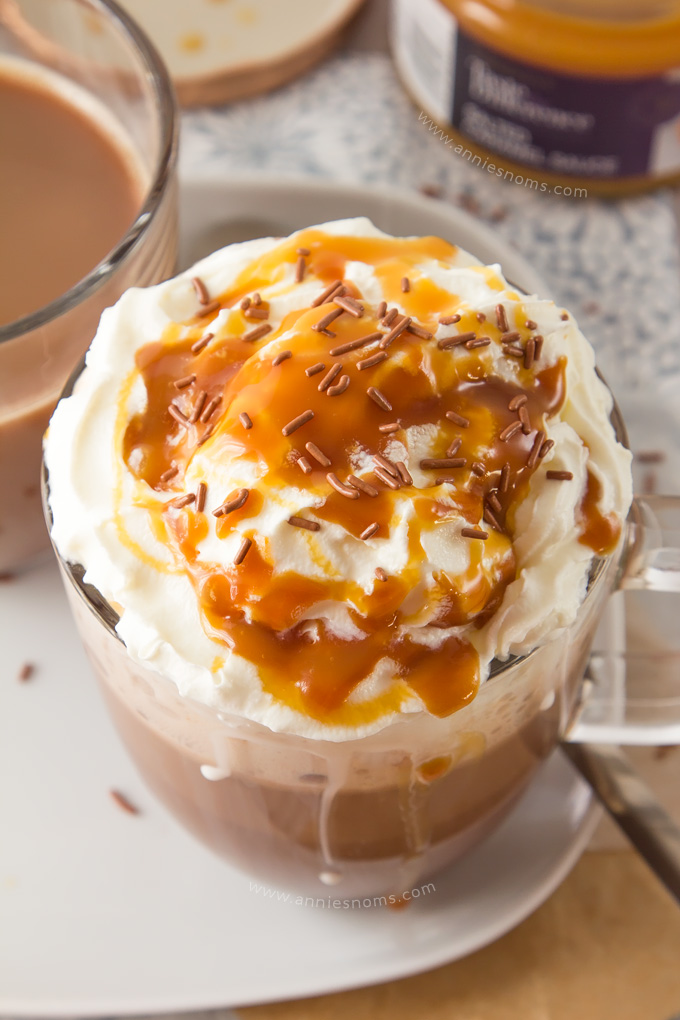 I started my Saturday with this blissful, rich and coffee spiked drink and it was DIVINE.
To start, you need a shot of freshly brewed coffee… OK, tell a lie, I actually had a double shot. It was a Saturday morning.
You can have one shot or two, it depends on how much you love your coffee. 🙂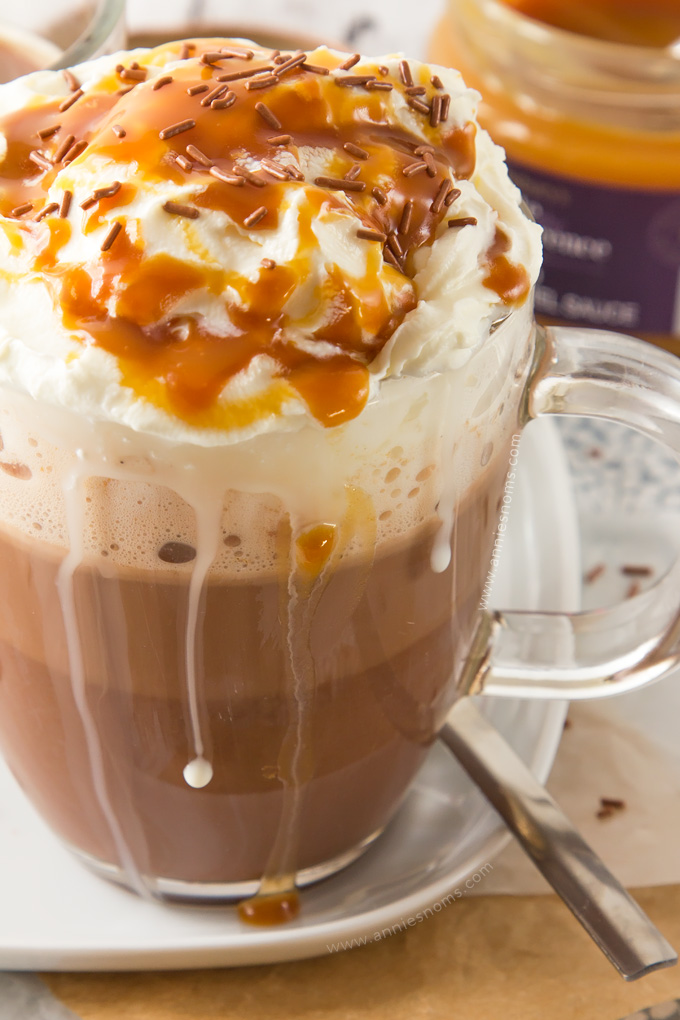 Then I started making some cocoa. I placed milk, cocoa powder and sugar into a saucepan and brought it to a simmer.
Once the cocoa mixture was warm, I placed some salted caramel sauce into the bottom of a mug and mixed it whilst slowly pouring in the shot of coffee.
Continuing stirring, you then add the cocoa mix and stir until smooth and combined.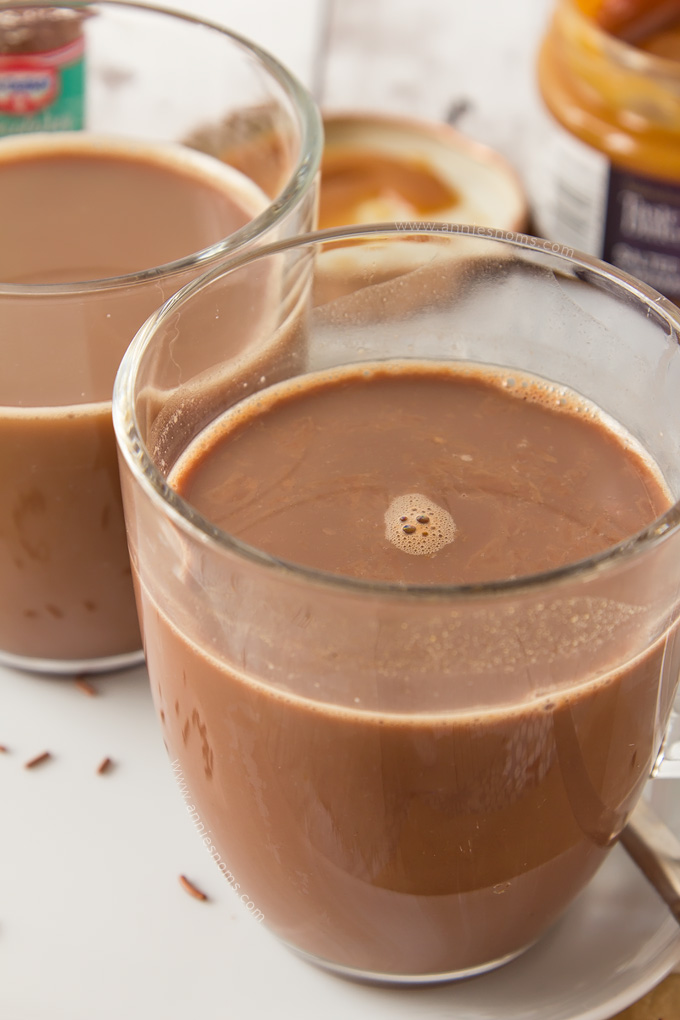 There's your drink. Pretty darn amazing on its own. But, because it was the weekend I felt like it needed something extra… an extravagant top.
I don't normally like cream, but with this drink, it totally pushed it over the edge awesome. I used squirty cream, then drizzled more salted caramel sauce on top and finished it with some sprinkles.
Then I face planted the whole thing. So. That was a morning.
So, there we have it; a Starbuck's copycat Salted Caramel Mocha, in under 10 minutes.

Salted Caramel Mocha
Craving a Salted Caramel Mocha, but not near a Starbucks? Then make my version of their delicious, sweet and salty drink in under 10 minutes!
Ingredients
1 1/2

tbsp

aslted caramel sauce*

1-2

shots freshly brewed Espresso;

30ml per shot

1

tbsp

cocoa powder

1

cup

(240ml) milk

Sweetener/sugar to taste;

I used 2tbsp sugar

Squirty cream, sprinkles and more salted caramel to garnish,

optional
Instructions
Place salted caramel sauce into the bottom of your mug and slowly add in the shot of Espresso, whilst stirring the mixture together. Leave to one side.

Place cocoa powder, milk and sugar into a small saucepan, over a low-medium heat. Bring to a simmer, stirring frequently until your mixture is smooth with no lumps of cocoa powder.

Remove from heat and gradually pour into the mug with your caramel and coffee mixture, stirring to combine as you pour the milk mix in.

To garnish (optional): Squirt desired amount of cream on top of your mocha, then drizzle some extra salted caramel sauce on top. Finish with some chocolate sprinkles and serve immediately.
Notes
*I used an ice cream topping Salted Caramel Sauce 

I link up at
these
great Link Parties!