Love French toast? Then you will adore my Pumpkin French Toast Bake! Cubes of bread soaked in a spiced, pumpkin filled custard before being baked until crisp on top. This is without doubt, the best decadent breakfast recipe!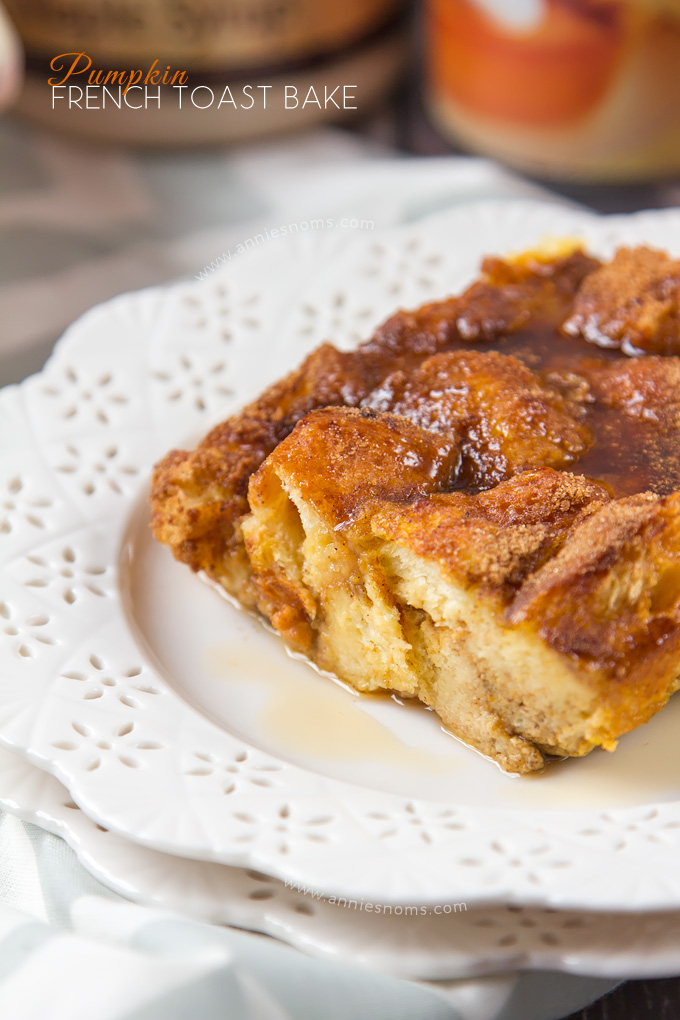 Good afternoon readers!
Can you believe it's the start of another new week already?! They really seem to be flying by and we are edging closer and closer to Christmas… Kind of scary. I'm normally super organised, but I've been so busy recently, I haven't even thought about it!
Am I the only one who thinks it gets harder and harder each year to buy gifts? My whole family pretty much buy whatever they want when they want it, so when it comes to Christmas they're like "I don't know…"
My Dad is the absolute hardest person in the world to buy for. He never, ever has a clue on what he wants, so I have to guess… Sometimes more successfully than others. Last year we bought him a Vintage original Renault 5 radio controlled car still in its box. I think that was a good choice. This year… no clue.
I'm scaring myself now. I really need to get my butt in gear and start planning.
But before that panic, let's talk French Toast.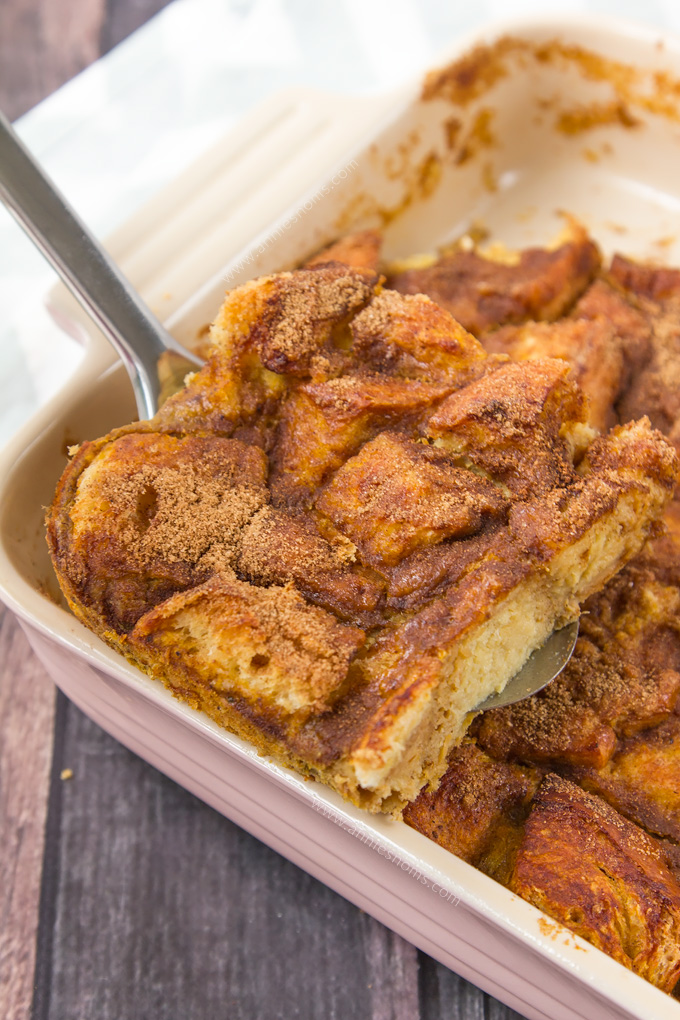 Would you believe that until this Apple Pie French Toast, I had NEVER tried French toast before? Crazy right?
Because now I can't get enough! The crisp, slightly sweet outer side of the bread and that soft centre along with divine toppings? Unreal decadence.
And sometimes I put a filling inside too. When I'm feeling like I deserve a real treat! 😉
Although, my goodness, bakes are hard to photograph! French toast on its own is so pretty, but this… not so much, so apologies!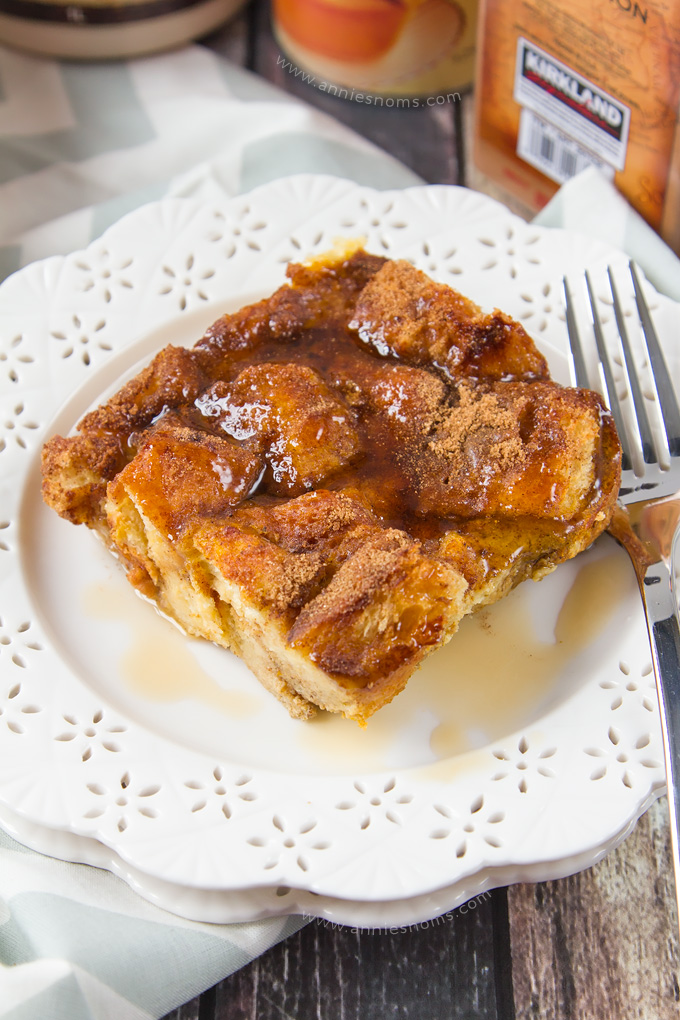 For this French toast recipe, I decided to make a bake/casserole. And since it's Autumn, there was on star ingredient I just had to use: pumpkin of course.
Even the self professed "pumpkin hater" Mr Annie's Noms liked this. I think that really says something. Even as it was baking he was like "EURGH, I DON'T LIKE PUMPKIN AND I HATE CINNAMON!!!" 🙁 🙁 🙁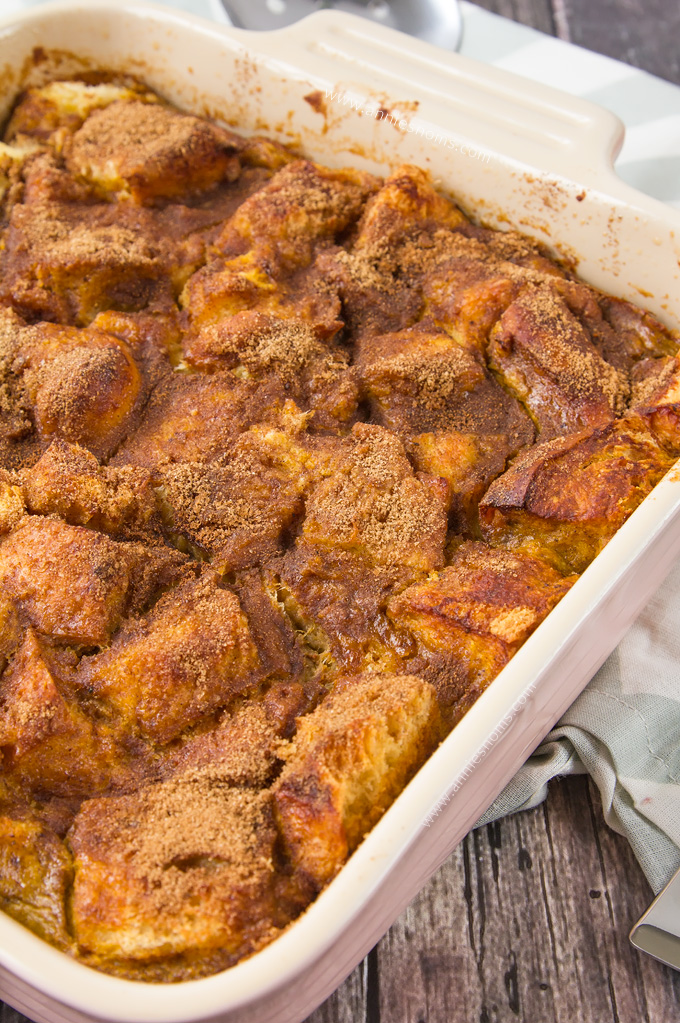 I say he should trust me… he really should. The other day we were waiting at a junction and I said my way was clear if he went now. He didn't, checked himself and we missed the gap.
Anyway, I'm slowly, but surely turning him into a dessert lover. It's taken almost 5 years, but he now sometimes craves cake which is a complete u-turn on when we first met! 😀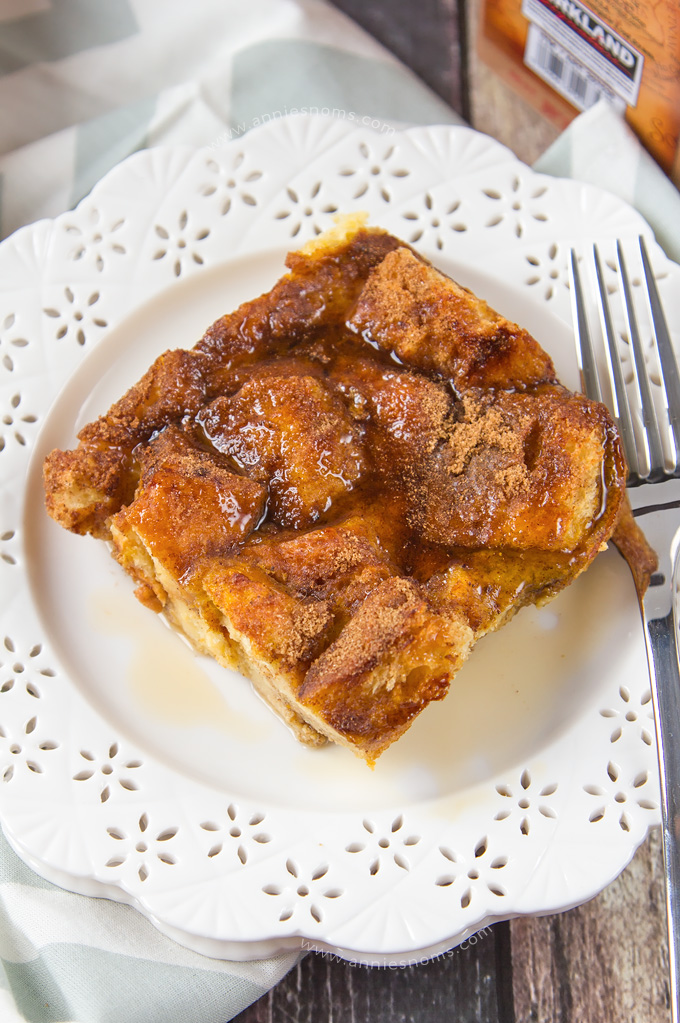 When developing this recipe, I saw that a lot of recipes are left overnight. I wanted my French toast bake to be able to be made in a hurry, but not lose out on any flavour or that crispy top.
So, with this recipe, the bread needs to be left soaking for 30 minutes before being baked, that's it.
A key tip that I have is to cut up the bread into cubes, then lay the cubes out level on a baking tray for an hour to dry out. And using bread which is a day old is perfect too. You just want that slight dryness, so that it absorbs the pumpkin mixture quickly.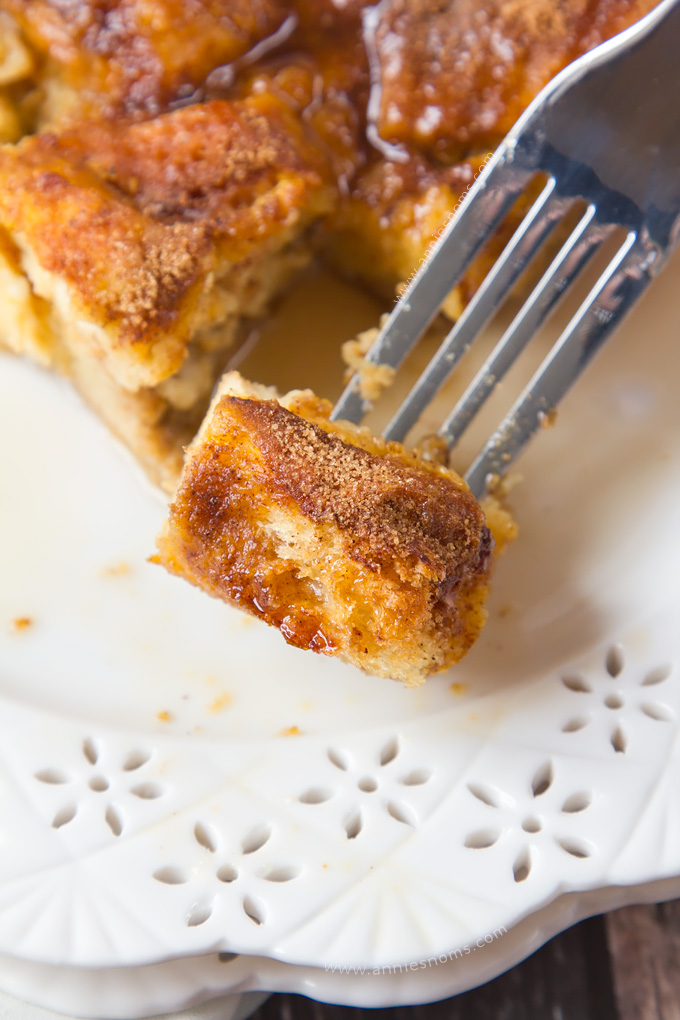 Before putting it in the oven, I sprinkled the top with a sugar, cinnamon and nutmeg mixture. It really adds to that crunchy top and gives you little extra explosions of cinnamon goodness! 😀
Served warm or cool, this is one French toast recipe you seriously need to make. It is the perfect decadent start to your day. I served it with some maple syrup and it was sublime!

Pumpkin French Toast Bake
Love French toast? Then you will adore my Pumpkin French Toast Bake! Cubes of bread soaked in a spiced, pumpkin filled custard before being baked until crisp on top. This is without doubt, the best decadent breakfast recipe!
Ingredients
For the French toast:

8

cups

(280g) 1 inch cubes of day old bread;

I used Brioche, but French bread would work great too

4

large eggs

3/4

tsp

ground cinnamon

1/4

tsp

ground nutmeg

1/8

tsp

ground cloves

1/2

tsp

vanilla extract

3

tbsp

light brown sugar

1

cup

(240ml) milk

1

cup

(240g) pumpkin puree,

NOT pie filling

For the topping:

1 1/2

tbsp

light brown sugar

1/2

tsp

ground cinnamon

Pinch of cloves

Pinch of nutmeg
Instructions
An hour before preparing the recipe, place cubes of bread onto a baking tray in one layer and leave to dry out.

Spray an 8x8 inch square pan with cooking spray, I used Wilton Bake Easy.

Place eggs, cinnamon, nutmeg, cloves, vanilla and sugar into a medium sized bowl and whisk together until just combined.

Gradually pour in the milk whilst stirring to combine. Continue whisking until the mixture is smooth.

Add in the pumpkin and whisk in until the pumpkin is fully incorporated and there are no lumps.

Place the bread cubes into your prepared pan and then pour the pumpkin mixture all over the bread.

Press down with a spatula/wooden spoon, so the bread doesn't sit too far above the top of the pan, this also helps the bread absorb some more liquid as you press it down.

Leave to one side for 30 minutes. Whilst the mixture is soaking, preheat the oven to 180C/350F and place sugar, cinnamon, cloves and nutmeg into a small bowl and mix until well combined.

After 30 minutes, sprinkle the sugar and cinnamon mix all over the top of the French toast.

Place in the oven for 25-30 minutes until the top is golden and the mixture looks set on top. It will look kind of matte and not wobble, but if you put a knife into the centre the bottom will still be soft and moist.

Leave to cool in the pan for at least 20 minutes before serving. Can also be left to cool completely and reheated in the microwave for 1-2 minutes. Serve with maple syrup and/or an extra sprinkle of cinnamon.

French toast bake will keep covered, in the fridge for 3 days.
Notes
Recipe by Annie of Annie's Noms

I link up at
these
great Link Parties!