Thick, chewy cookies filled with all the flavours of Revels and stuffed with a big chunk of Mars Bar. These are every chocolate lover's dream come true in cookie form!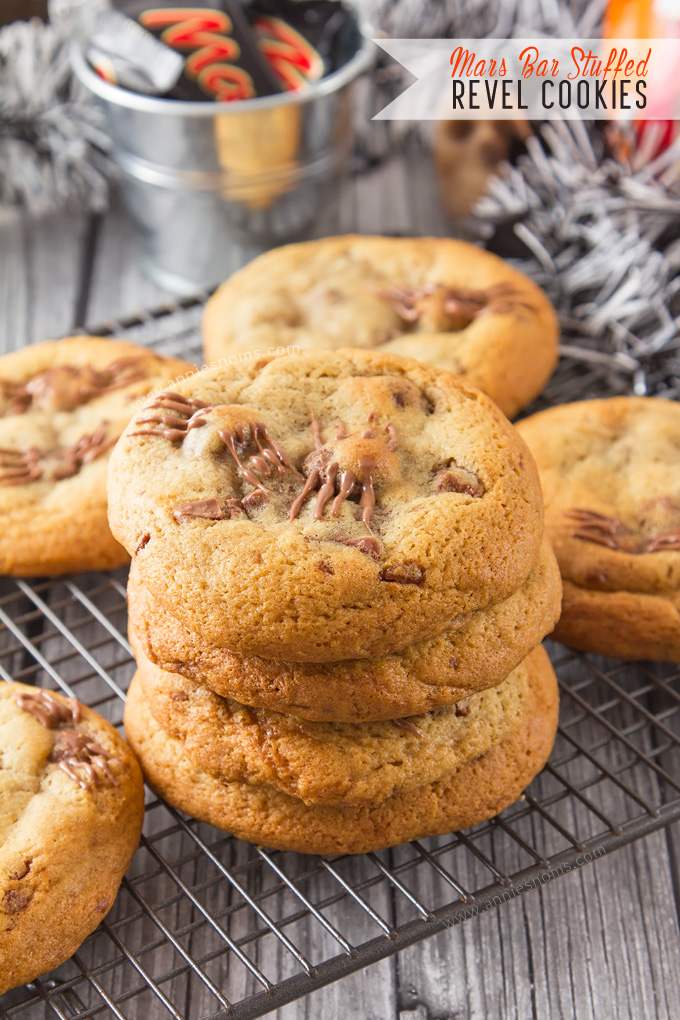 This shop has been compensated by Collective Bias, Inc. and its advertiser. All opinions are mine alone. #CollectiveBias
Happy Hump Day!
I am about to blow your mind with these insane, mars bar stuffed cookies. Hump Day go away and come back another day!
As you'll know if you're a chocoholic like me, Mars make some of the best chocolate goodies ever. Milky Way's, Revels and Malteser's are just a few of my favourites.
Am I the only one who thinks that eating (a bag of) Revel's is like roulette? Although, it is better now there's no peanut one, as I was actually playing roulette with an allergic reaction…
Anyway, since Halloween is coming up soon (where has October gone?!) I thought it would be great to make some HUGE flavour packed cookies for you to make either before Halloween or after with all that leftover chocolate!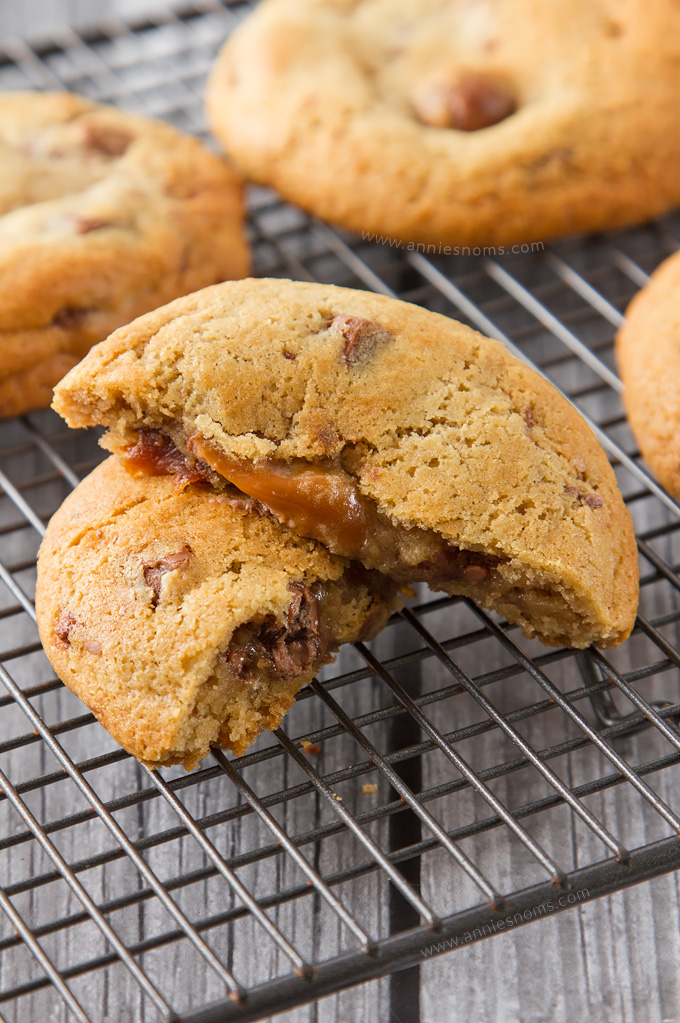 Then to make these a spooky treat, I melted some Galaxy chocolate and placed it into a small piping bag with a writing tip. After that, I piped little legs onto any Revel that was showing on top of the cookies to make little spiders.
I don't know how I managed to do this because, for real, I am quite possibly the most terrified person ever of spiders. Even those tiny little ones; I run out of the room and Mr Annie's Noms has to come and save me.
He's not actually that good though. Once he managed to fling the thing at me rather than catch it in a jar. I've never screamed so loudly in my life.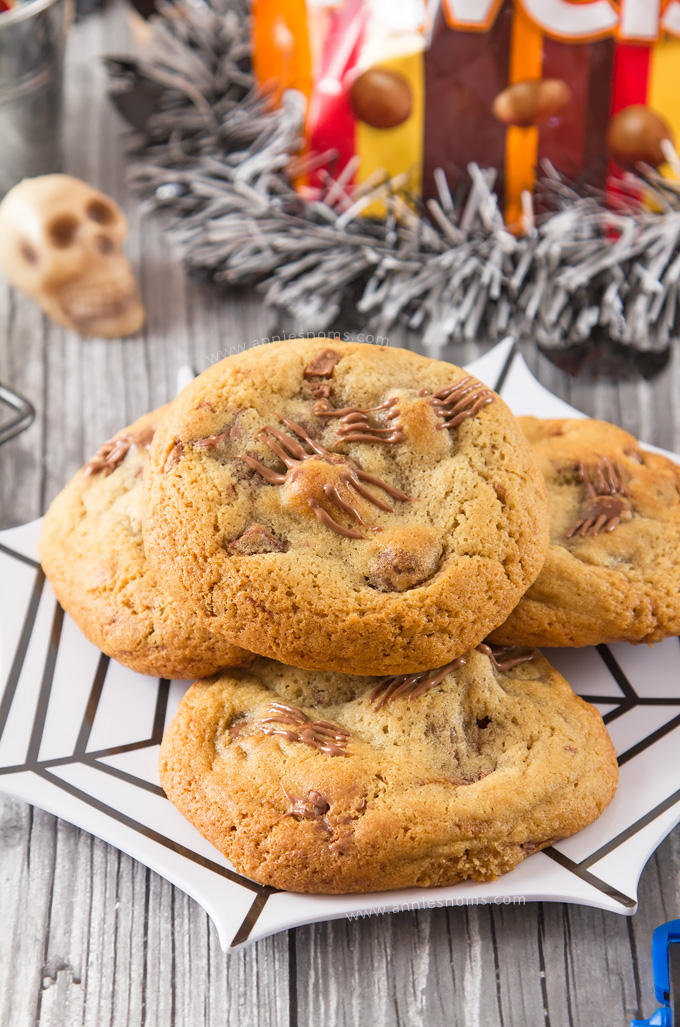 Back to cookies; I headed to my local Tesco to stock up on a ton of Mars treats. They have a lot of offers on at the moment in the run up to Halloween, so that you can stock up for trick-or-treaters and also make sure you have plenty left to make these cookies! 😀
You can find all of this chocolate down the seasonal Halloween aisle at the moment as well as the confectionery aisle.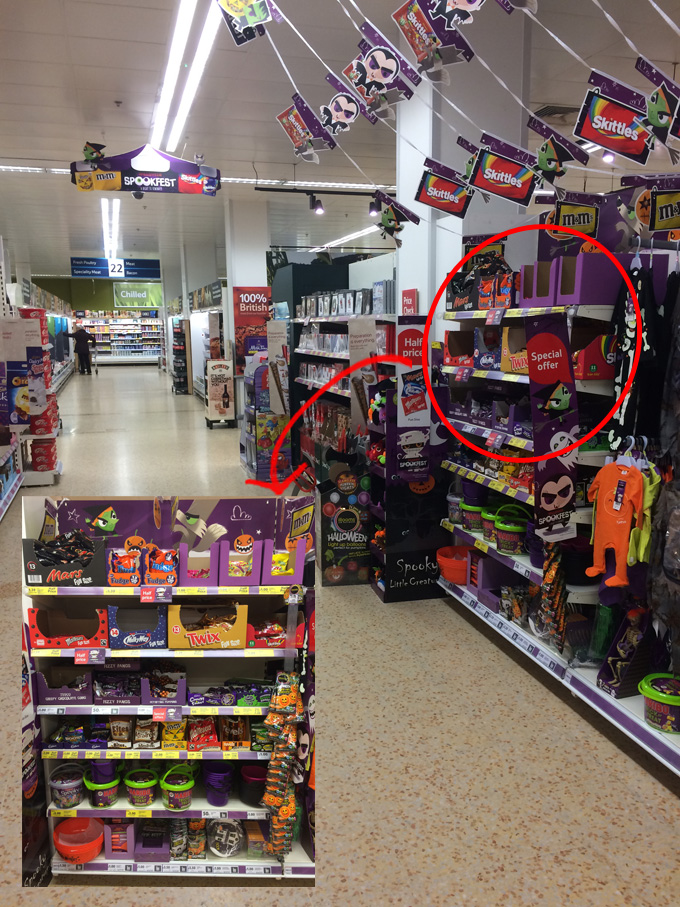 If you're a regular reader of my blog, you'll know that I've already been super busy in the kitchen with Mars chocolate. I've made these and this in the last few weeks, so I'm coming out as a full blown chocoholic right now.
I can't hide it anymore. I sometimes even dream about the stuff. It's just SO good.
I can't imagine life without it.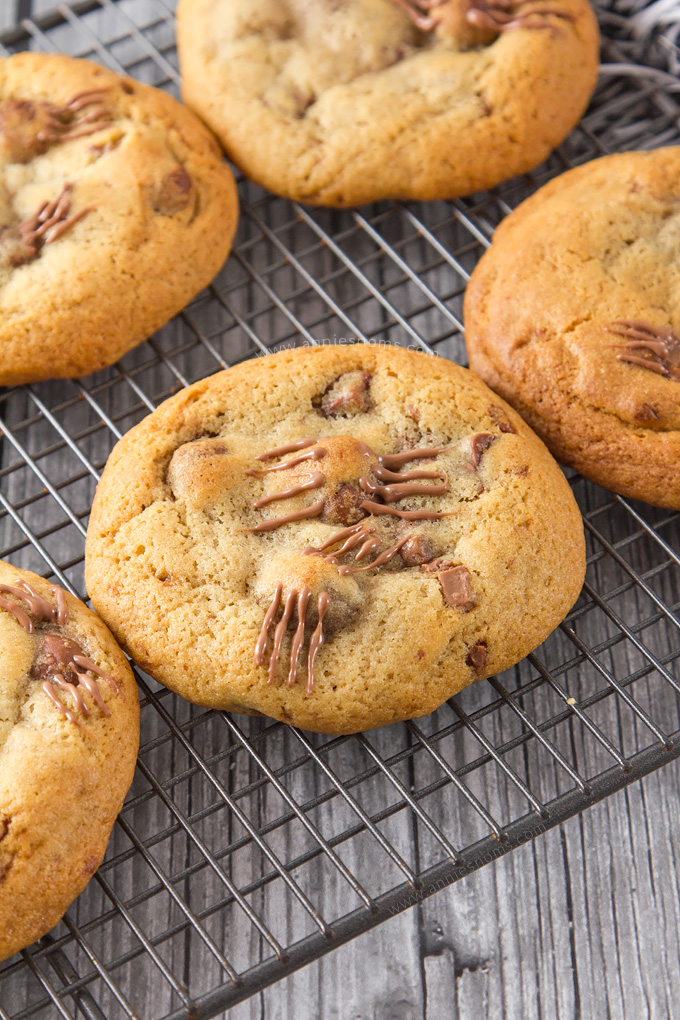 Which brings me to my next question; did you know that Mars have a Cocoa sustainability program? 
I didn't, but it's actually super interesting and very important for all of us who love chocolate! It doesn't surprise me that demand for cocoa is growing each year, but it's important that there are programs like Mars' to try and find ways to make sure we can all still go to our local stores and pick up our favourite chocolate, including ways to help make sure the plants are less susceptible to pests and disease. Low yielding crops won't help the farmers or the producers!
No cocoa means no Mars bar stuffed Revel cookies. And seriously friends, these are life changing.
Ooey, gooey, sweet, chewy, caramel and nougat filled. With a little orange and coffee thrown in for good measure.
I took 1.5tbsp of cookie dough and flattened it slightly. Then I placed half of a treat size Mars bar in the centre.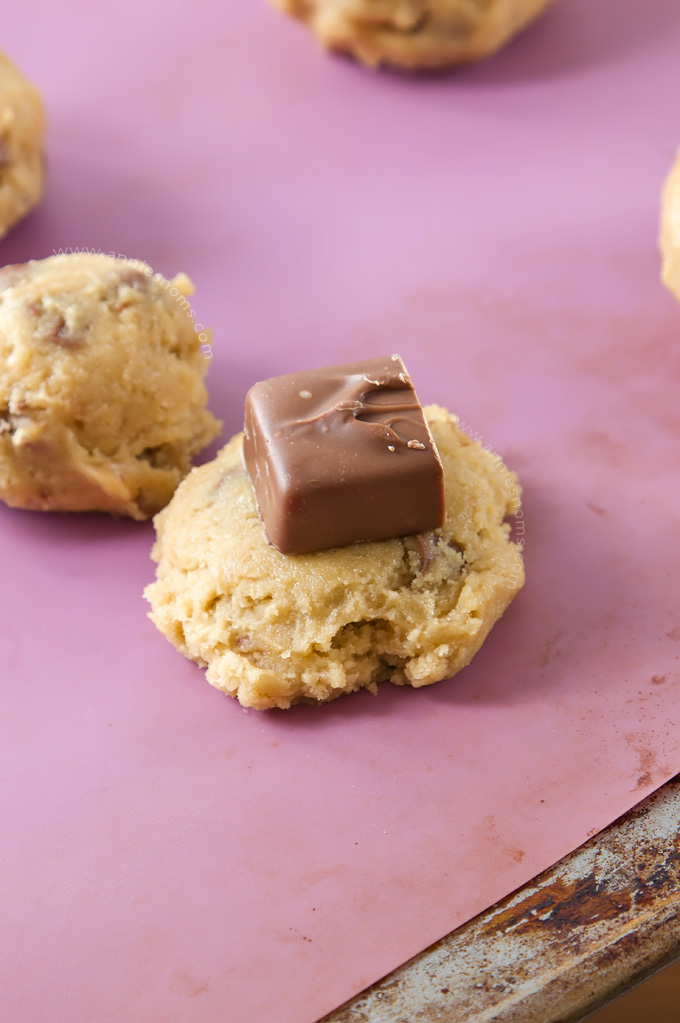 Then I topped the Mars bar with another 1.5tbsp of the Revel filled cookie dough…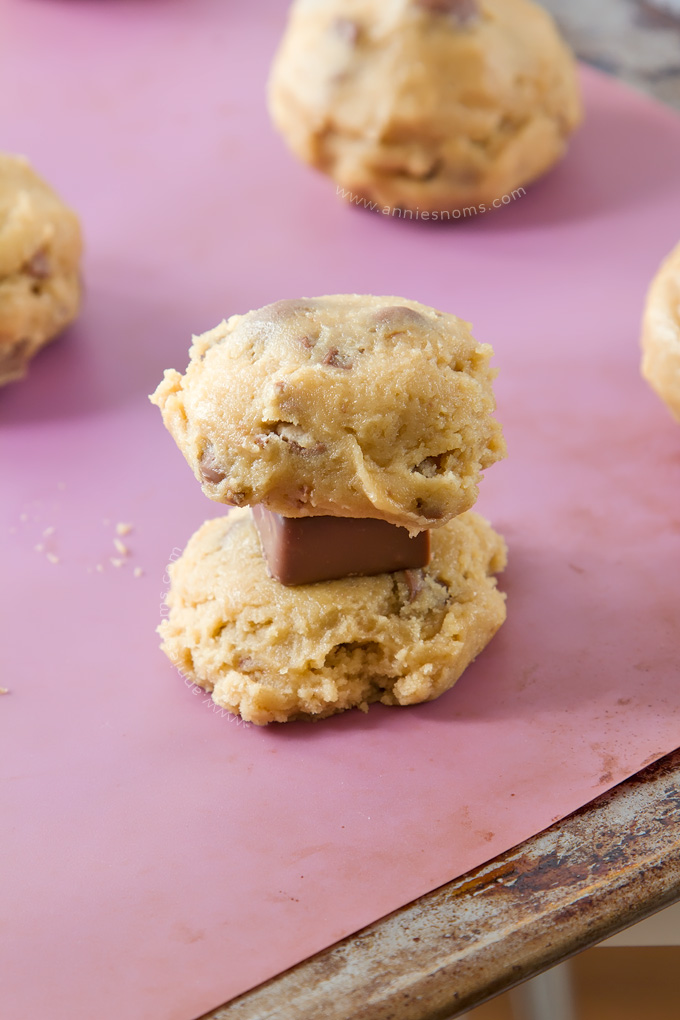 Before pressing the two dough's together to create a huge cookie dough ball.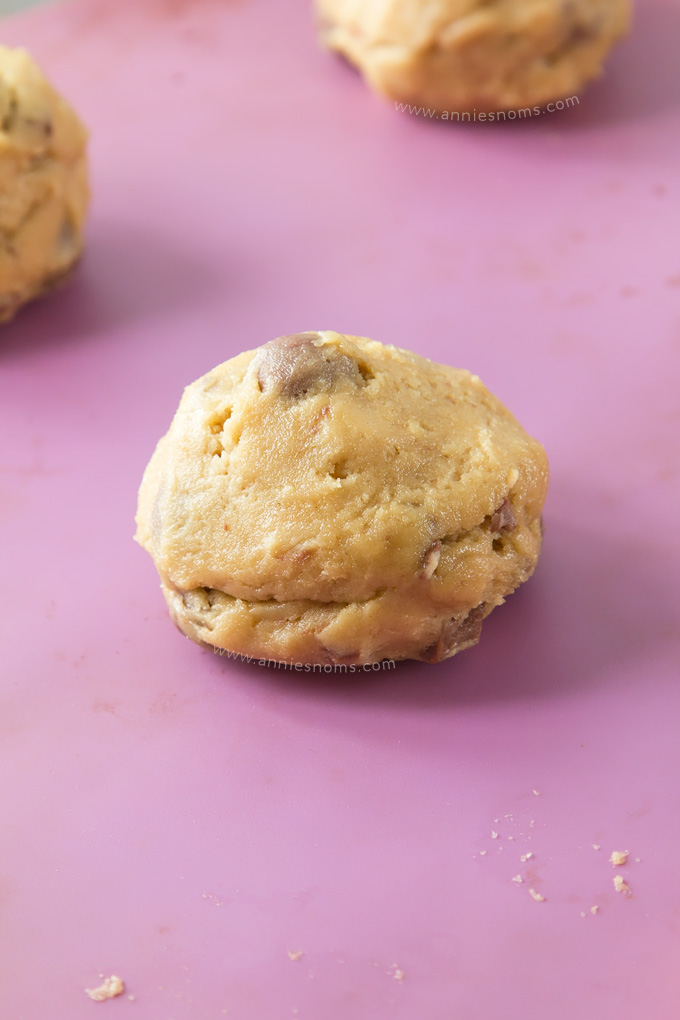 Bake these beauties for 12-14 minutes until they're golden around the edge and slightly under-baked in the centre and then leave them to cool.*
*Who am I kidding? I dug in about 5 seconds after they came out of the oven.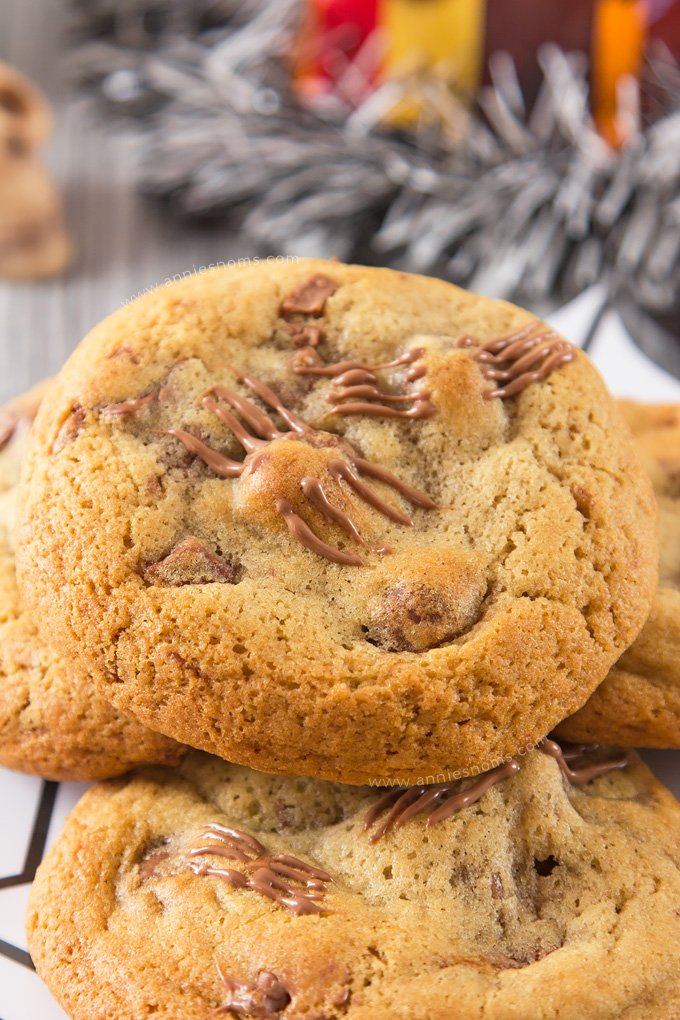 If you do let them cool, it's really fun to add those spider's legs…

Mars Bar Stuffed Revel Cookies
Thick, chewy cookies filled with all the flavours of Revels and stuffed with a big chunk of Mars Bar. These are every chocolate lover's dream come true in cookie form!
Ingredients
2

cups

(280g) plain flour

1/2

cup

(70g) bread flour

1

tbsp

cornflour

Pinch of salt

1 1/2

tsp

bicarbonate of soda

1 1/2

cups

(262g) Revels;

with the Galaxy Counters and Maltesers removed

1 3/4

sticks (200g) unsalted butter,

at room temperature

3/4

cup

(150g) light brown sugar

1/2

cup

(100g) caster sugar

2

large eggs

2

tsp

vanilla extract

6-7

fun size Mars Bars

2

oz

(56g) Galaxy milk chocolate,

melted and slightly cooled
Instructions
No need to preheat the oven yet, this dough needs to chill.

Place flours, salt, bicarbonate of soda and Revels into a medium sized bowl and stir until all of the chocolate is coated in flour. Leave to one side.

Place butter and sugars into a large bowl, or the bowl of your stand mixer and beat until light and fluffy, about 2 minutes on medium-high speed.

Scraping sides as necessary, add in the eggs and vanilla and beat on med-high speed until well incorporated, about 1 minute.

Tip in the flour mixture and mix on low until a soft dough forms.

Tip your dough into the bowl you measured flour in and cover with cling film. Place in the fridge for at least 6 hours, overnight if possible.

Once chilled, preheat the oven to 180C/350F and line 2-3 baking trays with grease proof paper/silicone mat/Silpat etc.

Cut each of the fun size Mars Bars in half.

Using a 1.5tbsp cookie scoop, make 2 dough balls and flatten each slightly. Place half of a Mars Bar onto one of the flattened dough balls, then take the other disc of dough and place on top of the Mars Bar.

Pick up your cookie stack and push together slightly, then press and pull the edges on the bottom and top of each disc until they meet and form one big dough ball.

Repeat with all of the cookie dough, I made 13 cookies. Each one has 3tbsp of cookie dough, so I would advise only putting 6 cookies on each baking tray and leaving plenty of space between them, because these are BIG cookies!

Place in the oven for 12-14 minutes, until golden around the edges and slightly under baked and soft in the centre.

Leave to cool on the baking trays for 15 minutes, before transferring to a wire rack to cool completely.

Once cool, place slightly cooled melted Galaxy chocolate into a small piping bag fitted with a size 1 or 2 writing tip. On every Revel that you see on the top of a cookie, pipe 8 legs around it to create a spider. Most of my cookies had two visible Revels, so two spiders.

Leave for 20-30 minutes for the chocolate to set and then devour! You can also heat the cookies for 10-20 seconds in the microwave to make the Mars Bar centre gooey again.

Cookies will keep in an airtight container, at room temperature for 5 days.
Notes
Note: You can also use Milky Ways in the centre instead of Mars Bars Recipe by Annie of Annie's Noms

I link up at
these
great Link Parties!