These Ghost Twinkies have to be the most cute and fun Halloween treat with only three ingredients! They're also no bake and easy enough that the kids can get involved!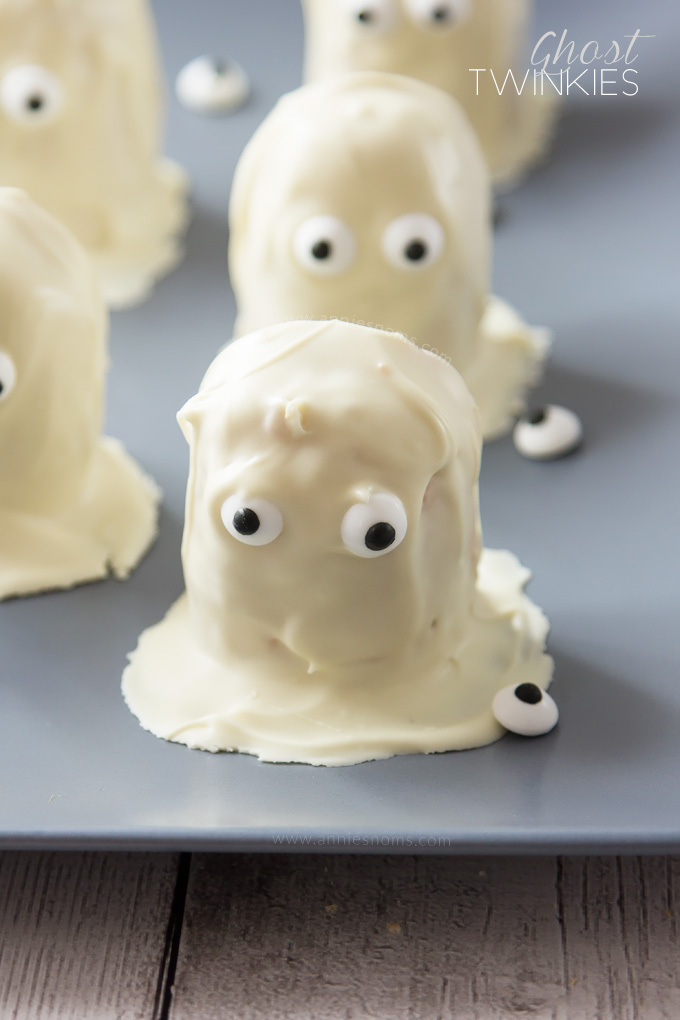 Since it's Halloween this week, I thought for my final Halloween bake, I'd make something extra easy and also pretty cute!
So, here are my Ghost Twinkies!
Up until recently, I'd heard of, but never eaten a Twinkie. Then we found one shop that sells them near us and our lives were changed forever.
How are they so bad, but so good?! Like incredibly sweet, but more-ish!?
Anyway, the idea for these Ghost Twinkies just came to me randomly whilst laying in bed. Do you ever get times when you're really trying to be creative and come up with new ideas, but the harder you try the more your brain is like "No, thank you… not today"?
Then when you least expect it you get cool ideas and have to run to write them down otherwise they are lost forever.
This was one of those times.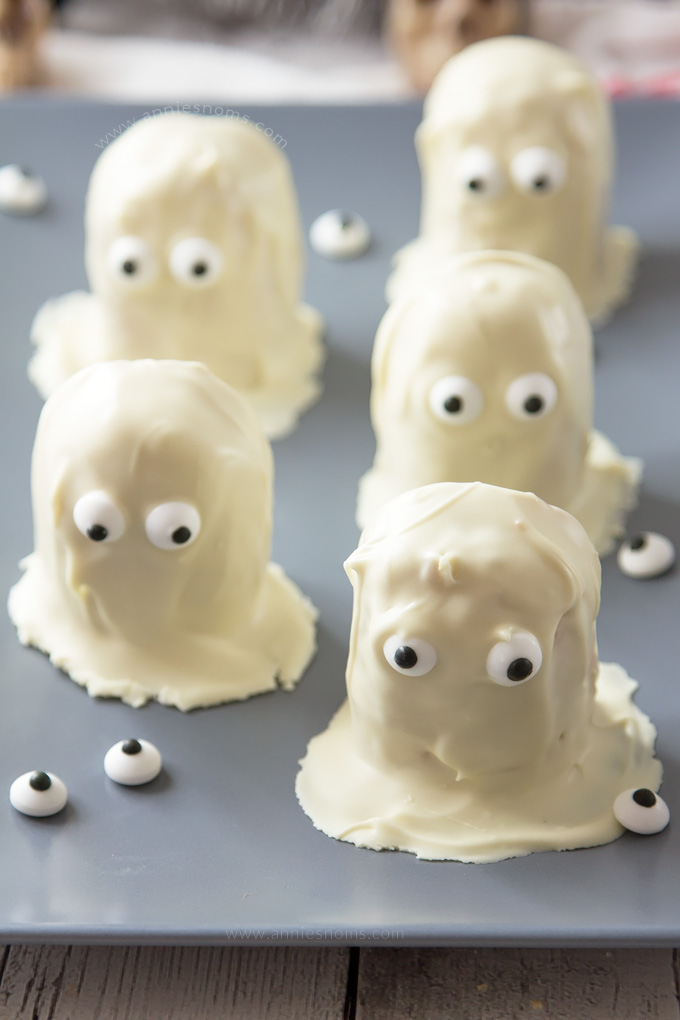 This is one of those treats that you can make when you've suddenly realised you haven't made anything and Halloween is tomorrow. 😀
There's only three ingredients and although they can be a little fiddly, they don't really take much time at all and the kids can go to town adding sugar eyes and smoothing the chocolate over the Twinkies.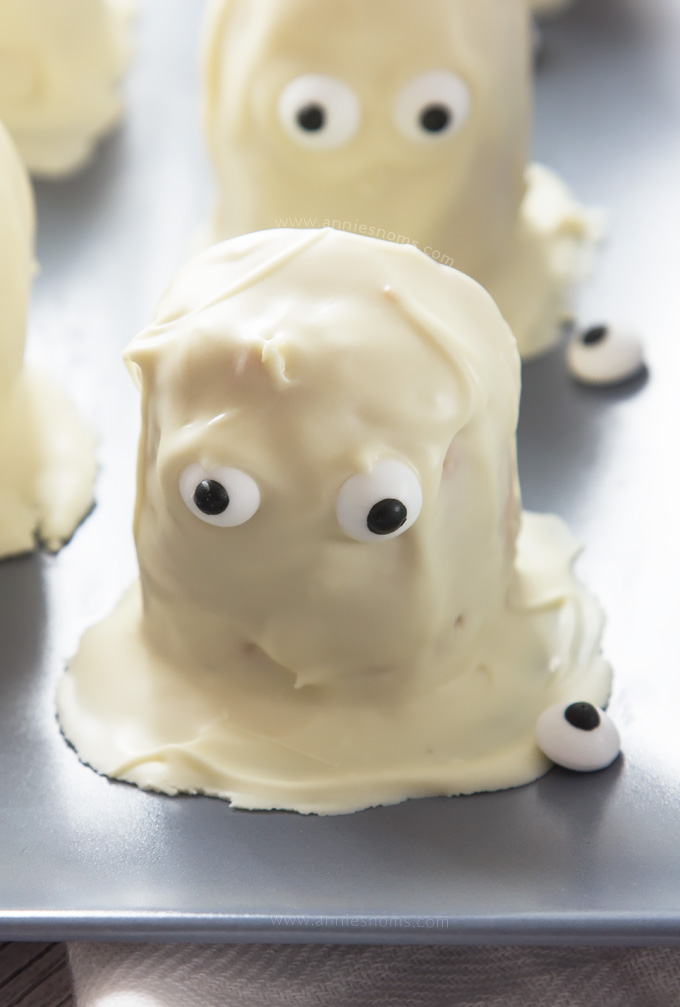 I used 4 Twinkies for this recipe, but this is easily doubled or tripled.
I cut each Twinkie in half and then stood them up on a baking tray lined with grease proof paper. Then I melted some white chocolate (you can also use Wilton Candy Melts, they were out of stock when I went to get some) and spooned it over the top of each half Twinkie.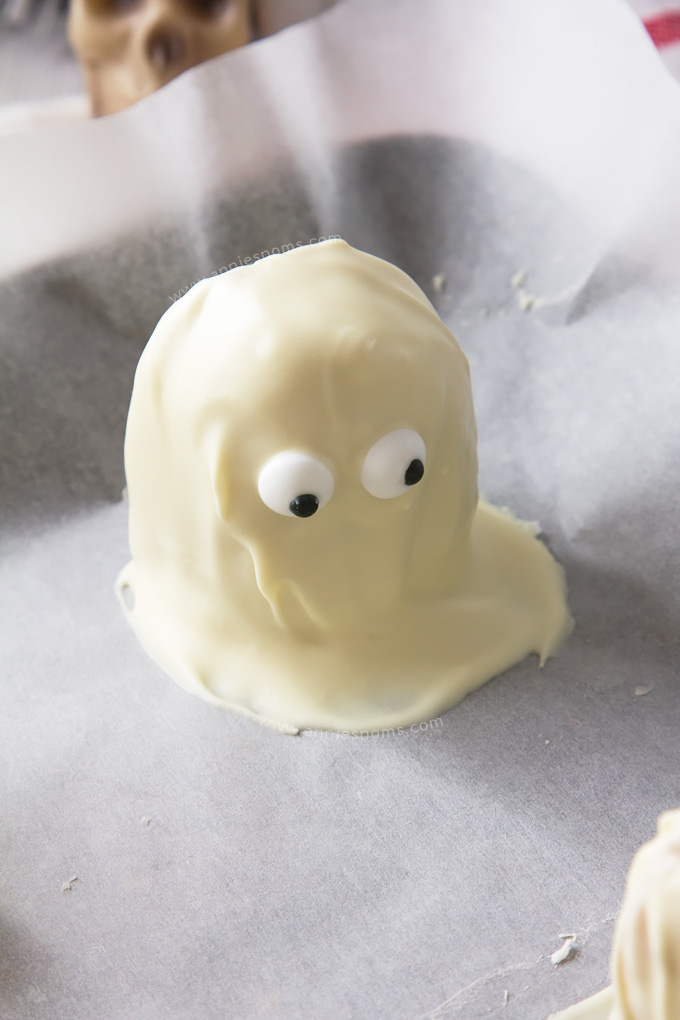 I initially tried dipping the Twinkies into the chocolate, but it just wasn't as effective. And since I wanted that little pool of chocolate around the bottom, I found it much easier to spoon the chocolate over the top and help it down the sides and into a pool.
Once I'd let them set for 5 minutes, I then added the sugar eyes. You can add a mouth if you want, just get some black writing icing in those little tubes and pipe a mouth on once they are completely set, but I just wanted eyes.
Whoop. Man down!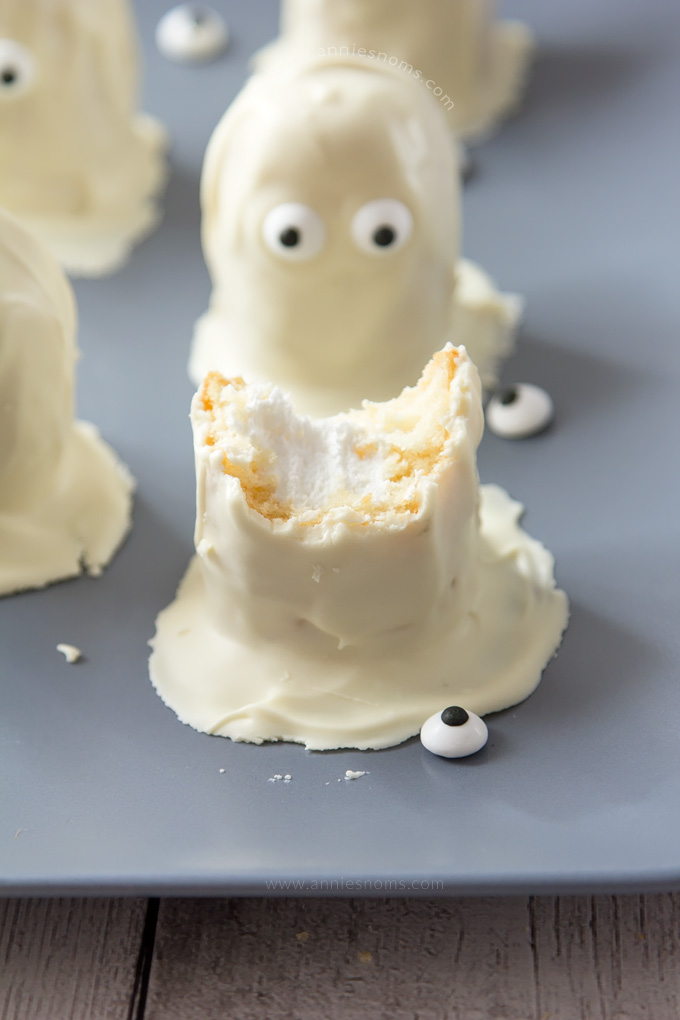 So, come Thursday, we'll be talking all things fudge. But for now, if you suddenly realise you've made nothing for Halloween, then these are just the thing!

Ghost Twinkies
These Ghost Twinkies have to be the most cute and fun Halloween treat with only three ingredients! They're also no bake and easy enough that the kids can get involved!
Ingredients
4

Twinkies

cut in half

8

oz

(225g) white chocolate or Wilton Candy melts in white

16

sugar eyes
Instructions
Line a baking tray with grease proof paper.

Place the chocolate/candy melts into a heat proof bowl and place in the microwave, in 20 second increments, stirring in-between until all the chocolate is melted. Leave to cool for 2-3 minutes.

Place Twinkie halves onto your lined tray, leaving at least 2 inches between each one.

Spoon around 1tbsp of melted chocolate on the top of a Twinkie half and then using a small spoon, help the chocolate fall down and cover the Twinkie by spreading it slightly. It will fall down itself, but you may have gaps, so once the chocolate has pooled at the bottom, you can bring some back up to cover any holes.

Note* You can try and dip the Twinkies into the melted chocolate, but I found spooning it over the top much easier.

Smooth over the front and back of the Twinkie with the back of your spoon and spread any excess chocolate down to the bottom to create a little "puddle" around the Twinkie.

Repeat until all Twinkie halves are covered. Leave them to set for 5 minutes, before placing 2 sugar eyes on each Twinkie. Leave to set completely; at least an hour, before gently peeling the Ghost Twinkies from the grease proof paper.

I found it easiest to grab the Twinkie between my fingers and pull straight upwards. Trying to bend or pull at an angle could make the chocolate puddle at the bottom break.

Ghost Twinkies will keep in an airtight container, at room temperature for 3 days, or in the fridge for 4 days.
Notes
*This recipe is easily doubled or tripled. Recipe by Annie of Annie's Noms

I link up at
these
great Link Parties!