This melt in your mouth fudge is jam packed with Golden Oreo's, chocolate and marshmallow fluff. It's easy to make, hard to resist and totally divine!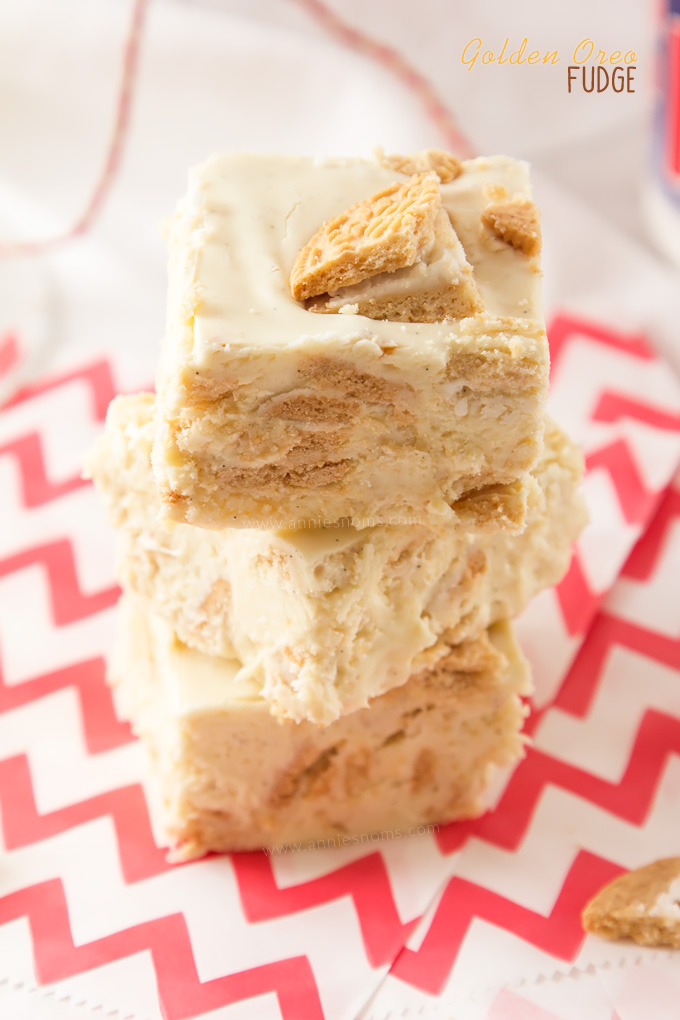 You guys have no idea how excited I am about today's recipe!!
Having searched high and low for years and then finding out that we didn't get Golden Oreo's here, I nearly fell over with excitement when I saw them in my local supermarket.
Obviously I had to buy 8 packets… You know, just in case there was a mad rush… or they decided not to sell them anymore…
It seems the UK has finally got with the program and we now get them here, I've seen the advert and everything, so that must mean they're here to stay?
I sure hope so, because they are divine.
I was dying to make something with them, so this fudge happened and it's life changing.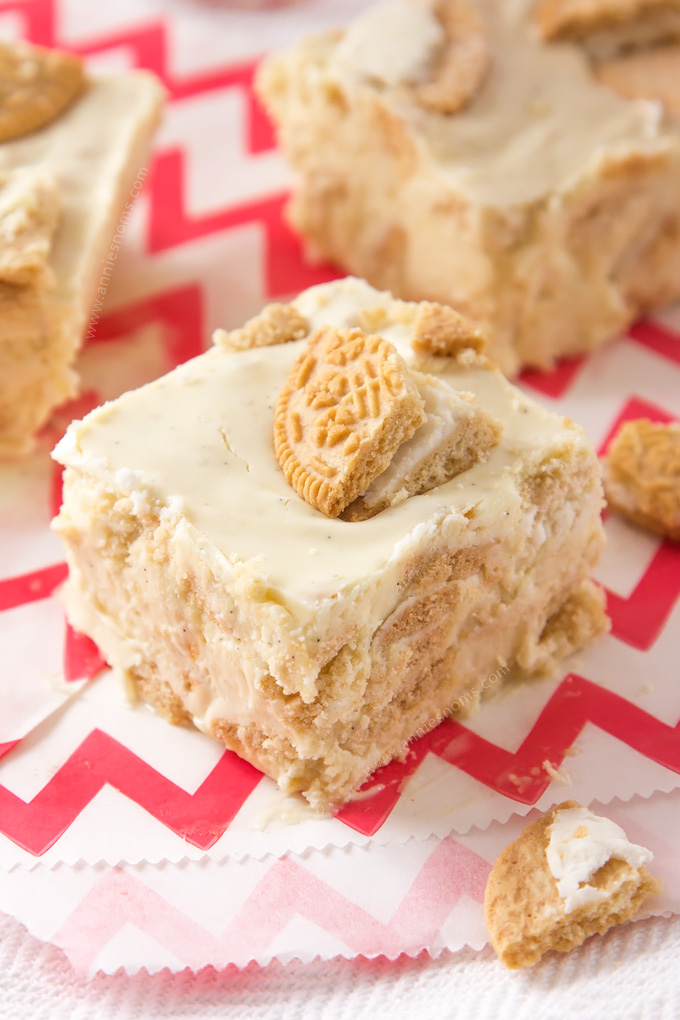 I don't say things are life changing very often. But this really is.
I could not stop eating it. It melts in your mouth, is stuffed with crushed Golden Oreo's and has condensed milk, white chocolate and marshmallow fluff in it.
Basically all the good stuff. Am I the only one who can just go at condensed milk and marshmallow fluff with a spoon?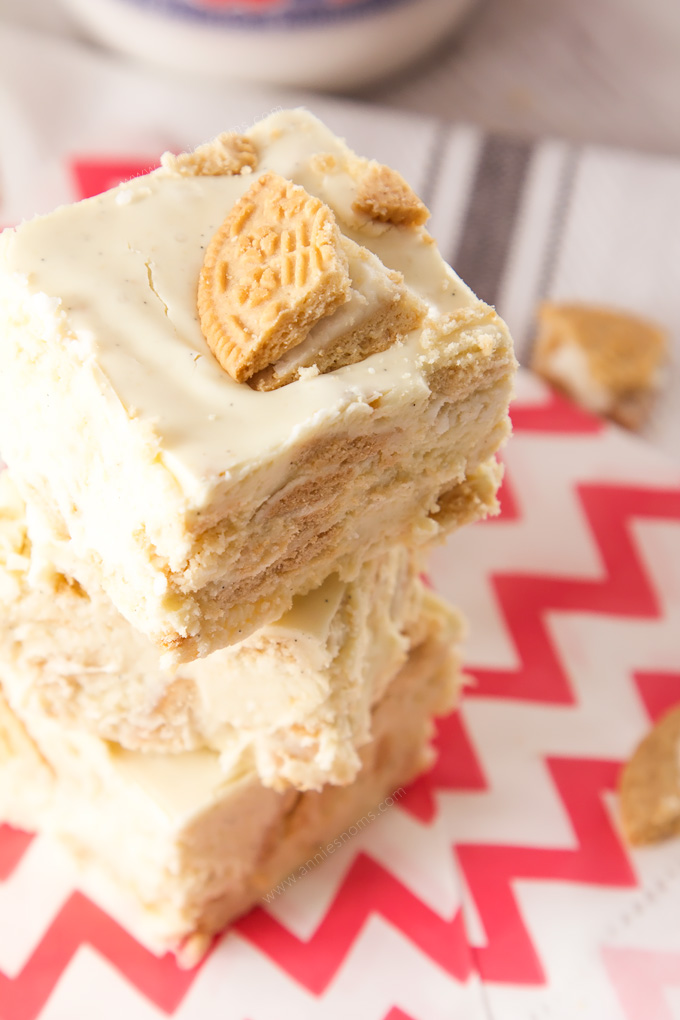 Before we go into detail on this fudge, have any of you got Snapchat?
I've been resisting for ages as I didn't understand what the heck it was… then it seemed to be getting ever more popular in the food blogging world, so I signed up and was faced with a load of screens and swiping left, right and centre. I was like "OHMYGOD I'm too old for this crap. I don't get it! WHY do things vanish after a few seconds?"
But after a few days playing, I think I might be getting the hang of it. And it's kind of fun.
Although I'm still resisting the full video posts that some bloggers do. I love watching their recipe videos and think it's really great to be shown how to make something, but I cringe when thinking of myself in front of the camera. I hate the sound of my voice and find myself thoroughly awkward in front of cameras. I'll save you the trouble of having to watch it by not doing it in the first place! 😉
I mention Snapchat now though, because I shared how I made this fudge on there the other day. So if you want behind the scenes snaps from my life and kitchen come follow along. I'm anniesnomsblog on there!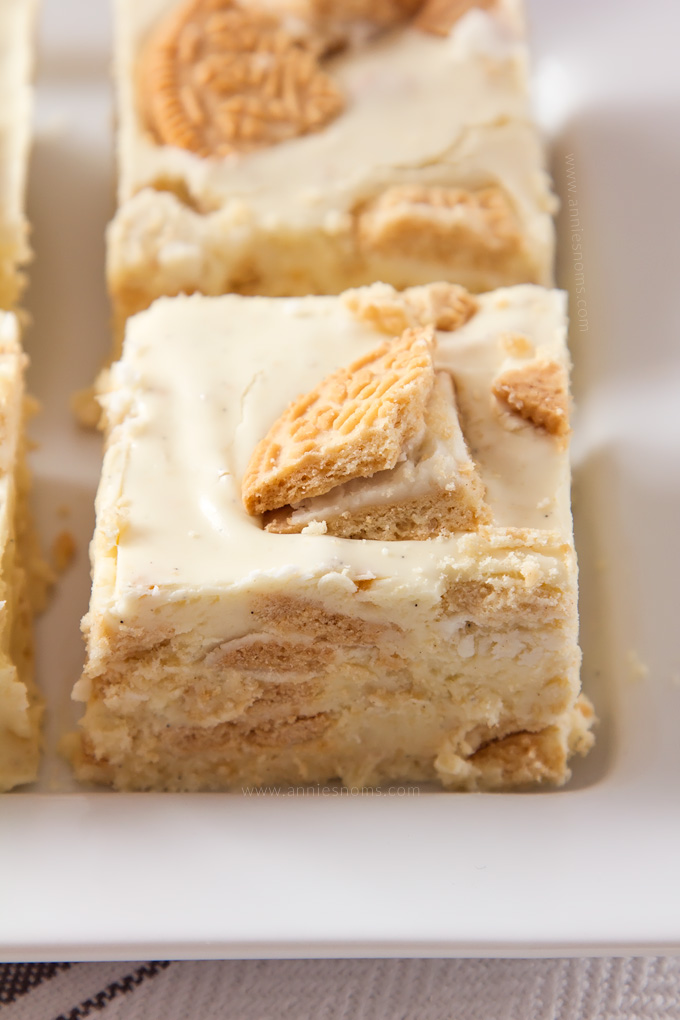 Back to making this fudge. To make it, you just need a saucepan, rolling pin and an 8×8 inch tin.
There are many different ways I've seen and heard to line the tin, but I used two layers of cling film and then I sprayed it with Bake Easy.
The last time I made fudge (it wasn't blog worthy) I used foil and it was an absolute disaster.
It stuck like… something rude. And ended up in the bin.
I'm so glad this fudge didn't suffer the same fate. It would have been terrible wasting all those crunchy, sweet Golden Oreo's.
I started off by placing butter and condensed milk into a medium sized saucepan, then stirred it until the butter melted and you couldn't see any streaks of butter at all. Then I added in the marshmallow fluff, making sure the heat was on low, and beat the mixture until all the fluff was incorporated.
After that, I added in broken up pieces of white chocolate by the handful, stirring it in between until melted. To finish off, I added a pinch of salt and some vanilla.
That's the base fudge mixture and then I tipped in 2 and 1/2 cups of crushed up Golden Oreo's.
Yes. 300g.
I saved a few bits for the top, but that was more because I knew I was photographing it. You can either put all of the Oreo's in, or sprinkle some on top.
Leave it to cool for an hour, then place in the fridge for 2-3 hours, then it's time to dig in and lose yourself in this sweet, crunchy, creamy fudge!

Golden Oreo Fudge
This melt in your mouth fudge is jam packed with Golden Oreo's, chocolate and marshmallow fluff. It's easy to make, hard to resist and totally divine!
Ingredients
One 14oz/397g can of Condensed Milk

1/2

stick (56g) unsalted butter

7.5

oz

(213g) jar of Marshmallow Fluff

12

oz

(340g) white chocolate,

roughly broken up (some big and small bits are fine)

1/2

tsp

vanilla extract

Pinch of salt

2 1/2

cups

(300g) Golden Oreo's

crushed, reserve 6 Oreo's for the top if you want, and cut them into 4
Instructions
Press a large piece of cling film into an 8x8 inch square pan with plenty of over hang and then repeat so you have two layers of cling film (this makes it strong enough to pull the fudge out of the pan once set). Spray with non-stick cooking spray; I used Wilton Bake Easy.

Place all of the Oreo's (bar 6 if you want to place some on the top) into a large Ziploc bag and then beat with a rolling pin until all the Oreo's are crushed. Some smaller and larger pieces are fine.

Place condensed milk and butter into a medium sized saucepan over a medium heat, stirring until butter is melted and combined. You don't want any streaks of butter in the mix.

Add in the jar of Marshmallow fluff, turn the heat down to low and then beat until the fluff is entirely combined and smooth.

Add the white chocolate pieces in, one handful at a time, stirring in between each addition until the chocolate is melted. Once you've added in all of the chocolate, add in the vanilla extract and salt and stir to combine.

Take off of the heat and tip in the Golden Oreo rubble. Fold in gently until all the rubble is covered in the fudge mixture.

Pour fudge into your prepared pan and smooth over with the back of a wooden spoon/spatula until level. If you've cut 6 Oreo's into quarters for the top, sprinkle these over the fudge.

Leave to cool for 1 hour before covering loosely with cling film and placing in the fridge for 2-3 hours, or until set.

Once set, pick up the overhanging cling film and wiggle around all the sides to loosen the fudge. Then transfer to a cutting board and slice into 16-24 squares. Big or small, you decide!

Note: Fudge cuts better with a hot knife. Dip the knife in hot water, then wipe dry before slicing.

Fudge will keep in an airtight container, in the fridge for 3 days.
Notes
Recipe by Annie of Annie's Noms

I link up at
these
great Link Parties!