These Pumpkin Chocolate Chip Oatmeal Cookies are soft, chewy, spicy, more-ish and full of oozing chocolate chips. The very best way to enjoy Pumpkin!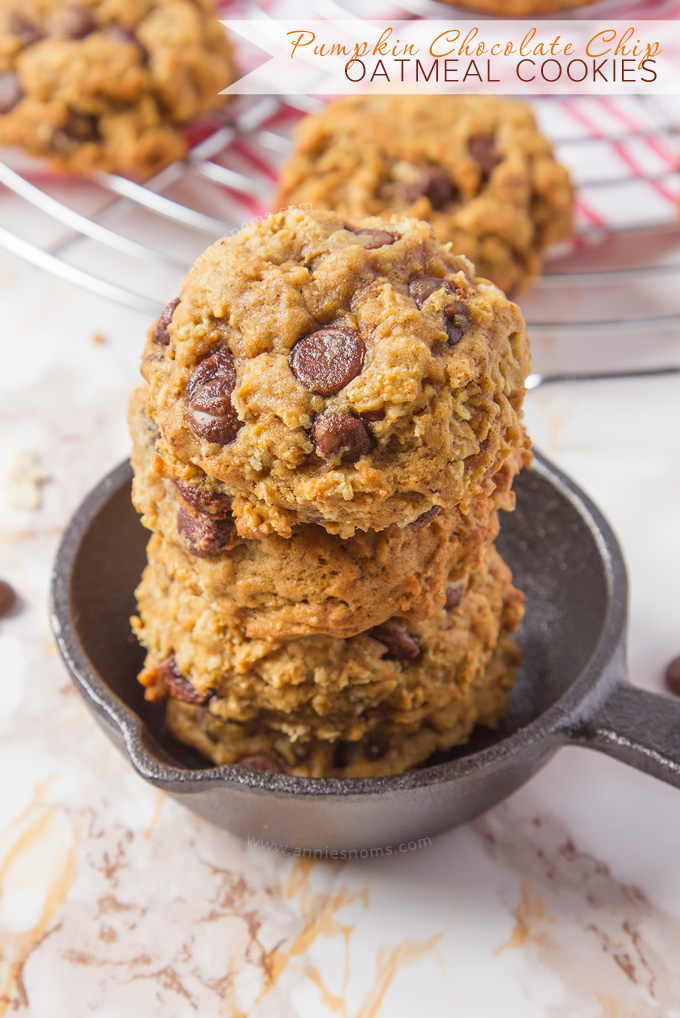 I am so sad it's the end of pumpkin season.
I guess that means it's time for all things peppermint, so that's something to look forward to, but I will miss all the spice filled goodies I've been baking!
First of all, I'm so sorry for the impromptu week off last week; I had everything made, shot and ready for me to sit and edit the photos/write, but life and health stuff got seriously in the way and I was so overwhelmed I didn't get chance to sit and write.
I hate when personal stuff gets in the way of work, but I am trying this new thing where I don't try and make myself ill by doing too much and I sometimes say to myself "Actually, I'm only human, I'm not Superwoman; I can't do everything."
Very hard for a workaholic like me!
Anyway, before all the mint chocolate, gingerbread and eggnog; I am going to share with you one last Pumpkin recipe; Pumpkin Chocolate Chip Oatmeal Cookies to be precise.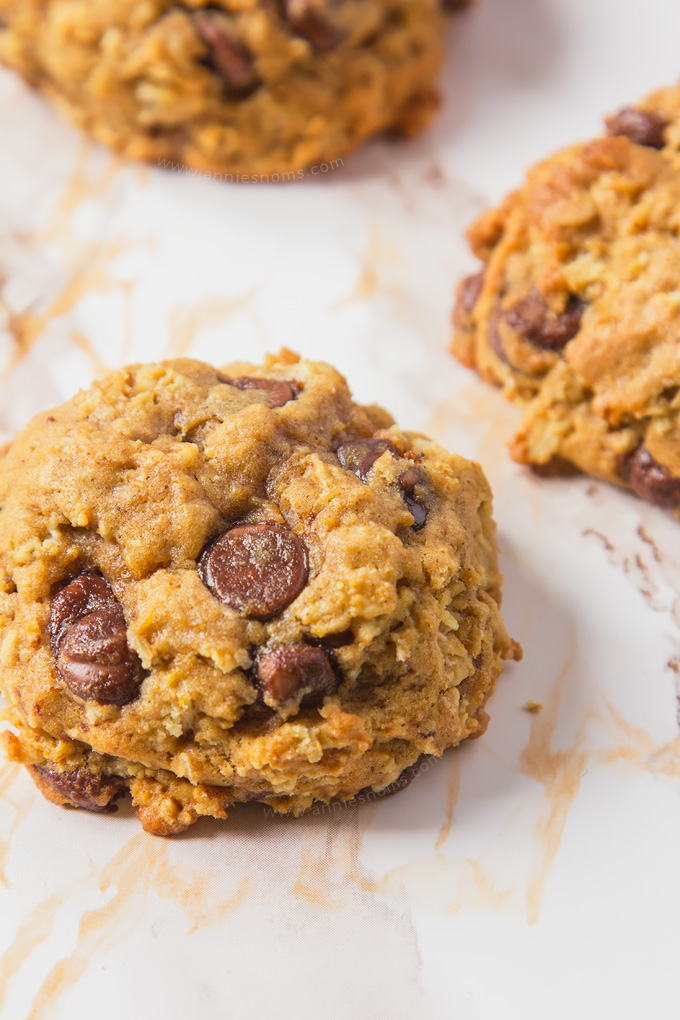 I am someone who loves oatmeal cookies, even if they don't have chocolate chips in. You know the Oatmeal Raisin ones everyone normally leaves in the packet? I will quite happily dig in to all of them.
However… Chocolate Chips are the absolute best. So, marrying the two together seemed natural.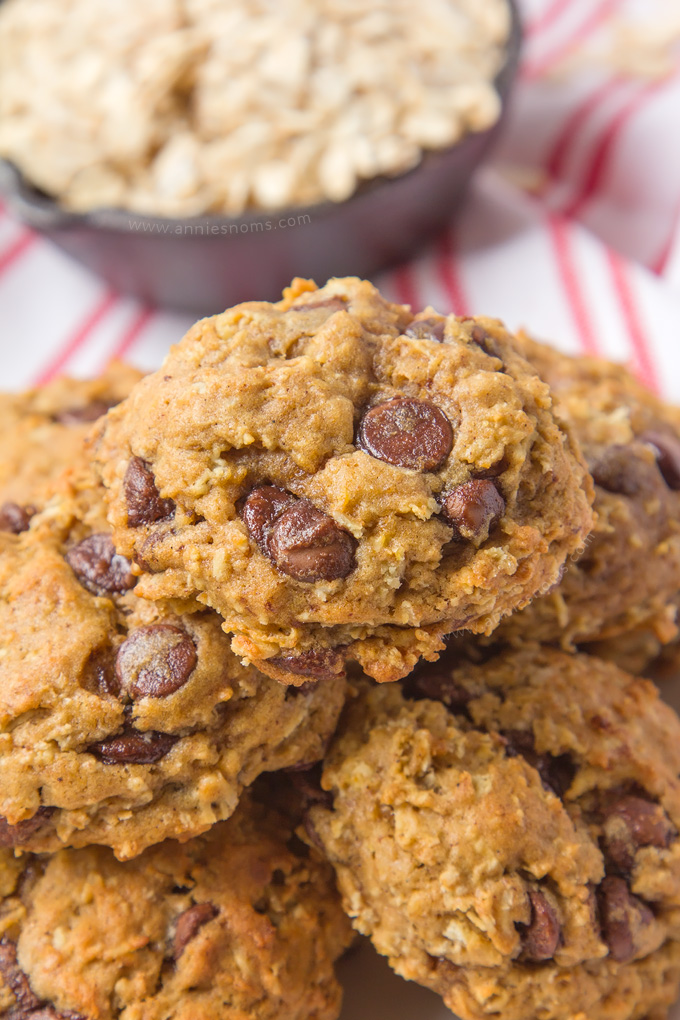 And since it's still Autumn, (just about) I just knew the addition of pumpkin would make these cookies pure perfection!
There's almost 1 cup of pumpkin puree in these cookies and plenty of chocolate chips too. I don't like to scrimp on chocolate chips; when I bite into a cookie and it's called a Chocolate Chip Cookies, it needs to have chocolate in every bite.
I also added 2 cups of rolled oats. I am still on such an oat kick. All day everyday. I literally want oats on or in everything.
My Autumn go-to breakfast? Warm oatmeal with applesauce and a sprinkle of cinnamon on top. To. Die. For.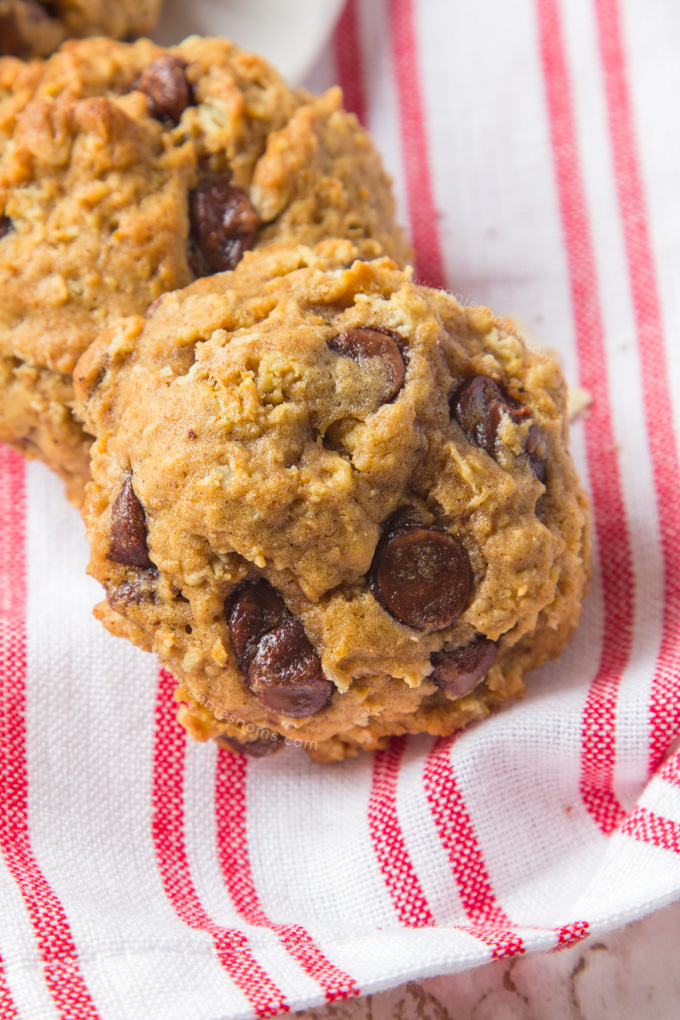 Anyway; the hardest part of this recipe is waiting for the dough to chill. I don't know about you, but I find it so hard not to keep eating the dough. Honestly, it's just so good. It's a wonder any cookies actually get made in this house.
Even Mr Annie's Noms liked these and he is a pumpkin hater.
I find it hard to get over the fact there are pumpkin haters. How can you not like all the spices that go with it too?! And I'm marrying this pumpkin hater! 😉 😉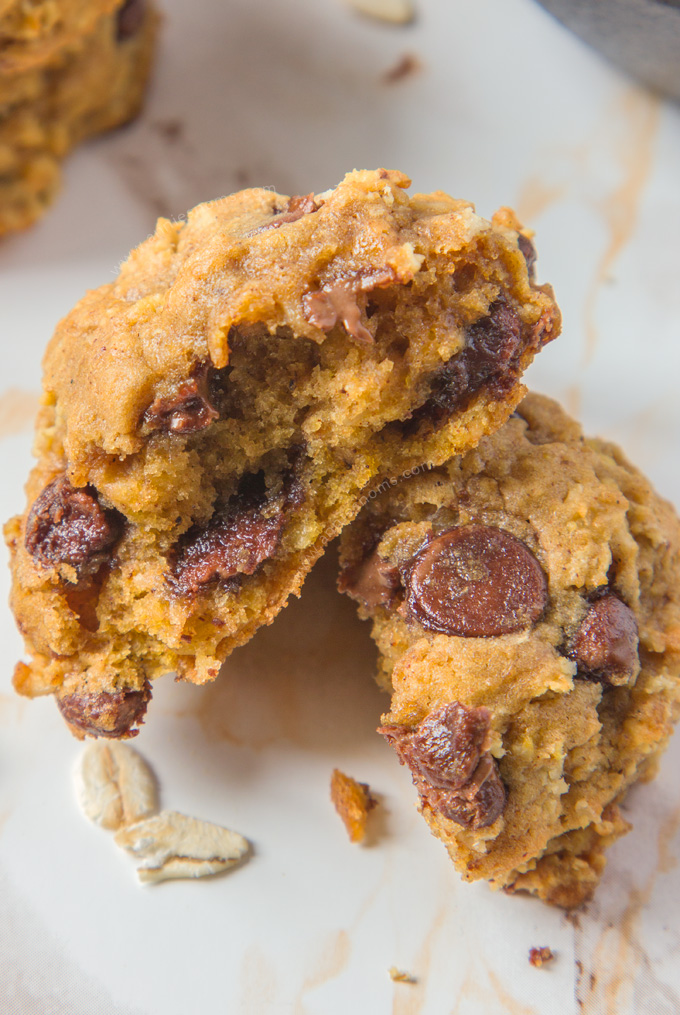 Since these have oatmeal in, does that mean we can eat them for breakfast?
Or is chocolate for breakfast frowned upon?
These are my new favourite oatmeal cookie. They are so soft and chewy. I packed in a ton of spices and one of these slightly warm from the oven is just pure heaven.
The chocolate is still melty and I felt so satisfied after eating one. And the oats helped keep me full until lunch…
Ooops. Did I just admit I had one for breakfast? 🙂 😉
Anyway, let's wave farewell to pumpkin season together and go and make these cookies. And prepare yourself for an overload of gingerbread and mint chocolate!

Pumpkin Chocolate Chip Oatmeal Cookies
These Pumpkin Chocolate Chip Oatmeal Cookies are soft, chewy, spicy, more-ish and full of oozing chocolate chips. The very best way to enjoy Pumpkin!
Ingredients
1 1/2

cups

(210g) plain flour

2

cups

(160g) rolled oats

not quick cook

2

tsp

cornflour

Pinch of salt

1

tsp

bicarbonate of soda

1/2

tsp

baking powder

1

tsp

ground cinnamon

1/2

tsp

ground ginger

1/4

tsp

ground nutmeg

1/4

tsp

ground cloves

1

cup

(175g) milk chocolate chips

1 1/4

sticks (140g) unsalted butter,

at room temperature

3/4

cup

(150g) light brown sugar

1/4

cup

(50g) caster sugar

1/2

tsp

vanilla extract

1

large egg

3/4

cup

(180g) tinned pumpkin puree,

NOT pie filling
Instructions
No need to preheat the oven yet, this dough needs to chill.

Place flour, oats, cornflour, salt, bicarb, baking powder, spices and chocolate chips into a medium sized bowl and stir until all of the chocolate chips are coated in flour. Leave to one side.

Place butter and sugars into a large bowl, or the bowl of your stand mixer and beat until light and fluffy, 2-3 minutes on medium-high speed.

Add in the vanilla extract and egg, scraping down the sides as necessary, and mix until well incorporated and smooth; about 1 minute on med-high speed.

Tip in the flour mixture and add in the pumpkin, then mix on low-medium speed until a soft dough forms.

Tip the dough into a medium sized bowl and cover with cling film. Place in the fridge for at least 6 hours, overnight if possible.

Once chilled, preheat the oven to 180C/350F and line 2-3 baking trays with grease proof paper/a silicone mat/Silpat etc.

Use a 1.5tbsp cookie scoop to scoop level balls of dough. Place dough balls 2 inches apart on the baking trays. Flatten ever so slightly with a clean hand, so the dough balls don't roll away!

Place in the oven for 10-12 minutes until, lightly golden, they look firm around the outside and a little soft in the middle. They will be a little puffy, but look matte on top as the light of the oven hits them.

Leave to cool on the baking trays before transferring to an airtight container. Cookies will keep at room temperature for 5 days.

Note: I sometimes think Pumpkin baked goods taste better on the second day after the flavours have melded together some more!
Notes
Recipe by Annie of Annie's Noms

I link up at
these
great Link Parties!