This shop has been compensated by Collective Bias, Inc. and its advertiser. All opinions are mine alone. #CollectiveBias
These Gingerbread Latte Cupcakes are everyone's favourite festive drink in cupcake form! Soft, spicy and with just a hint of coffee, they also have a whipped cream frosting with a hit of gorgeous ginger.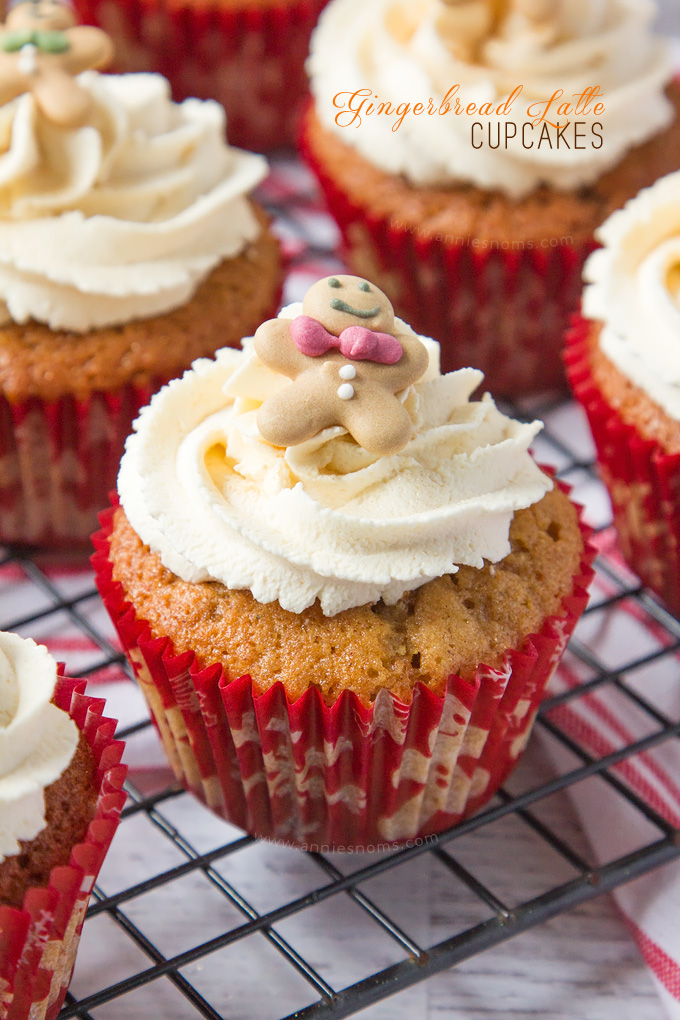 Oh my gosh, do I have a recipe for you today!
I am in full festive mode as of this week and I'm not sure it's possible for me to get any more excited than I already am.
The Christmas songs are blaring out as I type this and I'm dreaming of eating another one of these divine Gingerbread Latte Cupcakes.
Oh yeah. I went there. My favourite festive drink in cupcake form.
I don't know about you, but every time I go food shopping at my local Sainsbury's, I just HAVE to go down the baking aisle. And let me tell you, 90% of my food shopping is done at Sainsbury's, so that's a lot of visits. They have a great selection of most things and I love their Taste the Difference range.
We're lucky to have one fairly large and one huge Sainsbury's near us, so we have a pretty good range of products and a huge aisle of baking supplies.
So, if you want to find great baking supplies, you should definitely head to your local Sainsbury's this Christmas!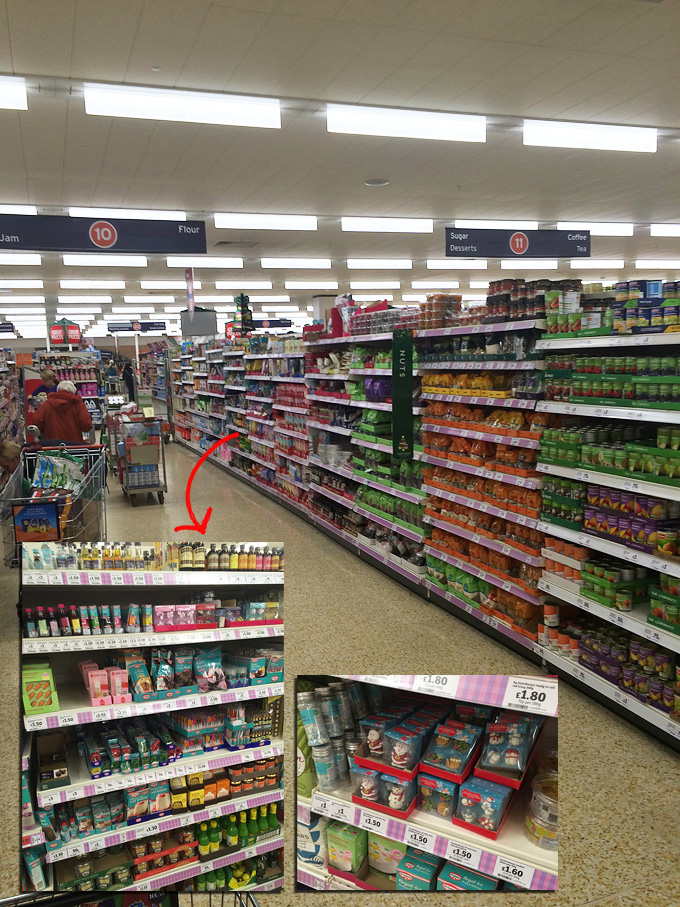 Pretty much every time I go shopping, I end up with something new from the baking aisle; be it Sprinkles, edible glitter, cupcakes cases etc.
There are just too many cute things. Mr Annie's Noms just rolls his eyes now as I place another 75 cupcake liners into the trolley.
This is why I was so excited at this fabulous opportunity to create a festive recipe with Sainsbury's baking supplies. I had a little ponder as to what I could make, but within 5 minutes, I was headed straight to Gingerbread… and then I decided that I could make them even more awesome by adding a shot of freshly brewed espresso.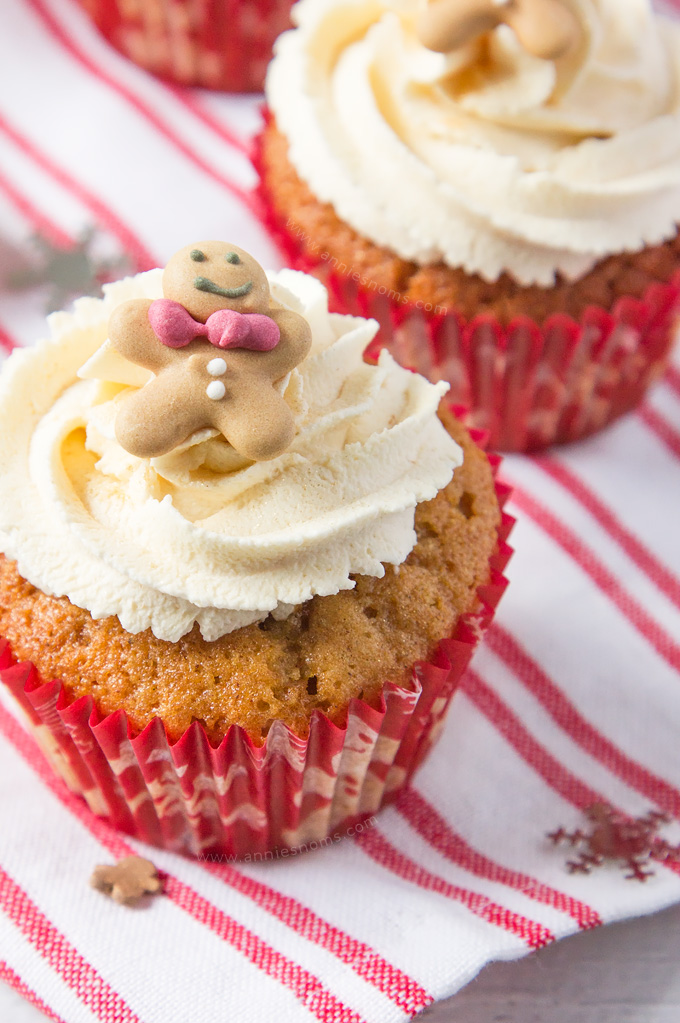 Because Hump Day definitely needs caffeine. And what better way to do it than with a Gingerbread Latte Cupcake?!
I also believe there is not enough glitter/sparkle in the world, so I just had to pick up this gold glitter spray along with cute little Gingerbread men toppers and some festive sprinkles.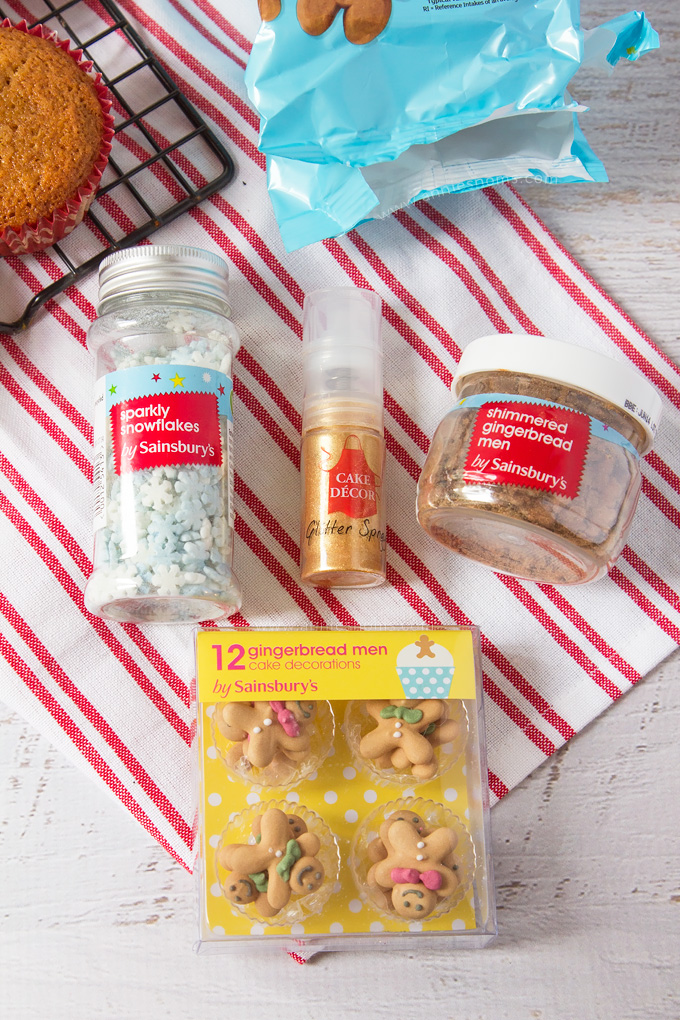 I wanted these cupcakes to really pack a punch, so there's 1 and 1/2 teaspoons of ginger in there and coffee so strong you could stand a spoon up in it.
Don't be scared though, once baked the coffee hit in subtle. I do love a strong coffee of a morning, but latte's aren't that strong, so I stayed true to its namesake.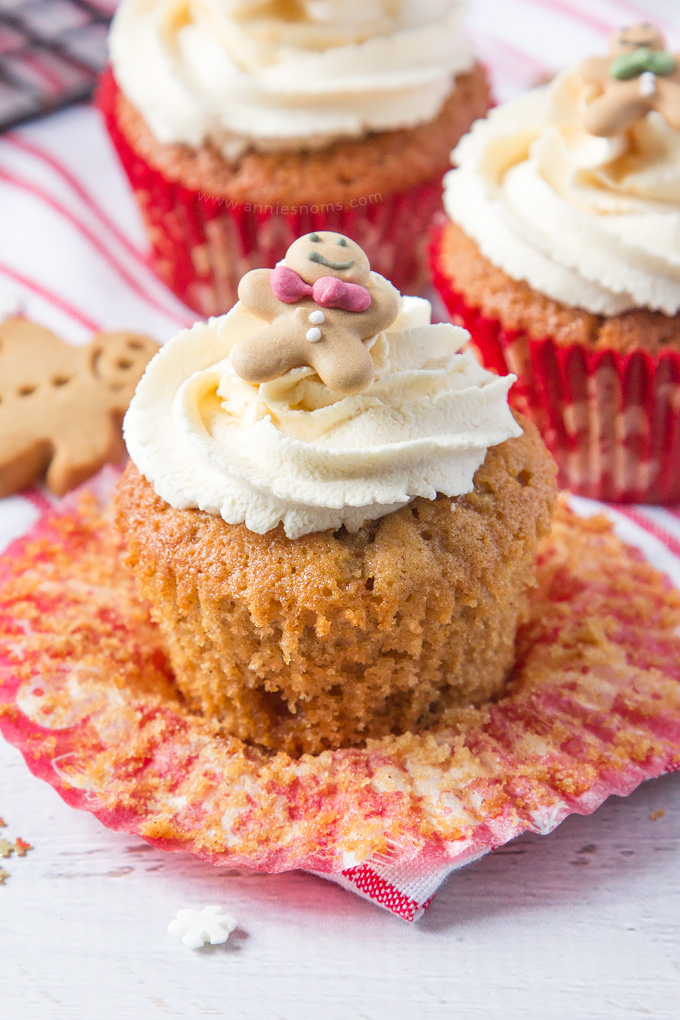 Now, in many gingerbread recipes there's either molasses, black treacle or golden syrup. I decided on golden syrup as I didn't want the cupcakes to be too rich. Especially as the frosting is whipped cream, so incredibly light.
Just look at it; it's like a cloud on top of a perfectly soft ginger filled cupcake.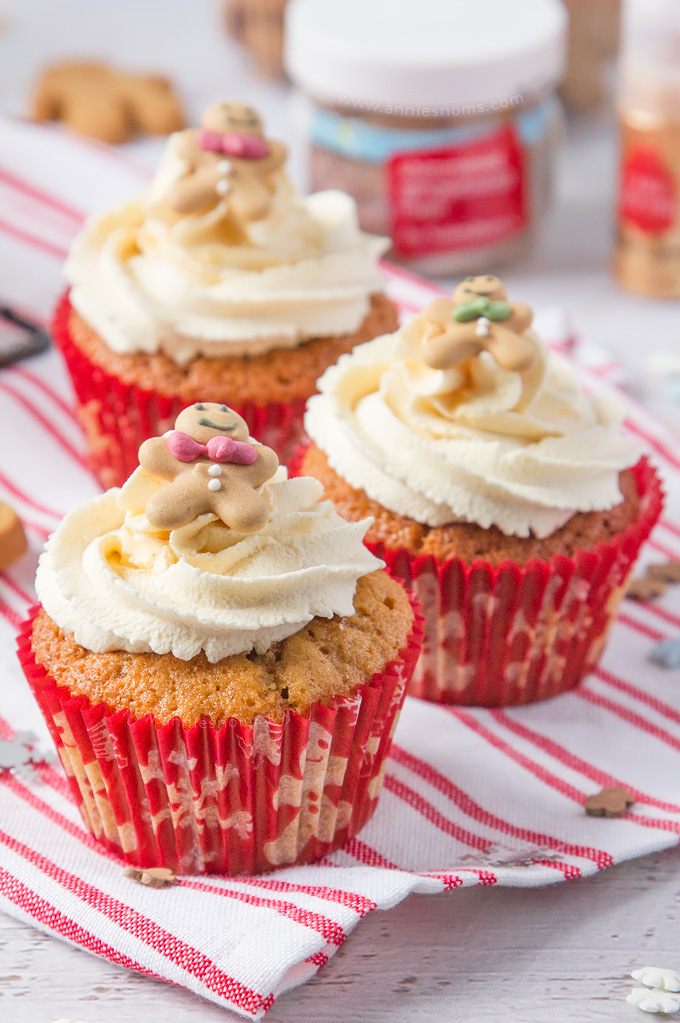 And those toppers? I'm done.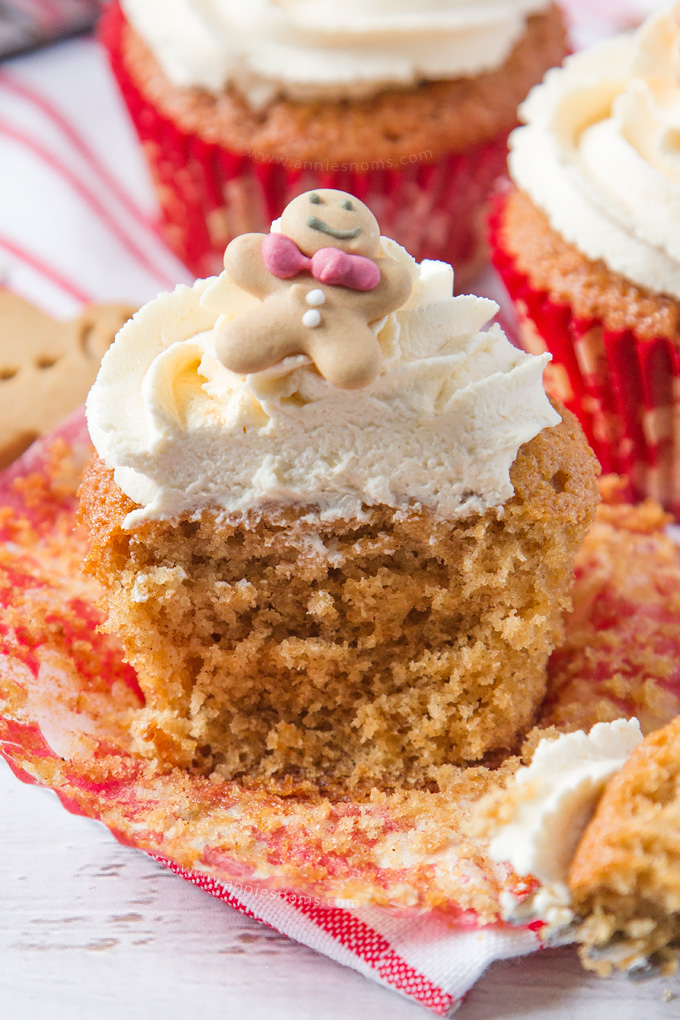 TOO cute!
Also, you may notice a very subtle shimmer on the frosting (I didn't want it to be too in your face), that my friends, is a sprayable edible glitter!
I'd never seen these spray glitters before, so didn't know what to expect, but they're so fun!
It's not an aerosol one, so quite controlled. One pump just gives a little glitter meaning you won't end up with glitter everywhere. I sometimes find with a continuous spray it just makes such a mess, but not with this spray! 🙂
I'm officially starting off this festive season with these oh-so-delicious cupcakes and I cannot wait to share more festive treats with you in the coming weeks! Have a great Wednesday! 🙂

Gingerbread Latte Cupcakes
These Gingerbread Latte Cupcakes are everyone's favourite festive drink in cupcake form! Soft, spicy and with just a hint of coffee, they also have a whipped cream frosting with a hit of gorgeous ginger.
Ingredients
For the cupcakes:

1

stick (113g) unsalted butter or margarine,

at room temperature

1/2

cup

(100g) light brown sugar

1/4

cup

(50g) caster sugar

2

large eggs

1/2

tsp

vanilla extract

1 1/2

cups

(210g) plain flour

2

tsp

baking powder

Pinch of salt,

ONLY if using unsalted butter

1

tsp

ground cinnamon

1 1/2

tsp

ground ginger

1/4

tsp

ground allspice

1/4

tsp

ground nutmeg

1

oz

(30ml) shot very strong,

freshly brewed Espresso*

1/3

cup

(115ml) golden syrup

For the frosting:

1 1/2

cups

(360ml) double/heavy cream

1/2

cup

(60g) icing sugar,

sifted

1

tsp

ground ginger

1/4

tsp

vanilla extract

Pinch of salt

Edible glitter, Gingerbread man cupcake toppers/sprinkles to garnish,

optional
Instructions
Preheat oven to 180C/350F and line a 12 hole cupcake tray with liners.

Place butter/marg and sugars into a large bowl or the bowl of your stand mixer and beat until light and fluffy, 2-3 minutes on medium-high speed.

Add in the eggs and vanilla extract, scraping down sides as necessary, and mix until well incorporated and smooth, 1 minute on med-high speed.

Place flour, baking powder, salt (if using) and spices into a medium sized bowl and stir briefly.

Tip flour mix into your egg/sugar mixture and mix on low until the batter starts to combine. Then add in the shot of coffee and golden syrup and mix on low-medium high speed until well incorporated and smooth.

Divide the mixture between the cupcake liners, fill them 3/4 full. (I used a 2tbsp cookie scoop to ensure they are even).

Place in the oven for 18-22 minutes, until risen, golden and an inserted skewer into the centre comes out clean.

Transfer cupcakes to a wire rack as soon as possible and leave to cool completely. (I find the cupcake liners peel away from the cake if left in the cupcake tray).

Once cool, make the frosting: place cream, sifted icing sugar, ginger, vanilla extract and salt into a large bowl and beat on medium-high speed until cream is thick and holds a peak when you lift the beater out of it. This is stiff peak and what you want to be able to pipe the frosting and have it hold its shape.*

Half fill a piping bag filled with an open star nozzle (I used a Wilton 1M) and pipe a swirl onto each cupcake.

To decorate: spray 1-2 pumps of edible glitter spray onto each cupcake and place a Gingerbread man topper onto each cupcake.

Cupcakes will keep in an airtight container, in the fridge, for 3 days.
Notes
Note 1: I used freshly brewed Espresso, you could substitute coffee extract if you wanted, but I have not tried it without the added liquid the coffee gives, so cannot tell you whether the cupcakes would work as well.
Note 2: If you over whip your cream and it looks like it's almost "broken" in texture, add in a little milk or cream and beat lightly to bring it back to stiff peak! 

I link up at
these
great Link Parties!