This Maple Gingerbread Popcorn is totally addictive! Maple syrup, plenty of ginger and some light brown sugar make this the perfect, easy to make snack!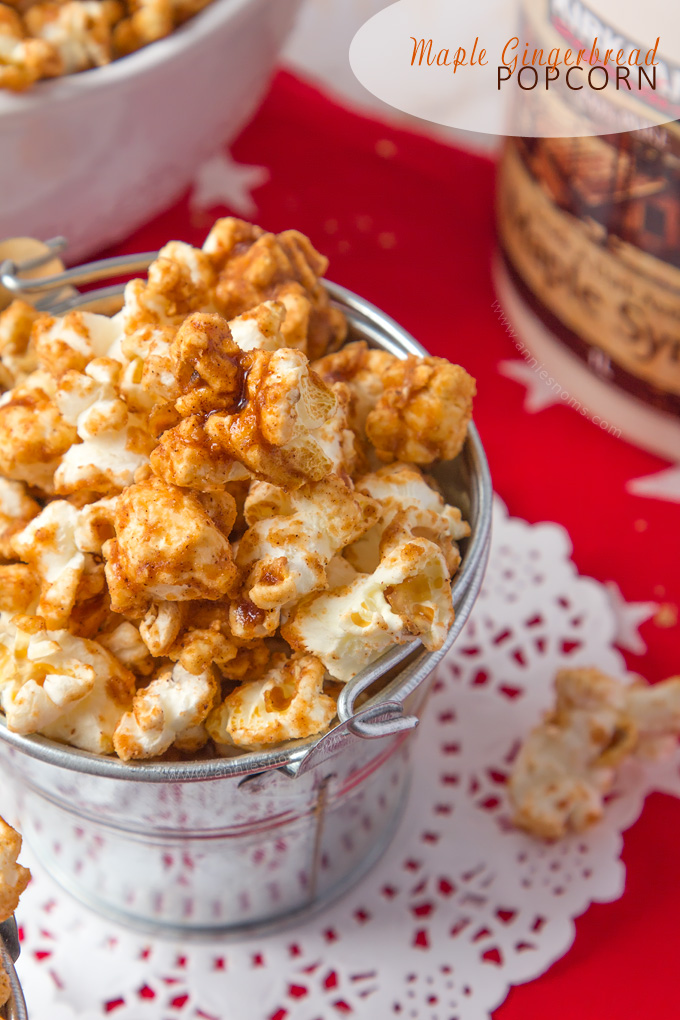 Are you guys feeling festive yet?
I am, but a small sense of panic is creeping up on me as I thought I was really organised throughout November, but have just realised I actually have a lot more to do than I thought!
It seemed like Christmas was ages away… But it's crept up really fast!
Let's not even talk about my half finished Christmas shopping, Christmas cards still in their box and overflowing cupboards full of many foods that you only seem to buy at Christmas.
Does anyone even like those Cheese balls you get in pots? I find them weird, but we always get them because they're festive. I've also started my secret chocolate stash, hidden upstairs, so no one eats them before Christmas!
It's kind of ridiculous. This Maple Gingerbread popcorn though? Definitely not ridiculous. Actually, it's awesome!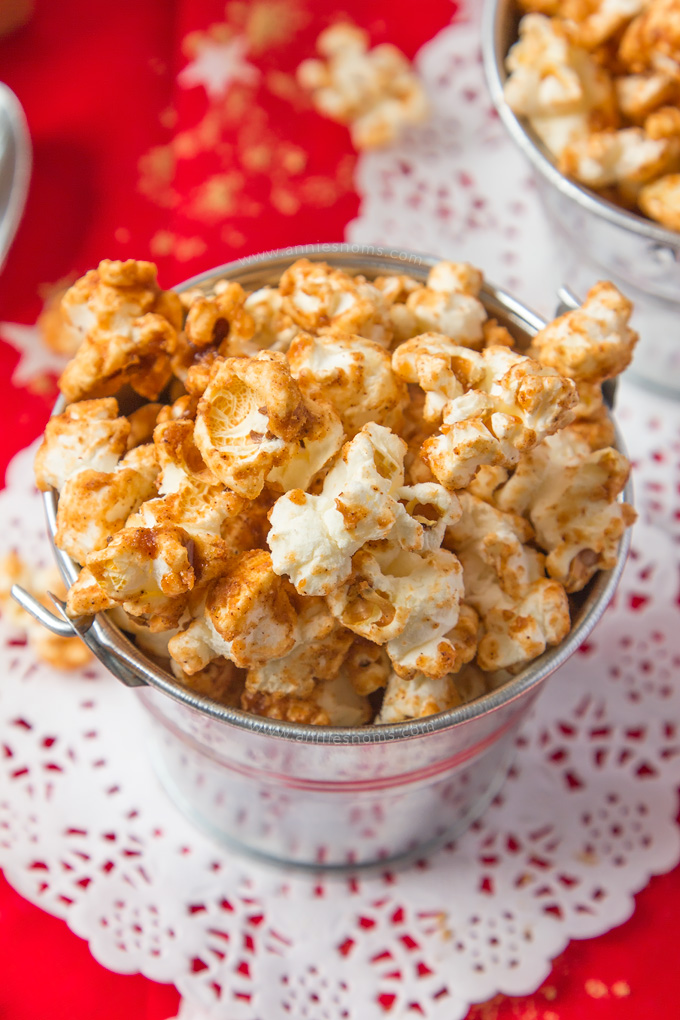 Can you believe this is the first time I've ever shared a popcorn recipe with you guys?
Especially as I love popcorn. I constantly buy it when I do my weekly shop and love when I see new flavours. I've seen lemon and coconut, salted caramel, chocolate orange… every single one I've tried, I've loved, so I thought it was high time to make my own!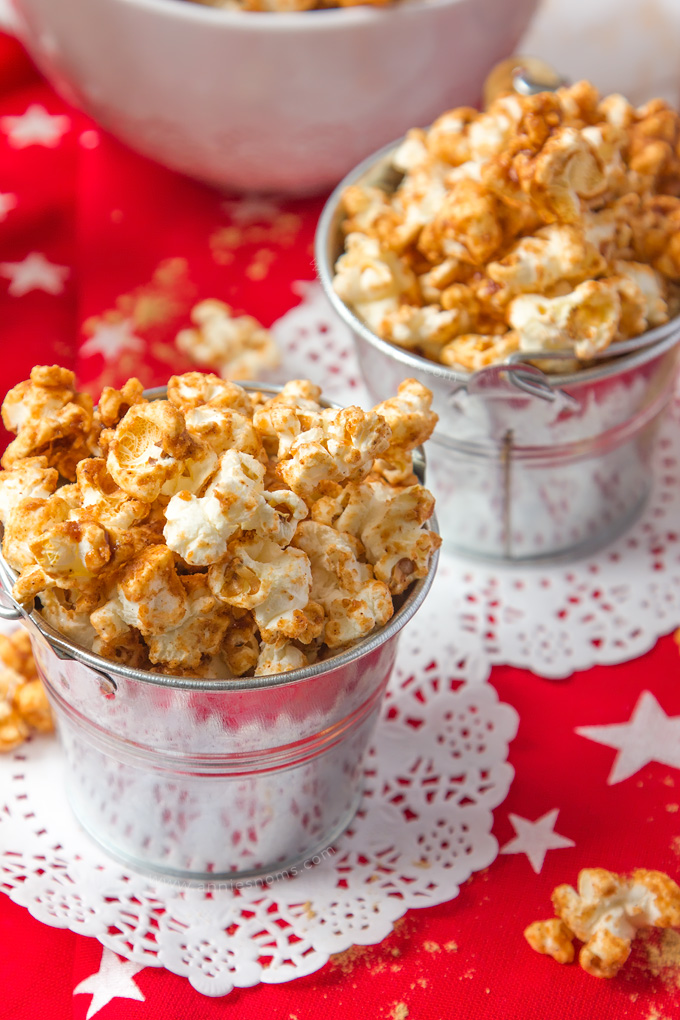 I honestly didn't realise it was so easy to make!
Normally I find plain sweet popcorn, the popcorn flavour of the devil, but if you coat it in a rich, sweet spicy syrup, it becomes the most amazing snack in the world.
And no, I don't know why I don't like sweet popcorn when I like all the other sweet flavours. Maybe it's because most of them are properly coated in a caramel/toffee and aren't just coated in sugar. It's honestly bizarre… but welcome to my weird life. 😉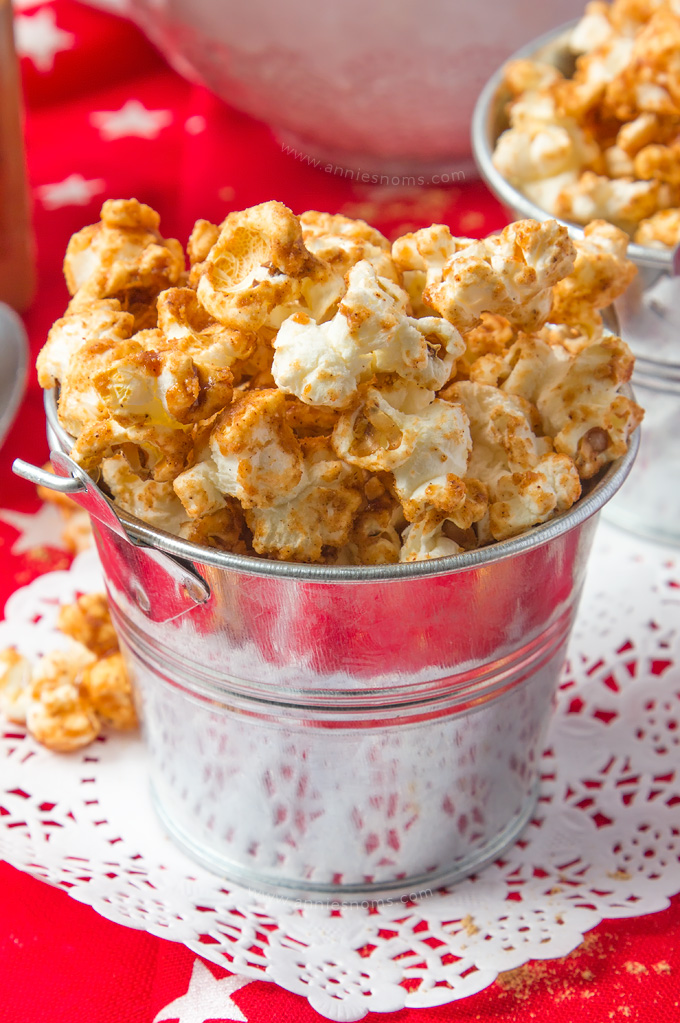 Now, the maple syrup in this recipe doesn't add a massive maple flavour, you get a subtle hint of it, but I wanted to use it to sweeten the popcorn and also just to marry up perfectly with the spices I added.
This is definitely not light on ginger; you can reduce the amount to 3/4tsp if you don't love ginger as much as I do, you'll still get a gorgeous hit. I just love it, so really ramped it up.
Hands on time for this recipe is about 10 minutes, then you just leave it cool down before placing it in an airtight container. And eating it obviously.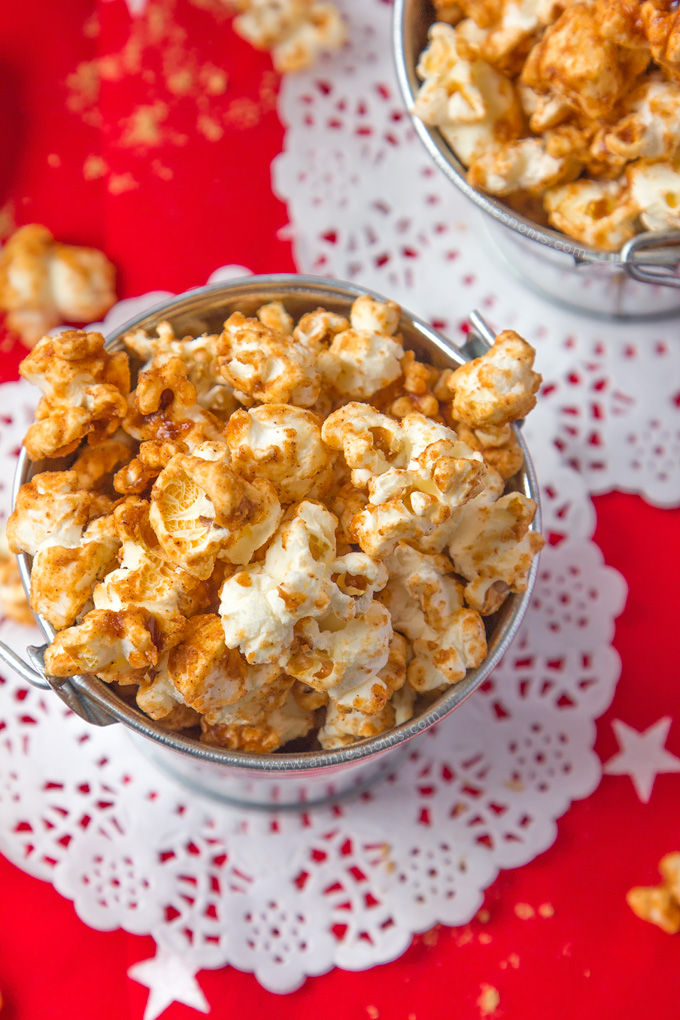 I placed all the spices, sugar, butter and maple syrup into a saucepan and brought it to a boil. I cooked it for 2-3 minutes until it got slightly darker and ever so slightly thicker.
It bubbles up gorgeously, but beware it is molten hot. Somehow, my clumsy self managed to avoid taking my skin off… I'm quite proud of myself! 😀
You then pour this golden, molten syrup all over your popcorn and toss it until all the popcorn is coated. Leave it to cool and then dig into this amazing Maple Gingerbread Popcorn!

Maple Gingerbread Popcorn
This Maple Gingerbread Popcorn is totally addictive! Maple syrup, plenty of ginger and some light brown sugar make this the perfect, easy to make snack!
Ingredients
10

cups

(120g) sweet or plain popcorn

1/3

cup

(66g) light brown sugar

2

tbsp

(30g) unsalted butter

3/4

tsp

ground cinnamon

1

tsp

ground ginger,

see note

1/4

tsp

ground cloves

Pinch of nutmeg

Pinch of salt

1/2

tsp

vanilla extract

1/3

cup

(80g) maple syrup
Instructions
Place popcorn into a large, heat proof bowl, with plenty of room to toss the popcorn in the maple/ginger syrup.

Place sugar, butter, spices, salt, vanilla extract and maple syrup into a medium sized saucepan over a low-medium heat.

Stir frequently and bring to a boil. Once boiling, stir continuously and cook for 2-3 minutes until the mixture has got a little darker and ever so slightly thicker (you won't feel it getting much thicker, but the colour will change).

Pour the maple/ginger syrup all over the popcorn and then use two spoons to toss the popcorn in the syrup. Keep stirring/tossing until all the popcorn is covered in the syrup. It will be sticky, but as it cools it becomes less sticky.

Leave to cool completely, before transferring to an airtight container and storing at room temperature. Popcorn will keep for 4 days.
Notes
Note 1: If you don't adore ginger, reduce to 3/4 tsp. 

I link up at
these
great Link Parties!