These soft, sweet Eggnog and Cranberry muffins are made with homemade Eggnog, fresh cranberries and plenty of nutmeg to create the perfect Christmas breakfast treat!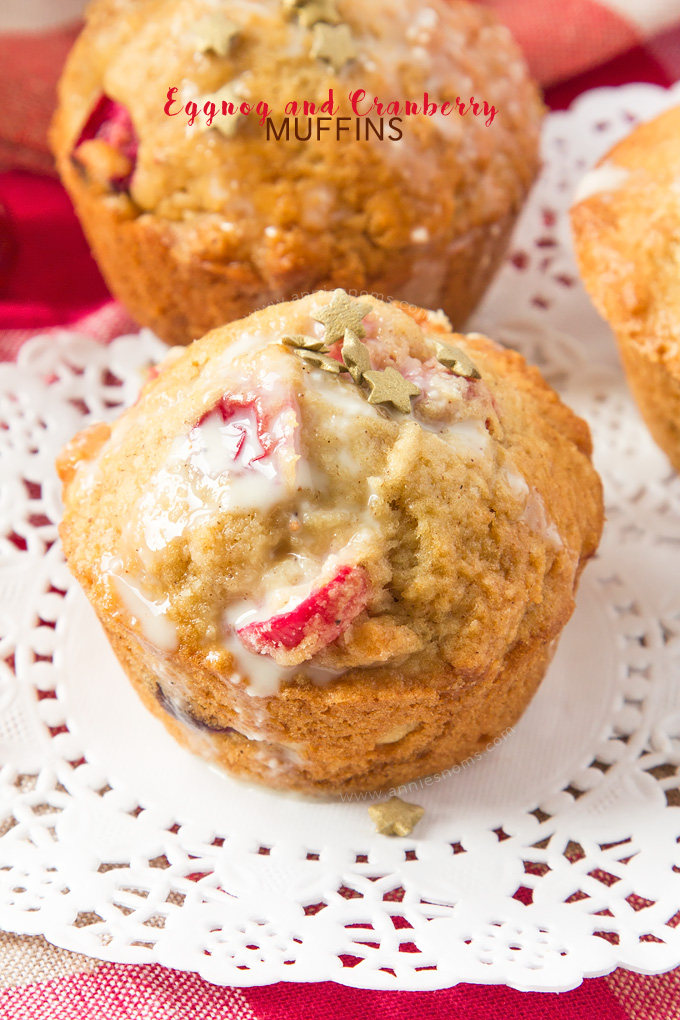 It's time for Eggnog! How exciting?!
Eggnog and cranberry in this instance! We don't get eggnog readily in this country, so I make my own cooked version because it's actually really east to make!
Don't yell at me though, I know traditionally it's meant to be raw, but I'm just a little bit funny about raw eggs. Unless they are in cookie dough, then I'm all over them…joking.
Anyway, I made eggnog for the first time last year and ever since I've been desperate for Christmas to roll around again, so I could make some more! I'm already planning to make another recipe today with it (Eggnog Fudge) but before that, I'm bringing you soft, sweet and slightly tart Eggnog and Cranberry Muffins.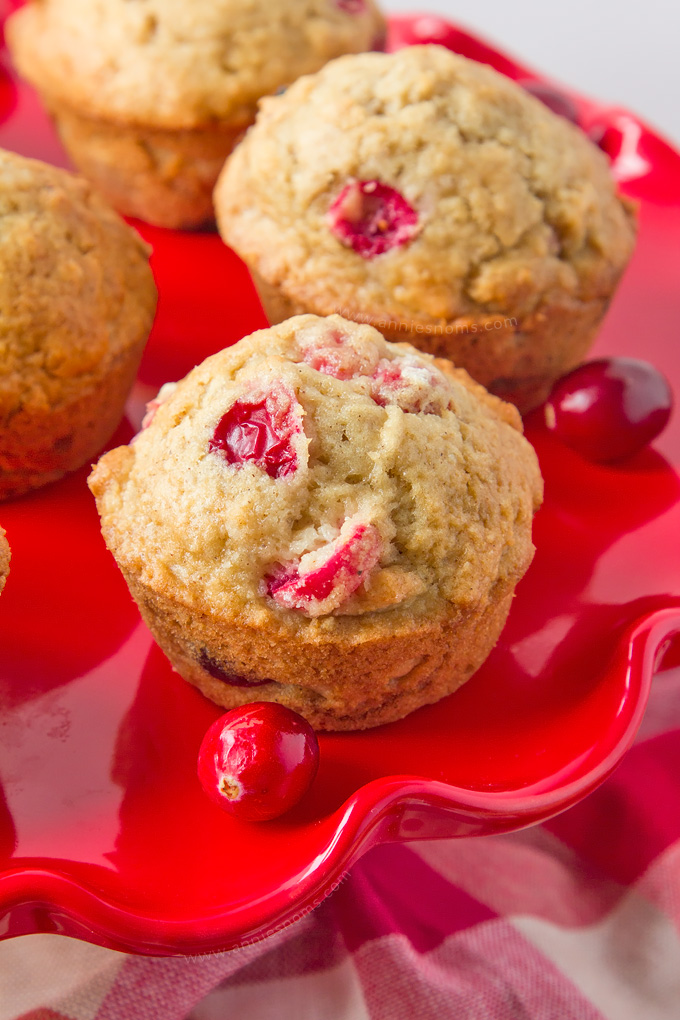 I normally use a mixture of milk and butter in my muffin recipe, but with these I substituted the milk with eggnog and lessened the amount of butter, so you get more of that sweet, custard like flavour from the eggnog.
I also decided to add in fresh cranberries. I love that punch of flavour you get from fresh cranberries, once cooked they're a little tart, but sweeten slightly and aren't bitter. That tartness was the perfect contrast to the sweet eggnog.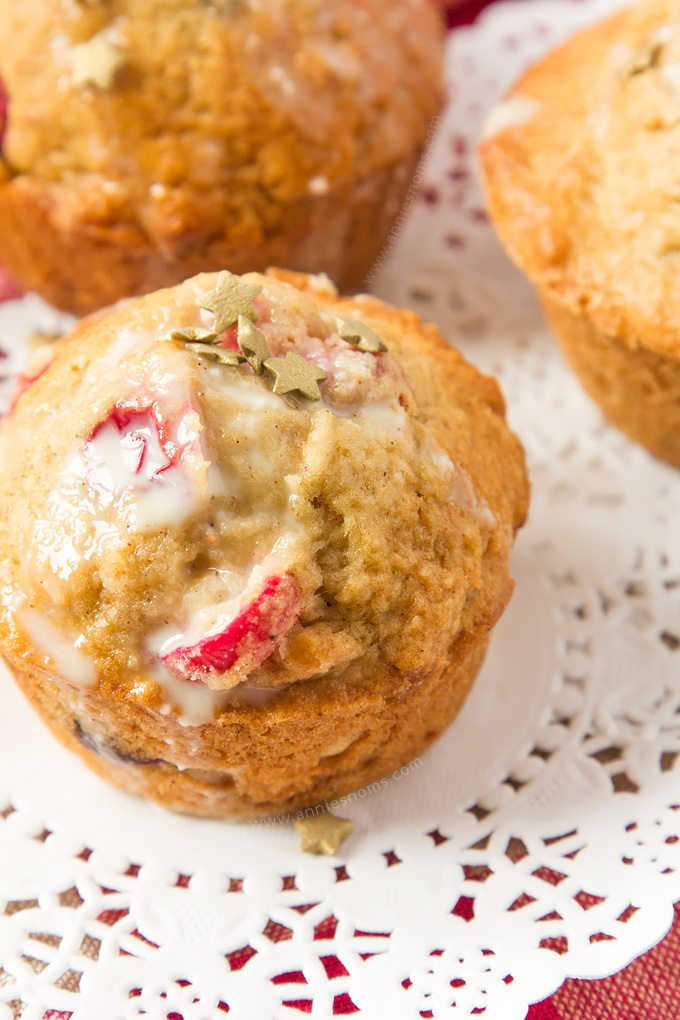 One of these muffins with a cup of coffee is my idea of a heavenly breakfast this Christmas!
Change of topic for a second: have you seen these cute Santa mugs from Next?! (it comes as a set online, but you can buy them individually in store)
OHMYGOSH so cute. And it has a hat! Dying.
I saw them one evening and rushed out to buy one two the next day. And then that turned into many other cute Christmas things that I 100% needed. At least that's what I'm telling myself.
Mr AN? Not so much… I sent him a couple of photos of my overflowing baskets (I went to TK Maxx too) and he just rolled his eyes with an emoji. When I got home and covered the entire table with my purchases, he was just like "Oh Goddddddddddddddddddddd"
I almost bought the Santa plate too and if I had then I would definitely be having one of these muffins on it and feeling thoroughly festive. Just look at the inside: chunks of cranberry and the perfect crumb!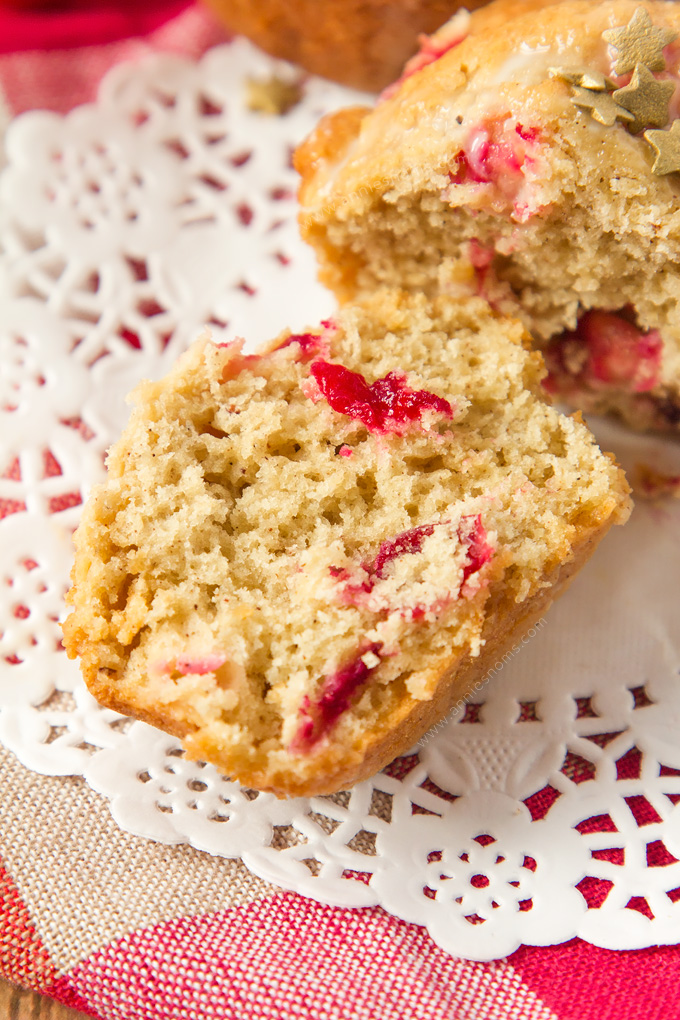 I am now thinking about the plate a lot though… Normally my rule is if you dream about it or are still thinking about it the next day, then you should go and buy it.
But… I'm not sure I'm brave enough to go to town anymore. It's getting a little too close to Christmas. And the last three times I've left the house, I've ended up getting cross as people just stop in front of me, block aisles, bash into me, barge in front of me or DRIVE AT 30 MPH IN A 60. 🙁 🙁 🙁
I think I'll stay in the confines of my house and eat Eggnog and Cranberry Muffins whilst browsing the internet. Thank goodness for online shopping.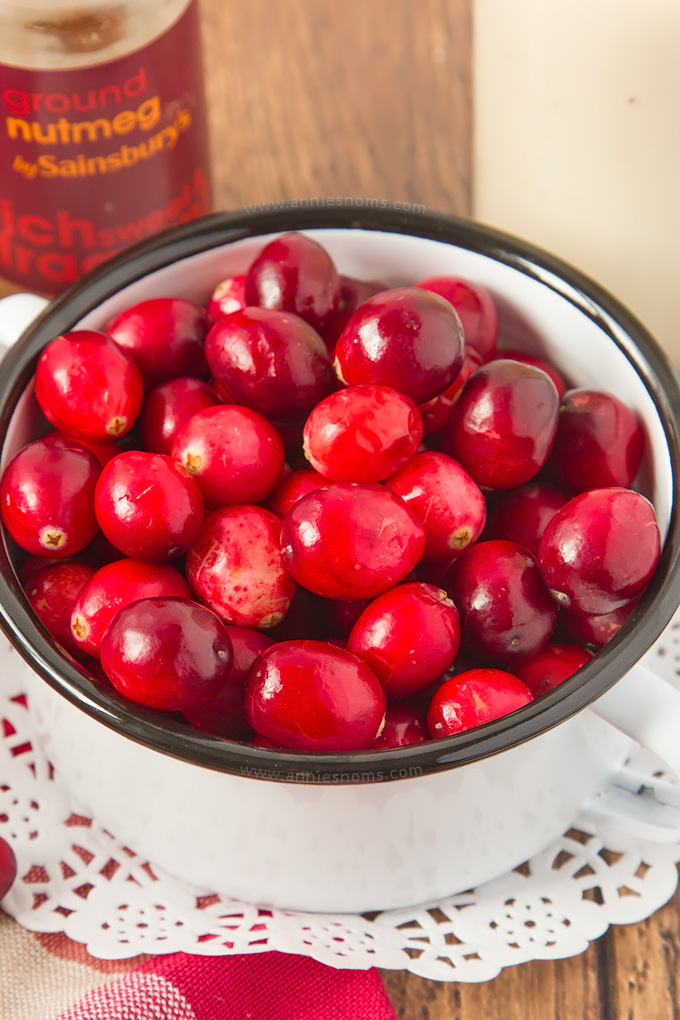 Back to muffins. I always mix my muffin batter by hand as it results in more tender muffins. If you go right in and beat the heck out of them like you would a cake, you'll end up with a rubbery muffin. Fun to throw around like a bouncy ball and play with, but not great to eat.
I start by placing all of my dry ingredients plus the cranberries into a large bowl and stir them briefly to coat the cranberries in flour. Then I place all the wet ingredients into a just, beat them lightly with a fork and pour them into the dry ingredients.
Then I gently coax the wet into the dry just until there are no more lumps of flour visible.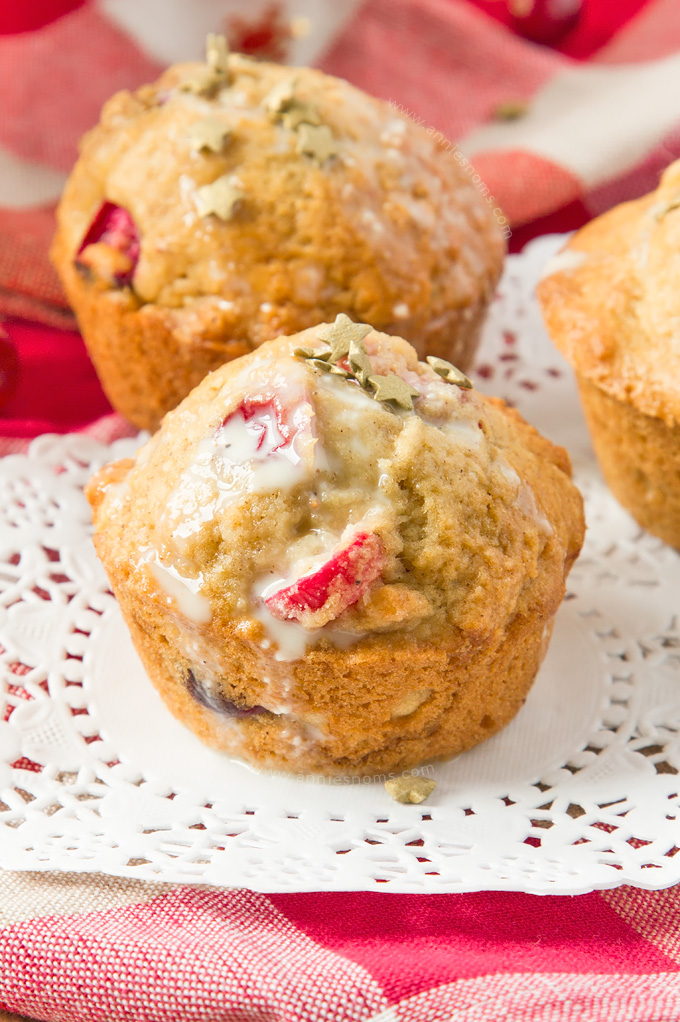 Divide the gorgeous batter between 12 muffin holes and then watch the oven work its magic.
I dare you not to dig right in after they come out of the oven!
These are the type of muffins you can enjoy warm or cool. Warm with some melted butter, and some more Eggnog drizzled on top… bliss. Cold with eggnog drizzled on top… also bliss.

Eggnog and Cranberry Muffins
These soft, sweet Eggnog and Cranberry muffins are made with homemade Eggnog, fresh cranberries and plenty of nutmeg to create the perfect Christmas breakfast treat!
Ingredients
2 1/2

cups

(350g) plain flour

2 1/2

tsp

baking powder

1/2

tsp

bicarbonate of soda/baking soda

Pinch of salt

1/2

cup

(100g) light brown sugar

1/4

cup

(50g) caster sugar

1/2

tsp

ground cinnamon

1/2

tsp

ground nutmeg

1

cup

(95g) fresh cranberries,

halved

2

large eggs

1/2

tsp

vanilla extract

1/2

stick (56g) unsalted butter,

melted and slightly cooled

1

cup

(260ml) Eggnog

3-4

tbsp

extra Eggnog to glaze,

optional
Instructions
Preheat the oven to 180C/350F and spray a 12 hole muffin tin with cooking spray. I use Wilton Bake Easy.

Place flour, baking powder, bicarb, salt, sugars, spices and cranberry halves into a large bowl.

Stir until all of the cranberries are coated in flour. Leave to one side.

Place eggs, vanilla, melted butter and eggnog into a jug and lightly beat with a fork, just until combined.

Pour the wet ingredients into the dry and then gently stir, just until you can't see any lumps of flour.

Divide the batter between the muffin holes, filling them level. I use a 2tbsp cookie scoop to ensure my muffins are even.

Place in the oven for 15-20 minutes until risen. golden and an inserted skewer into the centre comes out clean.

Leave to cool in the pan for 10 minutes, before transferring to a wire rack to cool completely.

Once cooled, spoon more Eggnog over the top of each muffin, if desired. You can also sprinkle some extra nutmeg on top and some festive sprinkles if you want.

Eggnog and Cranberry Muffins will keep in an airtight container, at room temperature, for 4 days.
Notes
Recipe by Annie of Annie's Noms

I link up at
these
great Link Parties!