Lusciously smooth chocolate orange cheesecake, with a crunchy Oreo biscuit base. A deliciously simple Christmas bake everyone will love!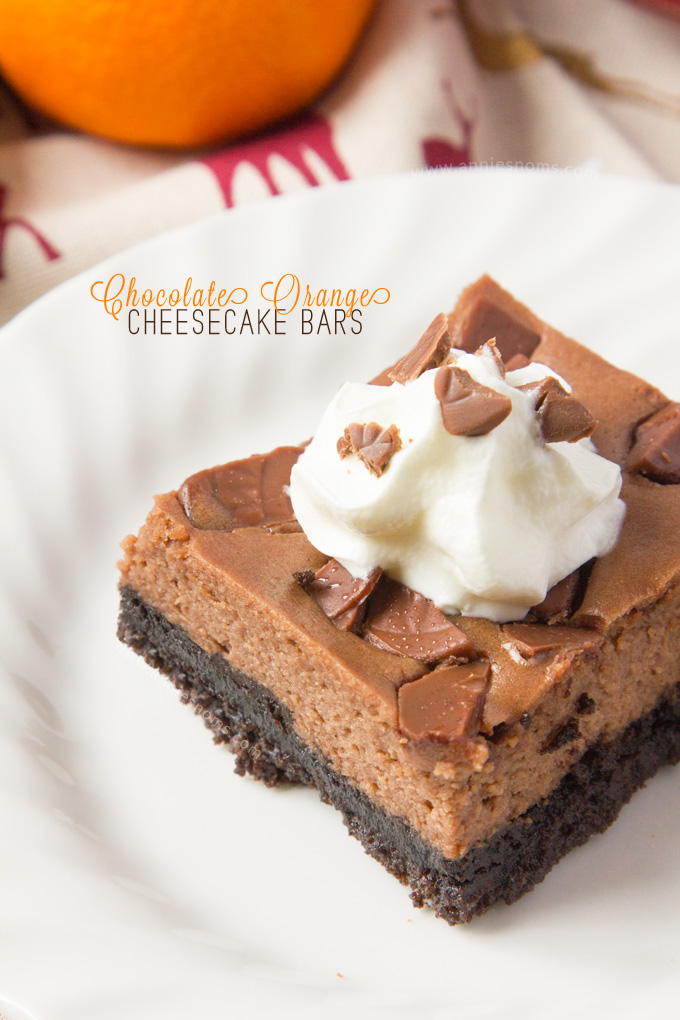 Uh-oh. The dreaded flu has hit our house hard this past week.
I've been half expecting and 100% dreading waking up every morning in case I swallow and it feels like I'm swallowing glass. BUT… I've been fine so far… so I'm keeping everything crossed it stays that way, I have far too much to do and cannot afford to be ill!
It has really hit the Mr though. We thought it was just a cold to begin with, but almost 2 weeks later he's still struggling and all of his symptoms point towards flu. I guess it's good it happened before and not during Christmas???
Oh the cough… and the voice! At one stage he sounded like the gingerbread man from Shrek. I know I shouldn't laugh, but I just couldn't help it! I really hope it's gone for Christmas, it's not going to be fun if he's wrapped up in bed all day.
So, what's a food blogger to do between caring for a sick fiance and trying to find something decent to watch on TV?
Bake Chocolate Orange Cheesecake Bars of course!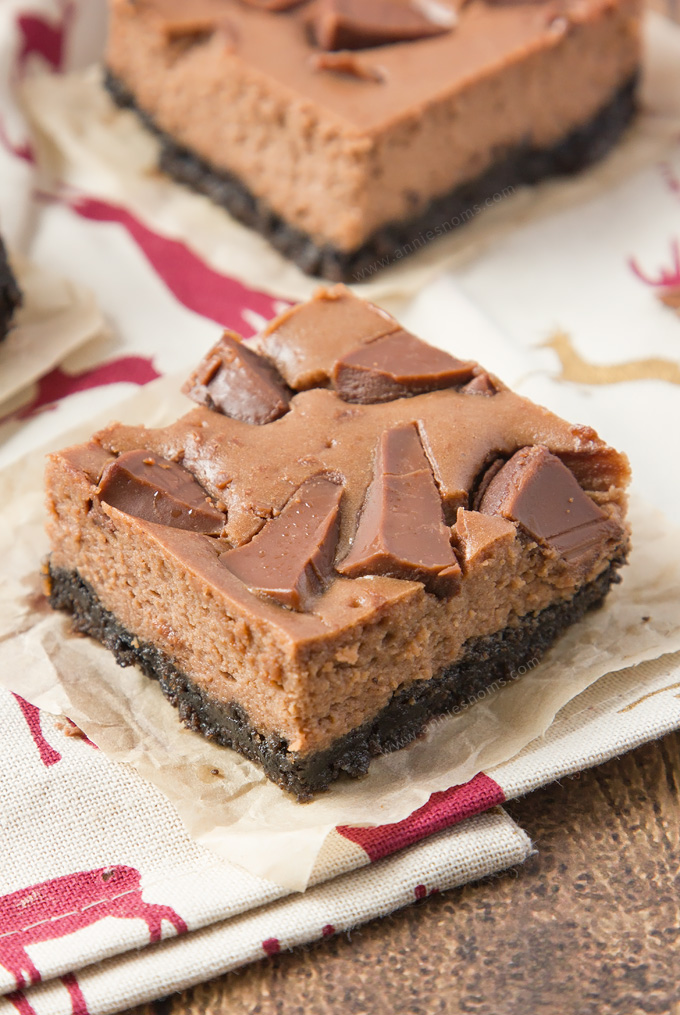 Originally, I was going to make these Chocolate Orange Mini Cheesecakes… but somehow I was on auto pilot and just grabbed an 8×8 inch square pan and they were in the oven before I even realised.
Oh well. Bars/Mini cheesecakes. All portable. All delicious.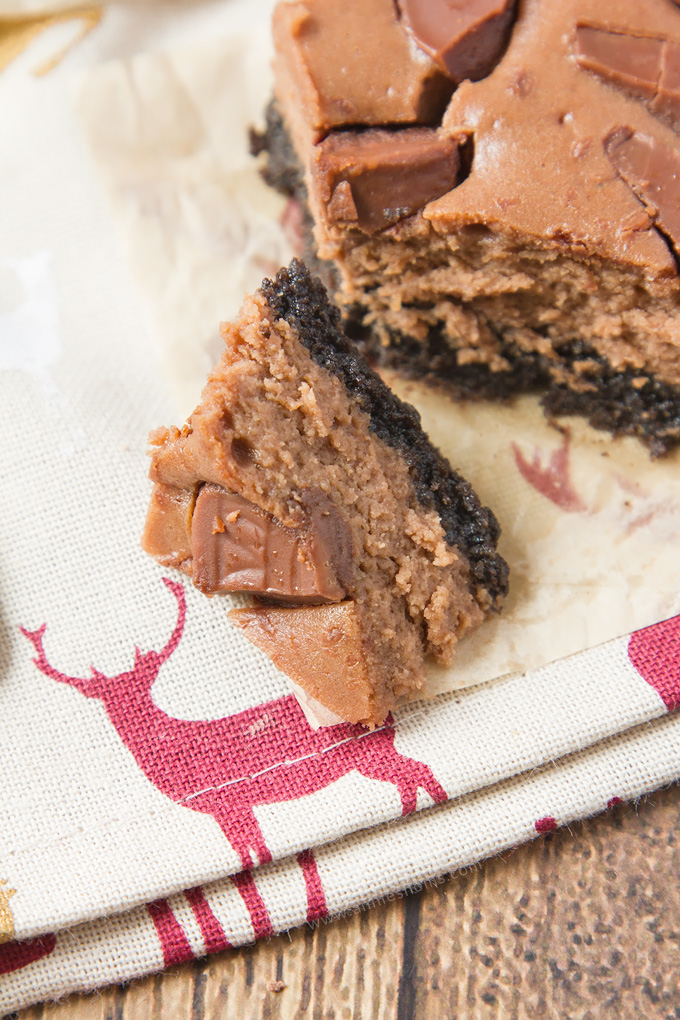 This was the first time I've ever experimented with adding melted chocolate into cheesecake. For this recipe I melted some Terry's Chocolate Orange and oh boy, it's amazing!
It totally worked and it meant that my cheesecake mixture didn't dry out. I was worried if I added cocoa powder that I'd end up with a dry, cracked cheesecake which wouldn't be much good, but I'm so happy the melted chocolate worked as well as it did!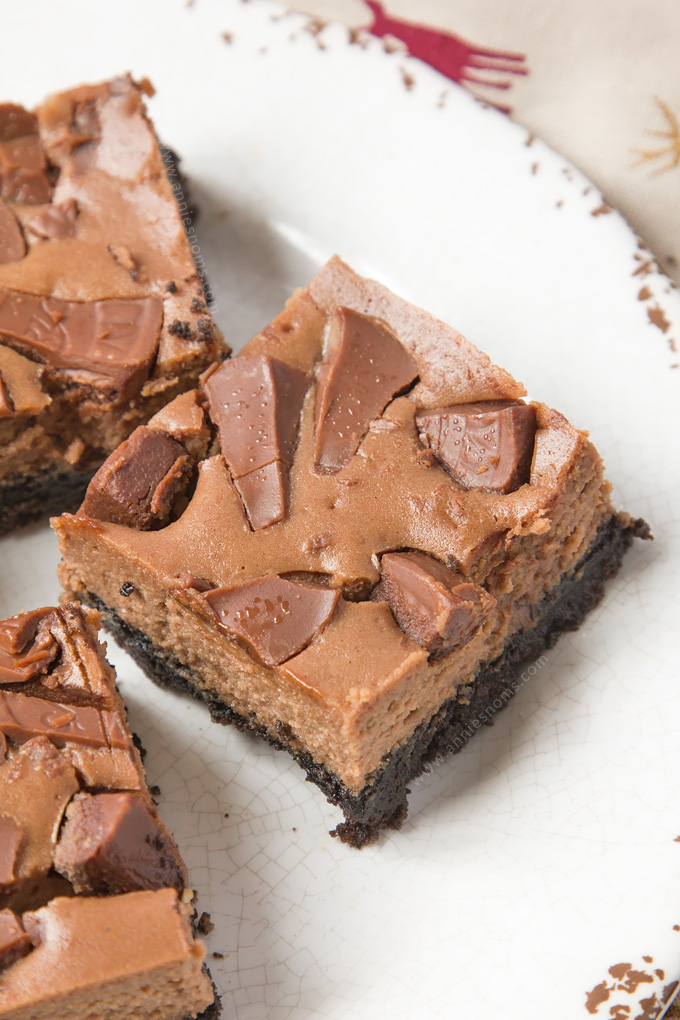 These are honestly divine! I don't know about you, but for me, Christmas isn't Christmas without a Terry's Chocolate Orange!
The base of these bars is crushed up Oreo's mixed together with melted butter and baked for 10 minutes before being topped with a thick, smooth and scrumptious cheesecake mixture.
Then I sprinkled some chunks of Terry's Chocolate Orange on top of the cheesecake and put them back in the oven for 20 minutes until the cheesecake was set.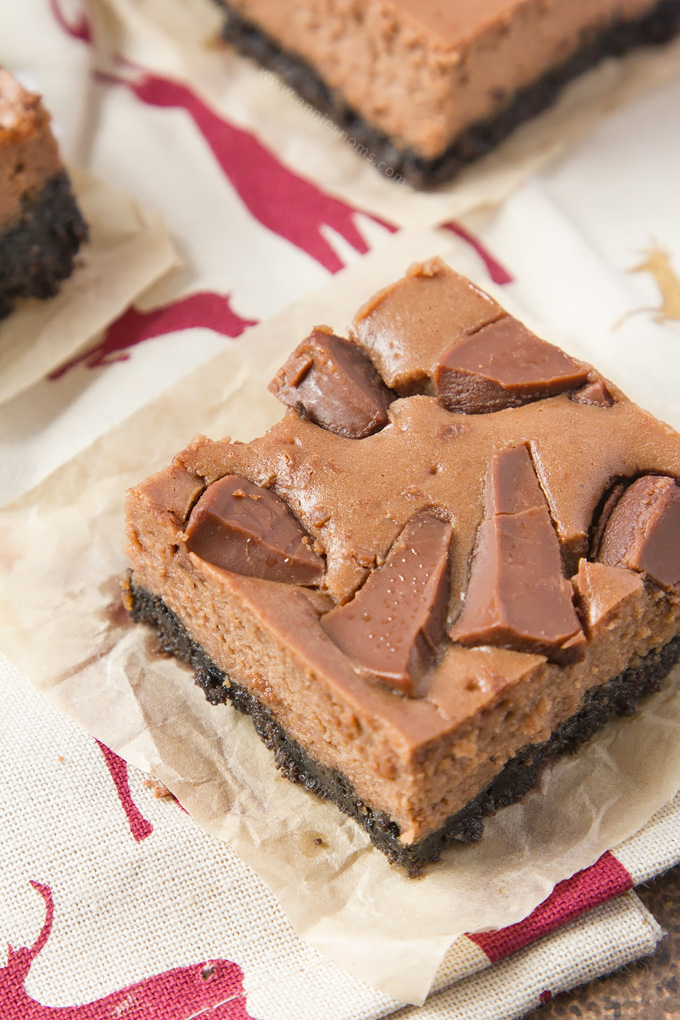 Once cooled, I cut the cheesecake bars into 9 and then when it came to serving I added a squirt of cream on top and some broken up pieces of chocolate orange.
Woah. I mean. It's hard to put into words how amazing these are, but on account it's my job, I guess I have to.
Each mouthful is the perfect contrast between crunchy and soft. The cheesecake layer melts in your mouth into the most amazing tangy, sweet, orange and chocolate filled heaven.
Then you hit that base and it throws these over the edge. You all know I'm an Oreo addict, them crushed up with some melted butter? Blissful.
So, if you want an easy way to use a Chocolate Orange then these Cheesecake Bars are just the ticket!

Chocolate Orange Cheesecake Bars
Lusciously smooth chocolate orange cheesecake, with a crunchy Oreo biscuit base. A deliciously simple Christmas bake everyone will love!
Ingredients
For the base:

2

cups

(240g) Oreo's,

placed into your food processor and blitzed into crumbs

1

stick (113g) unsalted butter,

melted and slightly cooled

For the cheesecake layer:

12

oz

(340g) full fat cream cheese

2

large eggs

1/2

cup

(100g) caster sugar

1/2

tsp

vanilla extract

Pinch of salt

1/2

tsp

orange extract

1

tbsp

cocoa powder

3

oz

(85g) Chocolate orange,

melted and slightly cooled (see note)

1/2

cup

(80g) broken up Chocolate orange pieces for the top,

optional

Whipped cream and grated chocolate to garnish,

optional
Instructions
Preheat the oven to 180C/350F and grease and line and 8x8 inch square pan. I used grease proof paper and Wilton Bake Easy.

Tip the Oreo crumbs into a medium sized bowl and then pour melted butter over them. Stir until all the crumbs are coated in butter.

Tip the base into your prepared pan and press into a level layer, use your hands or a spatula. I used my hands.

Place into the oven for 10-12 minutes until slightly puffy and a the top feels a little bit crisp. Then remove and leave to one side for 5 minutes.

Make the cheesecake layer: Place cream cheese, eggs, sugar, vanilla, salt, orange extract and cocoa powder into a large bowl and beat until smooth, around 2 minutes with a hand mixer on med-high speed.

Pour in the melted chocolate and mix on low until well incorporated.

Tip cheesecake mixture on top of the biscuit base and smooth until level. Sprinkle the top with chunks of chocolate orange and place in the oven for 20-25 minutes until risen, the edges look matte and the centre only wobbles a little bit. If you stick a skewer into the centre it should come out clean, bar a few crumbs.

Leave to cool in the pan completely. Once cooled, transfer to a cutting board and slice into 9-12 bars.

To serve: Add a dollop of whipped cream, or pipe a swirl of it onto a cheesecake bar and then sprinkle with grated chocolate.

Chocolate Orange Cheesecake Bars will keep in an airtight container, in the fridge, for 3 days.
Notes
Note 1: You can use any orange chocolate you want, it doesn't have to be a Terry's Chocolate Orange. Green & Blacks and Lindt also do orange chocolate and it's delicious! Recipe by Annie of Annie's Noms

I link up at
these
great Link Parties!