This easy Eggnog Fudge requires no thermometer to make! It is the perfect melt in your mouth, divine edible gift to make this Christmas!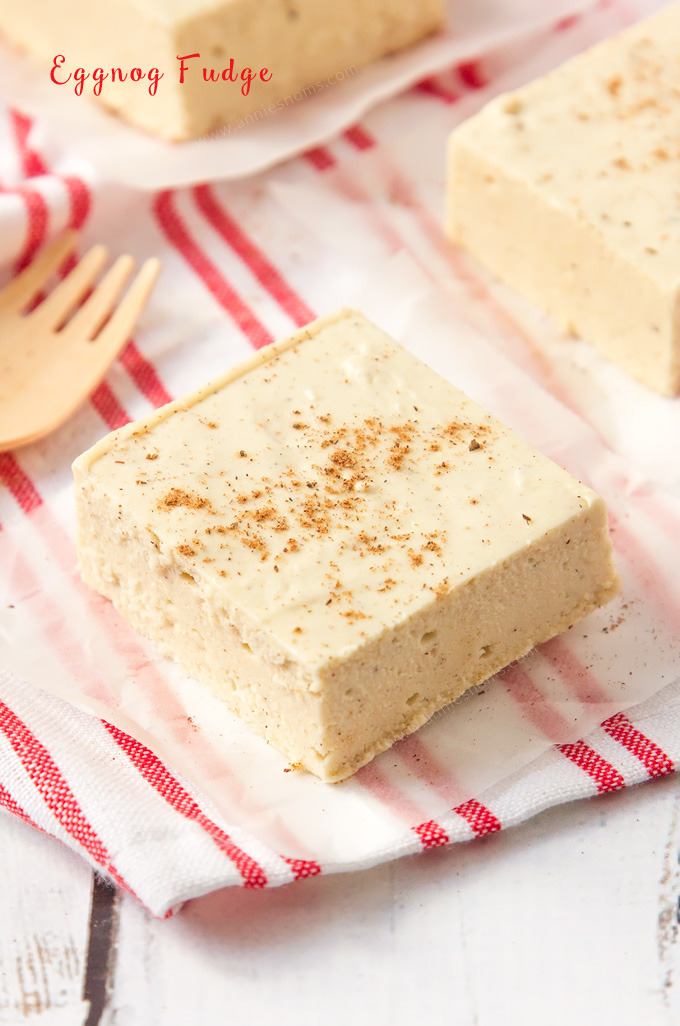 10 days to go! I am officially done with all shopping, wrapping and decorating! I just need to get my ham and turkey next week and we'll I'll be ready for the main event!
I say we, but most of us know that it's us women who get most of the prep done. My fiancé turns up on the day and everything has already magically been done!!
We got our tree over the weekend and I think it's my favourite one yet! As I said last week, I wasn't able to resist new decorations, so this year we have a rustic/woodland themed tree which is beautiful, yet simple.
Mr AN didn't want tinsel and at first I was a bit like "what?!" but now it's up and without tinsel, it actually looks lovely!
Anyway, continuing with the Eggnog theme, I decided to make you guys a super easy Eggnog Fudge. With no candy thermometer required!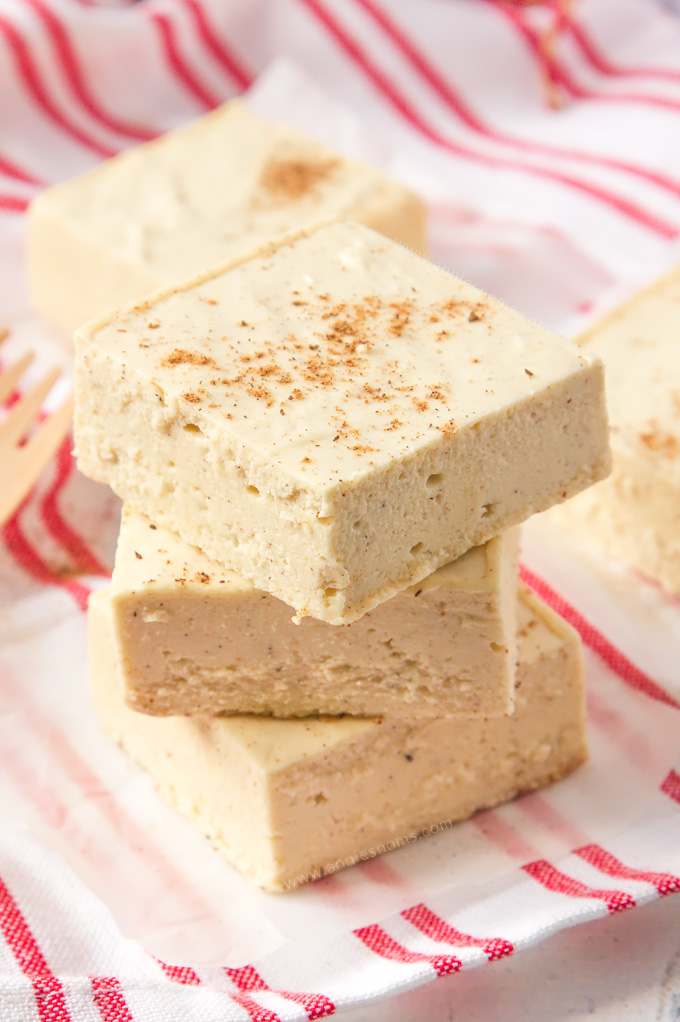 This stuff is totally addictive. I could not stop eating it.
It melts in your mouth and is like pure Eggnog-gy (is that a word?!) heaven!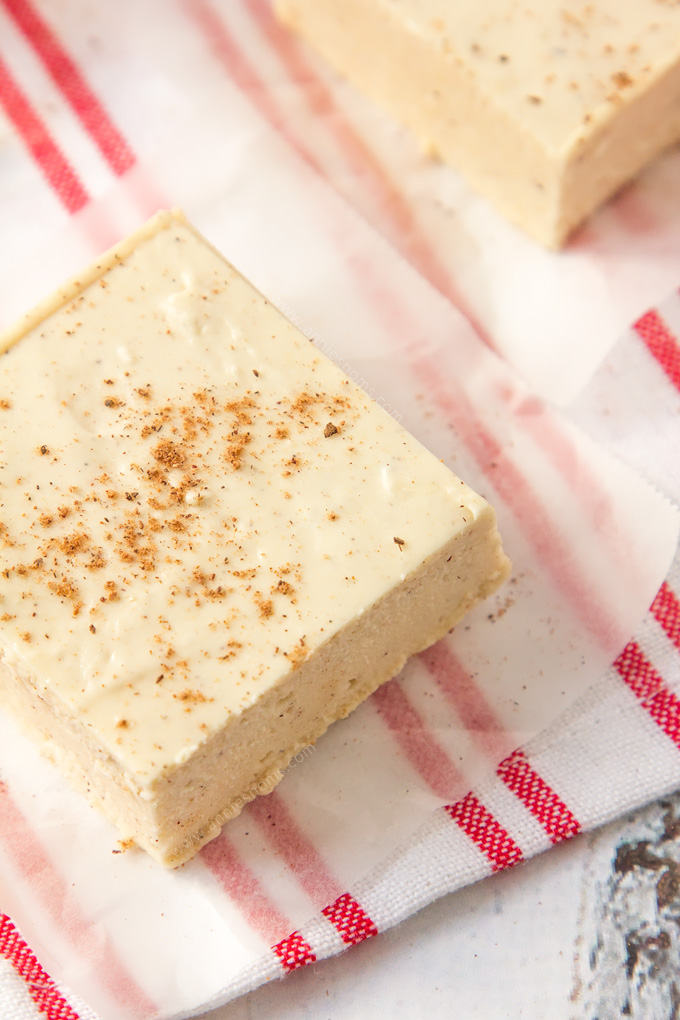 Ohhh… easy fudge how I love you! It never ceases to amaze me how a few simple ingredients melted and mixed together can create something as addictive as this.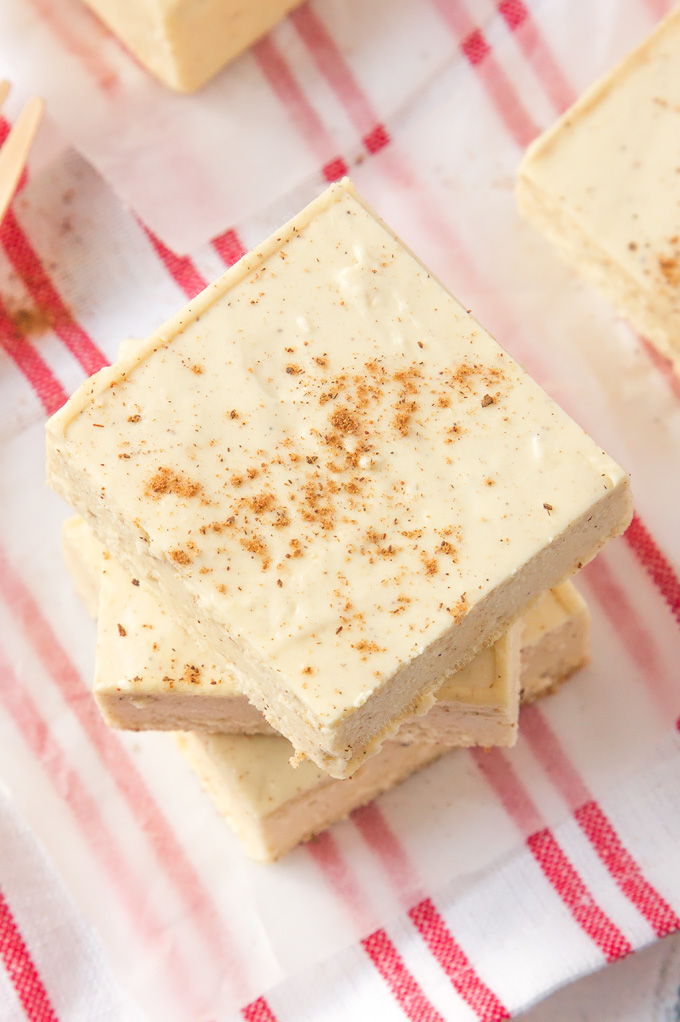 Normally I use a can of condensed milk in my fudge recipes, but since I was using eggnog in this one that kind of acted as my condensed milk. It' s sweet and thickens up beautifully.
Since Eggnog is sweet, I didn't need to add too much sugar to this recipe. A lot of easy fudge recipes I've seen can have 1-2 cups of sugar in, but for me, that would be completely over the top sweet. I have a sweet tooth, but I don't want to bite into pure sugar.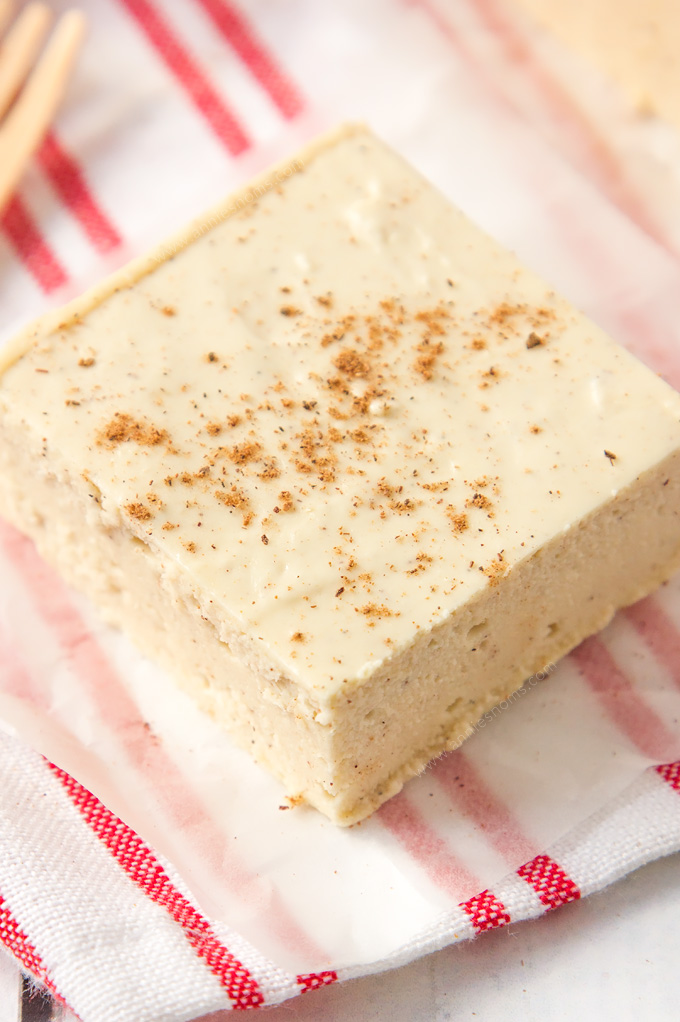 So along with Eggnog, I added 1/2 cup of sugar and a jar of Marshmallow fluff. There's also white chocolate in this recipe. Do you get what I mean about the sugar? All of the ingredients are pretty sweet in their own right, so adding in another 1-2 cups would just be crazy.
I also added in some more nutmeg to really ramp up the Christmas flavours.
Honestly, hands on time for this recipe is under 15 minutes. The longest part is boiling and stirring the eggnog and sugar for 10 minutes until it gets thick.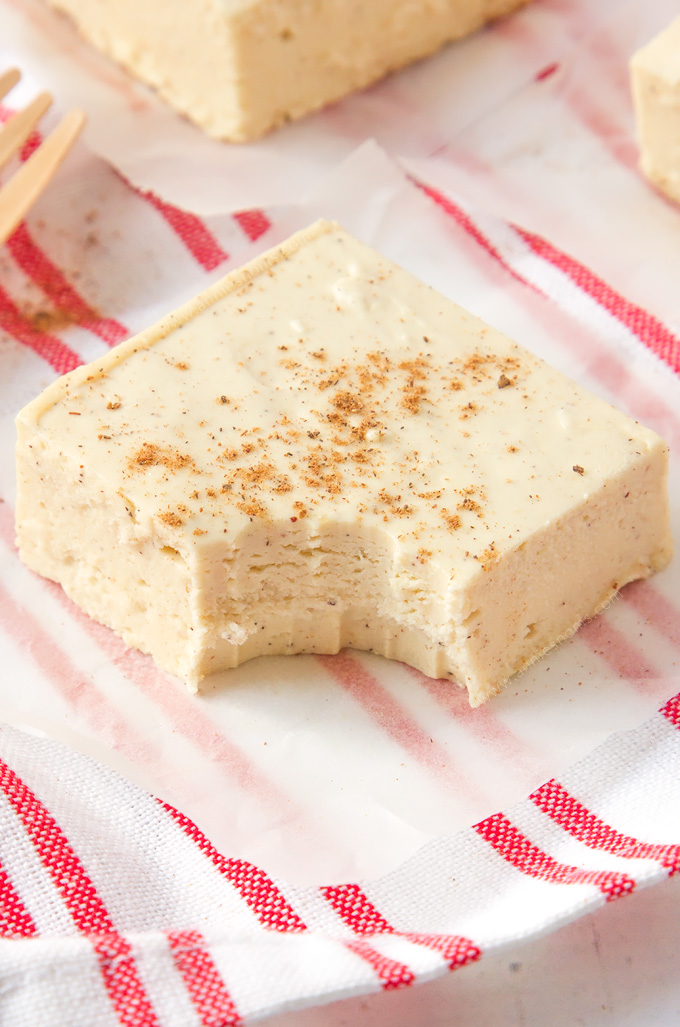 This literally tastes like the drink, but in candy form. Oh my goodness. Leaving it to cool properly took all of my willpower.
And let me tell you, I don't have much, so that was almost impossible.
If you do manage to let it cool and slice it into sizable chunks of heaven, it makes a wonderful edible gift for friends/neighbours/family members… Whoever in your life really loves food!
Although, between you and me, I won't tell if you keep it to yourself and buy them a box of chocolates because it might just be too delicious to give to anyone…! 😉

Eggnog Fudge
This easy Eggnog Fudge requires no thermometer to make! It is the perfect melt in your mouth, divine edible gift to make this Christmas!
Ingredients
1

cup

(260ml) Eggnog

1/2

cup

(100g) caster sugar

7.5

oz

(210g) jar of Marshmallow Fluff

1/2

stick (56g) unsalted butter,

at room temperature

14

oz

(400g) white chocolate,

roughly chopped

1/2

tsp

vanilla extract

1

tsp

rum extract,

optional

1/2

tsp

nutmeg

1/4

tsp

ground cinnamon

Pinch of salt

Extra nutmeg to garnish,

optional
Instructions
Place a double layer of cling film into an 8x8 inch square pan, with 3-4 inches of over hang and spray with cooking spray. I used Wilton Bake Easy. It's important to have two layers of cling film, so it's strong enough to lift the fudge out without breaking. (See note)

Place Eggnog and sugar into a large, non-stick if possible, pan and place over a medium heat.

Bring to a boil and then start stirring continuously for 10 minutes until the Eggnog mixture gets thick. You will notice that most of the moisture evaporates and it coats the back of your spoon. If you use a non-stick pan, as you stir it will completely come away from the pan as you stir it. It will take around 10 minutes to get to this stage.

Remove from the heat and add in the Marshmallow Fluff and butter. Stir until both are melted and well incorporated.

Add in the white chocolate one handful at a time, stirring until melted. Once the mixture is smooth and well combined, add in the vanilla, rum extract (if using), nutmeg, cinnamon and salt and stir until combined.

Tip the fudge mixture into your prepared pan and smooth into a level layer with the back of a spoon/spatula. Leave to cool for 30 mins-1 hour and then cover loosely with cling film before placing into the fridge to cool and set completely.

Once set, wiggle each side of the cling film until it loosens, then transfer to a cutting board.

I find it easiest to slce the fudge with a hot knife. I keep dipping the knife into hot water and wiping it dry before making 2-3 slices with it.

Slice into 16-24 pieces of fudge and transfer to an airtight container. Fudge will keep in the fridge for 10 days, or at room temperature for a week.

To serve, leave out of the fridge for at least 15 minutes. You can also sprinkle with more nutmeg.
Notes
Note 1: I've tried using foil and grease proof paper for lining the pan for fudge and have not had much success. The grease proof rips and disintegrates and the foil breaks and gets stuck to the fudge. So, for me, it's important to use a double layer of cling film. If you have another way of lining the pan that works for you, then great! Recipe by Annie of Annie's Noms

I link up at
these
great Link Parties!