A soft, rich chocolate and peppermint cupcake is topped with smooth, peppermint frosting and finished off with crushed candy canes, creating a fun, festive cupcake!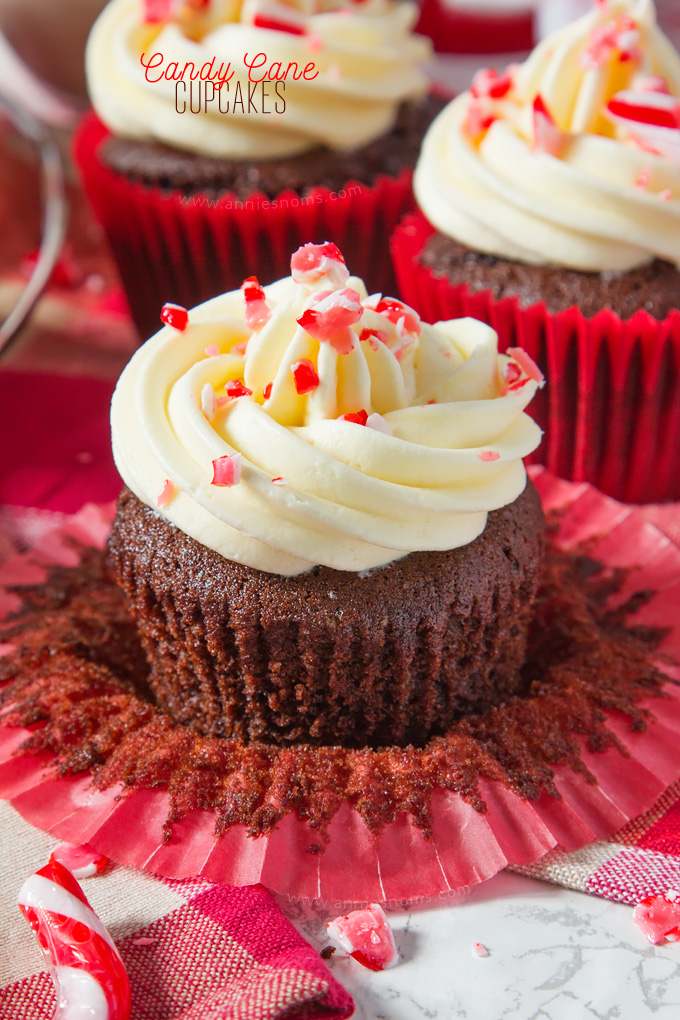 Have you ever been to a Christmas market? I hadn't until last week, but now I'm obsessed and want to go again.
My parents, Aunt and I went to Bath Christmas Market and it was so wonderful! I felt so festive and excited like a child again. I had never been to Bath either, but it is SO pretty! The buildings are gorgeous and it made the so called city we live near look like a tiny town.
There were shops I've only ever seen in London; Space NK, a NARS counter, Tiger… Anthropologie… I didn't see Anthro until we were on our way out on the bus, which is sad, but I think I heard my bank balance sigh with relief because they have too many cute things that I would not have been able to resist.
We found a little stall which sold wooden animals that all made sounds. I have no idea how they did it, but every wooden animal sounded like the actual animal. Mr AN is obsessed with penguins, so I bought him one and honest to goodness, it sounds like Pingu.
The guys at the stall blew on an elephant and it sounded so amazing! My Aunt adores owls and she was trying to talk herself out of buying one, but then the guy at the stall made it go "wit woo" and she HAD to have it!
It was a long day, but so worth it as I had a great time and it really got me into a festive mood… which has carried on all week and into these Candy Cane Cupcakes!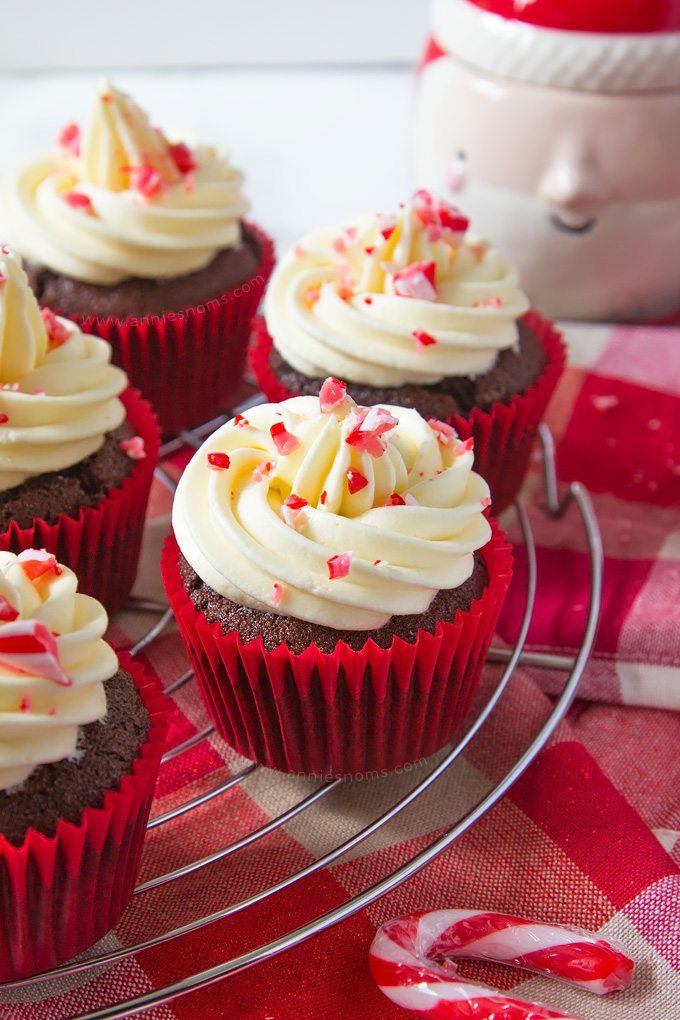 Oh boy, these cupcakes…
Extraordinary! A rich, chocolate cupcake, with dark chocolate chips and peppermint extract… Topped with my favourite buttercream recipe which I spiked with peppermint and a crushed candy cane garnish.
Cute, easy to make and utterly divine!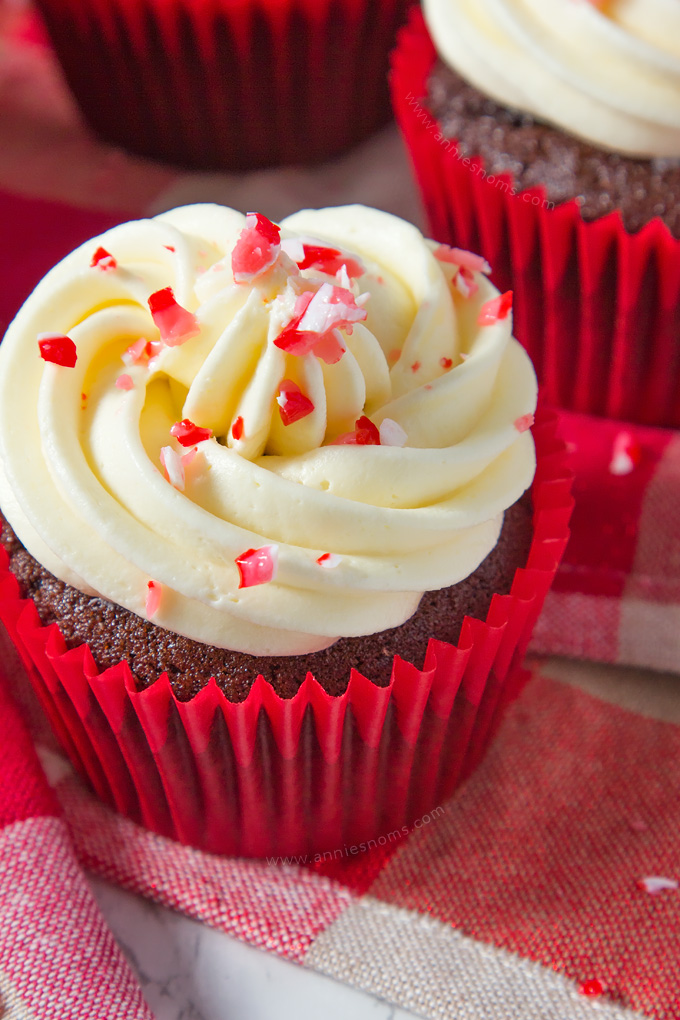 After candy cane gate last year (I could not find red and white ones anywhere, only green, red and white) as soon as I saw red and white candy canes this year I stocked up. Yes, it was in August.
No, I'm not sorry. 😉
I can't apologise when beautiful things like this happen in my kitchen!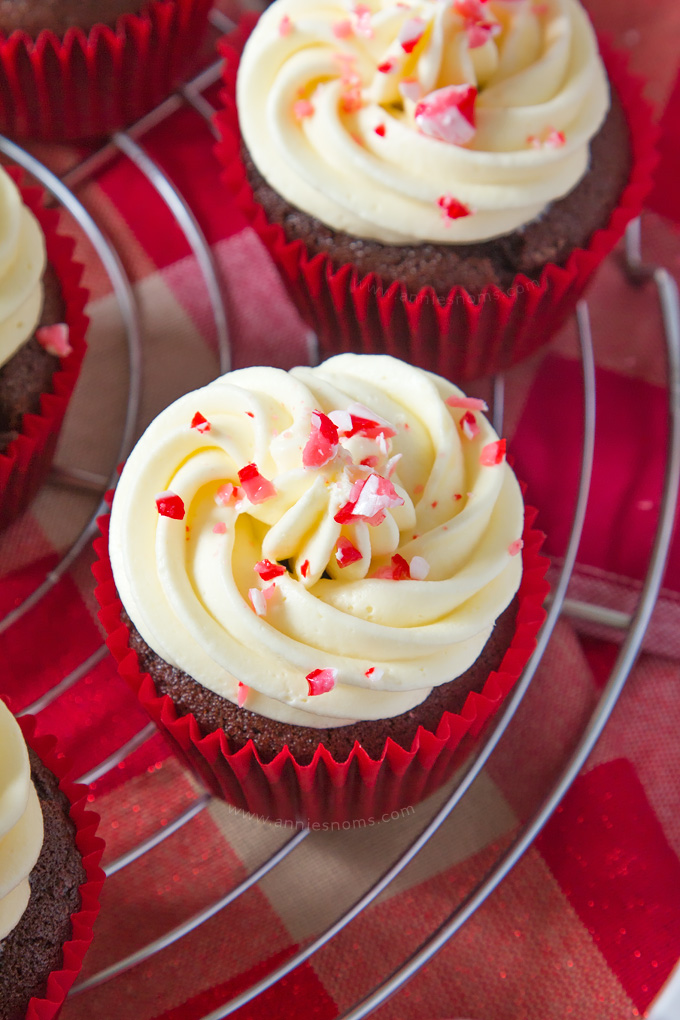 If you want to see behind the scenes shots of all my baking activities and photo shoots, head over to Snapchat; I'm anniesnomsblog on there and yesterday for the first time ever, I USED MY VOICE ON A VIDEO.
You guys, this is huge. I HATE the sound of my voice, but I just got to the point where I couldn't fit what I wanted to say in the one line they give you, so I said it and… I didn't hate it. I did a few videos showing my set up for these cupcakes and showing how I managed to shoot in gloomy weather conditions.
It's probably up there for another hour or so, so you can go watch if you want! 😀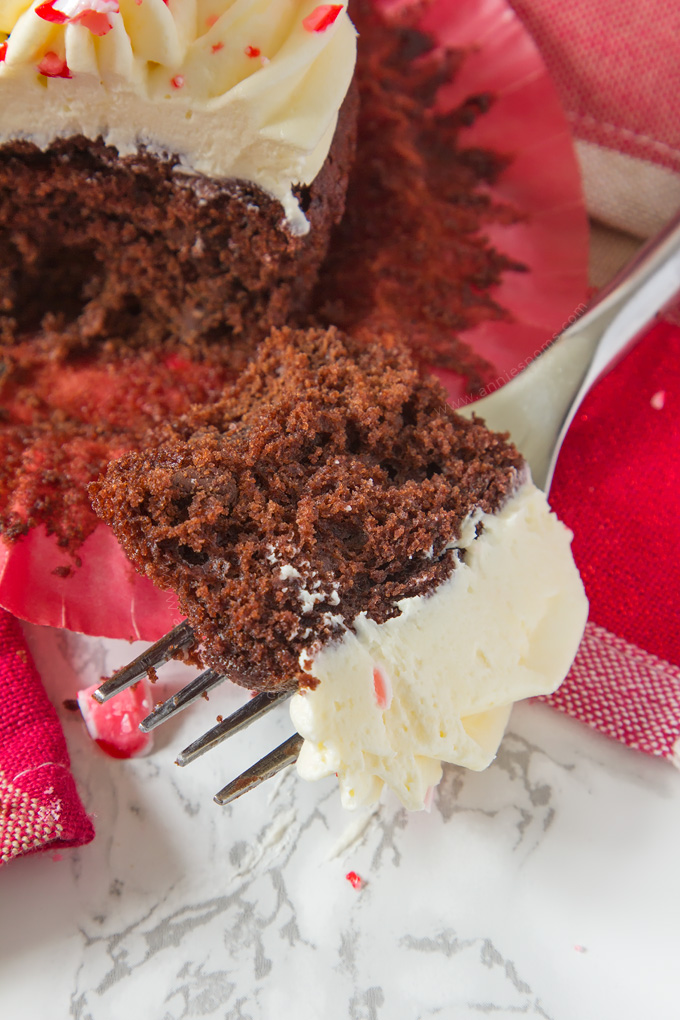 Anyway, cupcakes. I based the cupcakes on my favourite Chocolate Cupcake recipe and then added in 1 cup of dark chocolate chips and 1/2tsp peppermint extract.
Baked into gorgeous mounds, I let them cool before making my super creamy and addictive buttercream frosting. I also spiked that with peppermint extract, so you're getting plenty of minty goodness in these cupcakes!
To finish them off, I went to town with a rolling pin and some candy canes. I sprinkled some candy cane rubble on top of each cupcakes, shot them and then face planted them.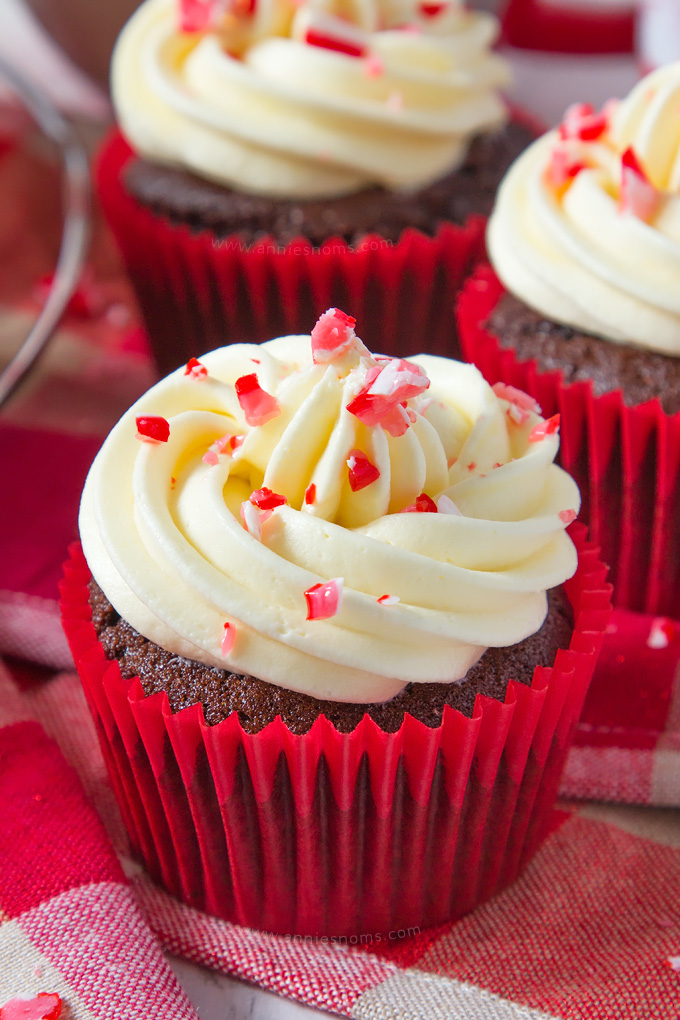 These are refreshing, decadent and not overly sweet. My chocolate cupcake recipe isn't overly sweet, which I felt was important in this recipe because I knew I'd be piping a lot of sweet frosting on and adding the candy canes, which, let's face it, are pure sugar pretty much.
Marrying the cake and frosting together creates the perfect balance of sweet and chocolatey. These may be my new favourite Christmas cupcakes! You should definitely go and try them for yourself!

Candy Cane Cupcakes
A soft, rich chocolate and peppermint cupcake is topped with smooth, peppermint frosting and finished off with crushed candy canes, creating a fun, festive cupcake!
Ingredients
For the cupakes:

1

stick (113g) unsalted butter/margarine,

at room temperature

1

cup

(200g) caster sugar

2

large eggs

1/2

tsp

vanilla extract

1/2

tsp

peppermint extract

1

cup

(140g) plain flour

1/2

cup

(50g) cocoa powder,

sifted

2

tsp

baking powder

Pinch of salt,

ONLY if using unsalted butter

1/2

cup

(120ml) milk

1

cup

(175g) dark chocolate chips

For the frosting:

2

sticks (226g) unsalted butter,

at room temperature

2 1/2

cups

(300g) icing sugar,

sifted

3/4

tsp

peppermint extract

Pinch of salt

1-3

tbsp

milk

3

candy canes
Instructions
Preheat oven to 180C/350F and line a 12 hole cupcake tray with liners.

Place butter and sugar into a large bowl or the bowl of your stand mixer and beat until light and fluffy, 2-3 minutes on medium-high speed.

Add in the eggs, vanilla and peppermint extracts, scraping down the sides as necessary, and mix until well incorporated.

Place flour, cocoa powder, baking powder and salt, if using, into a medium sized bowl and stir briefly to combine.

Tip the flour into the egg mixture and mix on low until it begins to incorporate, then stop mixing and add in the milk. Mix on low-medium speed until the batter is smooth and well combined.

Add in the dark chocolate chips and fold in with a wooden spoon/spatula.

Divide the batter between each cupcake liner, filling each one 3/4 full.

Place in the oven for 20-25 minutes, until risen and an inserted skewer into the centre comes out clean.

Transfer to a wire rack as soon as possible to stop the liners getting greasy and peeling away from the cakes. Leave to cool completely, before making the frosting: Place butter into a large bowl, or the bowl of your stand mixer and beat until light and fluffy.

Add in icing sugar, peppermint extract and salt in and mix on low until it begins to combine. Once it starts to combine and there's no risk of the icing dust cloud, turn the speed up to medium-high and beat until well combined.

Add milk, 1tbsp at a time until you have desired consistency. You want it to hold its shape, but be smooth in texture. It needs to be soft enough to pipe, but thick enough to hold the shape you pipe.

Half fill a piping bag fitted with an open star nozzle and pipe a swirl onto each cooled cupcake.

Place candy canes into a Ziploc bag and bash with the end of a rolling pin until you have candy cane rubble. Some small crumbs and slightly larger pieces are fine.

Sprinkle candy cane rubble onto each cupcake as a garnish.

Candy Cane Cupcakes will keep in an airtight container, in the fridge for 5 days, or at room temperature for 3 days.
Notes
Recipe by Annie of Annie's Noms

I link up at
these
great Link Parties!