This Orange and Raspberry Baked Oatmeal is the perfect make ahead, healthy breakfast for the whole family! It's delicious and so easy to make!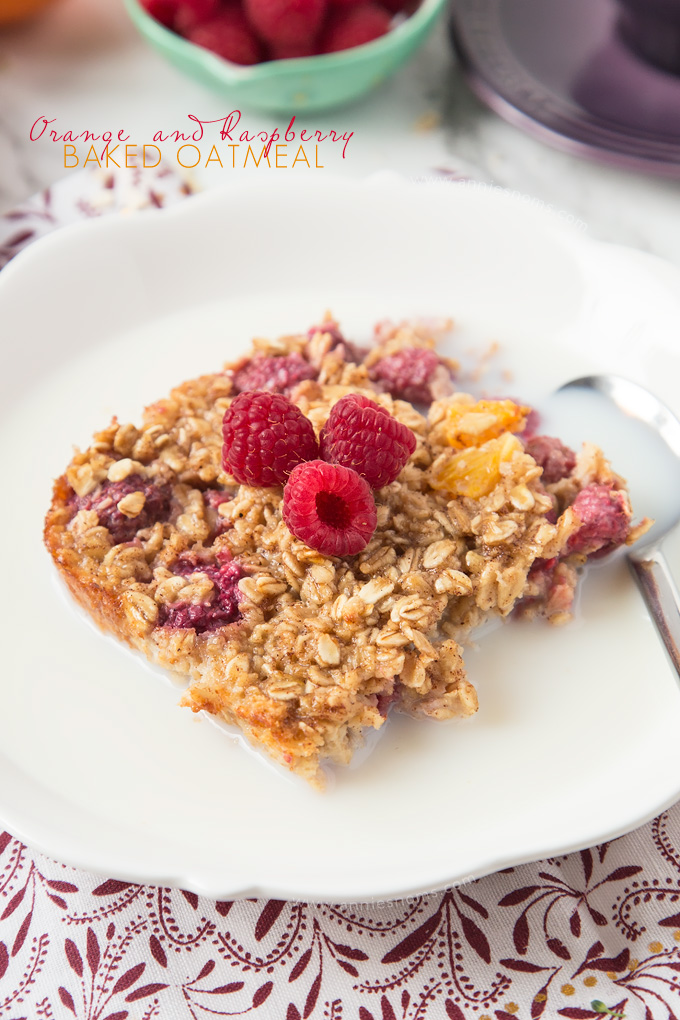 Happy 2016! Did you have a good Christmas and New Year? It feels strange asking as it seemed to happen so quickly, it feels like New Year's Eve was ages ago!
I saw 2016 in with my family, lovely food and board games and it was brilliant. I wouldn't want it any other way, even if that does make me boring! I was tucked up in bed come midnight and whilst I was awake, I fell asleep soon after. I had no desire to be out partying until the early hours.
Before NYE, I shared your most popular recipes from 2015, so be sure to check that out! I also shared a personal review of my year. It was hard to write, but I needed to put everything down in one place.
Anyway, onto today's recipe for Orange and Raspberry Baked Oatmeal. I honestly never thought these words would come out of my mouth, but I MADE A VIDEO.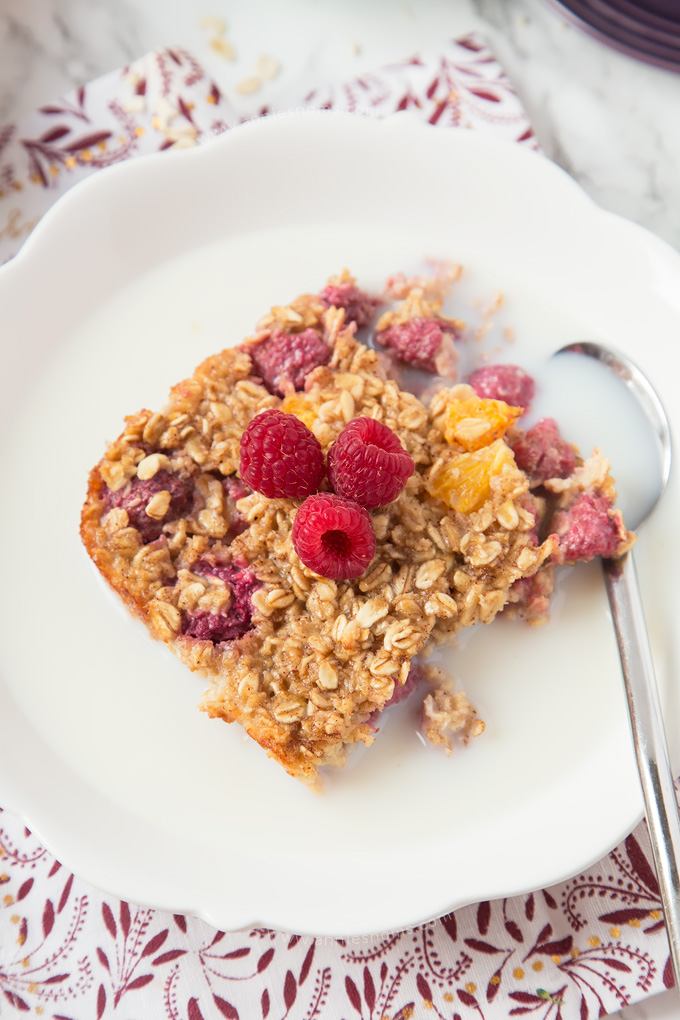 Yes. you heard that right. I got over my aversion to video and made you guys a quick one to show you exactly how easy it is to make this baked oatmeal. It's soft, sweet and filled with chunks of fresh orange and plenty of raspberries. The perfect, comforting way to start your day, it's perfect warm or cold!
I am a sucker for oatmeal variations in the winter. I love nothing more than a warm bowl of oatmeal on a cold morning. So, obviously I had to develop a new healthy breakfast recipe for you guys after all the excess of Christmas!
Now, this video… I didn't go as far as standing in front of the camera and talking, but my hands feature… and just the fact that I made it is a pretty big deal for me as I'm pretty shy!
Dare I say it was actually quite fun to make…?
And I will definitely be making another one soon! 😉
I think it's a great way to freshen things up around here, since it's a new year and all that… I also (after 3 years) got a new head shot the other day for my about me page!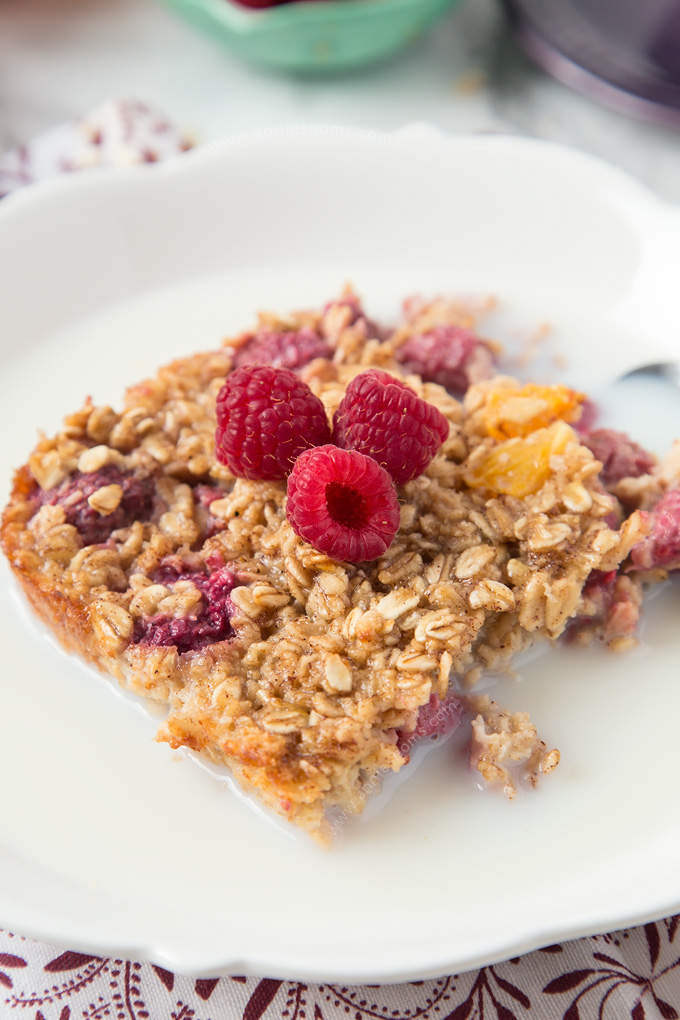 My excuse is I take the photos, I'm not in them. But, seriously, I did need a new photo so badly, so January seemed like the perfect time to do it!
Something else I got round to changing over Christmas? All of my recipes from the Ziplist plugin to EasyRecipe Plus. It was one of those things I kept pushing down my to-do list, but I'm glad I've finally done it as you can now save my recipes as well as print them and I love the fact that I can now change the design of the recipe box.
The final thing that has changed is my camera! I upgraded to a Canon 6D last week and am loving it so far! It's taking some getting used to how "real" (?!) the images look, but I hope I pick it up quickly as I want to continue improving my photography with every post.
By real I mean there's just something extra that the images have and I can't quite put it into words. If you also shoot with a full frame I know you'll know what I mean, but it's like added depth? And the colours are a little different when it comes out of the camera into Lightroom. So far, they've needed a little less editing than before, even though I've shot in RAW for years. I guess this is because it's full frame and not crop, but I'm sure I'll get used to it soon!
Anyway, I really hope you enjoy my first attempt at a recipe video! I'll be back with a decadent Salted Caramel Chocolate Tart recipe on Thursday! 🙂


https://youtu.be/vP8ZHPzpktE
Orange and Raspberry Baked Oatmeal
This Orange and Raspberry Baked Oatmeal is the perfect make ahead, healthy breakfast for the whole family! It's delicious and so easy to make!
Ingredients
2 1/2

cups

(200g) rolled oats

1/3

cup

(66g) light brown sugar

1/2

tsp

ground cinnamon

1/4

tsp

ground allspice

Pinch of salt

1

tsp

baking powder

1

large orange,

peeled, segmented and chopped into small chunks

1

cup

(125g) fresh raspberries

1 1/2

cups

(360ml) milk,

I used skim

1

large egg

2

tsp

vanilla extract
Instructions
Preheat the oven to 180C/350F and spray an 8x8 inch square pan with cooking spray.

Place oats, sugar, spices, salt and baking powder into a large bowl and mix briefly to combine.

Add in the chunks of orange and raspberries and stir briefly, just to distribute the fruit around.

Place milk, egg and vanilla extract into a large jug and lightly beat until the egg is completely incorporated.

Pour the milk mixture into the fruit and oat mixture and stir gently until well combined. Mixture will be quite runny at this stage, that's fine.

Tip the entire mat mixture into your prepared pan and smooth into a level layer with a spatula/wooden spoon.

Place inthe oven for 25-30 minutes, until golden and the milk is absorbed and it feels slightly firm to the touch.

Leave to cool in the pan for at least 15 minutes before serving.

You can also leave it to cool in the pan completely, then serve cold. Baked oatmeal can be re-heated in the microwave the next day.

Store the baked oatmeal in an airtight container, in the fridge for 2 days.


I link up at these great Link Parties!