This no-bake Salted Caramel Chocolate Tart is rich, decadent and ridiculously easy to make! The sweet caramel cuts through the chocolate creating one heavenly dessert!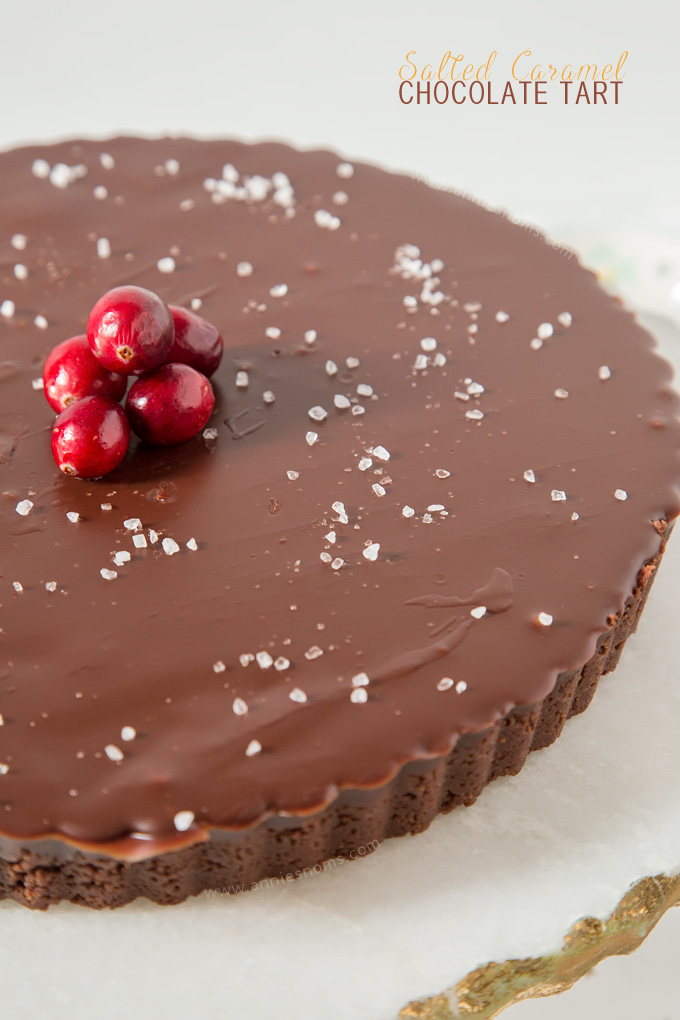 Happy Thursday! How has your week been going?
I've actually been finding it relatively easy to get back into the swing of work. Sunday evening I had that normal "Bleurgh" feeling as I didn't want to get up early the next day, but I've had a super productive week and I'm feeling positive and full of ideas for this year!
Now, I know January's are typically meant to be healthy as we all go overboard at Christmas, but I just had to share this rich, decadent Salted Caramel Chocolate Tart.
It's a no bake dessert that is sure to go down a storm at any gathering. I pulled this one out of the bag for New Year's Eve and it was the perfect compliment to the amazing meal Mr Annie's Noms cooked us all.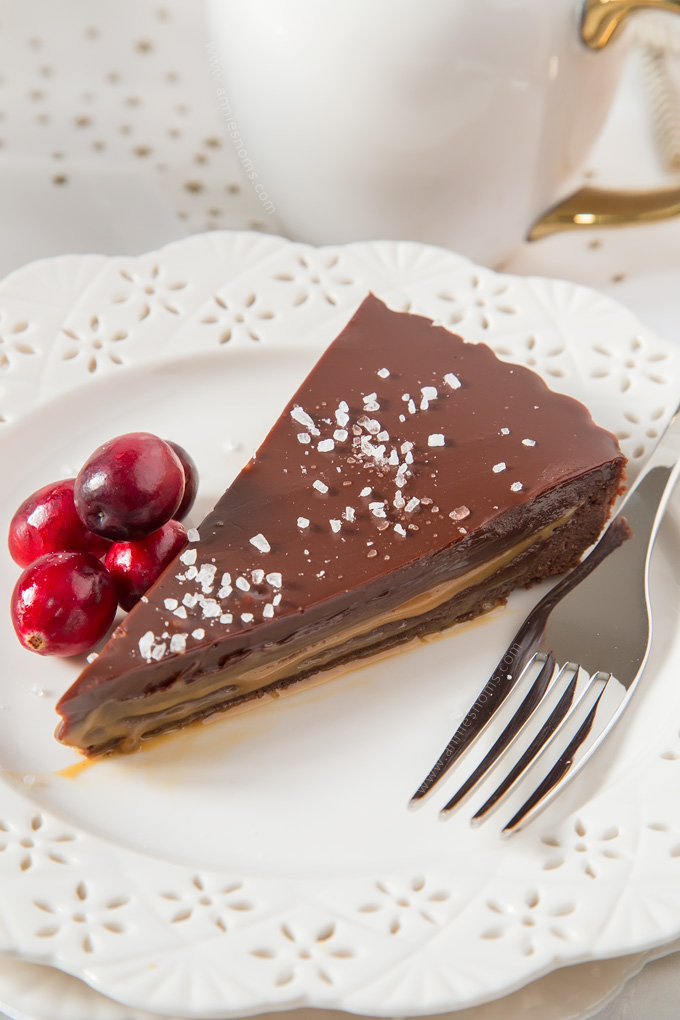 It's no joke when I say Mr AN has ruined Chinese take out for me and my whole family. I used to think takeout was amazing, but since meeting my fiancé and having freshly cooked dishes, I now can't eat takeout at all. His is far superior! OMG.
Just give me a huge bowl of lemon chicken and I'll be happy, OK-thanks-bye.
Anyway. obviously I needed to make sure dessert complimented dinner, so I decided to make the easiest chocolate tart you'll ever make.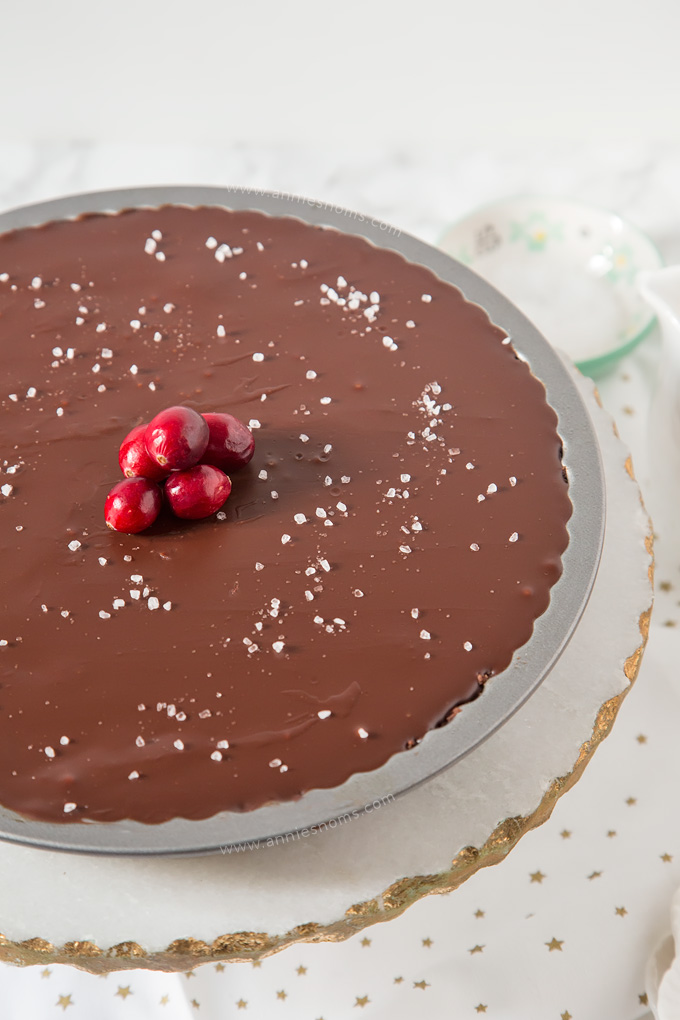 I used chocolate Bourbon biscuits for the base, a can of Carnation caramel with some salt added for the middle layer. Then I made a ganache and sprinkled the finished tart with crisp flakes of sea salt… 😀
I have got to tell you about my dumb 5 minutes before we go any further though. I spent agessssss making and perfecting my ganache so it would be perfectly smooth and glossy.
I poured it onto the caramel, tapped it on the work top a few times and left it. The ganache was the perfect consistency to just ooze over the caramel and make itself level…
Then I went momentarily crazy and placed a piece of FREAKING CLING FILM ON TOP OF MY SMOOTH GANACHE !!!
Holy hell I was mad at myself. It stuck immediately and I was swearing profusely and shouting that I was an idiot. I mean if I wanted my tart to look like it had a Zebra pattern on, it would have been great, but I didn't.
You know what would have been great at that moment? A button we could press to rewind the last 5 minutes. Please someone invent that.
Anyway, since that hasn't been invented yet, I had to leg it upstairs to grab an old hairdryer and then Mr AN and I had to heat and re-smooth the ganache with a spatula.
We must have looked ridiculous both bent over a tart with a hairdryer…!
I think Mr AN did a pretty good job of smoothing the ganache back over, but it didn't set as glossy as I was hoping. Oh well. Definitely do not make the same mistake as me.
Seriously, let my humdinger of a mistake be a lesson to you!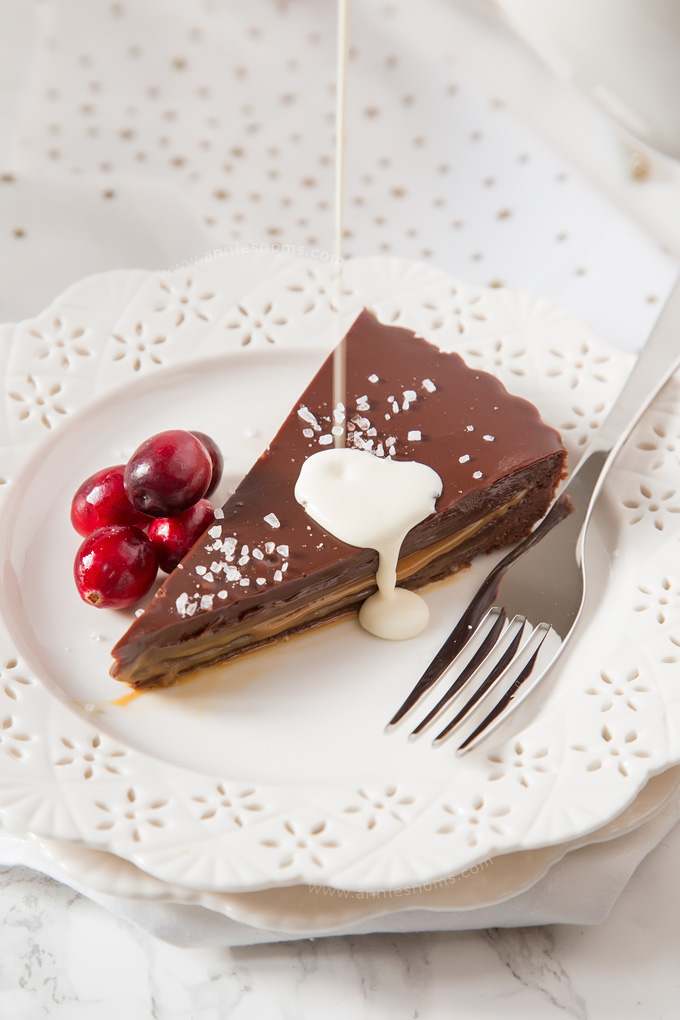 It's a good thing this tart is so easy to make, because I just realised I made the last 250 words about ganache-gate. 😉
Continuing with how to make this tart: I crushed some Bourbon biscuits, then mixed them with melted butter before pressing them into a loose bottom 9 inch tart pan. After that, it had to go into the fridge for an hour to firm up.
Next is the caramel layer. I know some of you will hate me for it, but I needed quick, so I cracked open a can of Carnation caramel and added in 1/2tsp salt. Instant Salted Caramel… yes please.
I poured 3/4 of the tin onto the base, smoothed it over and placed it back in the fridge before making the crowning glory. That rich ganache.
I broke up 300g of Green and Black's chocolate into a heat proof bowl and then placed my double cream and vanilla into a small saucepan over a low heat and just warmed it until it was simmering lightly around the edges. Do not boil! Next, I poured the cream over the chocolate and whisked it until the chocolate melted and the mixture was thick, glossy and smooth.
This time, I added in an extra little step; I placed freezing cold water into a metal bowl (just slightly bigger than the bowl with the ganache) and then put the bottom of the bowl with the ganache into the cold water. I read that cooling the ganache like this results in glossy ganache… but then I went and screwed it up with cling film. It was looking lovely and glossy, so I am hopeful that it would have worked! 🙂
Anyway, what really counts is the eating and this was one seriously rich and decadent dessert. The base firms up brilliantly, then you get hit with the sweet, yet salty caramel before the contrasting ganache. The ganache wasn't too sweet which is exactly what I wanted because it had to contrast with the caramel. Everyone loved this chocolate tart and I will definitely be making it again and again!

Salted Caramel Chocolate Tart
This no-bake Salted Caramel Chocolate Tart is rich, decadent and ridiculously easy to make! The sweet caramel cuts through the chocolate creating one heavenly dessert!
Ingredients
For the base:

2 1/2

cups

(300g) chocolate sandwich biscuits,

crushed (I used Bourbon creams and blitz them in a food processor)

1

stick (113g) unsalted butter

For the caramel layer:

3/4

of a 14oz/397g tin of Carnation caramel

1/2

tsp

salt

For the ganache:

1 1/4

cups

(300ml) double/heavy cream

1/2

tsp

vanilla extract

3.5

oz

(100g) good quality dark chocolate

7

oz

(200g) good quality milk chocolate

2

tbsp

golden syrup

Sea salt flakes for garnish
Instructions
Spray a 9 or 10 inch loose bottom tart pan with cooking spray and leave to one side.

Pour melted butter onto your chocolate biscuit crumbs and mix until all the biscuit crumbs are coated in butter.

Tip into your prepared pan and use your hands/a spatula to press the biscuit crumbs into a level layer in the bottom of the pan. Bring it up the sides of the pan too and make it level with the top of the pan. Make sure you press down pretty firmly to make a tightly packed, even layer.

Place in the fridge for at least an hour, up to 4 to firm up.

Once chilled, place Carnation caramel into a medium sized bowl, add the salt and then mix until well combined.

Pour the salted caramel into the biscuit base and smooth with a small angled spatula until level. This time, just cover the base and don't come up the sides of the pan. Place in the fridge for an hour to firm up.

Once chilled, make the ganache. Place the double/heavy cream and vanilla into a small saucepan and place over a low heat. Stir occasionally and bring the cream to a simmer, do not boil!

Whilst the cream is heating, break the chocolate into small pieces and place into a heatproof bowl.

When the cream is simmering, remove from heat and pour over your broken up chocolate. Add in the golden syrup.

Whisk slowly until all the chocolate has melted and the mixture is thick, glossy and smooth.

At this stage, you can now plunge the bottom of the bowl into a bowl of ice cold water to help the ganache cool down, but this is optional.

Pour your finished ganache onto the layer of chilled caramel. I picked the tin up and then gently tilted it in a circular motion to help the ganache spread out. In a perfect world you don't want to spread it with a spatula, just let it spread out on its own into a smooth layer. Then I tapped it a few times on my counter to prevent air bubbles.

Leave tart at room temperature until it's cooled completely. Sprinkle the top of the tart with flakes of sea salt and then place in the fridge for an hour to firm back up.

Serve tart cold with double cream poured over the top!

Tart will keep in the fridge, covered, for 2 days.
Notes
You can use all dark chocolate, or more dark than milk. As long as it adds up to 300g, use whatever ratio of milk to dark you like! Just make sure it's good quality chocolate.


I link up at these great Link Parties!