These light, flaky and citrus filled Lemon Poppy Seed scones are a cinch to make and are the perfect breakfast for a dull January morning!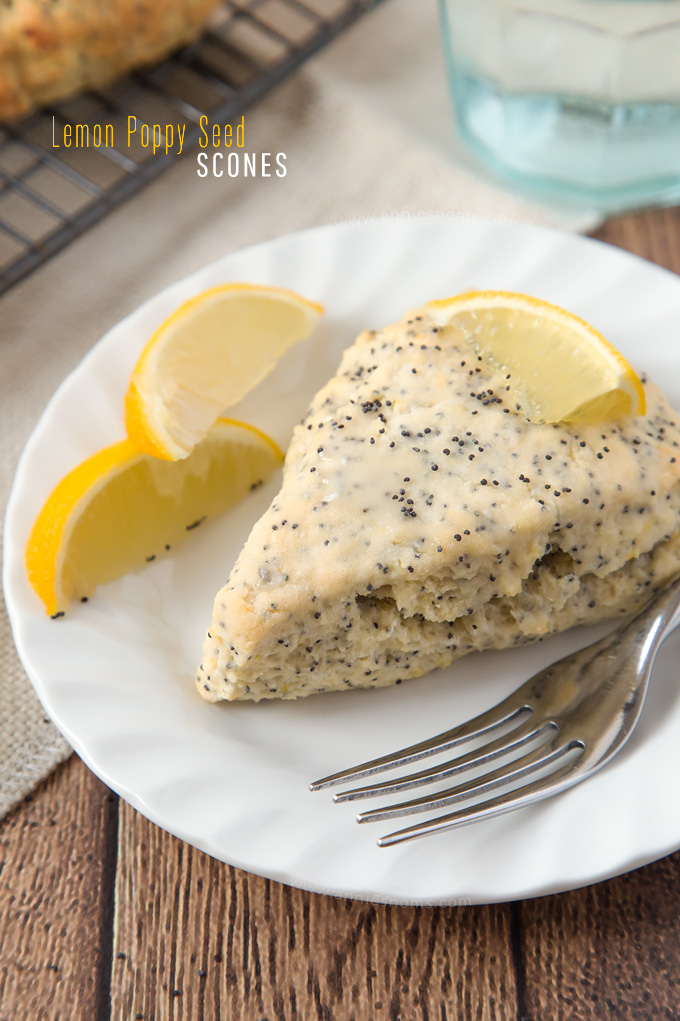 How have I never baked with poppy seeds before? Especially when they make these best Lemon Poppy Seed scones the best scones ever!
Seriously, these are a game changer. They are filled with plenty of lemon zest, freshly squeezed lemon juice and 2 and 1/2 tablespoons of poppy seeds.
That little bit of crunch? Oh wow.
THE perfect contrast to the soft, flaky Lemon Poppy Seed Scones.
I decided to make these because I feel like January can be a bit of a dull month and it certainly drags on….. I mean, I feel motivated for the New Year etc. but it can be a little bit of a downer after Christmas.
Apparently it was "Blue Monday" yesterday? I had no idea that was a thing???? Don't we all get Monday blues every Monday? To be honest, I felt pretty good yesterday, but sometimes it's like "URGHHHHHHHHH please weekend don't end."
But, I guess we just have to adult.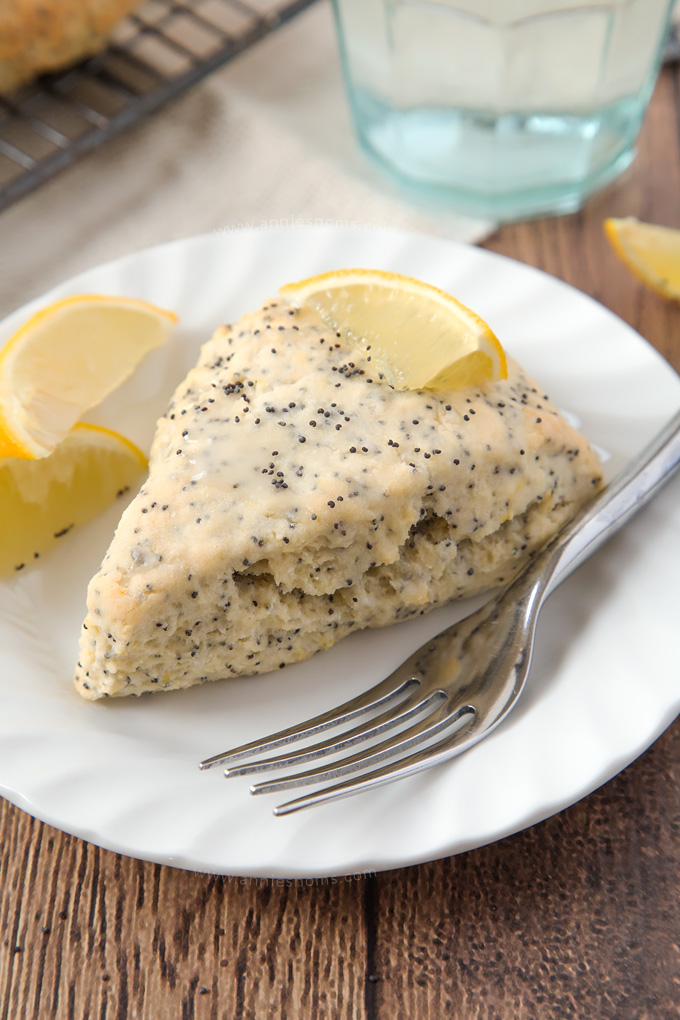 Don't you sometimes wish you could have one day with no responsibilities though? Just one day where… I don't know… you can play computer games all day, not bother doing laundry, not have to clean up after the dog/cat/children, not have to deal with emails…
I guess we'll never fully get that care free feeling of being a child again, but it would be good to have just one day!
It's funny that I've been led down this train of thought, because most people who know me will tell you that I am the Queen of sensibility and responsibility. Even as a teenager, I was mature, level headed and was never scared of responsibility.
I mean, I had my own house at 19. I've already been running a house for almost 6 years! Maybe I just need to take one day out a week to remove myself from the computer. That definitely doesn't help with responsibilities… that feeling of being connected 24/7; the fact we are all glued to our phones. I think if I literally banned phones and computers for a day, maybe I'd be able to relax!
But… being a bit of a control freak, that is going to be seriously hard!
Do you guys have any tips for how to switch off and have a fun and carefree (ish) day? Drop me a message as I would love to try some methods out!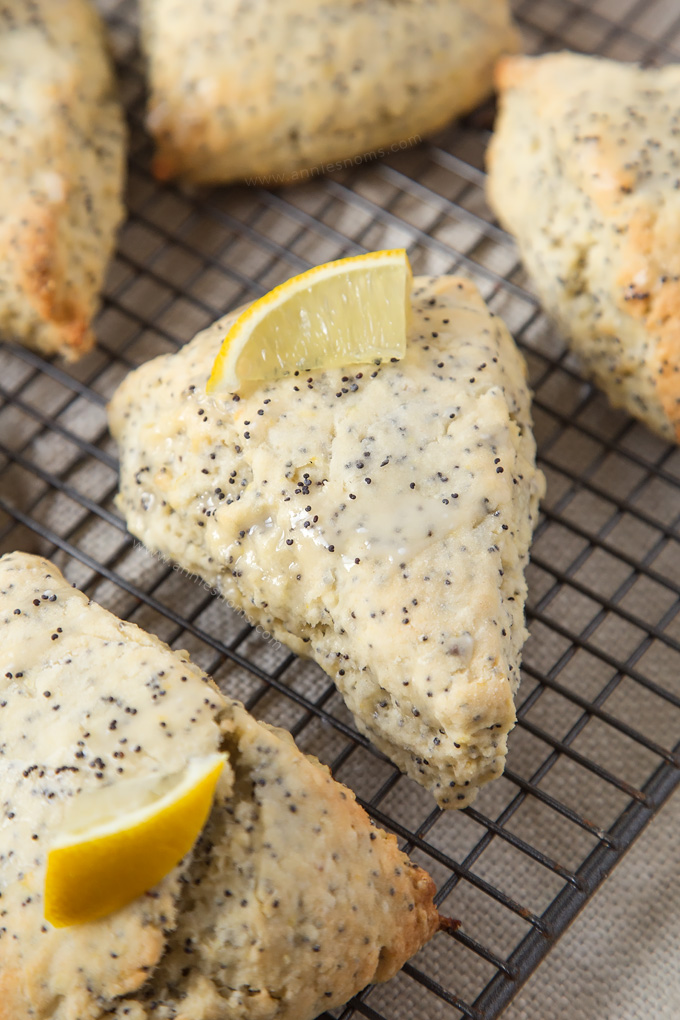 Anyway… that got deep fast… apologies for that! It's only Tuesday after all!
Now, back to scones!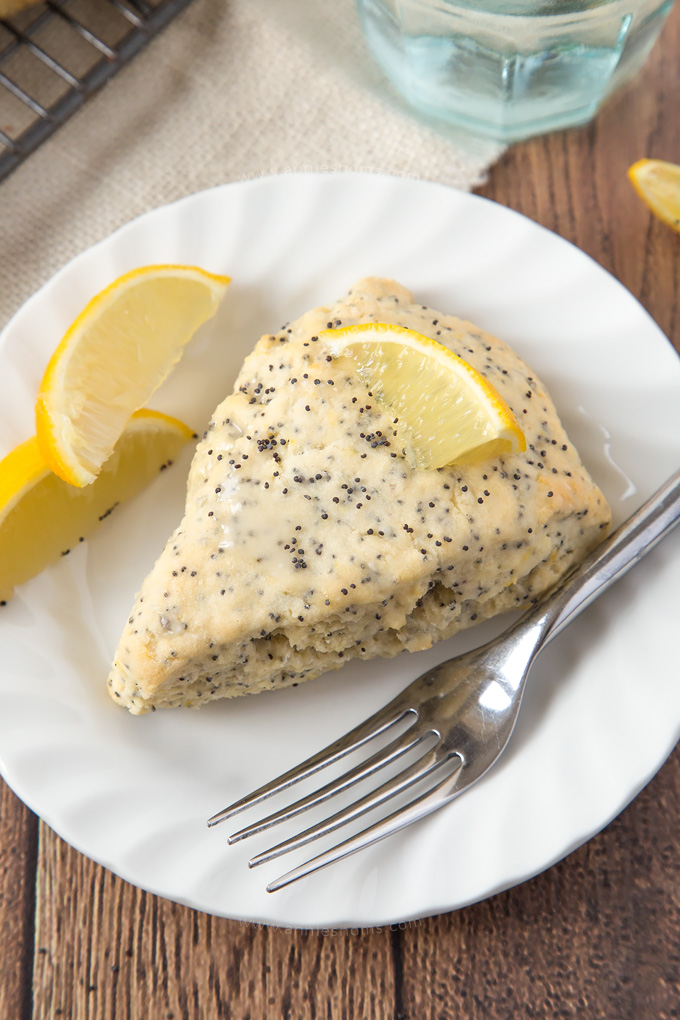 I do love a scone. They are just the best. Slightly warm and served with clotted cream and jam = me in heaven.
However, there are plenty of ways to switch them up and instead of a standard scone with raisins/currants, I decided to make a zesty, fresh Lemon Poppy Seed variety.
Mind you, I still think they'd be pretty darn fine with some jam… Oh no wait! – LEMON CURD!
Heck yes. I need to go do that ASAP! It would be like starting my day with pure sunshine… 😀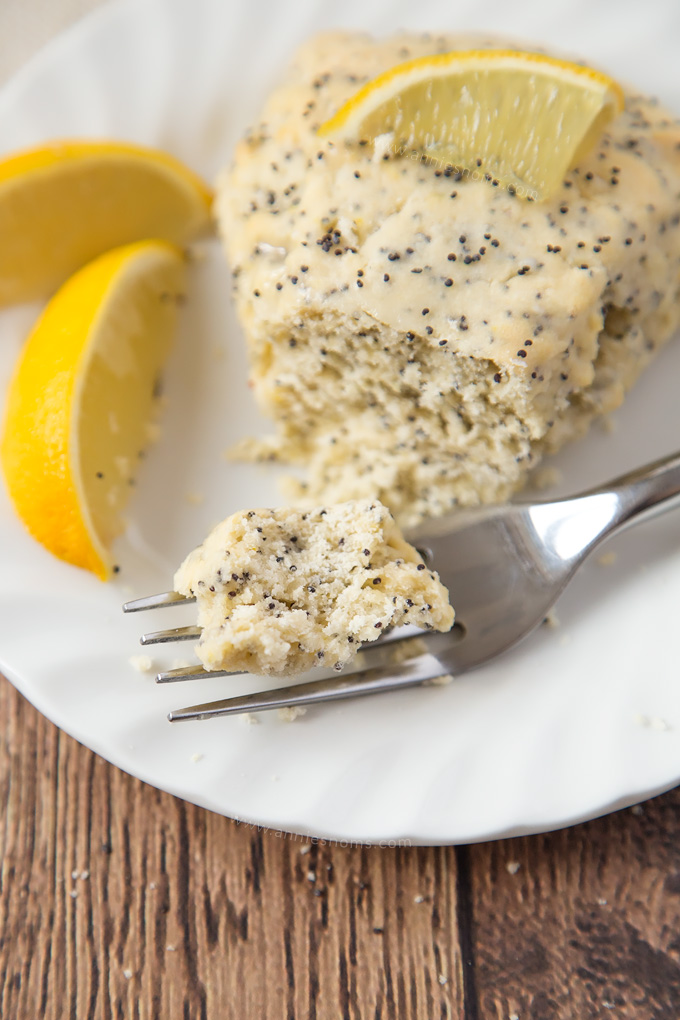 Now, I've heard that a lot of people are a little wary of scones and let me tell you, there's nothing to be scared of. These are easy. Almost fool proof I would say.
The mixture is so easy to work with, there's no rolling or kneading; it's not particularly sticky. You just shape, slice and bake.
You also don't need any equipment; just a bowl, wooden spoon and your fingers. Seriously, you could be eating these puffy, triangles of heaven in 30 minutes.
In the interest of fairness, I obviously tried one as soon as they came out of the oven, then when they'd cooled slightly and were just warm and then the next day when they were cool. Pleased to report they are divine at any temperature. 😉
To make these, you just place all the dry ingredients into a large bowl, add in the butter, rub the mixture between your fingers until you have a coarse breadcrumb texture and then add in the wet ingredients, before bringing the dough together with a spoon, tipping it onto a lined baking tray and slicing it into thick, fragrant wedges.
Bake until lightly golden and puffy and you're ready to dive into these heavenly Lemon Poppy Seed Scones.
No need to thank me. Happy Tuesday everyone! 😀

Lemon Poppy Seed Scones
These light, flaky and citrus filled Lemon Poppy Seed scones are a cinch to make and are the perfect breakfast for a dull January morning!
Ingredients
For the scones:

2 1/2

cups

(350g) plain flour

1/4

cup

(50g) caster sugar

2 1/2

tbsp

poppy seeds

2

tsp

baking powder

Pinch of salt

Zest of 2 small,

or 1 large lemon

1

stick (113g) unsalted butter,

cold and cut into cubes

2

tbsp

freshly squeezed lemon juice

2

large eggs,

lightly beaten

2-3

tbsp

milk

For the glaze:

1/2

cup

(60g) icing sugar,

sifted

1-2

tbsp

lemon juice

Extra poppy seeds to garnish,

optional
Instructions
Preheat the oven to 200C/400F and line a baking tray with a silicone mat/grease proof paper.

Place flour, sugar, poppy seeds, baking powder, salt, zest and butter cubes into a large bowl and rub between your fingers until you have a coarse breadcrumb texture. Some larger lumps of butter and flour are fine.

Add in the lemon juice, stir briefly and then add in the eggs. Mix with a wooden spoon just until you can't see the eggs, then add in milk, 1tbsp at a time, mixing in between each addition until a soft dough forms.

The dough shouldn't be overly sticky, just smooth. A few crumbly bits are absolutely fine!

Tip the dough onto your prepared baking tray and pat into a circle, roughly 1/2 an inch thick.

Using a pizza cutter or knife, slice into 6-8 wedges. I halved the dough both ways, then cut diagonally across both ways to create 8 triangles.

Use a spatula to pick up the scones and just spread them out slightly, just to give them room to rise.

Place in the oven for 10-12 minutes until risen, puffy and lightly golden.

Leave to cool on the tray for at least 10 minutes, before transferring to a wire rack to cool completely.

Once cool, make the glaze: place icing sugar into a medium sized bowl, then add 1tbsp lemon juice, mix until well combined and smooth, add in a little more lemon juice if required. You want a consistency which will pour off of a spoon easily.

Place a piece of kitchen roll under your wire rack and then spoon the glaze all over the scones. It's a pretty transparent glaze, so you will only see a sheen on each scone, but it really revs up the flavour!

Lemon Poppy Seed Scones will keep in an airtight container, at room temperature for 4 days.


I link up at these great Link Parties!