A thick, sweet and hearty Oat Smoothie with Cherries, bananas and oats. Filling and delicious, this smoothie is perfect for breakfast, lunch or an afternoon pick me up!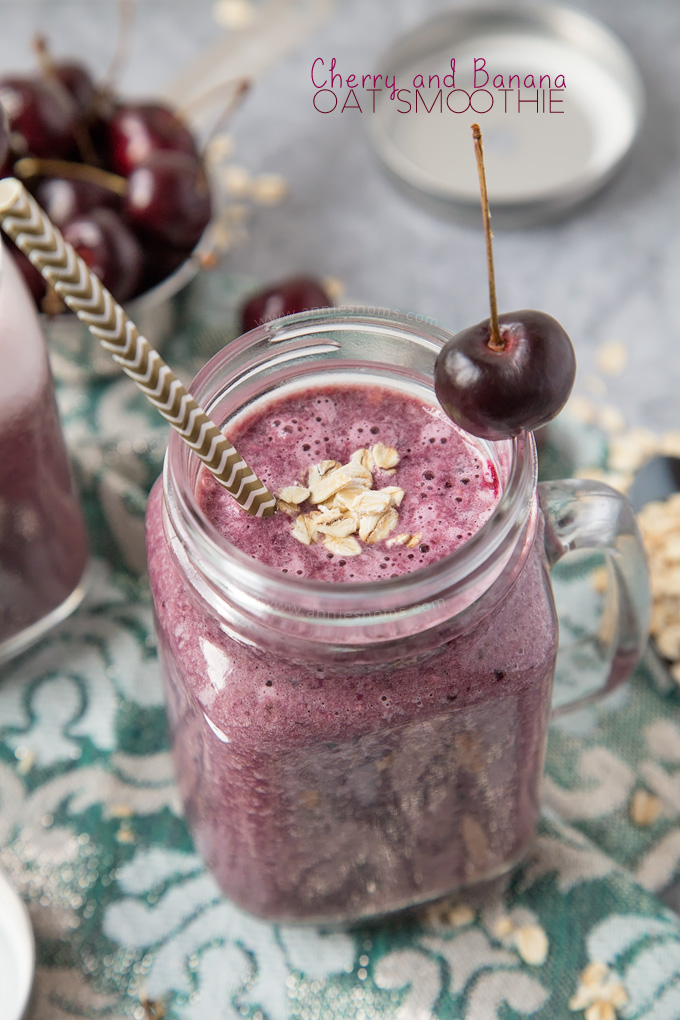 This Cherry and Banana Oat Smoothie is my new favourite post-workout snack. It is thick, creamy and filled with hearty oats and sweet cherries. You may not think the flavours will go together, but they totally do. This is the first time I've used oats in a smoothie and they add great texture and help keep you full!
BUT, before we get onto this glorious healthy purple goodness, can we talk about persevering with a book you are REALLY struggling to get into?
I am a self-professed book worm. I've usually got my head in a book if I'm not working or writing recipes… Or reading other food blogs, but I'm currently reading a book that I'm finding SO hard to read.
It's such a shame because it's the 9th in a series and I have adored every single other one in the series. I was so excited for this book to come out… then it arrived and I was like "Sheesh, this is long compared to the others…! That must mean it's a huge story line."
That was 3-4 months ago.
See what I mean… I can read a book in under 2 days if it's that great, but not much seems to have happened so far in this book and it's hard to follow because every other page you get, not just an end of paragraph, but like a mini end of chapter and the next paragraph the guy is somewhere completely different… It's all over the place.
I'm half way through and the next one in the series has just come out and there are loads of other books I'm desperate to read, but normally I cannot stop a book once I've started, I don't like leaving anything (at all in life ever haha!) unfinished…
Should I just stop fretting over it and start the new one? Or should I stick with it and hope something happens!?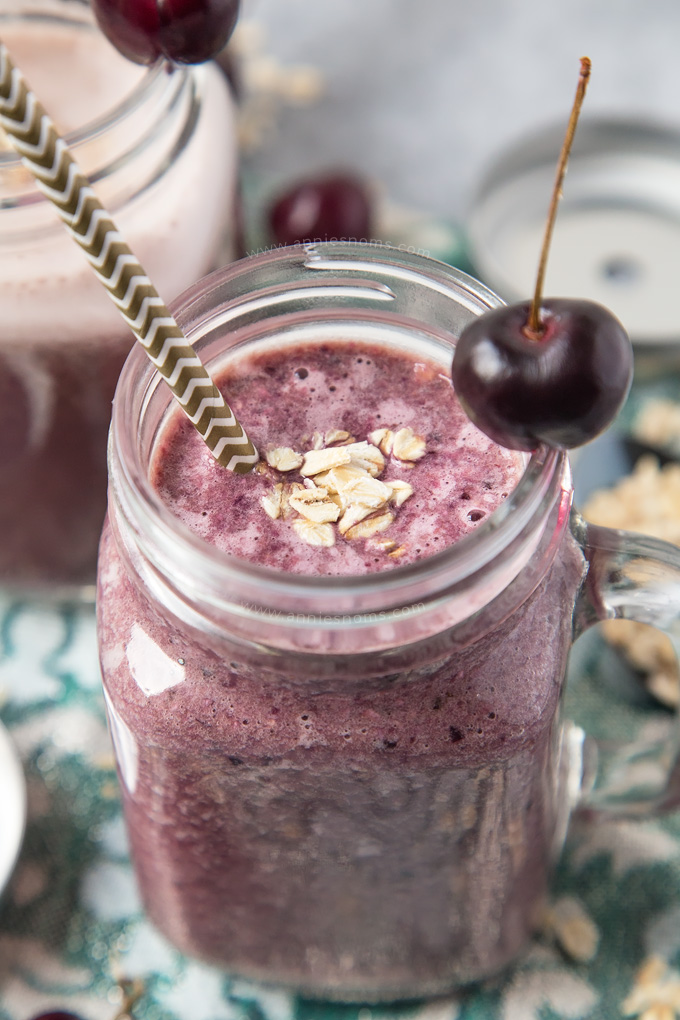 Since we've got my trivial first world problems out of the way, we can now talk smoothies. After this decadent Salted Caramel Chocolate Tart I thought it high time I share something a little lighter with you!
After all, we are all trying to be healthy in January. I'm back to working out 5 times a week and eating healthy during the week… I say during the week, because let's be honest, if I want chocolate at the weekend I'm going to have it because I like to congratulate myself for making it through another week of life.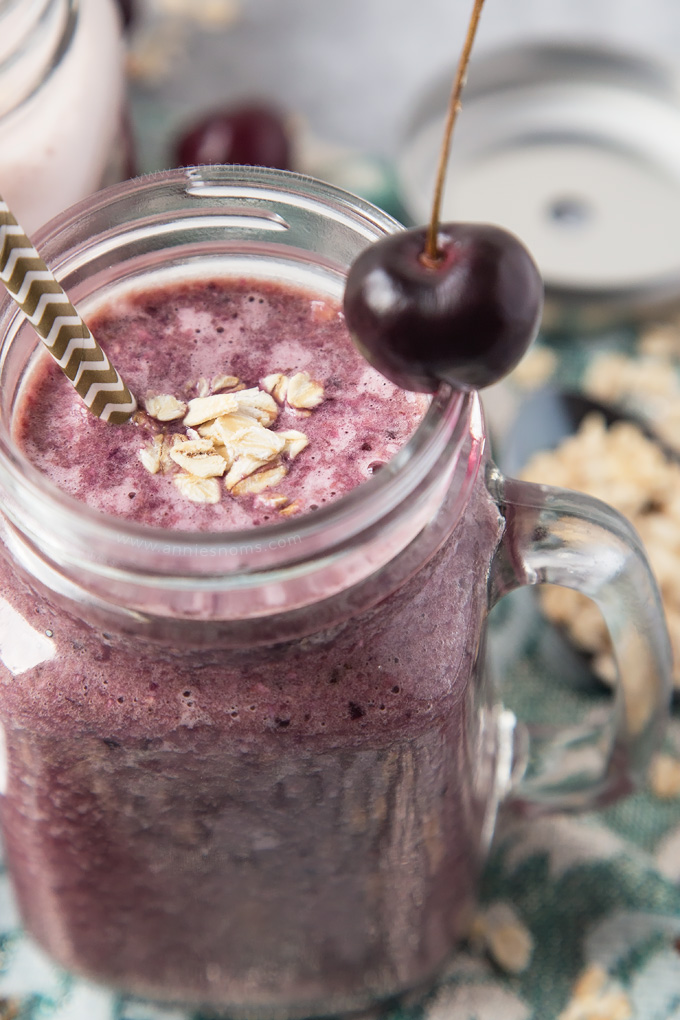 But on a serious note, I love homemade smoothies because I completely control what is going in it. As much as I love all smoothies, I'm aware that store bought ones can be full of sugar.
I know fruit is full of sugar, but some of the one's in store are about 6-7 different fruits and that equates to a lot of sugar.
So, I make my own. And this time I made it an Oat Smoothie.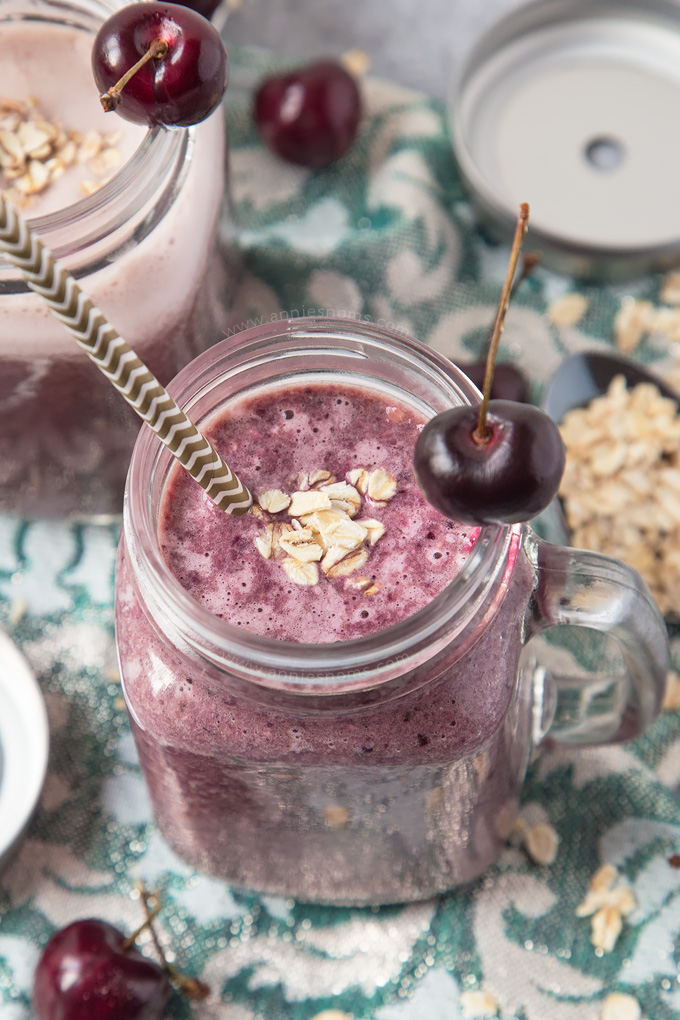 I've been seeing loads of smoothie recipes recently with oats in and I was intrigued to see how they work in smoothies. I'm an oat fiend and start every single day with a bowl of homemade porridge/oatmeal, so I was positive adding oats into my smoothie would work and… it totally does.
AMAZING! 😀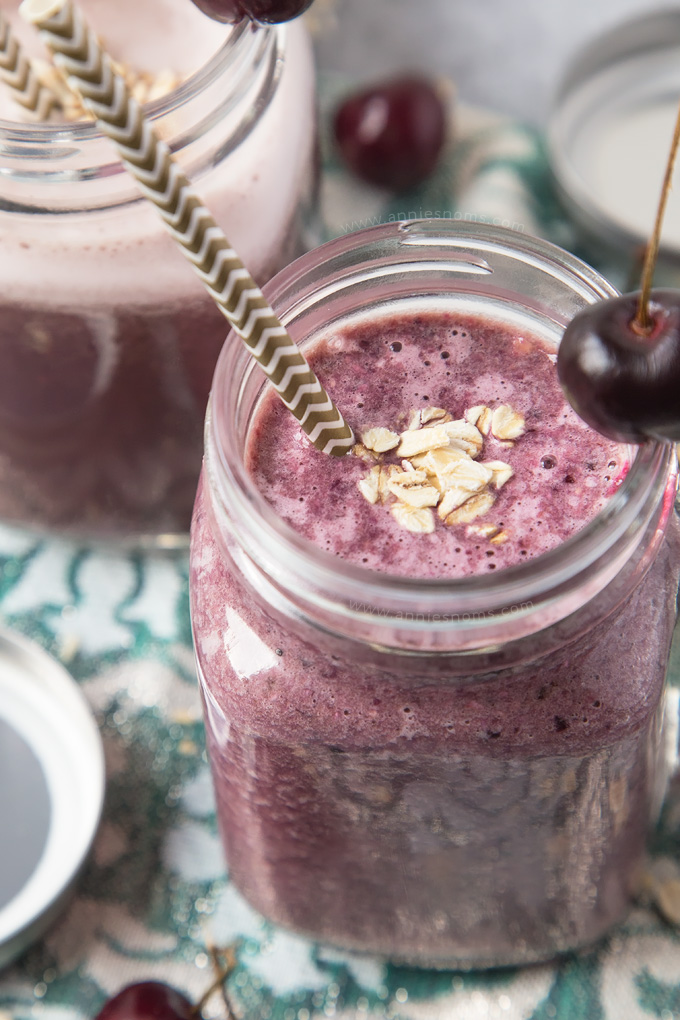 I felt so full after this Oat Smoothie and the oats added a lovely texture. Along with a frozen banana and some fresh cherries, this is one thick and creamy smoothie recipe.
I just love how creamy frozen banana gets when blitzed up. It's like soft serve ice cream and makes the perfect base for smoothies and healthy milkshakes.
Then there's the cherries, I used 1 cup of fresh cherries in this recipe. I looked like I'd killed someone after pitting them all, but it was worth it because their flavour shines in this smoothie!
A pinch of salt, 1 cup of milk and 1tsp vanilla are the only other ingredients you need before making this gorgeous oat smoothie. Blitz all the ingredients together until smooth and thick, pour into your favourite glass and then devour guilt-free, knowing that there's no bad stuff lurking in your smoothie!
Enjoy!

Cherry and Banana Oat Smoothie
A thick, sweet and hearty Oat Smoothie with Cherries, bananas and oats. Filling and delicious, this smoothie is perfect for breakfast, lunch or an afternoon pick me up!
Ingredients
1

large banana,

previously chopped into chunks and frozen

1

cup

(160g) fresh cherries,

halved and pitted

1/2

cup

(40g) rolled oats

1

cup

(240ml) milk,

I used skim, any milk will work

1

tsp

vanilla extract

Pinch of salt
Instructions
Place frozen banana, halved cherries, oats, milk, vanilla and salt into a blender/food processor or mini chopper. (I used a Tefal Multi Chopper)

Pulse the mixture for 1-2 minutes until everything is smooth. There will be a few flecks of oats, this is fine.

Pour into your favourite glass and enjoy immediately!


I link up at these great Link Parties!