This shop has been compensated by Collective Bias, Inc. and its advertiser. All opinions are mine alone. #CollectiveBias
This Mini Strawberry and Nutella Stuffed French Toast is cute, fun to make and the perfect Valentine's Day breakfast for the one you love!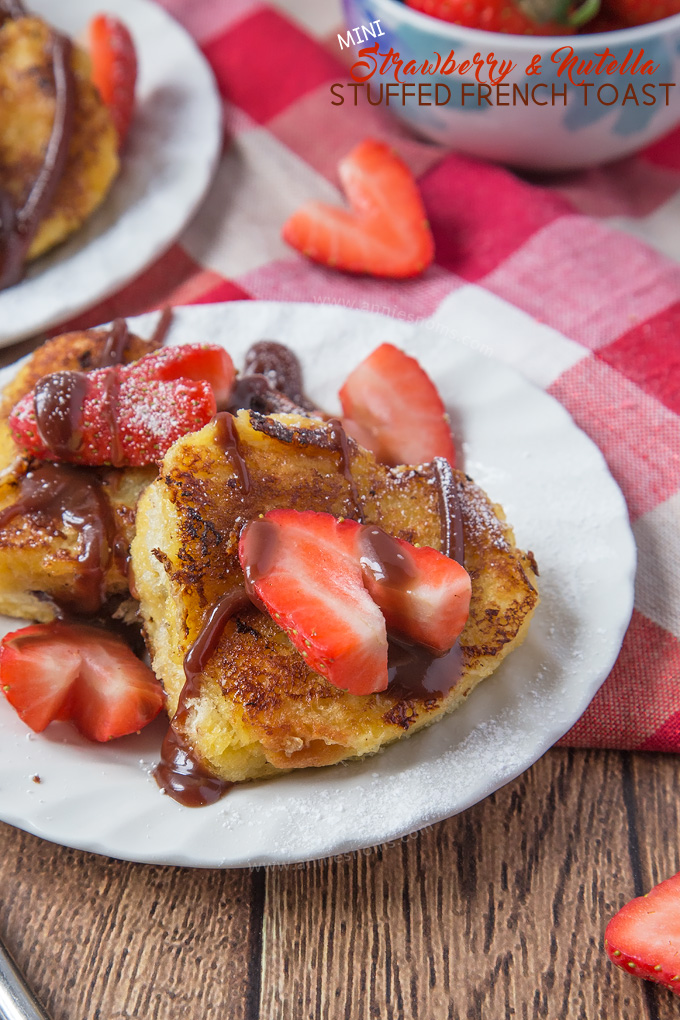 I am so excited to share today's recipe with you! That may or may not be because it's mini… and full of strawberry and Nutella goodness!
I decided that normal Strawberry and Nutella stuffed French Toast just wasn't amazing enough, so I went ahead and cut the bread into cute little heart shapes as well!
I don't know why exactly, but whenever I think of Valentine's Day, I think of strawberries and chocolate, so I just had to go to my local ASDA and head straight to the jam and spread aisle to buy some Nutella. I also picked up a loaf of Brioche and some juicy, sweet strawberries whilst I was there.
I went for the Brioche loaf you slice yourself, so I could make the slices nice and thick, but you can use a pre-sliced loaf if you'd rather. Anyone who knows me knows that I am famous for incredibly thick slices of bread. I have no time for thin bits of bread, no thank you. Carbs for life is my motto… 😀
I also know that Brioche slices will vary in size, so I used a 3 inch wide Heart shaped cutter for this recipe, but you may or may not need a bigger one.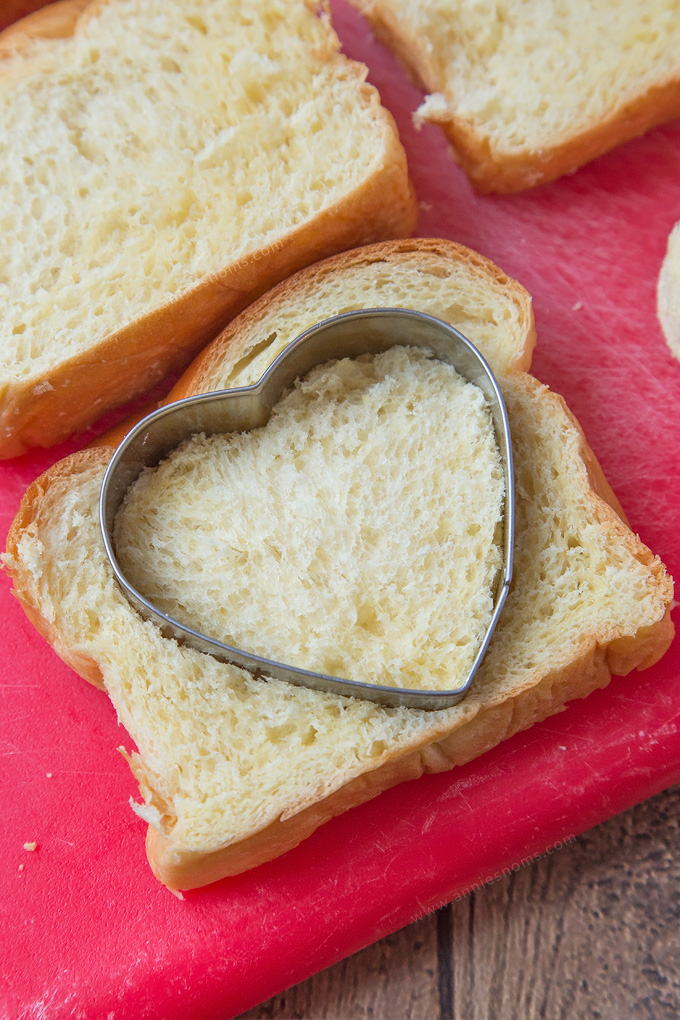 My plan was to get creative in the kitchen and then surprise my fiancé with breakfast in bed because let's face it, we all have busy lives and sometimes it's nice to do something for the one you love.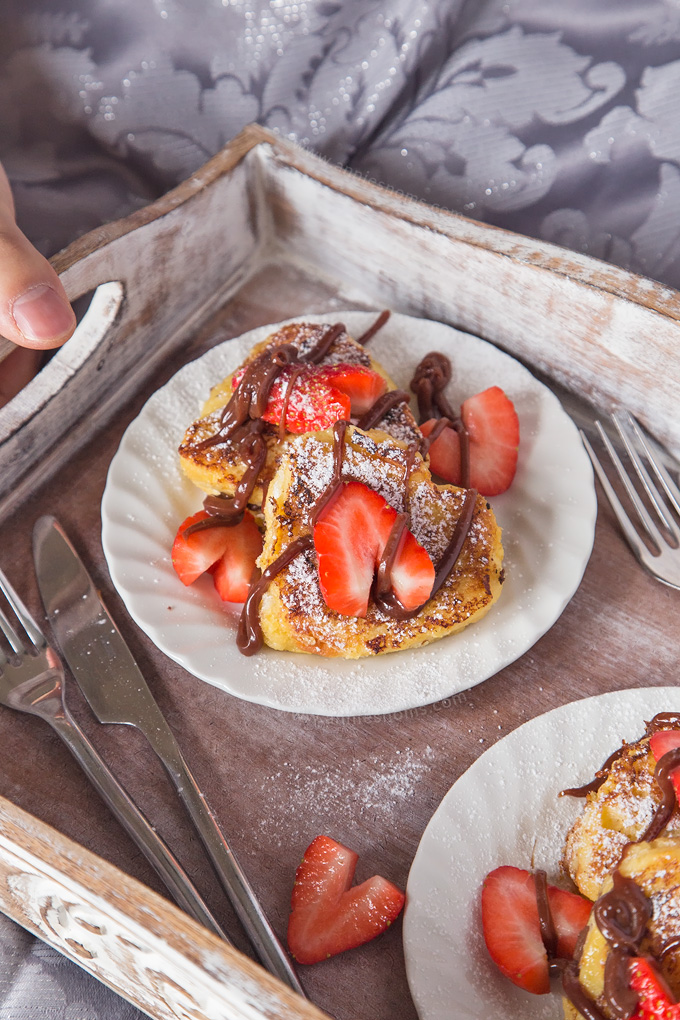 This recipe is quick to make and is the perfect contrast between sweet, nutty, soft and crunchy. First of all you hit that crunchy outer crust of bread, then the centre of the brioche is soft and fluffy and absorbs the creamy Nutella which oozes out of the French toast. Topping it all off? Tender pieces of strawberry.
This is one blissful breakfast your love will be begging you to make every day!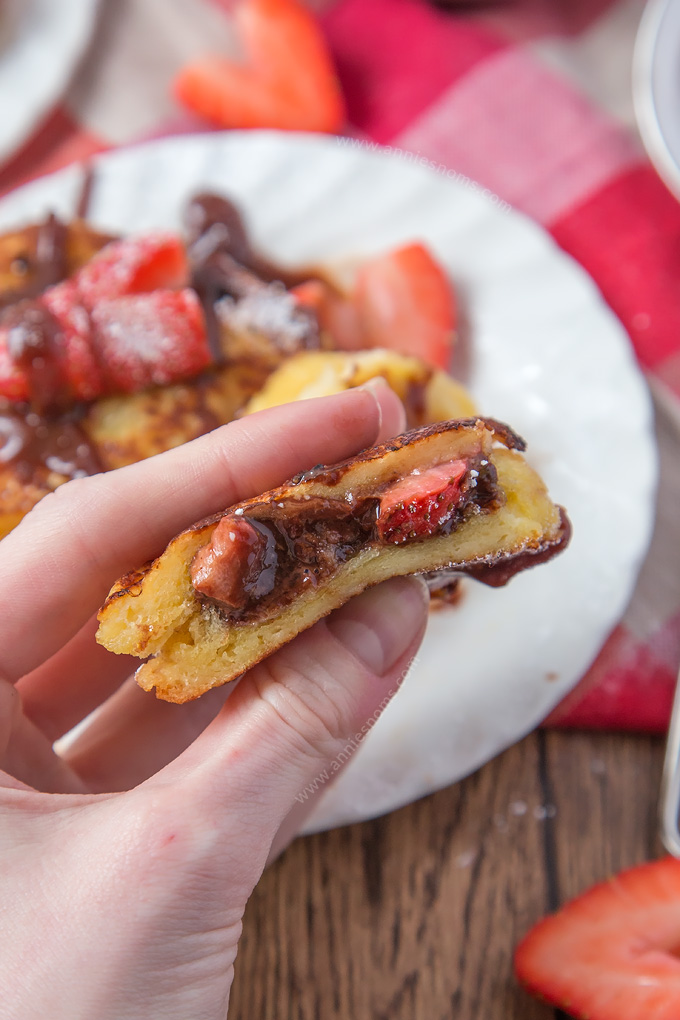 You might know that I'm actually pretty new to French Toast. Yes, I was a bit slow to the party! BUT… now I can't get enough. Whether it be normal French toast, Stuffed French Toast or a French Toast bake, I am loving eggy bread with a variety of toppings right now.
And you can't beat ASDA's Brioche loaf. It's SO soft and buttery. Just how brioche should be.
So, let's get into the kitchen and make this Strawberry and Nutella Stuffed French Toast!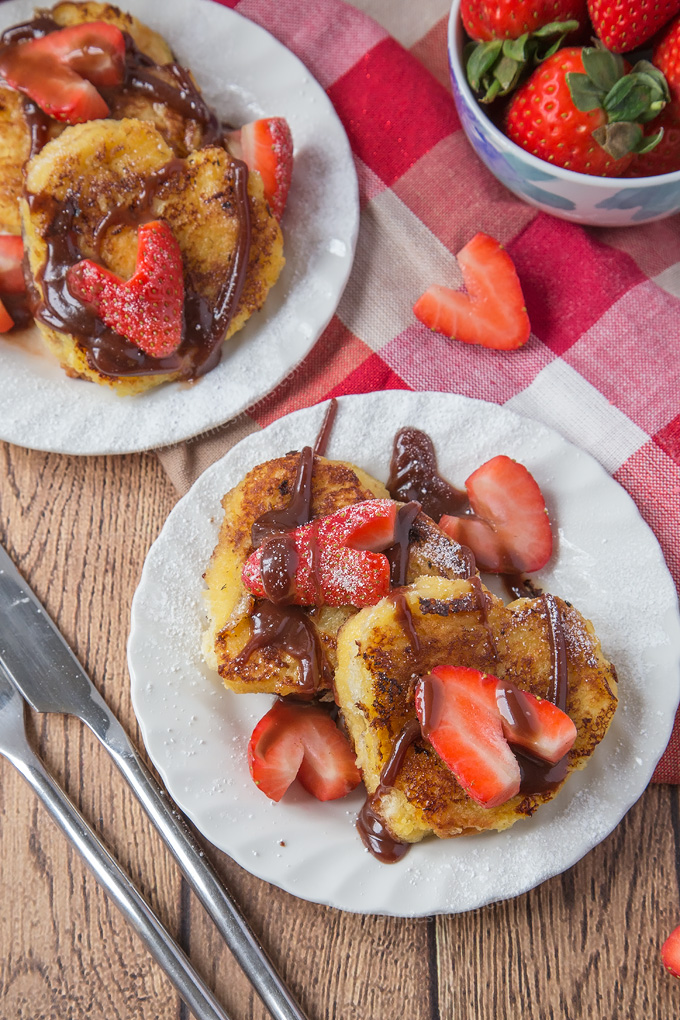 First of all, I sliced some strawberries in half and then cut a little triangle out of the top to make them look like hearts. They were left to one side whilst I carried on with the rest of the breakfast.
Next, I cut eight thick slices of brioche and used a metal heart cutter to cut each slice into a heart shape. For the filling, you need 8 teaspoons of Nutella and a 1/4 cup of diced strawberries.
Initially, I was only going to put Nutella on one side of the French Toast and butter the other side, but then I thought "Why not put it on both sides?! More Nutella is always a good thing, right?!"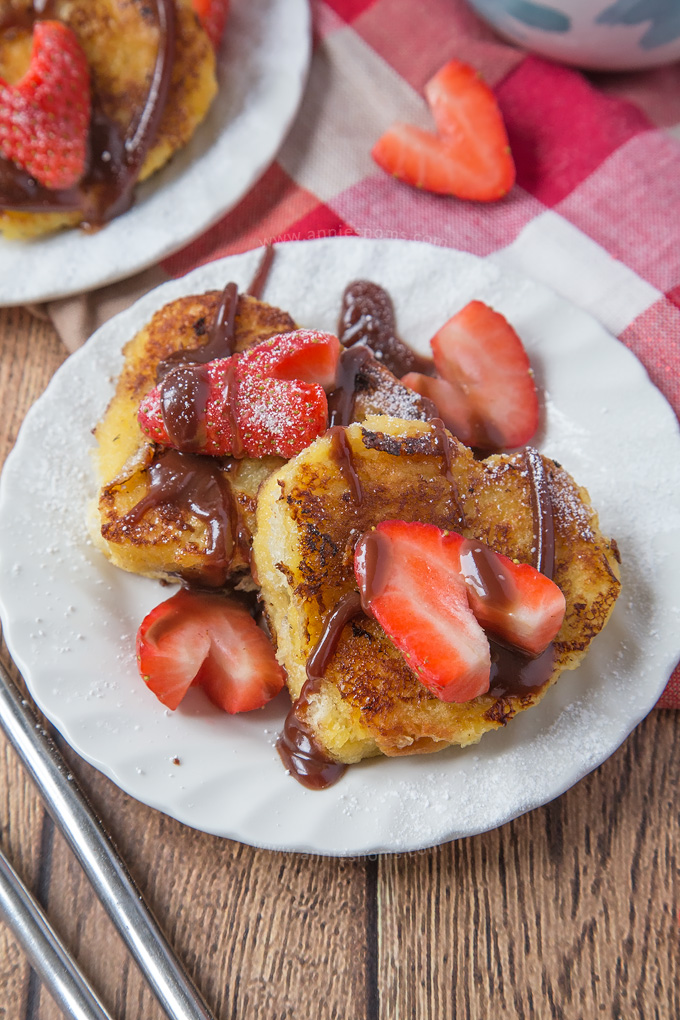 The next stage can get a little messy, but it's the fun part in my eyes! I dipped one side of each heart shaped slice of Brioche into a mixture of egg and milk, then placed it into a hot pan before sprinkling 1/4 of the diced strawberries on top. The final part is to place another heart shaped brioche on top of the strawberries to create this heavenly Strawberry and Nutella sandwich!
Since this is meant to be a breakfast for the one you love, it's a scaled down recipe and only serves 2, but is easily doubled.
Once this scrumptious French Toast is ready, top with the heart shaped strawberries, drizzle some more Nutella on the top (I microwaved it for 20 seconds to make it easier to drizzle) and sprinkles some icing sugar on it, before taking it up to your other half.
Prepare to get serious wife/girlfriend brownie points…! 😀

Mini Strawberry and Nutella Stuffed French Toast
This Mini Strawberry and Nutella Stuffed French Toast is cute, fun to make and the perfect Valentine's Day breakfast for the one you love!
Ingredients
For the egg mixture:

1

large egg

1/3

cup

(80ml) milk

1

tbsp

caster sugar

For the French Toast:

1-2

tbsp

butter

8

slices

thick day old bread,

I used Brioche

A heart shaped cutter that fits from top to bottom on your of bread;

mine was 3 inches across

8

tsp

Nutella,

plus extra for topping

6-8

strawberries,

halved with a triangle cut out of the top of each half to make them into heart shapes

1/4

cup

(42g) diced fresh strawberries

Icing sugar to garnish
Instructions
Place the egg into a shallow bottomed bowl and beat lightly. Add in the milk and sugar and mix until well combined.

Place the heart shaped cutter into the centre of a slice of bread and firmly press down and twist to cut the bread into a heart shape. Repeat for each of the 8 slices of bread. Either discard or eat the off cuts!

Place 1tbsp of butter into a medium sized skillet/frying pan and place over a low-medium heat to melt the butter.

Spread 1tsp of Nutella onto one side of each heart. Leave a slight gap around the edge.

Dip the side of bread that isn't covered in Nutella into the egg mixture, holding it down for 3-5 seconds, then place into your hot pan.

Sprinkle a 1/4 of the diced strawberries on top of the brioche heart in the pan and then take another heart shaped brioche and dunk the side that isn't covered in Nutella into the egg and milk mixture.

Place that piece Nutella side down on top of the strawberries and press down with a spatula.

Repeat until you have 4 heart shaped sandwiches.

Fry each French toast until golden, 2-3 minutes, then flip and fry the other side until golden, another 2-3 minutes.

Once cooked, divide the French Toasts between 2 small plates, drizzle warm Nutella over the top of the French Toasts, then top with strawberry halves and a sprinkling of icing sugar.

Serve immediately and enjoy!


I link up at these great Link Parties!