Soft, chewy Chocolate Chip filled Red Velvet Cookies sandwiched together with creamy, smooth chocolate spread to make a cute and delicious Valentine's treat!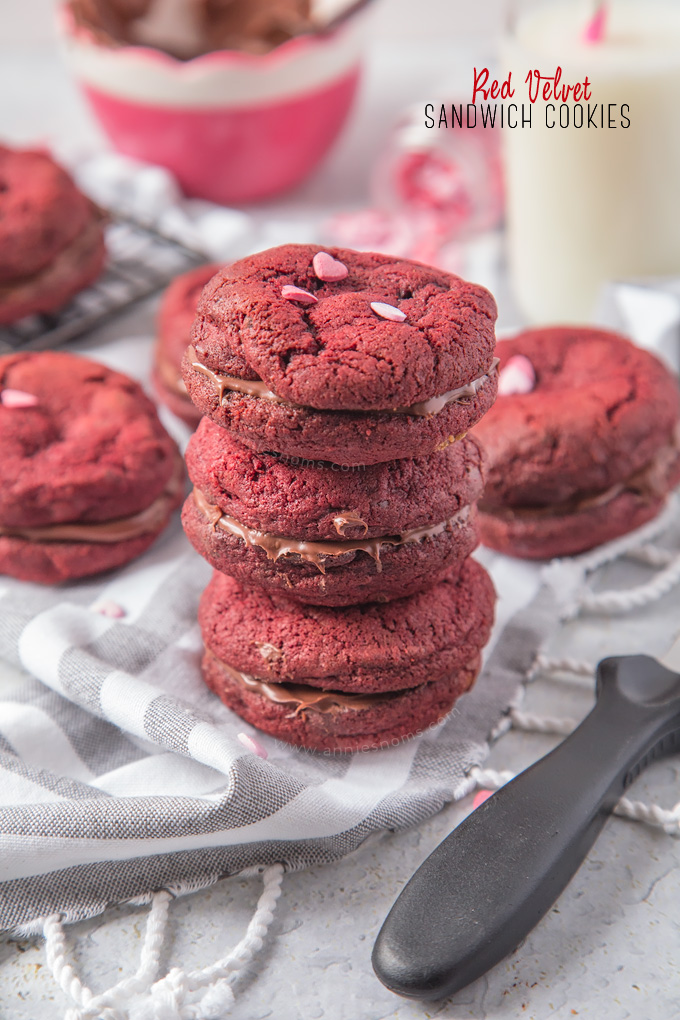 Well, hello there… I hope you had a lovely weekend. Today I'm sharing cookies… Red Velvet cookies to be precise. BUT these Red Velvet Sandwich Cookies very nearly didn't happen.
Want to know why?
Because I got half way through making the cookie dough and then realised I didn't have enough red food colouring.
Who does that?!
If you'd have come over at that time, you would have found every single cupboard in the kitchen emptied all over the place and me up on the worktop looking desperately for some red food colouring.
Fortunately I had some pink gel paste colour from last year, which I used to make these Pink Velvet Cupcakes, but we all know they turned out more red than pink, so I was hoping it would have the same effect on these Red Velvet cookies!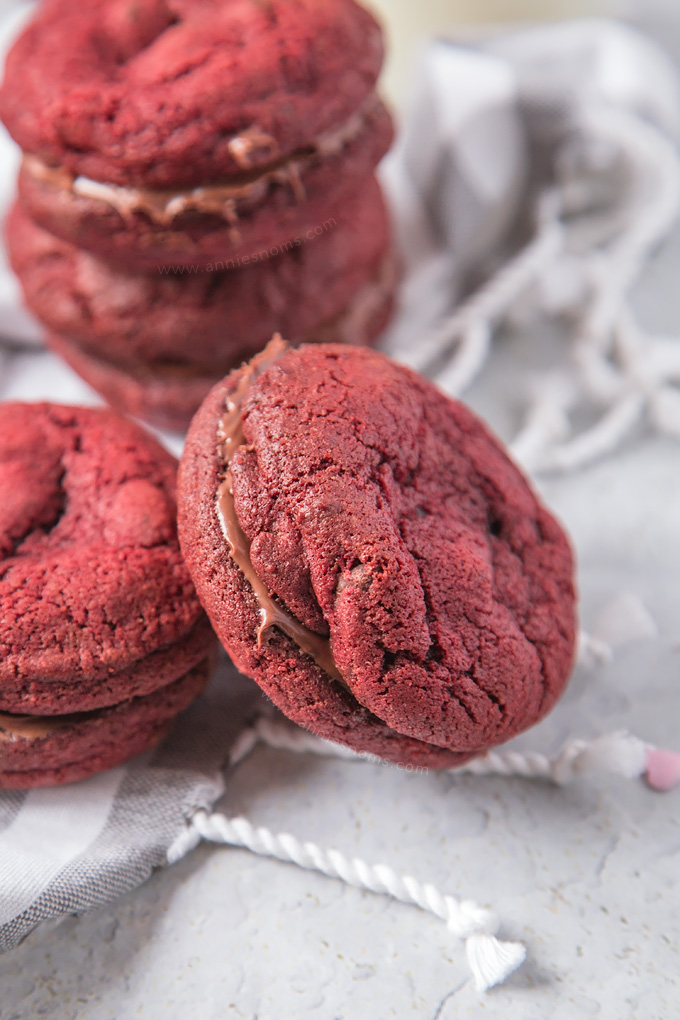 I mean, I had like 1 teaspoon of red food colouring, but that wasn't enough, so I mixed in some pink… AND it worked!
Thank goodness. Because these cookies are divine. A life without them would have been a sad state of affairs.
I'm a fairly new convert to Red Velvet. I wasn't so sure on it a couple of years ago and I wasn't sure what the fuss was about. But now? I love it. That not quite chocolate, not quite vanilla combination is just wonderful.
Although it's as confusing now as it was 2 years ago to my taste buds.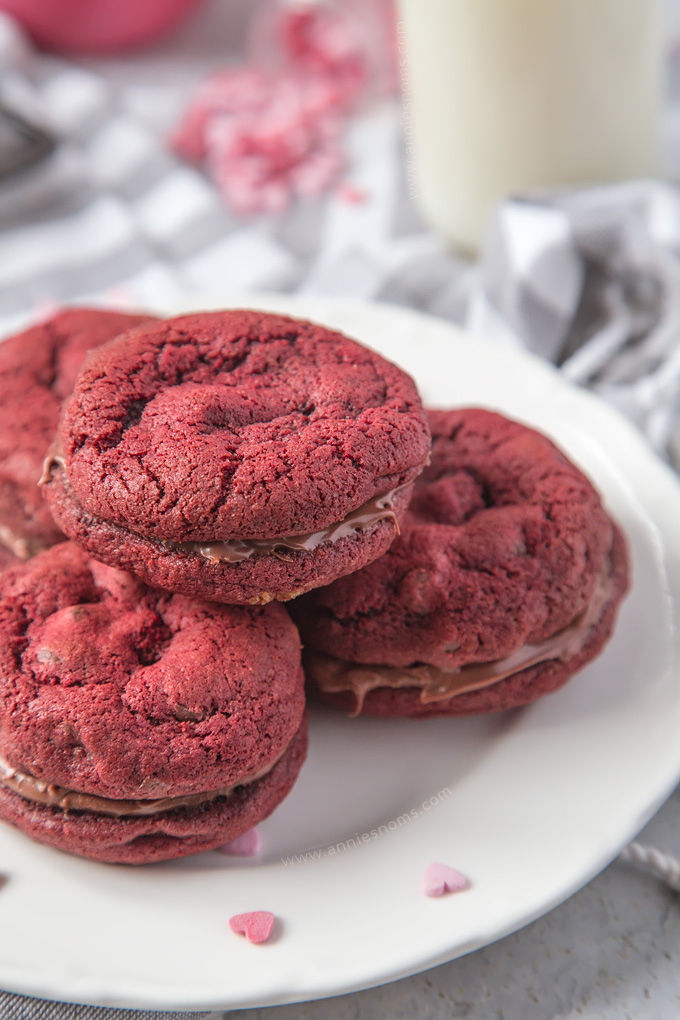 In these Red Velvet Cookies, I decided to add in plenty of rich, dark chocolate chips to ramp up that chocolate flavour. They cut through the sweetness of the cookies and really add a lot of depth to the cookie.
Saying that, I don't make Red Velvet cookies overly sweet, but you definitely notice the contrast between the sweeter cookie and richer chocolate chips.
I could have just left these cookies as cookies and they would have been perfectly fine and dandy.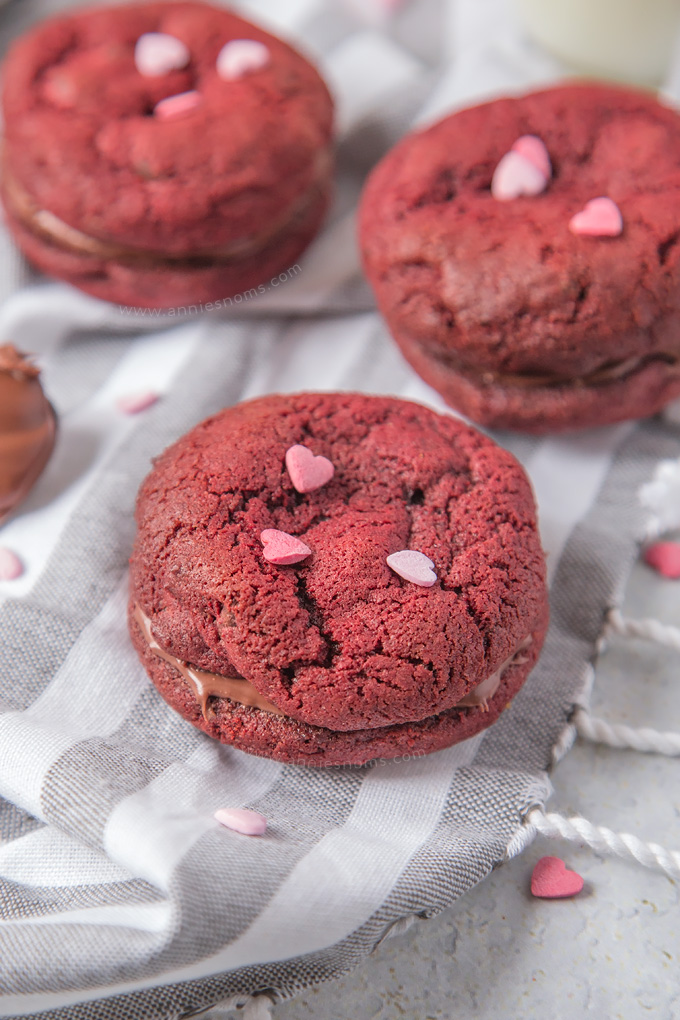 However, I wanted to make these more of a treat. I mean, it is Valentine's Day after all…! 😉
SO, I made each serving a double cookie affair and added in some smooth, creamy chocolate spread to create a gorgeous, gooey filling. You can use Nutella if you want, but I used plain milk chocolate spread for this recipe.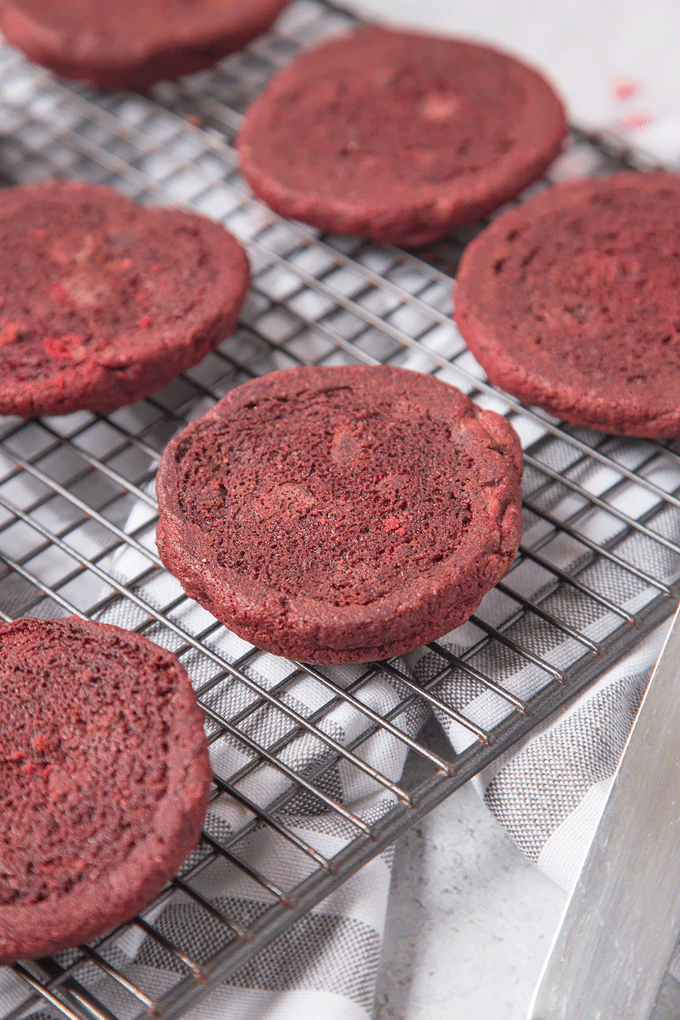 I just had to add some cute little heart shaped sugar decorations too. I thought they would make a super cute surprise in the centre of the cookies. Like you'd given your love your heart inside a cookie.
I know… I'm a sucker for some romance. But, it is a cute touch. 😀
I based this recipe on my base cookie recipe, but added a little cocoa powder and some vinegar to the mixture. I used less chocolate chips than I normally would in a chocolate chip cookie, but I thought it was important to not be overwhelmed with chocolate chips as that's not what Red Velvet is.
As always, chilling the dough is important as it makes it so much easier to work with, so this is not a quick, 30 minute recipe. It needs some time, although a lot of that is hands off time. Let me tell you though, it's totally worth it.
These Red Velvet Sandwich Cookies are soft, chewy and the perfect treat to make this Valentine's Day!

Red Velvet Sandwich Cookies
Soft, chewy Chocolate Chip filled Red Velvet Cookies sandwiched together with creamy, smooth chocolate spread to make a cute and delicious Valentine's treat!
Ingredients
1 3/4

cups

(245g) plain flour

1/2

cup

(70g) bread flour

1/4

cup

(25g) cocoa powder,

sifted

1

tbsp

cornflour

1 1/2

tsp

bicarbonate of soda/baking soda

Pinch of salt

1 1/2

cups

(257g) dark chocolate chips

1 3/4

(200g) sticks unsalted butter,

at room temperature

3/4

cup

(150g) light brown sugar

1/2

cup

(100g) caster sugar

2

large eggs

2

tsp

vanilla extract

1

tsp

white vinegar

Red food colouring; I would advise using gel paste as the colour is more concentrated and you'll need to use less.

If you use liquid food colour, you may need 1-2tbsp.

12-15

tsp

chocolate spread/Nutella

Heart shaped sprinkles,

optional
Instructions
No need to preheat the oven yet, the dough needs to chill!

Place flours, cocoa powder, bicarb, salt and chocolate chips into a medium sized bowl and stir until all of the chocolate chips are coated in flour. Leave to one side.

Place butter and sugars into a large bowl, or the bowl of your stand mixer, and beat on medium-high speed until light and fluffy, 2-3 minutes.

Add in the eggs and vanilla, scraping sides as necessary and mix until well combined, around 45 seconds.

Add in the vinegar and mix briefly to combine.

Add in food colouring, a little at a time, until you reach desired colour. You want it to be bright red, but you can always add in a little more after you've mixed in the flour.

Tip in the flour/chocolate mix and mix on low until a soft dough forms. If unhappy with the colour, add a little more and then mix until well incorporated.

Once you are happy with the colour of your dough, tip into a medium sized bowl and cover with cling film. Place in the fridge for at least 6 hours, overnight if possible.

Once chilled, preheat the oven to 180C/350F and line 2-3 baking trays with a silicone mat/grease proof paper/a Silpat etc.

Using a 1.5tbsp cookie scoop, scoop balls of dough and place 2 inches apart on your lined baking trays. Press down ever so slightly on the balls, so they don't roll away.

Place in the oven for 8-10 minutes, until set around the edges, but still soft and under baked in the middle. The outer edges will look matte, the middle still soft and squidgy.

Leave to cool on baking trays completely. Once cool, flip half of the cookies upside down so the flat base is facing upwards, then place 1 tsp of chocolate spread onto half of the Red Velvet cookies and spread into an even layer, right to the outer edges of the cookie.

Sprinkle each half covered in spread with heart shaped sprinkles, if desired, and then top with the remaining cookies.

Red Velvet Sandwich Cookies will keep in an airtight container, at room temperature for 5 days.


I link up at these great Link Parties!