This Red Velvet Oreo Bark has two types of chocolate and a ton of crushed Oreo's, making an utterly divine, no-bake and easy to make Valentine's Day treat!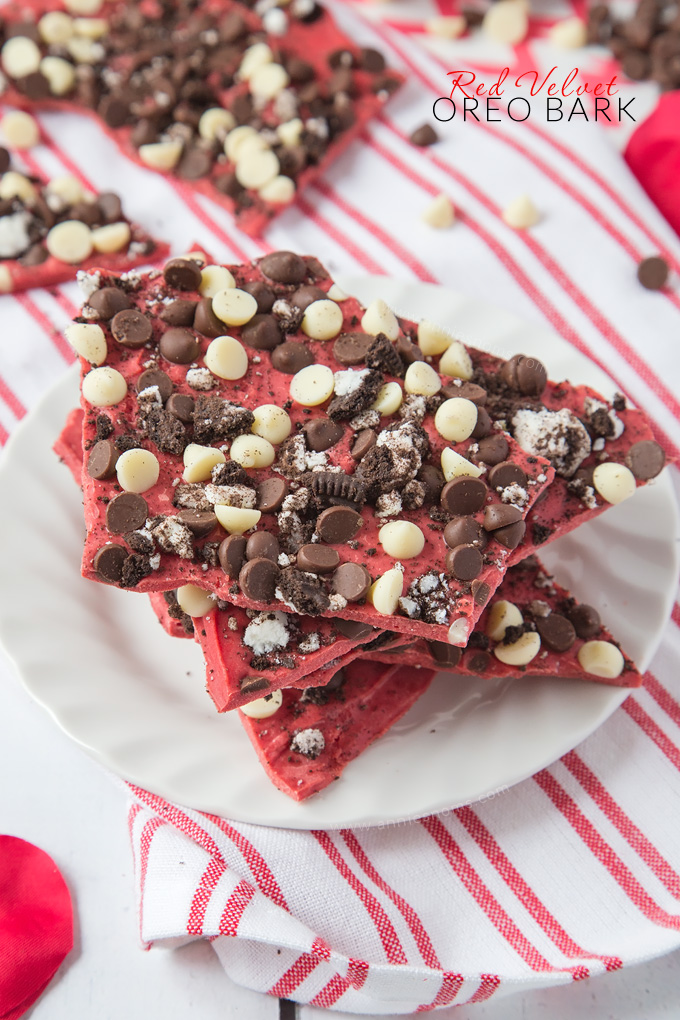 Well, hello there!
Yes, I have another Red Velvet recipe for you today, because I cannot get enough! But this is not just any Red Velvet recipe, this one is a recipe for Red Velvet Oreo Bark.
Because Oreo's make life better.
I melted down 12oz of White chocolate, added plenty of red food colouring, and then went to town sprinkling white and milk chocolate chips on top of the melted chocolate. Then I took my grievances out on some Oreo's to make some rubble to finish this recipe off!
The result? Totally scrumptious and addictive Red Velvet Oreo Bark!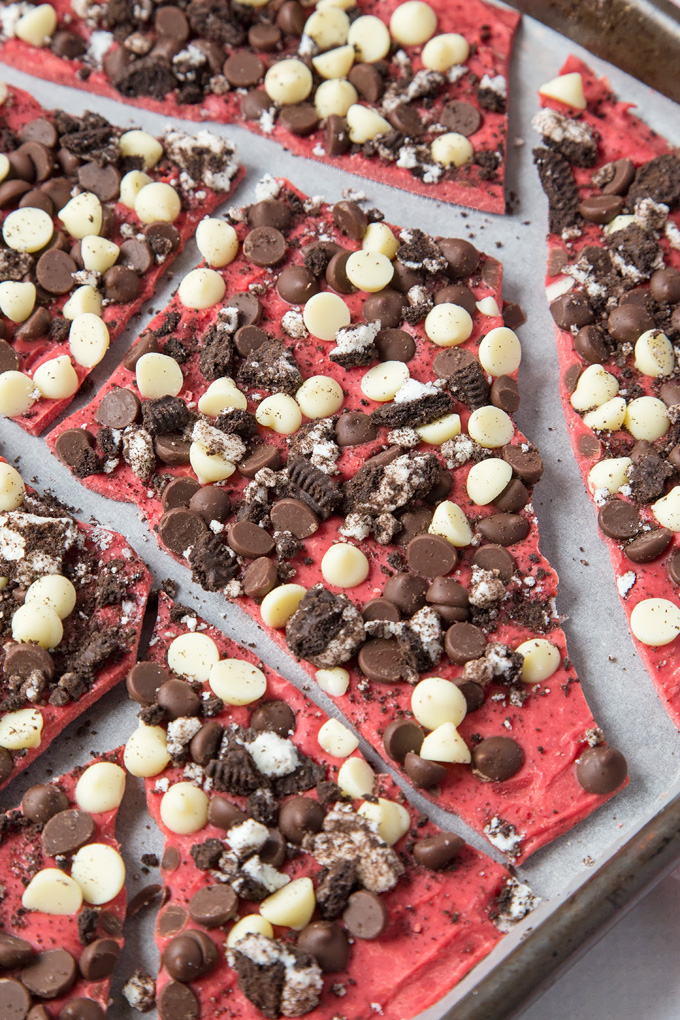 I just love bark recipes, don't you? Even though I'm almost 25 years old, I still find easy, no bake recipes so much fun to make.
This is one recipe where the kids can get involved as well. Who doesn't love sprinkling around chocolate chips… and eating some of them as you go too..? That can't just be me?!
Heading off topic for a minute; this Valentine's Day marks a whole year since Mr AN proposed! Time has sure flown by, but now we can finally say that we know when and where we are getting married! 😀
We officially booked the venue yesterday and decided on a date last week. My childhood dream of getting married in the snow is officially happening and I can't wait!
Quick question for you guys: do you want me to do some wedding posts on the blog? Little snippets of dress shopping? Invitation designing? All the crafty things I plan on making for the party…? Or just general "this is what I've done so far!"?
Let me know what you want to see!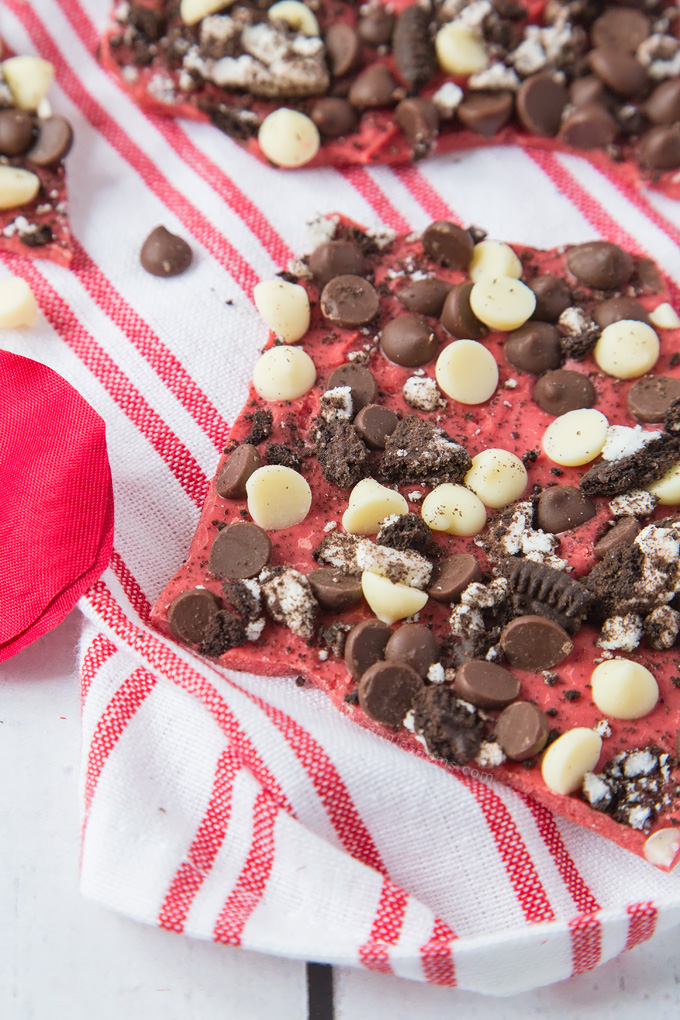 Back to this Red Velvet Oreo Bark!
I like to use Green and Blacks chocolate for bark making as it melts down beautifully and is velvety smooth. Their white chocolate is the best ever and I just had to use it for the bark base! (Not sponsored, just love them!)
If you haven't tried G&B white chocolate you need to! There are tiny little flecks of vanilla peppered throughout the chocolate and the taste is out of this world good. Creamy, sweet and filled with vanilla goodness.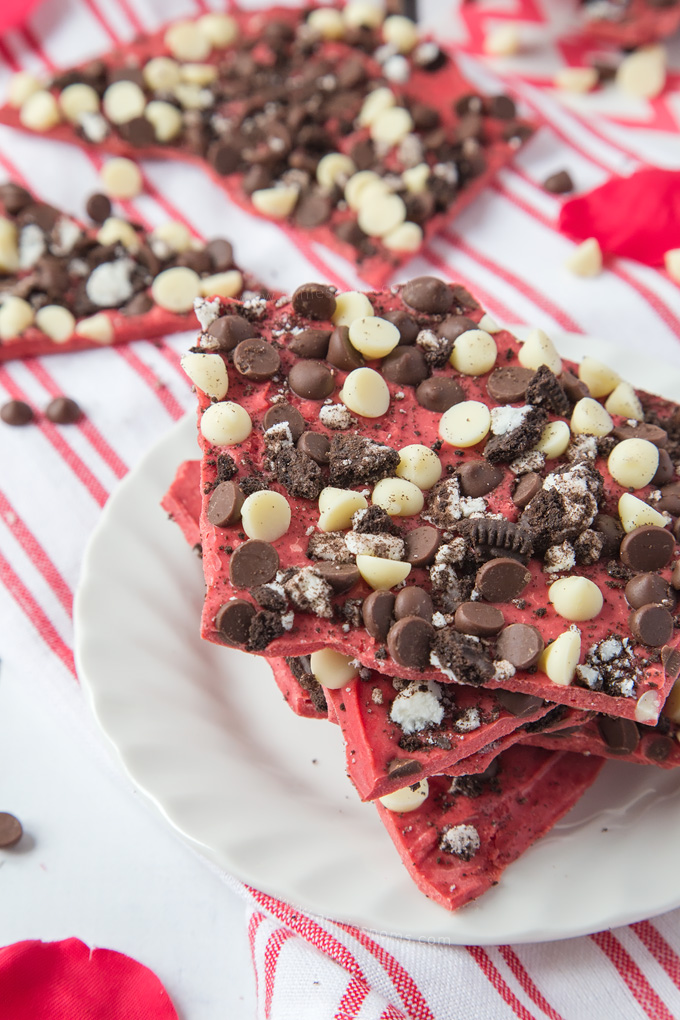 To ensure I got the right amount of "redness" for this Red Velvet Oreo Bark, I used a gel paste colour. This time I used a Wilton one, but I sometimes have Sugarflair to hand. It doesn't matter which you use, but I would advise using a gel paste as the colour is much more concentrated and you'll need to use less.
Once you've melted the Red Velvet part of this recipe, spread it out onto a baking tray lined with grease proof paper and then go mad with white and milk chocolate chips, before finishing it off with Oreo's.
I used half a sleeve of Oreo's for this bark. You can use more or less… whatever you deem necessary. That's another thing I love about bark recipes; there are no strict rules on what you have to put on them. If you wan to put a few more milk chocolate chips than white? That's OK. 🙂
So, if you want a fun, no-bake Valentine's treat that the kids can make too, I've got you covered with this glorious Red Velvet Oreo Bark!

Red Velvet Oreo Bark
This Red Velvet Oreo Bark has two types of chocolate and a ton of crushed Oreo's, making an utterly divine, no-bake and easy to make Valentine's Day treat!
Ingredients
340

g

(12oz) good quality white chocolate

Red food colouring,

(amount you need depends on whether you use gel or liquid)

1

tsp

vanilla extract

Pinch of salt

1

tsp

vegetable oil

1/3 - 1/2

cup

(58g-88g) white chocolate chips

1/3 - 1/2

cup

(58g-88g) milk chocolate chips

Half of a 157g/5.5oz sleeve of Oreo's,

crushed
Instructions
Line a baking tray with grease proof paper/Silpat/a silicone mat and leave to one side.

Place white chocolate, some food colouring, vanilla and salt into a medium heat proof bowl and place in the microwave in 20 second increments, stirring in between each, until the chocolate is all melted and smooth.

Make sure you stir for a good 20 seconds before putting the chocolate back into the microwave as sometimes the chocolate is more melted than it looks!

At this stage, if you need more food colouring, add it in along with the vegetable oil.

Pour the melted chocolate onto your lined baking tray and use a small angled spatula to smooth and spread out the chocolate until level. You want it about 1/4 inch thick. My bark almost filled the entire baking tray, just with a little border around the edge.

Sprinkle, white chocolate and milk chocolate chips evenly all over the smoothed chocolate layer.

Finish off by sprinkling the crushed Oreo's all over the melted chocolate and lightly press with the palm of your hand to make sure it sticks to the melted chocolate.

Leave to cool for 30 minutes, then loosely cover with cling film and place in the fridge until set, around 2 hours.

Once set, break into as many pieces as you want and devour!

Red Velvet Oreo Bark will keep in an airtight container, at room temperature, for 4 days.


I link up at these great Link Parties!