This Love Heart Fudge is velvety smooth, sweet, creamy and filled with lots of fizzy Love Heart sweets. A seriously cute and fun candy recipe for kids and adults alike!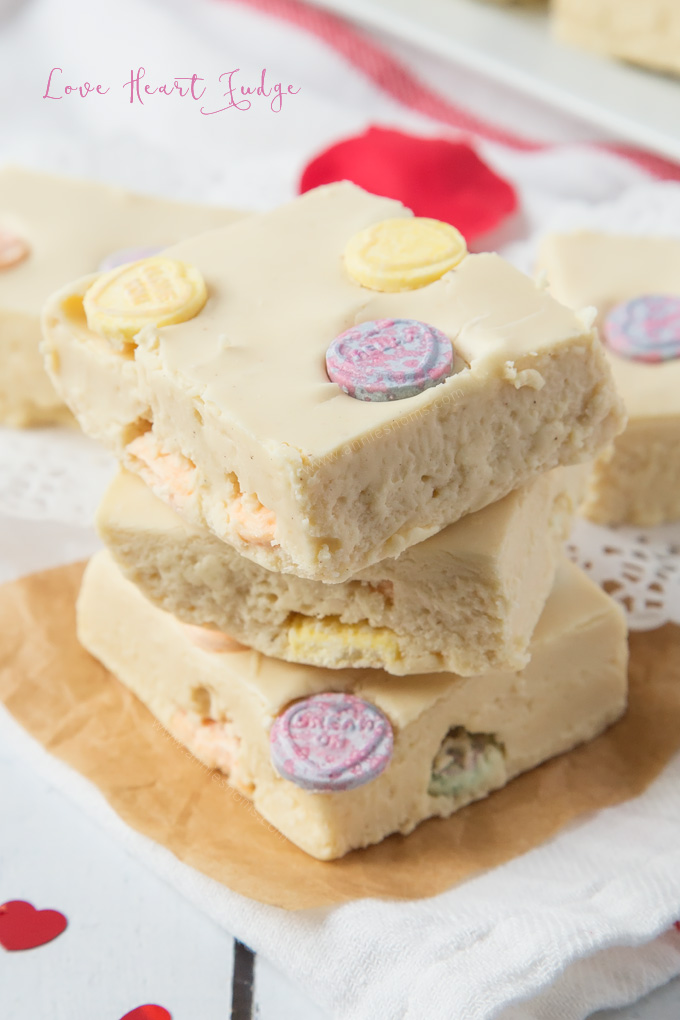 Popping in with another easy candy recipe today! This one is for the most amazing, fizzy, creamy Love Heart Fudge.
I've heard there are different names and different types of Love heart sweets. In the US, I've seen "Conversation hearts" and the whole sweet is a love heart shape, but here they are round sweets with a love heart stamped on them.
You'd think since they are called Love Hearts here they would actually be love heart shaped… But that's the UK for you!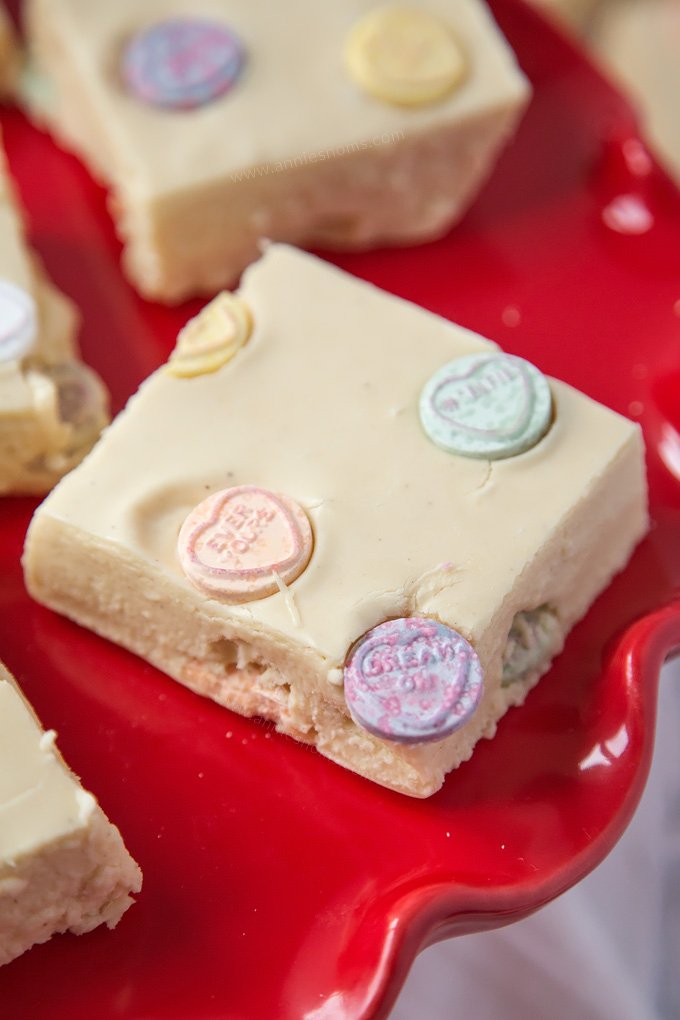 I used my favourite base fudge recipe; which is so unbelievably smooth and creamy, then I added in lots of love heart sweets. you can leave them whole or crush them. I did a mixture of both and then used another packet of sweets to place on the top.
That means there are 4 rolls of Love Heart sweets in this recipe!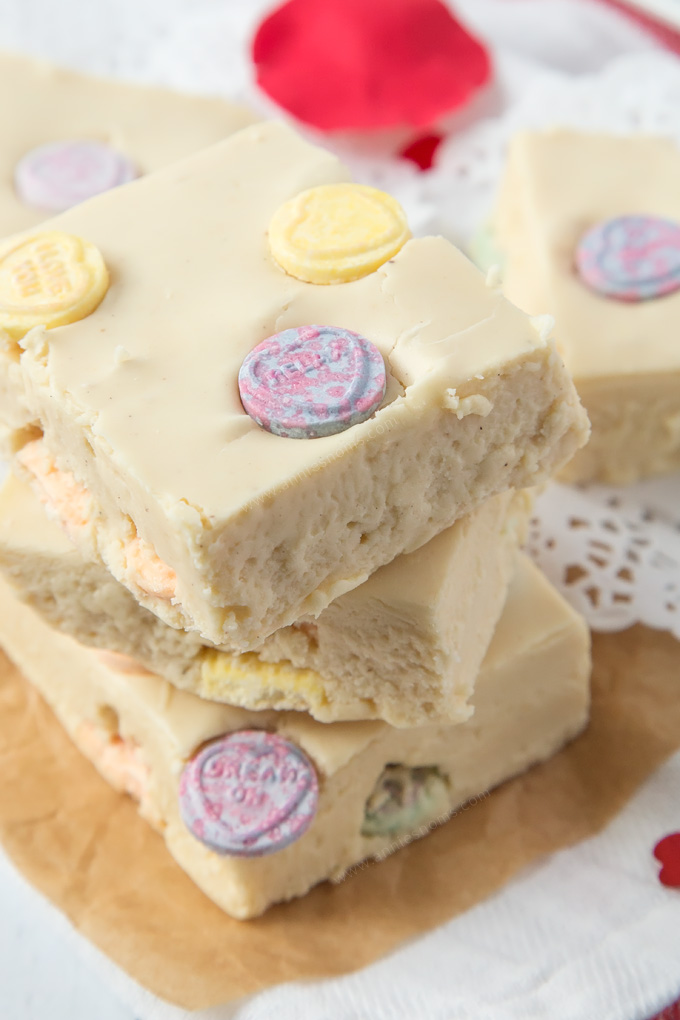 Fizz-tastic! Haha 😀
I don't know about you, but I find fudge addictive. It's like "OHMYGOSH, I need more right now!"
I constantly want to dip my finger in the mixture and then even when it's setting, I can't help picking at a corner. Gosh, it's bad.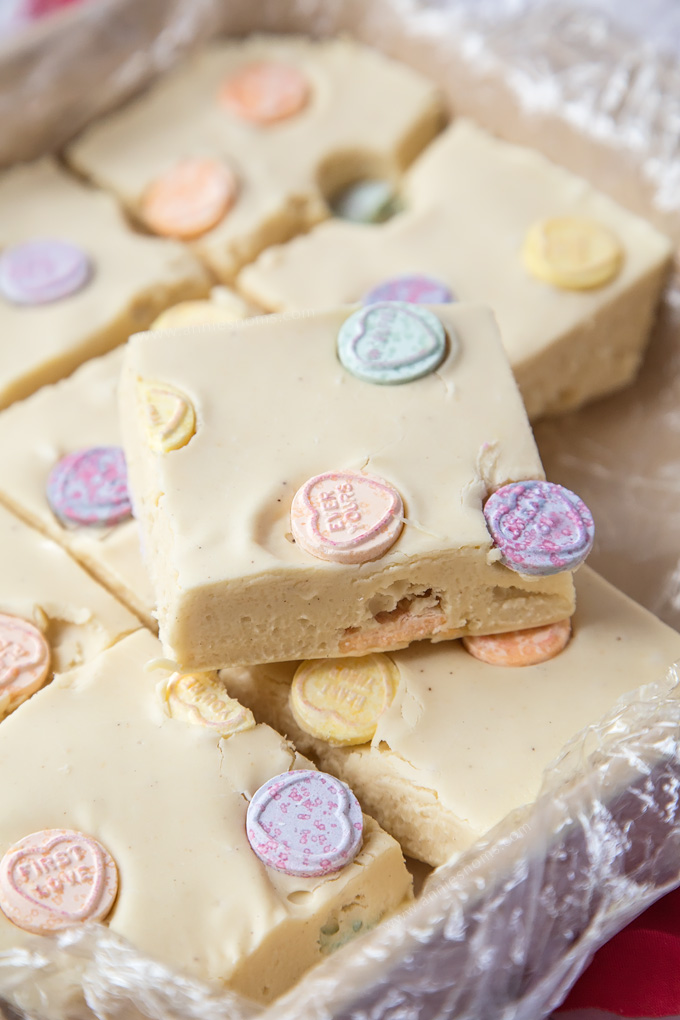 AND, this fudge is so easy to make, it's just amazing. No candy thermometer required!
I use condensed milk in my fudge recipe and Marshmallow fluff, so there's no added sugar as those two ingredients together make it plenty sweet enough.
Then there's 1/2 a stick of butter, some vanilla to ramp up that flavour, a pinch of salt and 12oz of good quality white chocolate.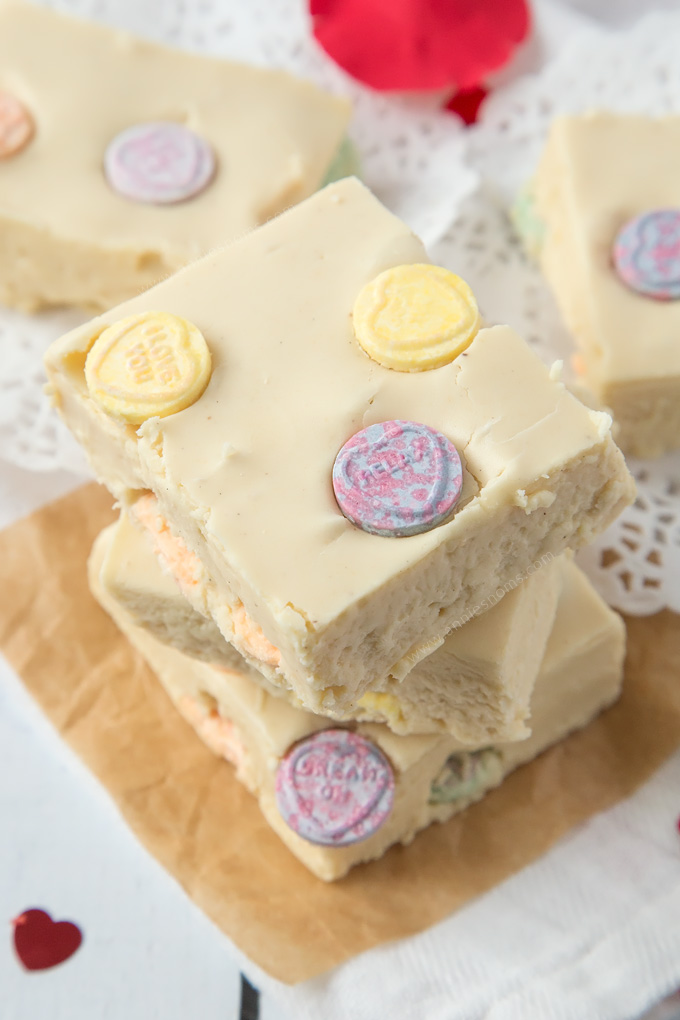 Boy, have I been through some serious amounts of white chocolate this week!
I'm a fairly organised person… I like to have plenty of ingredients in my cupboard, you know… just in case. You never know when you might need to make something! 😉
Well, this week I've gone from 10 bars of white chocolate to 2. Here's hoping G&B chocolate is on offer when I go shopping later, because I get antsy if I feel like I'm running out of something… :/
Anyway, I'm off to continue doing some wedding invite designing!! I really hope you enjoy this recipe, it's so unbelievably good. I had high hopes for it, but it exceeded all of them. Just awesome!

Love Heart Fudge
This Love Heart Fudge is velvety smooth, sweet, creamy and filled with lots of fizzy Love Heart sweets. A seriously cute and fun candy recipe for kids and adults alike!
Ingredients
One 14oz/397g can of Condensed milk

1/2

stick (56g) unsalted butter

One 7.5oz/213g jar of Marshmallow Fluff

12

oz

(340g) good quality white chocolate,

roughly broken up into pieces

1

tsp

vanilla extract

Pinch of salt

Four 1.3oz/39g tubes of Swizzels Giant Love Heart sweets
Instructions
Place a double layer of cling film into an 8x8 inch square pan and spray with cooking spray. Leave to one side.

Place condensed milk and butter into a medium sized saucepan, over a low heat.

Stir until the butter is melted and then add in the entire jar of Marshmallow Fluff. Stir until well combined and smooth.

Add in white chocolate, one handful at a time, stirring in between each addition and stir until the white chocolate has melted.

Once melted and smooth, add in vanilla extract and salt, then stir briefly to combine.

Place three tubes of sweets into a Ziploc bag and bash lightly with a rolling pin. Some bigger and smaller pieces are fine. You can also leave some sweets whole.

Tip Love Heart sweet rubble into your fudge mixture and stir until evenly dispersed.

Tip the fudge into your prepared pan and smooth over with a spatula/wooden spoon until you have a level, even layer.

Use the final tube of Love Heart sweets to top the fudge; randomly drop sweets onto the top and press lightly so they stick to the fudge.

Leave to cool for at least 30 minutes, before loosely covering in cling film and placing in the fridge to set completely, around 3-4 hours.

Once set, transfer the fudge to a cutting board and slice into small chunks. I find it easier to dip my knife into hot water, then dry it before making each cut into the fudge. It means the knife doesn't stick as much!

Fudge will keep in an airtight container, in the fridge for 5 days.


I link up at these great Link Parties!