This shop has been compensated by Collective Bias, Inc. and its advertiser. All opinions are mine alone. #FairtradeFortnight #CollectiveBias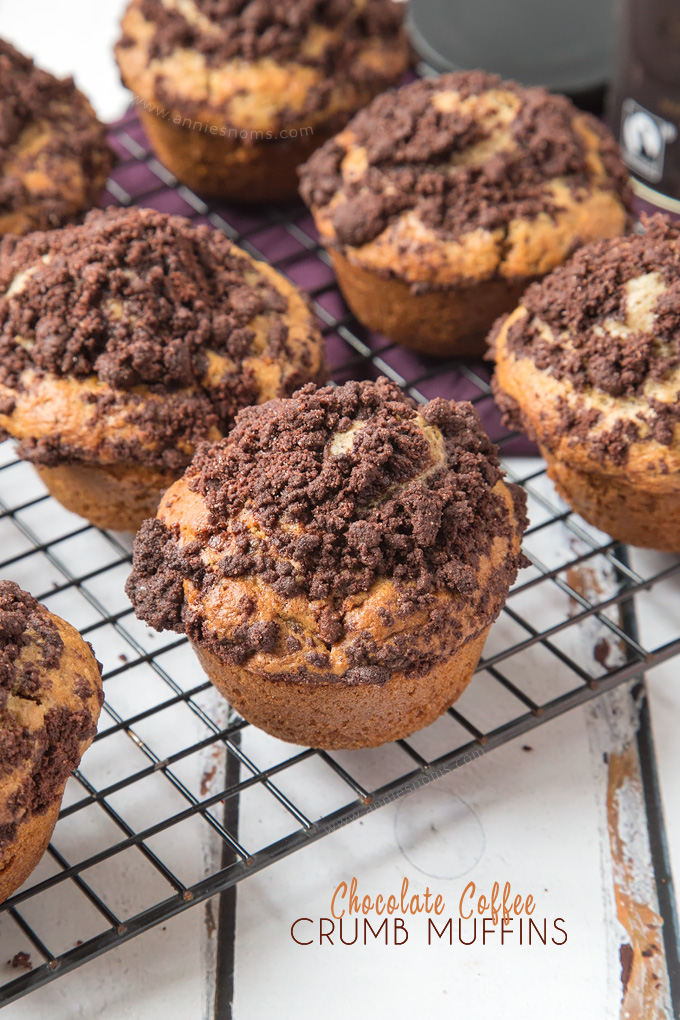 Happy Monday! I am so excited to be sharing the recipe for these Chocolate Coffee Crumb Muffins with you all today!
I'm also excited to be a part of Fairtrade Fortnight. If you don't know about buying Fairtrade, I'll give you a little background: We rely on farmers all over the world to grow products, so that we can just go to the store and buy them. However, farming is not always fair; many farmers are not paid a fair price for the work that they do and they struggle to put food on the table for their families. Sucks right?
Well, if you buy Fairtrade, you are guaranteeing those farmers are paid a fairer price for their work. I don't know why this isn't 100% widespread over the world because I believe everyone should get a fair day's money for a fair day's work, but that belief is not shared around the world, unfortunately. So today, I'm sharing these Chocolate Coffee Crumb Muffins, made with Fairtrade sugar, cocoa powder, coffee beans and chocolate.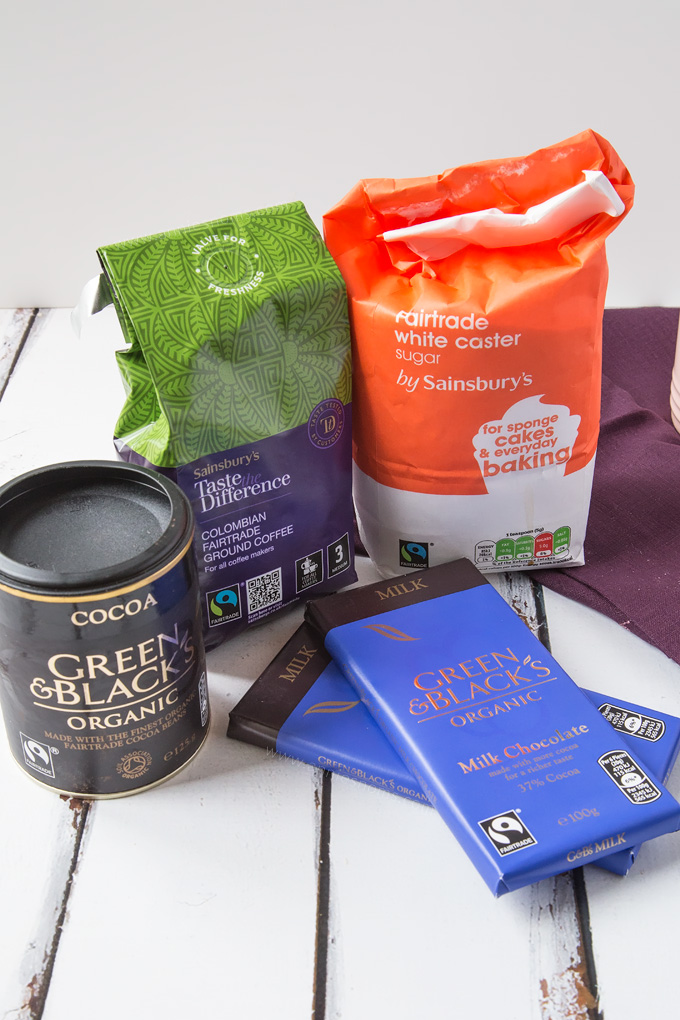 One day I hope we can buy a lot more Fairtrade products, but for now I've used as many Fairtrade products as I can in this chocolate coffee filled recipe! I headed to my local Sainsbury's to shop for today's ingredients. Sainsbury's have been a supporter of Fairtrade products for as long as I can remember and they are also the largest retailer of Fairtrade products in the world, so it seemed natural to head there to pick up some sugar, cocoa powder, coffee and chocolate bars.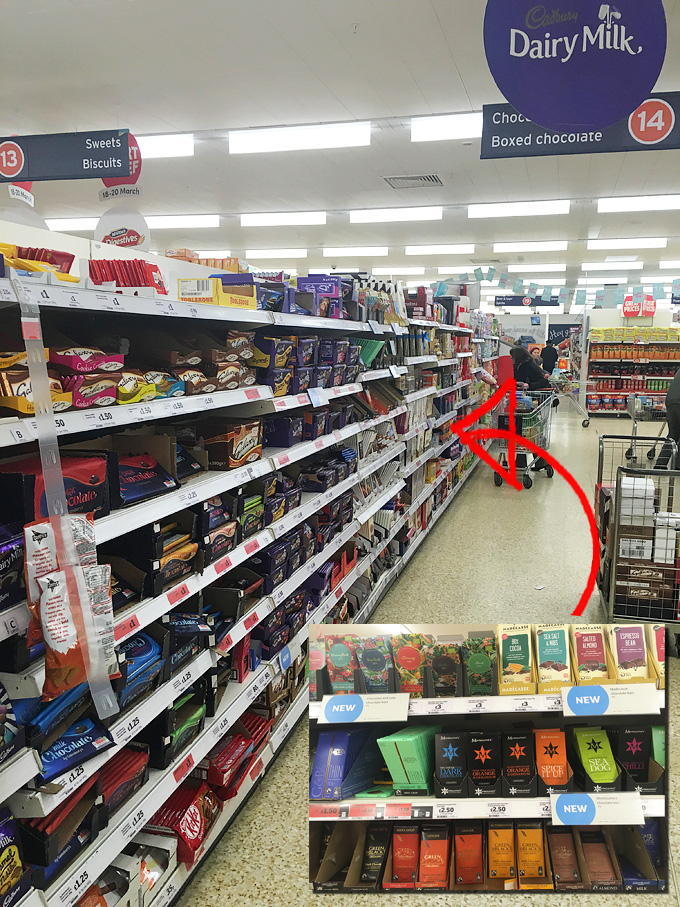 SO onto how amazing these muffins are…
Hearty muffins filled with chunks of oozing chocolate and peppered with flecks of Espresso powder, these are some muffins with a serious flavour kick!
Breakfast, dessert or a snack? You decide. I'm personally partial to a muffin with my afternoon coffee, but what I love about muffins is that because they don't have frosting, it's totally OK to eat them for breakfast… Even if they have chocolate in. 😉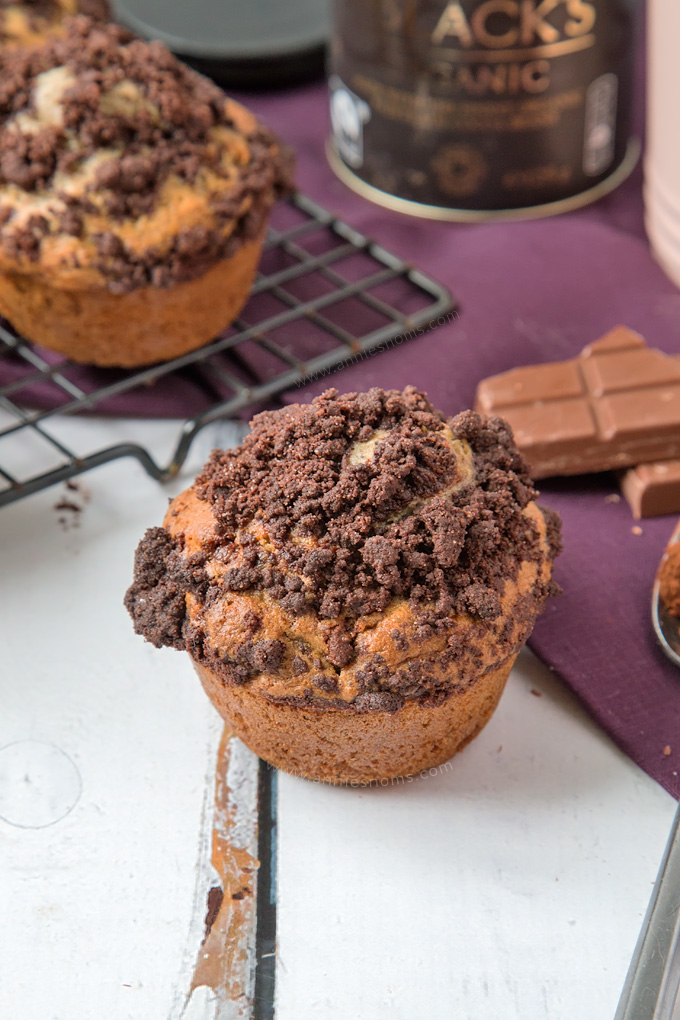 I toyed with brewing the coffee first and then adding it into the muffin batter, but I decided that I wanted a more intense coffee flavour and that the flecks of Espresso would be a gorgeous aesthetic addition the these muffins!
I then chopped the chocolate into chunks myself as I love to control the size of the chunks; the bigger the better in my book. Melted chocolate is one of the best things in life. I could honestly bathe in it. There's 6oz/170g of milk chocolate in this recipe and I found that to be the perfect amount to compliment the coffee flavour.
As usual with my muffin recipes, you don't need a hand mixer or stand mixer; just a bowl, jug and wooden spoon. In fact, the less you mix them, the better they will turn out. Nobody has time for rubbery muffins!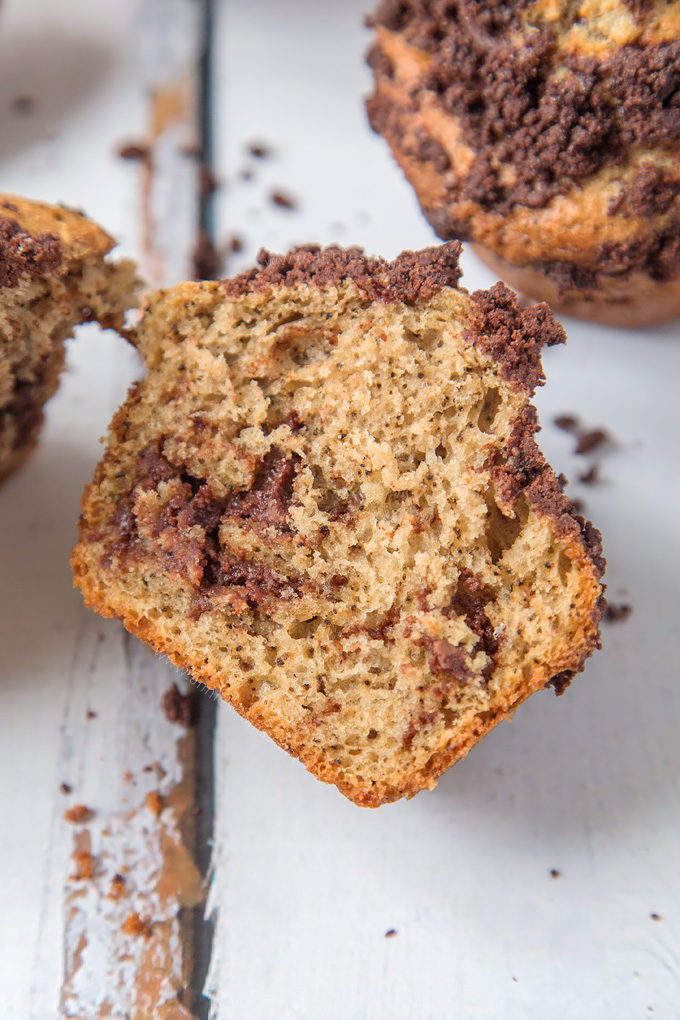 Now, let's move onto that crumb topping. Obviously an important component in a Chocolate Coffee Crumb Muffin! 😀
This time, I decided to make a crumb topping with cocoa powder. I wanted it to be the perfect contrast to the sweeter muffin, so there's not too much sugar in the topping. Normally I love to include oats in my crumb toppings, but I just wasn't feeling oats with this recipe. I didn't want there to be a fight between textures!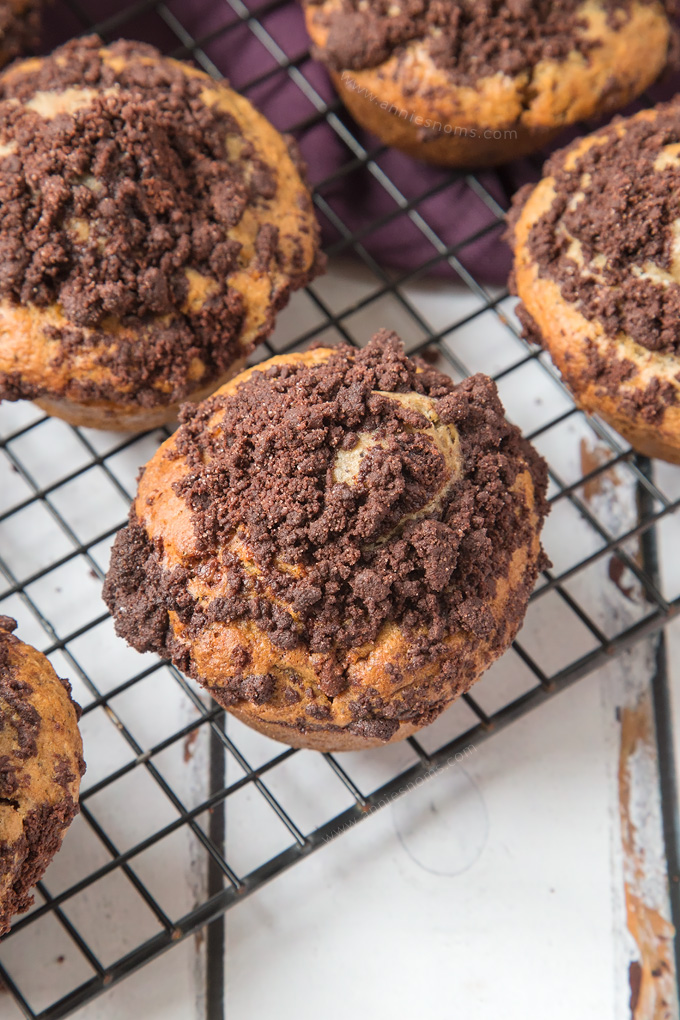 Now… I'm the first to admit, these won't win ANY beauty contests. But… stay with me because sometimes ugly food is the tastiest. Mac and cheese? A pain in my behind to photograph, but one of the best comfort foods there are.
Brownies? My photography nemesis. I know some amazing talented people can make them look SO good in photos, but I am not one of them. I just can't, but they still taste amazing, so I really think you should head out to get some Fairtrade ingredients and make these Chocolate Coffee Crumb Muffins!

Chocolate Coffee Crumb Muffins
Hearty Chocolate Coffee Crumb Muffins filled with oozing chocolate, flecks of Espresso and topped with a cocoa crumb; the perfect way to start your day!
Ingredients
For the crumb topping:

1/2

stick (56g) unsalted butter,

left at room temperature for 10-15 mins

1/4

cup

(50g) Fairtrade caster sugar

1/2

cup

(70g) plain flour

3

tbsp

Fairtrade cocoa powder,

I used Green and Blacks

For the muffins:

6

oz

(170g) Fairtrade milk chocolate,

chopped roughly into chunks

2 1/2

cups

(350g) plain flour

2 1/2

tsp

baking powder

1/2

tsp

bicarbonate of soda/baking soda

Pinch of salt

1

cup

(200g) Fairtrade caster sugar

1

tbsp

freshly ground coffee

1/2

stick (56g) unsalted butter,

melted and slightly cooled

1/2

tsp

vanilla extract

2

large eggs

1

cup

(240ml) milk
Instructions
Preheat the oven to 190C/375F and spray a 12 hole muffin tin with cooking spray.

Make the crumb topping first: Place butter, sugar, flour and cocoa powder into a medium sized bowl and rub together with your fingers until you have a coarse bread crumb texture. Some larger and some smaller lumps of butter are great! Leave to one side.

Place chocolate chunks, flour, baking powder, bicarb, salt, sugar and ground coffee into a large bowl and stir until all of the chocolate is coated in flour.

Place cooled melted butter, vanilla, eggs and milk into a jug and lightly beat until there are no lumps of egg yolk.

Pour the milk mixture into your flour mixture and then gently stir until there are no lumps of flour visible. Don't beat otherwise you'll end up with rubbery muffins.

Divide the mixture between your muffin holes, filling each one level. I use a heaping 2tbsp cookie scoop to fill each one.

Sprinkle 1tbsp of the crumb topping onto each muffin and lightly press into the top with the back of a spoon or your hand.

Place in the oven for 15-20 minutes until risen and an inserted skewer into the centre comes out clean.

Leave to cool in the pan for at least 15 minutes before transferring to a wire rack to cool completely.

Once cool, Chocolate Coffee Crumb Muffins will keep in an airtight container, at room temperature, for 4 days.


I link up at these great Link Parties!