Soft and chewy chocolate chip cookies stuffed with a mini Cadbury Creme Egg. The perfect, easy Easter bake!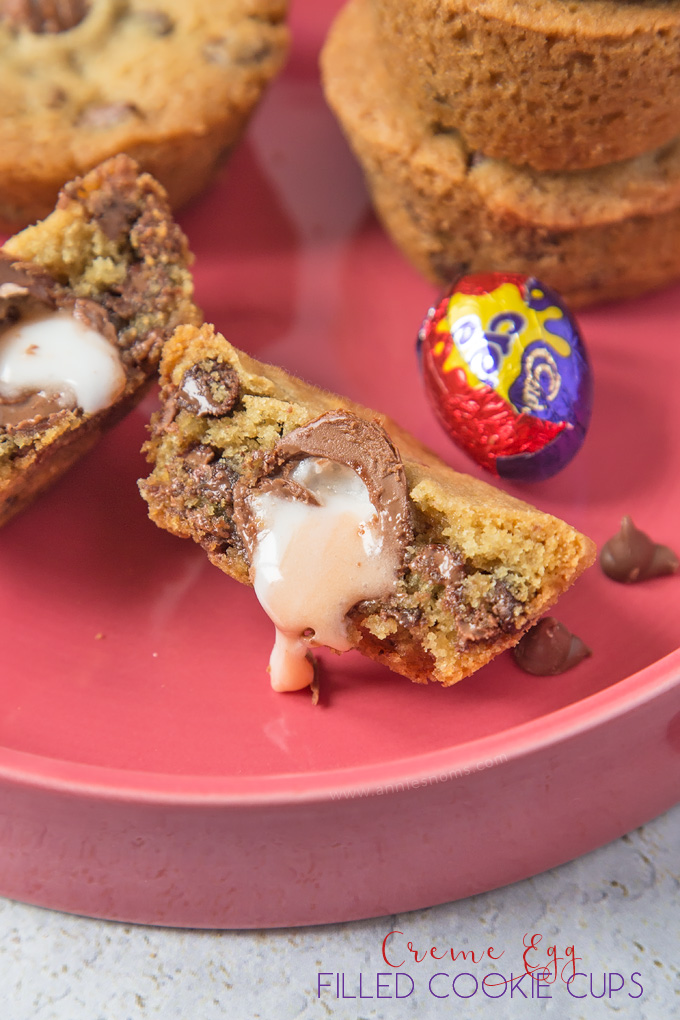 Well, hello strangers!
Boy, have I had a rough few weeks. I'm still not 100% better, but I'm now able to actually stand long enough to bake and shoot, so it's high time I got back in the kitchen and shared these Creme Egg Filled Cookie Cups with you!
I've heard that ear infections are most common if you've had a cold or have been swimming. I hadn't had a cold and I haven't been swimming in years, so I have no clue where mine came from. I'm also super careful about drying my ears after a shower/bath. Honestly, it hit out of nowhere and completely floored me.
I have never felt pain like it and I have chronic condition which means I'm in pain every day. THIS WAS SOMETHING ELSE!
Oh my goodness. I wanted to rip my ear off. It was a really horrendous infection. I'm almost into week 4 of having it now and it took the antibiotics 4 days to even get anywhere near my ear. It's never good when the Doctor takes a look for 0.5 seconds and says "Yes, there's a HUGE lump in there, you need antibiotics right now!"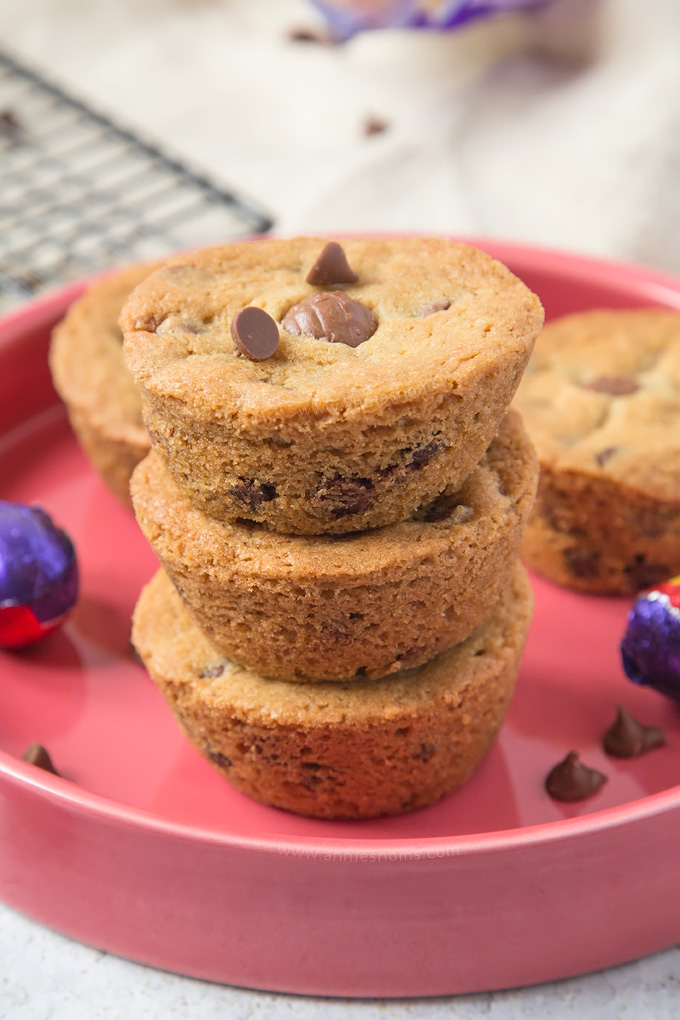 Although my face didn't look swollen, I could feel a lot of swelling in my head/ear canal/glands and it was painful to move my head. I spent over a week having to sleep sitting up, as if I tried to lie down the fluid moved and it was excruciating. 🙁
And then my ear drum burst….. I'll leave it at that, you don't need to know the grim bits. The Dr said I should feel relief of pressure when it burst, but I didn't. At one point I was honestly convinced my head was going to explode!!!
By the middle of week 2 the infection felt like it was actually in my ear, rather than my whole face, but it meant my ear drum was very inflamed and sore.
Now we're almost at week 4 and the pressure is gone, it's stopped itching quite so much and there's no lumps or swelling in my ear that I can feel. My ear drum is still really painful though and my ear drops have stopped going into my ear… like they just sit there in my ear whereas before I could feel them going into my ear. Not sure if that is a good thing or not… I have another appointment with my Doctor though, so I might ask.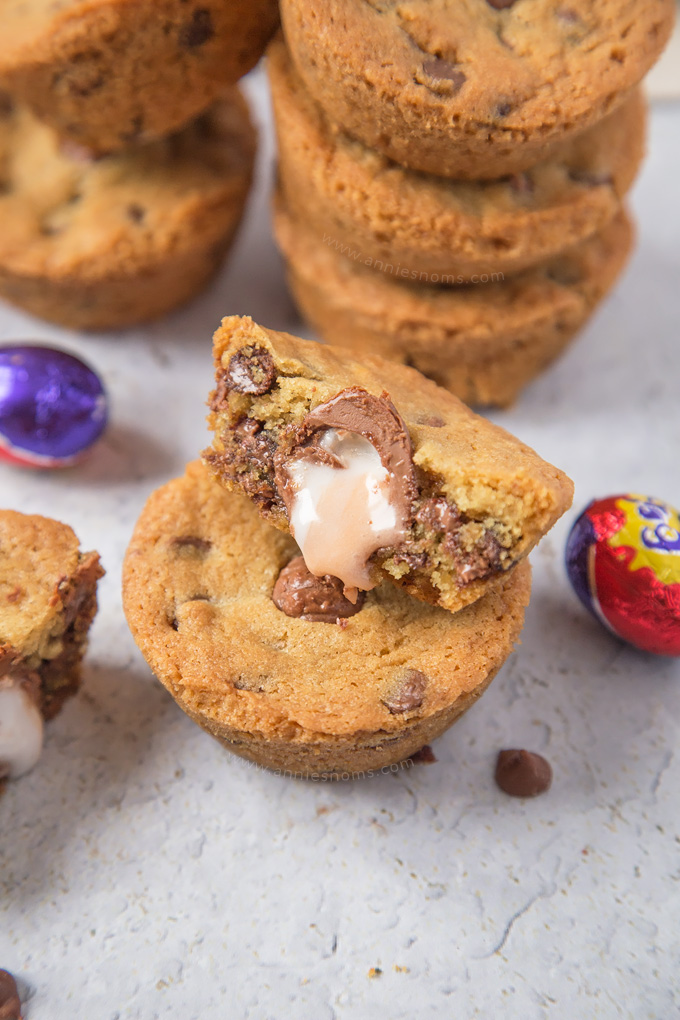 Anyway… onto Easter baking!
Easter is one of my favourite times of year because chocolate… and also it means my birthday is soon!
Off topic for a second: have you tried the new Galaxy Golden Eggs? They are these little gold dusted chocolate eggs with little pieces of honeycomb in and I am obsessed. So delicious!
I need to incorporate them into a recipe next week!
For these cookie cups though, I went up the traditional route and used my old favourite: the Cadbury Creme Egg. 🙂
Although I'm annoyed Cadbury's have changed the chocolate of the outer shell, I still can't say no to a Creme Egg. There's just something about that smooth outer and gooey, sweet centre that gets me every damn time.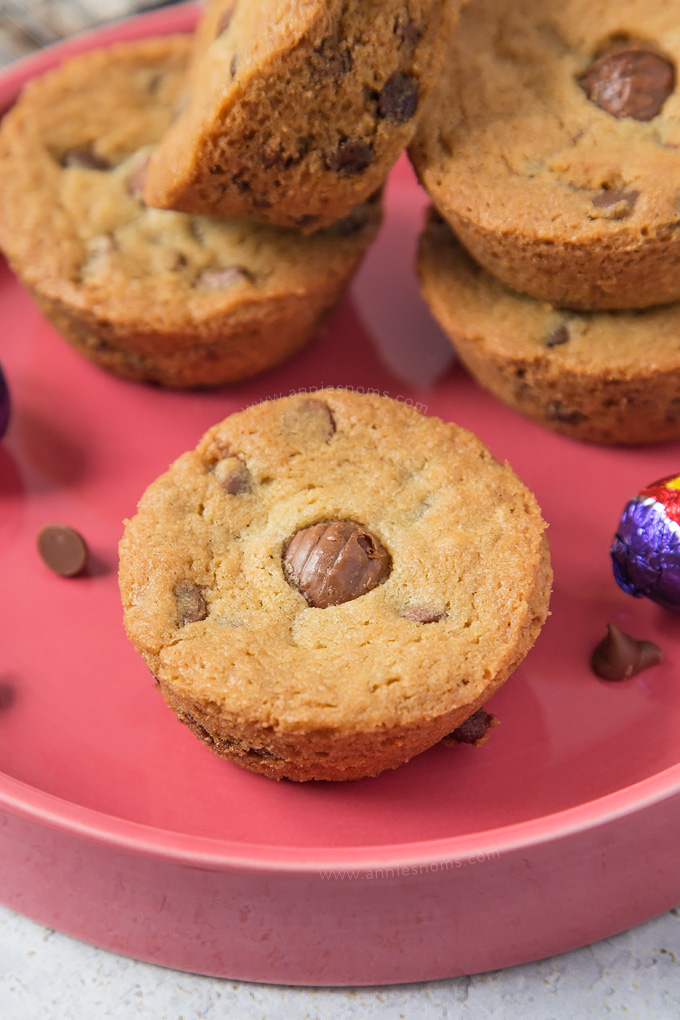 How do you eat yours? Are you a splitter? Do you take the top off and get the filling out or bite into it and eat it all together? I usually bite the top off and then split it in half because for me to pick just one way would obviously be way too simple… 😉
Anyway, I used my faithful chocolate chip cookie recipe, patted it into a muffin tin and then pressed a mini Creme Egg into the centre of each cookie cup before baking until they were risen, slightly golden and still soft and gooey in the centre.
One of these straight out of the oven? Oh my goodness. So good, it should be illegal! Whilst I did manage to burn my tongue on molten Creme Egg filling, it was worth it,  because the chewy cookie coupled with melty chocolate chips and an oozing Creme Egg centre = too much to resist.
So, if you're a cookie monster and a Creme Egg lover, then you are bound to love these easy, scrumptious Cookie cups!

Creme Egg Filled Cookie Cups
Soft and chewy chocolate chip cookies stuffed with a mini Cadbury Creme Egg. The perfect, easy Easter bake!
Ingredients
1 1/2

cups

(210g) plain flour

2

tsp

cornflour

1

tsp

bicarbonate of soda/baking soda

Pinch of salt

1

cup

(175g) milk chocolate chips

1 1/4

sticks (140g) unsalted butter,

at room temperature

1/2

cup

(100g) light brown sugar

1/4

cup

(50g) caster sugar

1

large egg

1/2

tsp

vanilla extract

12

mini Cadbury Creme Eggs
Instructions
Preheat the oven to 180C/350F and spray a 12 hole muffin tin with cooking spray.

Place flour,s, bicarb, salt and chocolate chips into a medium sized bowl and stir until all the chocolate is coated in the flour. Leave to one side.

Place butter and sugars into a large bowl, or the bowl of your stand mixer and beat until light and fluffy, 2-3 minutes on medium-high speed.

Add in the egg and vanilla, scraping down the sides as necessary and mix on medium speed until well incorporated.

Tip in the flour mixture and mix on low-medium speed until a soft dough forms.

Place 2tbsp of dough into each prepared muffin hole and press down into the pan to create an even layer. Each hole should be about half full.

Press a mini Creme Egg into the centre of each cookie cup, pressing down to cover the first 1/4 of the egg.

Place in the oven for 12-14 minutes, until risen, lightly golden and still soft in the centre. The top will look matte in the light of the oven.

Leave to cool in the pan for 10-15 minutes and then transfer to a wire rack to cool completely.

Once cool, Creme Egg Filled Cookie Cups will keep in an airtight container, at room temperature, for 5 days.

You can serve them at warm temperature, or microwave them for 20 seconds before serving to make that centre ultra gooey!


I link up at these great Link Parties!