Annie's Noms is celebrating its 4th Birthday today! Make sure to enter my giveaway where you could win my favourite tools for cupcake making!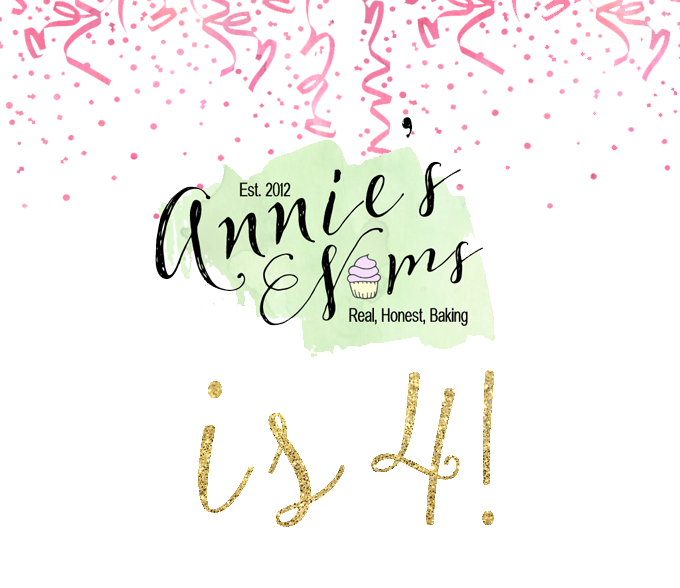 This giveaway is now CLOSED. Thanks so much to all who entered! The winner is Janice Mackin!
Well, hello there!
It's a special day over here at Annie's Noms HQ. We're celebrating Annie's Noms 4th birthday!
Can you believe?! 4 YEARS! It has flown by and I can't believe how much of a journey this whole blogging thing has been.
From hitting "publish" on that first post to where I am now… It's been one heck of a roller coaster! I've managed to get a degree, learn how to cook/bake (from not being able to do a single thing in the kitchen!), learnt to run a house, gone from a complete photography novice to being confident in RAW and full manual photography… The list goes on.
Anyway… to celebrate, I'm running a giveaway!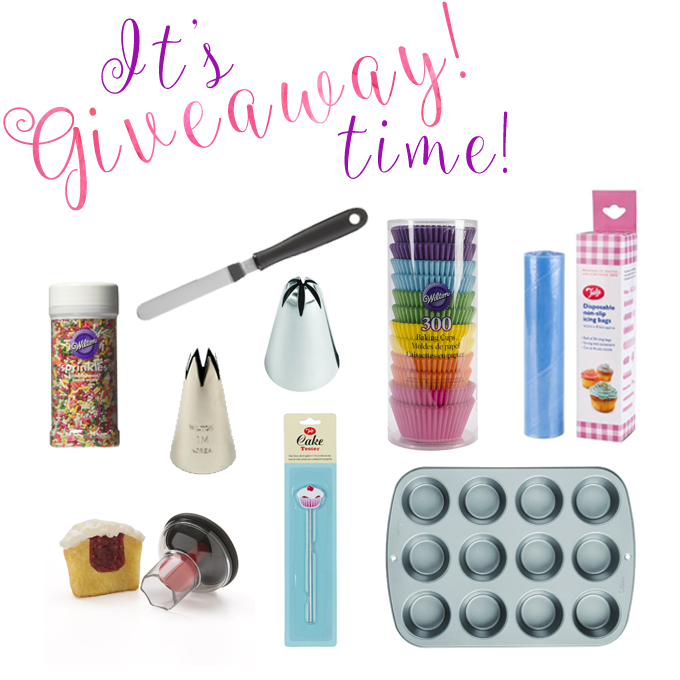 Disclaimer: This giveaway is not sponsored by anyone, I've purchased the items myself and they are honestly some of my favourite things to use in the kitchen!
SO… what's up for grabs?!
After a long think about all the things I love to make; I decided that I still have a soft spot for cupcakes. I don't know if it's because they are the perfect individual sized portion… or the fact you can sprinkle tons of pretty sugar on the top.. or maybe the endless fillings and flavour combinations you can make, but I just love them.
So, I'm giving away a set of my favourite tools to create said cupcakes, including: a cupcake tray, liners, icing bags, nozzles, sprinkles and a cupcake corer!
Without further ado, here's how to enter:
Leave a comment telling me what kind of cupcakes you would make if you won the giveaway.

Go through and like/follow Annie's Noms on the social media platforms listed below in the Rafflecopter widget.
That's it! I really hope you'll enter this giveaway and I want to thank each and every one of you for making the last 4 years so awesome! Here's to the next 4!
Terms and Conditions:
This giveaway is open to UK and US based residents. Please be aware, I am in the UK; if a US based resident wins, a couple of the items in the giveaway may differ (the brand not the item) as certain brands are not available in the US and vice versa. I have been onto Amazon UK and Amazon US and tried my hardest to select items that are available in both countries!!

This giveaway will run from 1pm (BST) on 29th March 2016 to 1pm (BST) on 5th April 2016.

Only one entry per person.

Winner will be notified via email.

All entries via social media will be verified.

No alternative prizes will be given.

Winner will be required to provide their address in order for me to send you your prize.

Winner will be randomly generated on 6th April 2015 and notified within 48 hours of that date.
a Rafflecopter giveaway




I link up at these great Link Parties!