These baked Lemon Poppy Seed Doughnuts are light, crunchy and filled with lemony goodness! An easy, super tasty Spring bake everyone will love!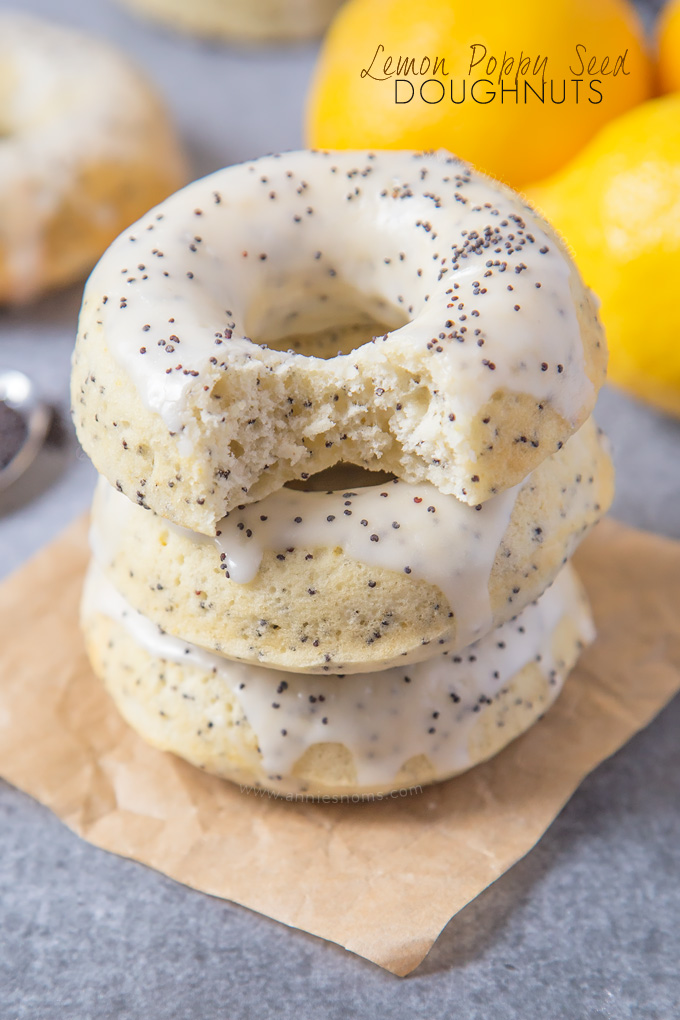 Happy Tuesday! I am officially back with these gorgeous Lemon Poppy Seed Doughnuts!
Back from being ill… back from holiday…. Man it's been a crazy month or so.
I really do apologise for the lack of posting. I wasn't planning on being ill for almost a month and then Mr AN had two weeks off (planned since Christmas) and since we both work full time, we were looking forward to actually spending some time together.
That's all over now. My ear is finally better… I mean every few days I get a random twinge of sharp pain, but the swelling/pressure/constant pain has gone and I am SO glad!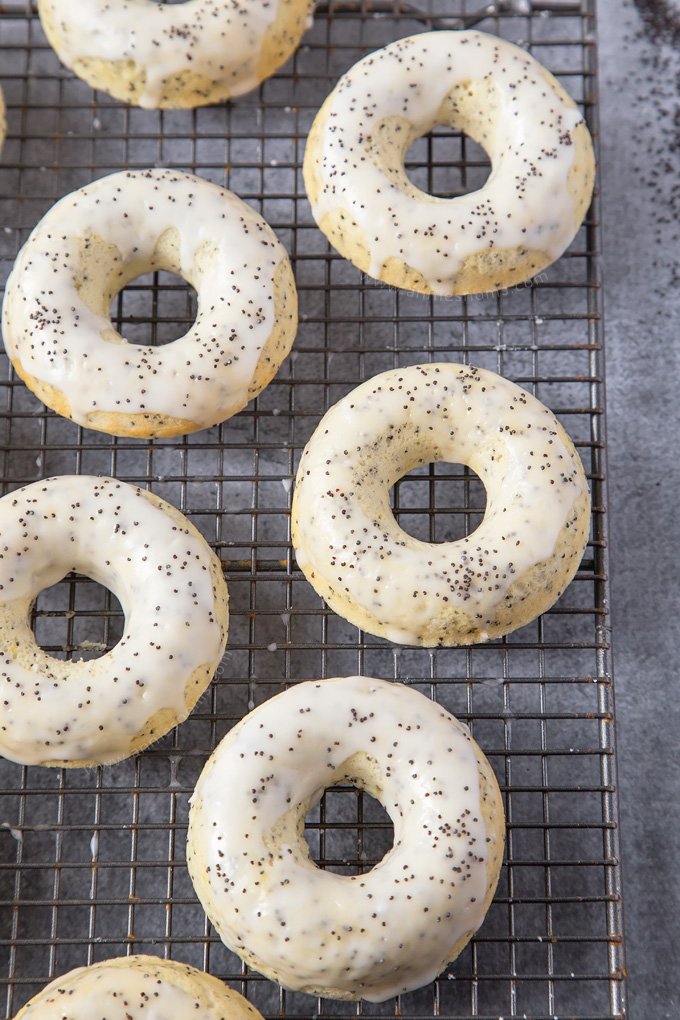 Apparently it's not normal that my ear is numb and my hearing still isn't 100%, so there could be something going on behind my ear drum… knowing my luck there will be, but for now, I can function. And bake. And take pictures. So we're all set to get baking for Spring! 😀
I tell you, this past month has been testing. Sheeeeesh. Nobody can believe that I was healthy… Well as healthy as I'll ever be with my other issues… and then WHAM this infection hit out of nowhere. No swimming, no long baths where I soaked my head… No cold. Nothing. I just woke up one day and had this insane pressure and pain in my ear.
I joked to Mr AN that it was the ear infection from hell and I really don't think I'm far wrong. All health professionals I've seen have been surprised how severe it was and how long it lasted. My Mum remembers me having one infection as a kid, but I don't think it lasted a month!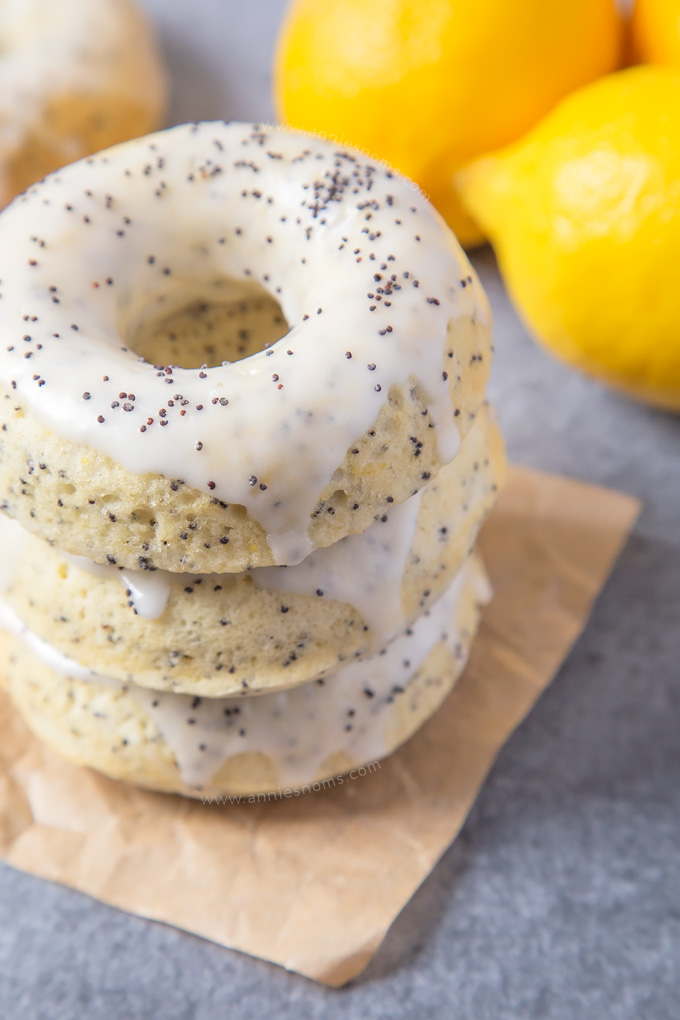 Anyway. DOUGHNUTS.
I had the most serious craving for doughnuts the other day. For once in my life, it wasn't a craving for a jam filled or chocolate covered one. No… I wanted fresh, citrus filled doughnuts.
Enter these Lemon Poppy Seed Doughnuts. They're are light, tender, slightly crunchy and filled with fresh lemon zest and juice. Divine.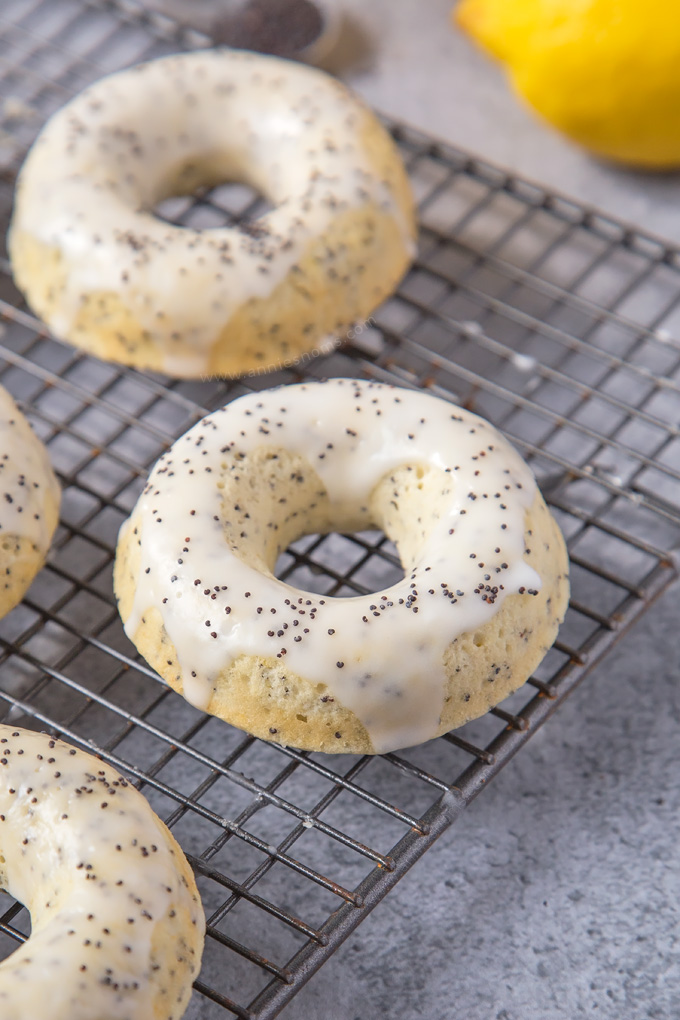 You also don't need any fancy equipment to make these. Two bowls, a whisk, a spatula and a piping bag/Ziploc bag to pipe the dough into a doughnut pan. The doughnut pan is probably the most fancy piece of equipment you need. 😉
Since these are baked and not fried it means you have no need to feel guilty when you sink your teeth into one…. or three.
You're welcome! 😉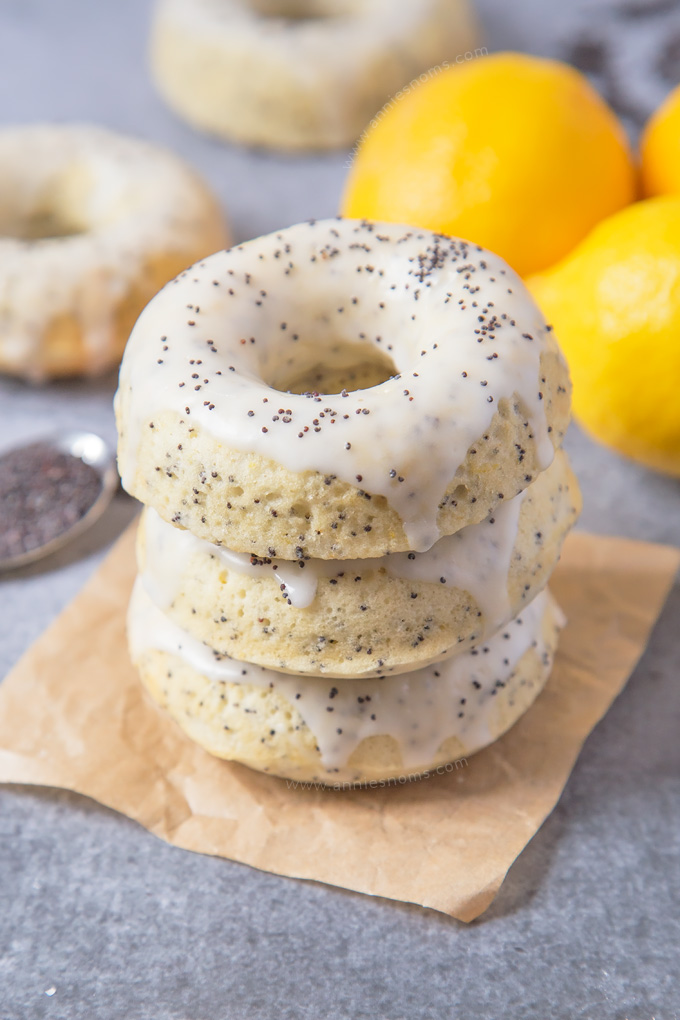 I enjoyed one of these doughnuts with my afternoon coffee and it was the snack that dreams are made of.
The poppy seeds add that perfect little bit of crunch to contrast the soft doughnut dough and the zest and juice of a large lemon really mean these pack a punch flavour wise. I've totally fallen in love with the whole "lemon poppy seed" combination recently. I had never tried it until I made these Lemon Poppy Seed Scones.
Now? I totally get the fuss. It's one seriously AMAZING combination.
So, as a huge sorry for not posting anything for ages, I come bearing Lemon Poppy Seed Doughnuts for you… I really hope you enjoy them!

Lemon Poppy Seed Doughnuts
These baked Lemon Poppy Seed Doughnuts are light, crunchy and filled with lemony goodness! An easy, super tasty Spring bake everyone will love!
Ingredients
For the doughnuts:

2 1/4

cups

(315g) plain flour

2

tsp

baking powder

Pinch of salt

Zest of 1 large lemon

2

tbsp

poppy seeds

1/2

cup

(100g) caster sugar

1

large egg

1/4

tsp

vanilla extract

1

tbsp

freshly squeezed lemon juice

1

tbsp

butter,

melted and slightly cooled

3/4

cup

(180ml) milk

For the glaze:

1 1/2

cups

(180g) icing sugar,

sifted

3

tbsp

lemon juice

Extra poppy seeds for garnish,

optional
Instructions
Preheat the oven to 180C/350F and spray one or two doughnut pans with cooking spray. I used Wilton Bake Easy. (I also used two 6 hole Wilton doughnut pans)

Place flour, baking powder, salt, lemon zest and poppy seeds into a medium sized bowl and whisk briefly to combine. Leave to one side.

Place sugar, egg, vanilla extract and lemon juice into a large bowl and whisk until smooth and well combined. Add in the melted butter and whisk to combine.

Add in 1/3 of the flour mix and 1/3 of the milk into the egg mixture and use a spatula to mix until all the flour is combined. Repeat a further 2 times until all of the flour and milk is combined with the egg mixture.

Transfer the mixture to a piping bag fitted with a 1/2 inch plain nozzle and then pipe one even layer into each doughnut hole. You may want to dampen a finger and press down the bit where the two ends of piping join, to create a smooth doughnut seal.

Place in the oven for 8-10 minutes, until risen and inserted skewer into the centre comes out clean. You don't want them to be golden, they will be pale yellow.

Tip the doughnuts out onto a wire rack to cool completely.

*Note: If you only have one doughnut pan, cook the first 6, tip them out, rinse the pan under cold water, then spray again with cooking spray and pipe the remaining batter into the pan. Bake as before.

Once the doughnuts are cool, place some kitchen towel under your cooling rack and make the glaze: Place the icing sugar into a medium sized bowl and add lemon juice 1/2tbsp at a time, mixing in between each addition until you have a thick mixture; you do still want it to fall off of a spoon, but be thick enough to cling to the doughnuts.

Either spoon the glaze over each doughnut, or dunk one side of the doughnut into the mixture. Return to the wire rack and then sprinkle each doughnut with a few extra poppy seeds, if desired.

Lemon Poppy Seed Doughnuts will keep in an airtight container, at room temperature, for 4 days.


I link up at these great Link Parties!