These two Ingredient Raspberry and White Chocolate Cups are ridiculously easy to make and delicious. The best part? They're no bake!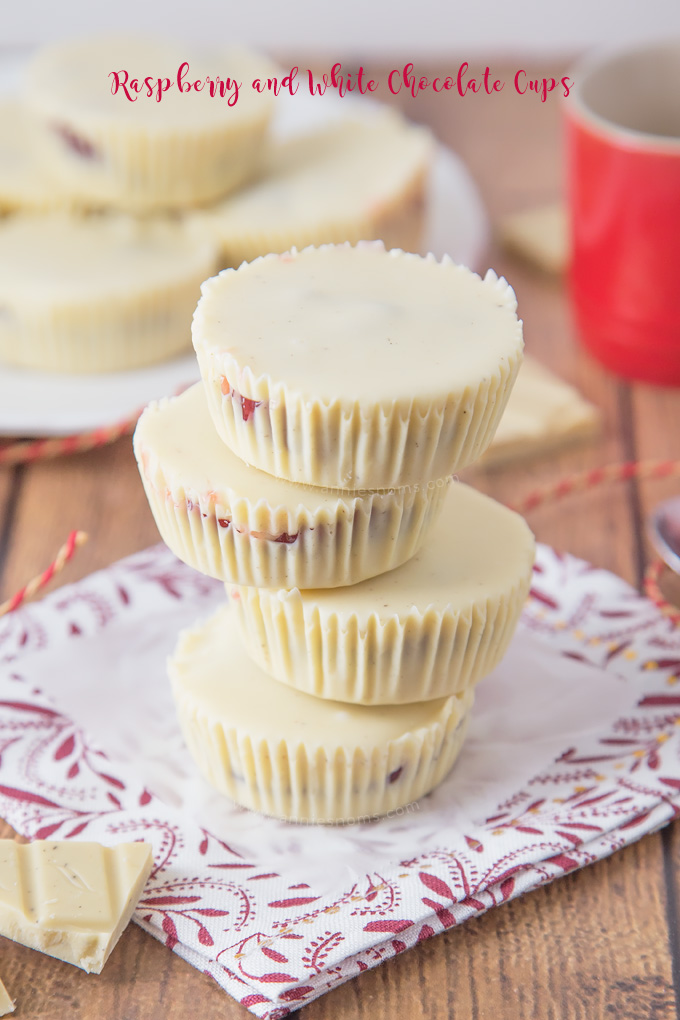 Hi friends! How is your week going? I have the easiest ever, but most ridiculously tasty recipe for you today; Raspberry and White Chocolate Cups, but first…
I have something I need to get off my chest… I've been thinking about whether or not to share this for a while now and have decided it's time…
I fell out of love with blogging recently. Yes I was ill and then Mr AN had time off work, which was lovely, but long before that and all the way through it, I was struggling.
It wasn't the blogging itself, but some things happened which made me feel like it wasn't worth me putting so much effort into developing recipes and sharing them with you. I lost my enthusiasm for getting in the kitchen and baking. I lost my creative spark that made me want to style up food. I was so down and disheartened by it, I physically couldn't write any new recipes. I was all out of ideas because my head was not in the right place.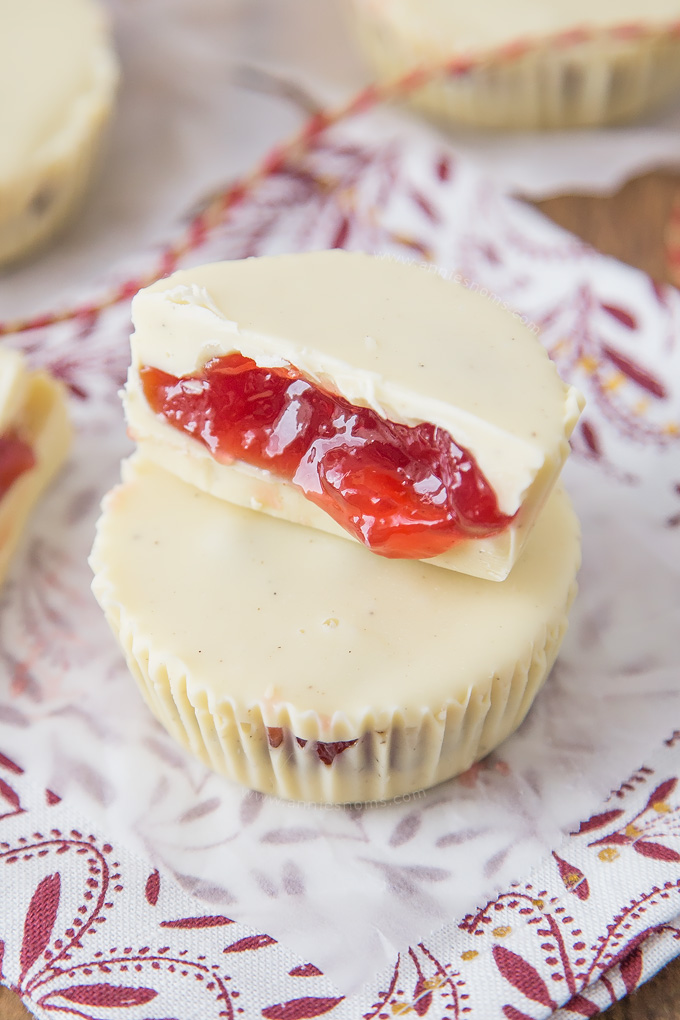 I'm not going to go into too many details; I'll just leave it at: There were some times where somebody was being unethical with how you are supposed to adapt/share other people's recipes and it really got to me. I didn't want to share anything, as it was just going to be stolen and rehashed in less than a week.
I know, I know… I guess you could say that all food blogger's open themselves up to this by sharing anything; of course I love it when people make my recipes, adapt them. But most people link back, that's what you do. This was so blatant and infuriating… I got so annoyed, but there was nothing I could do because they weren't literally copying and pasting my recipes; they were copying my exact style of shots and just changing the amount of one or two ingredients… then saying it was theirs.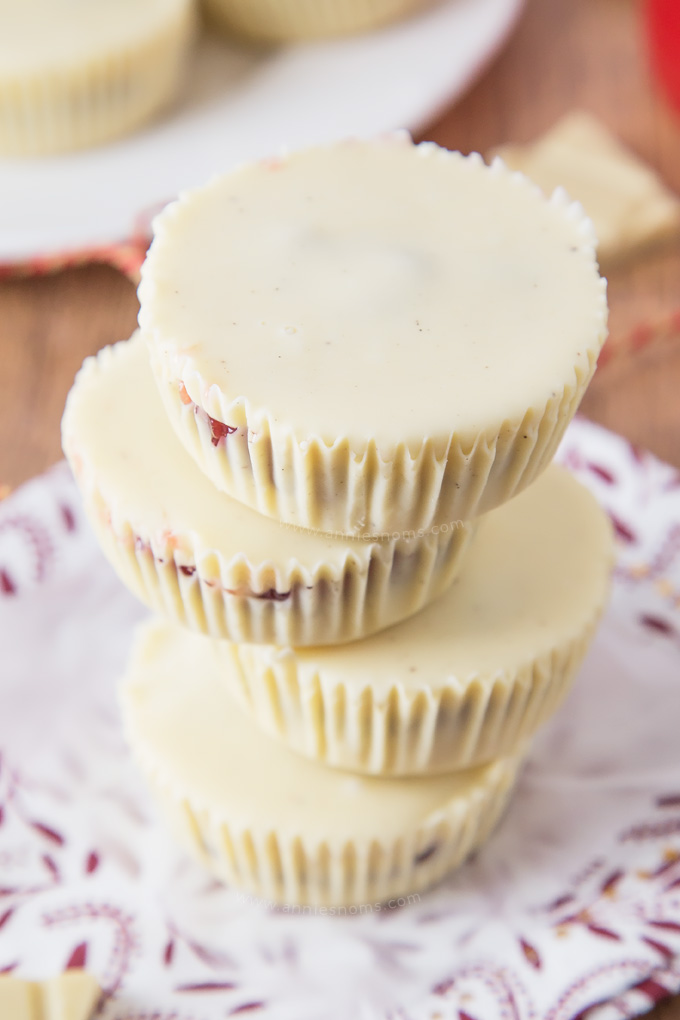 Anyway. For the first time in a long time, I'm excited to be back in the kitchen. I've just decided that I'm going to be the absolute best I can be and say a massive FU to thieves.
I sat down the other day and had loads of ideas for what I'm going to make in the next few weeks and I actually feel excited again. It feels so good! I feel more like the old me!
I'm just hoping the blogging community comes through and starts seeing people for what they are. I can't stand completely unoriginal people who just copy others. Like, for me, part of the fun is styling my bakes and taking the photos… to just look at someone's photos and then copy it exactly is so boring. Really, I should be feeling sorry for these people because they obviously lack creative skills.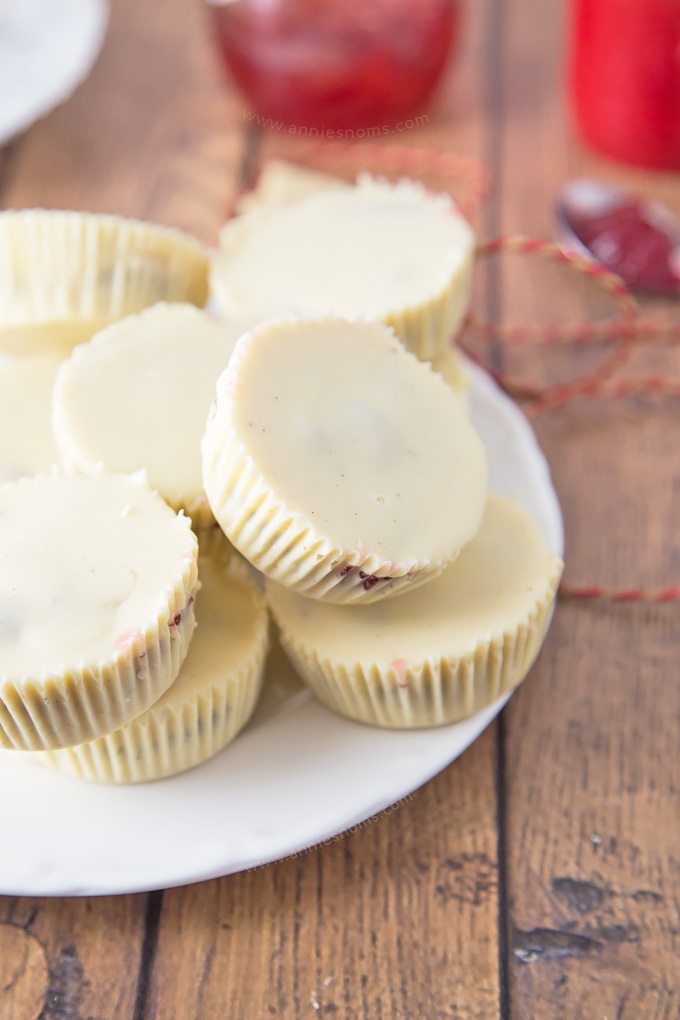 Anyway, let's talk sweet raspberry jam, encompassed by creamy, dreamy white chocolate.
Obviously, everyone has heard of Reese's Peanut Butter Cups, but since I'm allergic to nuts, I can't have them. I see so many recipe including Reese's… or just people enjoying them and I love the idea of a filled chocolate cup, so I suddenly thought: "Why not make my own version?"
I started thinking about possible flavour combinations and raspberry and white chocolate just screamed at me! It's one of the best combinations ever. White chocolate is full of vanilla, creamy, smooth… and raspberries are sweet, yet slightly tart. They have a delicate flavour, not as sweet as strawberries, but it just marries together with white chocolate SO well!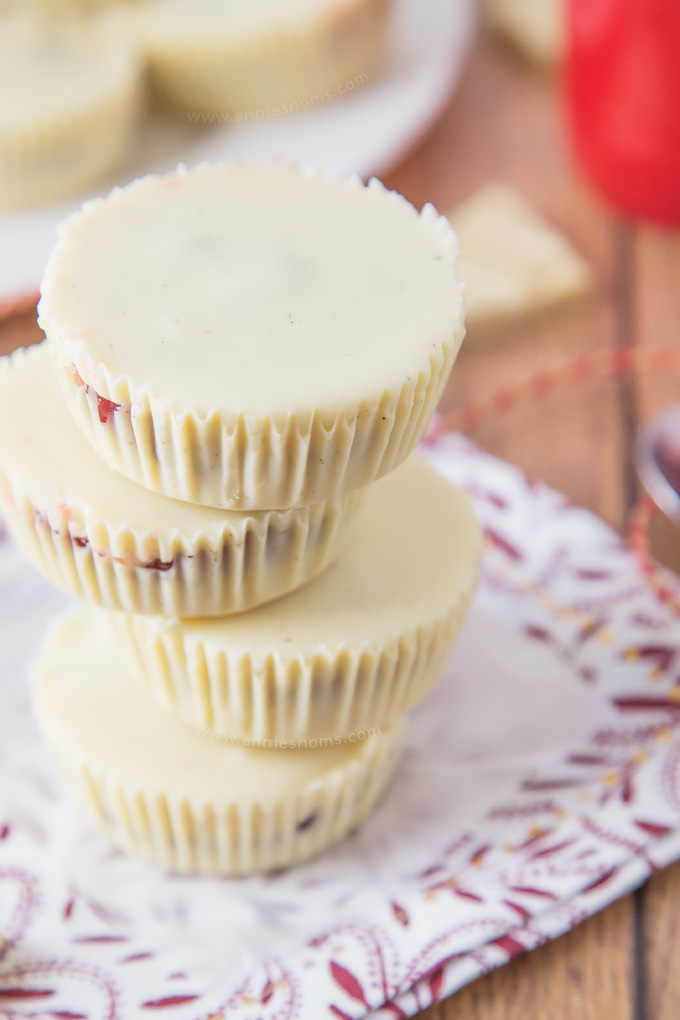 Oh my gosh, these are good. And so easy to make! You need 1lb of chocolate and almost a whole 12oz jar of raspberry jam. Any recipe that starts with that much chocolate is good, right?
To begin, line a cupcake tin with 10 liners, then melt 8oz of the white chocolate. Spoon 1tbsp into each cupcake case ensuring the base is covered. The next step is to get a small spoon and bring the chocolate up the sides of the case slightly; you still want the base covered, but you want to see some chocolate up the sides (This will ensure your jam is encompassed properly!)
Pop them back in the fridge for 20 minutes, then add 1tbsp  of jam into the centre of each cup. Put them back in the fridge for 15 minutes, then melt the remaining chocolate, spoon 1tbsp of chocolate over each raspberry and white chocolate cup, then smooth to make sure the raspberry jam is covered. Place in the fridge for 1-2 hours and there you go!
Totally more-ish, creamy, tart, sweet… OMG. Even Mr AN loved them and he often thinks white chocolate is too sweet… so, RESULT!

Raspberry and White Chocolate Cups
These two Ingredient Raspberry and White Chocolate Cups are ridiculously easy to make and delicious. The best part? They're no bake!
Ingredients
1

lb

(450g) good quality white chocolate;

I used Green and Blacks

10

oz

(285g) raspberry jam

(seedless or not whichever you prefer!)
Instructions
Line a cupcake tray with 10 cupcake cases.

Place 8oz/225g of the white chocolate into a heat proof bowl and microwave in 20 second increments, stirring in between, until the chocolate is melted. Alternatively, you can place the bowl on top of a saucepan of simmering water and stir until melted.

Spoon 1tbsp of melted chocolate into the bottom of each cupcake case and then use a small spoon to spread the chocolate out and bring it an inch or so up the side of the cupcake liner. Make sure the base is still covered!

Place in the fridge for 15-20 minutes until chocolate feels quite firm on top. Spoon 1tbsp of jam into the centre of each cupcake liner and then smooth into an even layer with a small spoon.

Place back in the fridge for 15 minutes.

Once the jam layer is chilled, place the remaining chocolate into a heatproof bowl and repeat the steps above for melting the chocolate.

Spoon 1tbsp of the melted chocolate onto the jam; try and ensure you spoon into the centre so the chocolate falls out to the sides and mostly covers the jam; then use a small spoon to gently coax the chocolate over the jam until it's completely covered in chocolate.

Be careful not to mix or push hard otherwise some jam may mix with the melted chocolate (I did this on one of my cups!!!)

Place back in the fridge for 1-2 hours until set.

To serve: peel liner away from the Raspberry and White Chocolate Cup and devour!

These will keep in an airtight container, at room temperature for 5 days, or in the fridge for a week.


I link up at these great Link Parties!