These gorgeous Lemon Curd and White Chocolate Pinwheel Pastries are ready in under 30 minutes and only require 4 ingredients! Flaky, buttery and super tasty, you really need to try them!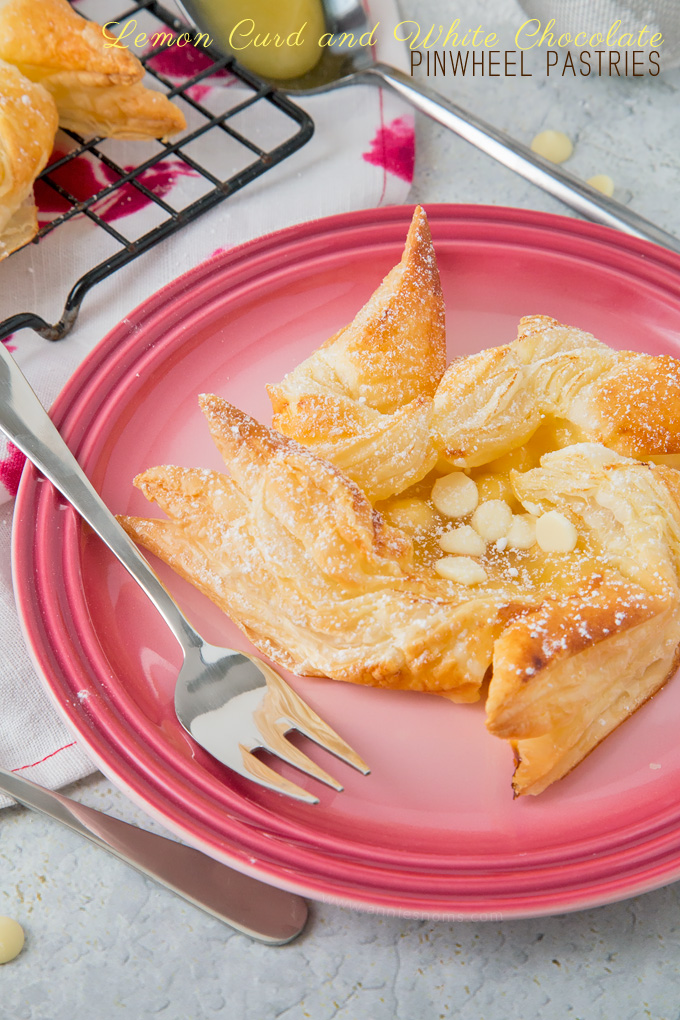 Good Afternoon, or morning depending where in the world you are! I have one seriously easy, 4 ingredient dessert for you today: Lemon Curd and White Chocolate Pinwheel Pastries.
Try saying that five times in a row… Anyway, apart from the long winded name, these babies are flaky, buttery perfection and you need them in your life!
First though… it's my birthday!! I cannot believe I am a quarter of a century old!!! Most of the time I don't really think about age, so it's not about whether I feel old or not, but when I think back to when something happened and I was actually old enough to remember it.. then I feel old.
Oh… and also when I think that people born in 2000 can drive next year? That makes me feel ancient!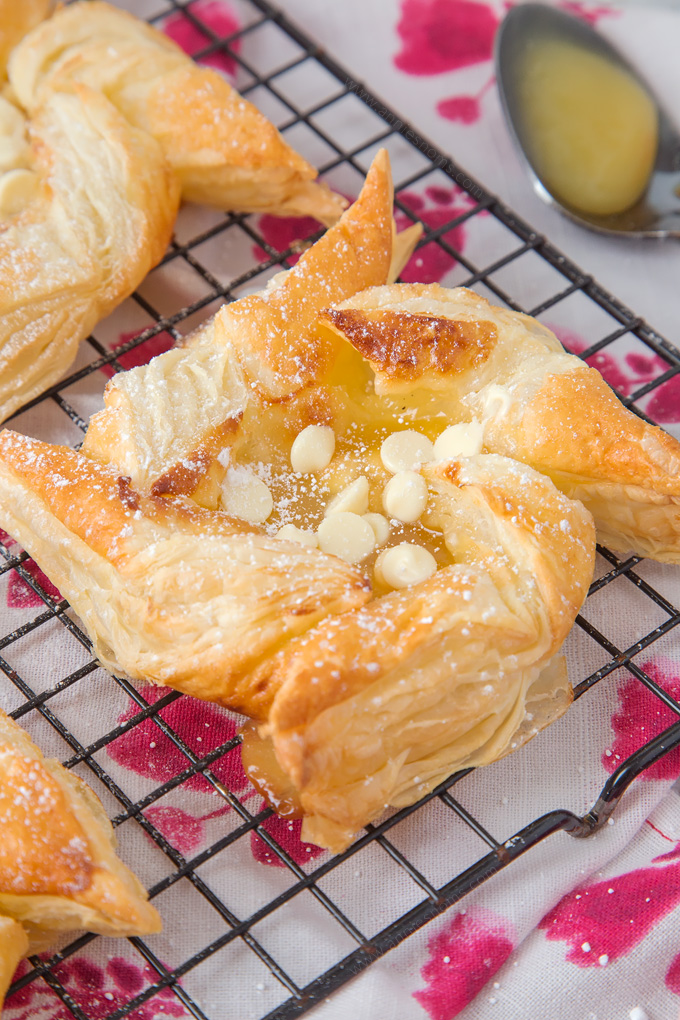 There was meant to be a Raspberry filled birthday cake headed your way today, but it ended up looking a little more like a Halloween cake, so I'm sharing these Lemon Curd pastries with you instead. They might be dessert, but I'm going to have one for breakfast because it's not every day you turn 25!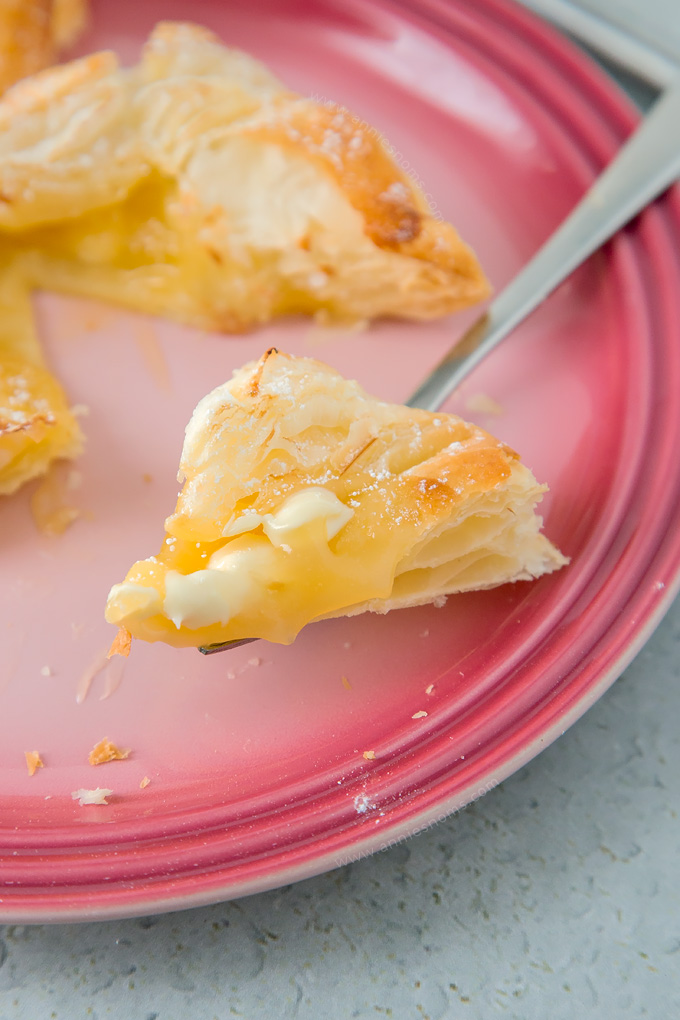 Remember this gorgeous Lemon Meringue Cake last year? This year Mr AN again said I was not allowed to make my cake and he was going to do it. It took me a while, but I eventually decided that I wanted a Raspberry Ripple Cake.
You know that uber sweet raspberry swirled vanilla ice cream you had as a kid? I wanted that, but in cake form!
I have to give props to Mr AN; the cake tasted absolutely fantastic, but because raspberries can be so intense… the raspberry sauce he made for the top ended up looking like a crime scene. I really wasn't sure how to style it or make it look light and Spring filled, so we are sticking with the theme of lemon desserts for my birthday!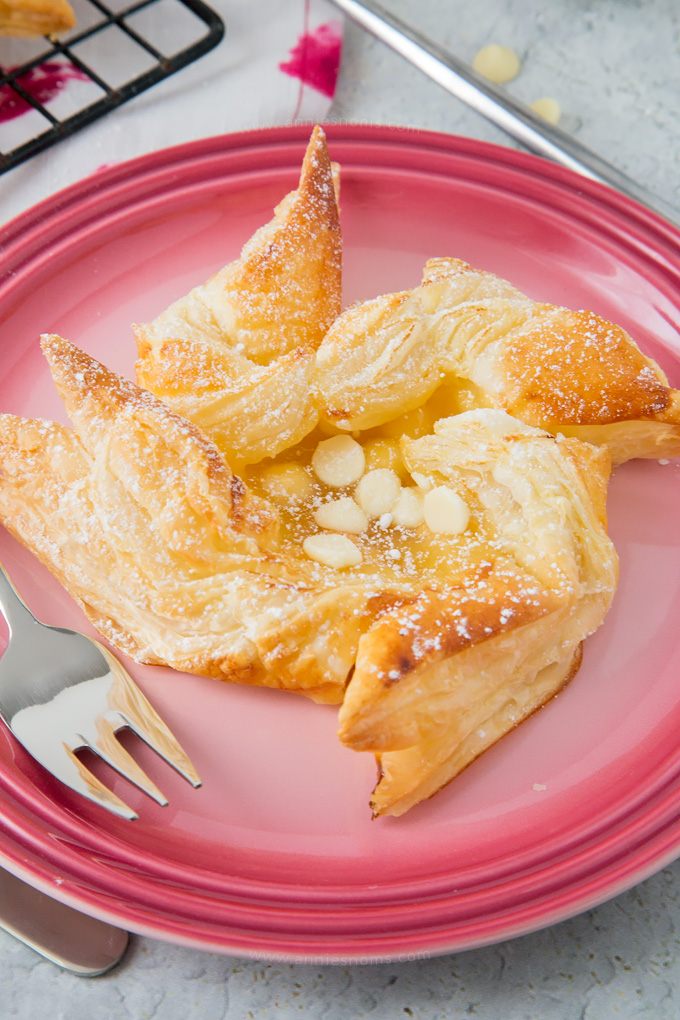 Now, I'm usually an advocate of desserts completely from scratch, and whilst I'll never use a boxed cake mix, one thing I think life is too short for is: Puff Pastry.
I'm sorry, but ain't nobody got time for that.
So, for this recipe, I used a ready rolled sheet of puff pastry, I then sliced it into 6 squares.
I admit, when I say squares, I mean 3 out of 6 were almost square and the other 3 ended up a bit long, so then I had to trim them!!! 😀 Cutting in a straight line is something I've never been able to master!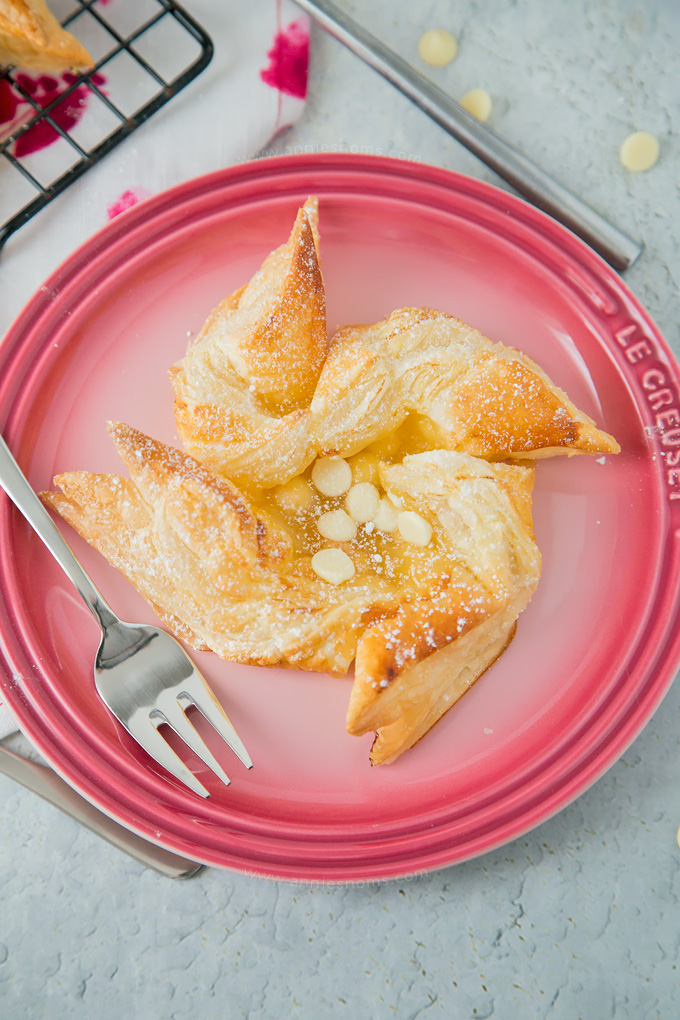 Anyway, back to these pretty little pinwheels! Once I'd cut them into squares, I then took a knife and sliced a 1 and 1/2 inch incision into each corner of the squares. The next step is to prick the squares all over with a fork to stop them puffing up quite so much. (I could have done this step better myself, they puffed up slightly more than I wanted!)
Then I placed 1/2 tbsp of the best lemon curd you can get (bar homemade) into the centre of each square, before sprinkling around 1tsp of white chocolate chips on the the lemon curd.
To make the pinwheels I took the top corner of one of the cut sides of the square and pressed the corner into the centre of the lemon curd. When you take this first piece, you end up with a triangle of pastry folded and then the bottom half of the same side also looks like a triangle, but is not folded into the centre. You then repeat this on all sides, folding one side, then missing one, folding the next, until you have a fancy shape. Honestly, as difficult as it probably sounds, these look way more fancy than they are; it's so easy once you get the hang of the folding, then skipping a corner, then folding the next!!
You can of course use homemade lemon curd, I have made my own before and it is blissful, but I used a really good quality one for this recipe and they turned out fabulous. If you make one dessert this Spring, make sure it's these beauties!
Now, I'm off to enjoy my birthday lunch, talk to you soon! 😀

Lemon Curd and White Chocolate Pinwheel Pastries
These gorgeous Lemon Curd and White Chocolate Pinwheel Pastries are ready in under 30 minutes and only require 4 ingredients! Flaky, buttery and super tasty, you really need to try them!
Ingredients
One 375g/13oz sheet of ready rolled puff pastry

3

tbsp

homemade or shop bought lemon curd;

the best you can get!

2

tbsp

white chocolate chips;

plus extra for after baking, optional

1

medium sized egg,

lightly beaten
Instructions
Preheat the oven to 200C/400F and line a baking tray with grease proof paper/a silicone mat.

Place the sheet of ready rolled puff pastry straight onto the baking tray and then cut into 6 equal squares. You will probably have an off cut at the end of your sheet, if it is rectangular like mine was!

On each square, cut a 1- 1 and 1/2 inch incision diagonally, at every corner, pointing towards the centre, but making sure you have enough space in the middle of the square to place your 1/2tbsp of lemon curd. You should have 4 flaps on each pastry square and the middle should not be cut.

Place 1/2tbsp of lemon curd into the centre of the pastry and then divide the 2tbsp of white chocolate chips between the 6 pastries.

Take your beaten egg and a pastry brush and dot a tiny amount of egg wash on every second point. I started at the far right and went clockwise, so I had one dot at the top of the right side, bottom right etc.

Now take every second point and fold it over the curd and towards the centre. Again, I started on the right hand side, then skipped the bottom of the side, folded the bottom right, skipped the next etc. etc. until you have a pinwheel shape.

Now lightly egg wash the top of each of your pastries; any exposed area of pastry should be done.

Place in the oven for 9-11 minutes, until risen, golden and the lemon curd is bubbling.

Leave to cool for 5 minutes and then sprinkle each pinwheel with additional white chocolate chips, if desired.

Leave to cool completely on the tray, before serving with a dusting of icing sugar, if desired.

Lemon Curd and White Chocolate Pinwheel Pastries will keep in an airtight container at room temperature for 3 days, in the fridge for 4 days.


I link up at these great Link Parties!