These Carrot Cupcakes are spicy, sweet, jam packed with shredded carrot and topped with a smooth, fluffy Marshmallow Frosting. Pure heaven in every bite!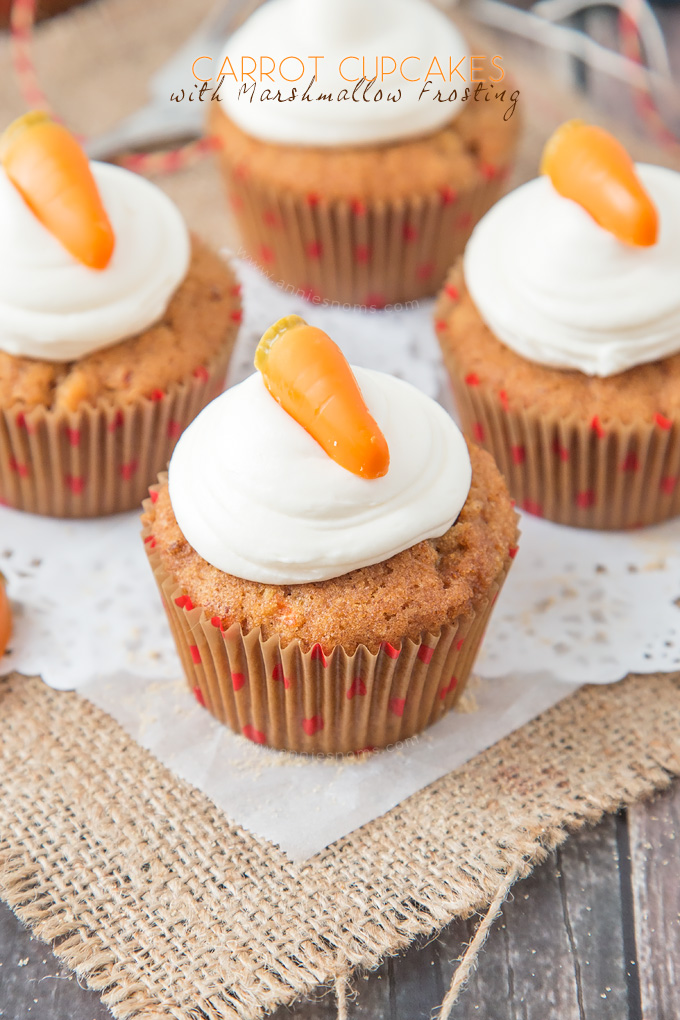 You guys! I have an apology to make…
I've been holding out on you with this recipe for a whole year!! BUT. And there's a big but… they just had to be perfect before I shared them with you and when I made them a few times last Spring, whilst the cupcakes themselves were perfect, the frosting was just not right.
Firstly it was too runny and became a white soup on top of each cupcake. Then it just didn't taste right and THEN I had butter disasters resulting in yellow lumps in my supposedly "cloud-like" Marshmallow frosting. Not cool!
So, rest assured I have tested and re tested this recipe to make sure I am 100% happy with it before sharing it with you!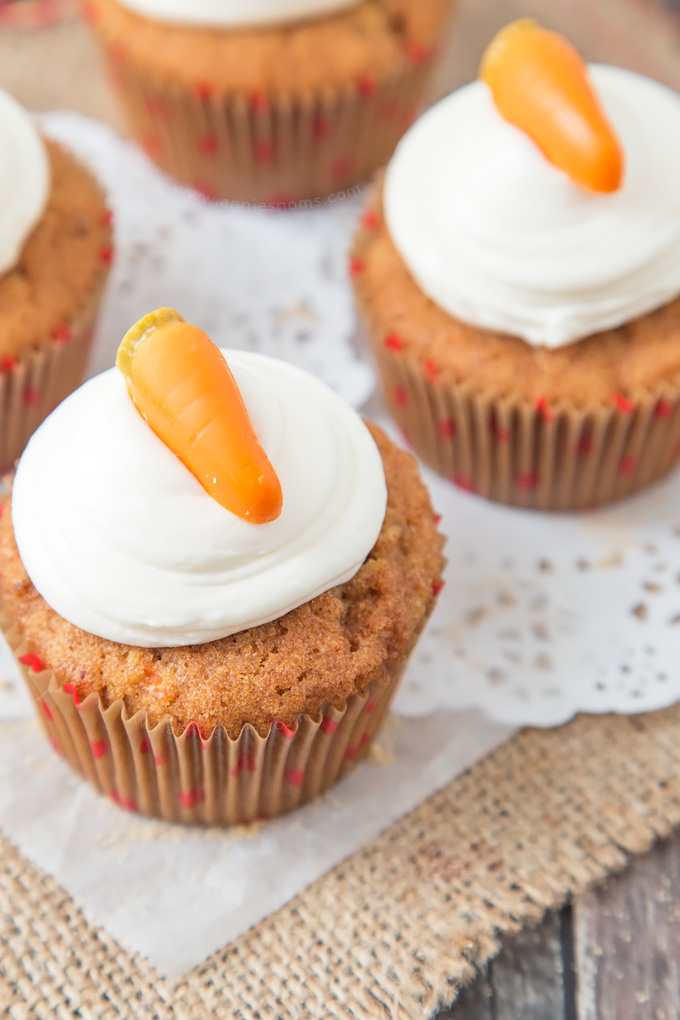 Anyway, now that these Carrot Cupcakes are perfect, I am TOO excited to share these cupcakes with you!
I am a huge, huge fan of carrot cake; it's one of the only ways that I'll eat vegetables in desserts. I went through a phase a few years back of making carrot cake every week and I still love it now, even though I make so many other yummy things for the blog!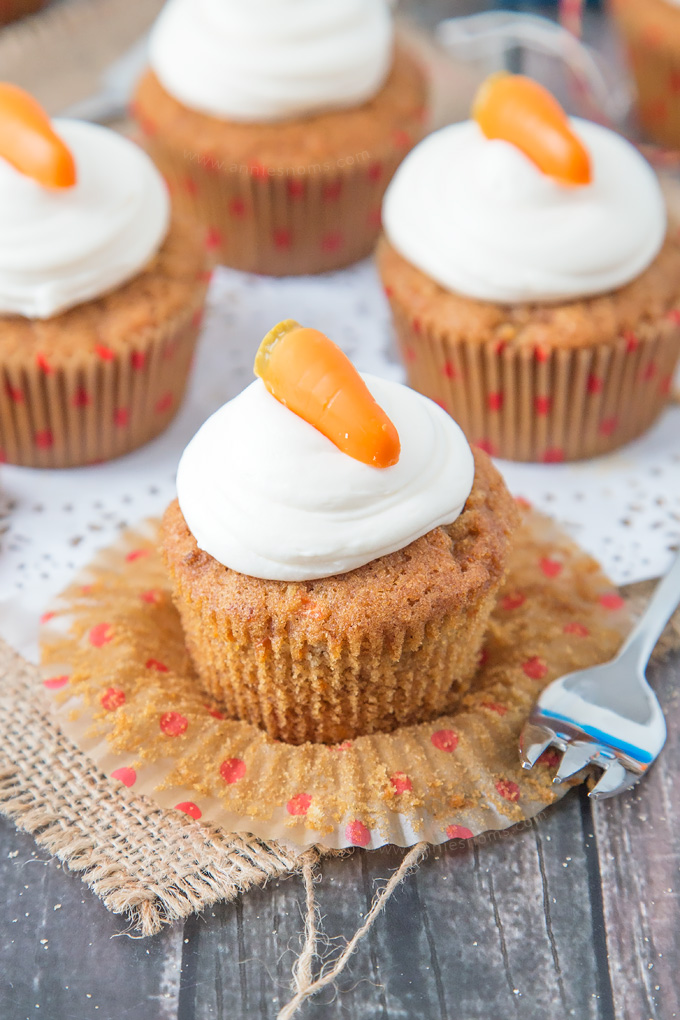 I'm not going to say these are the best Carrot Cupcakes in the world because I haven't eaten all the Carrot Cupcakes in the world, but they are spectacular.
They have just the right amount of spice, plenty of brown sugar and a whole 1 and ½ cups of shredded carrot.
Because who wants to eat a carrot cake with no carrot in every bite?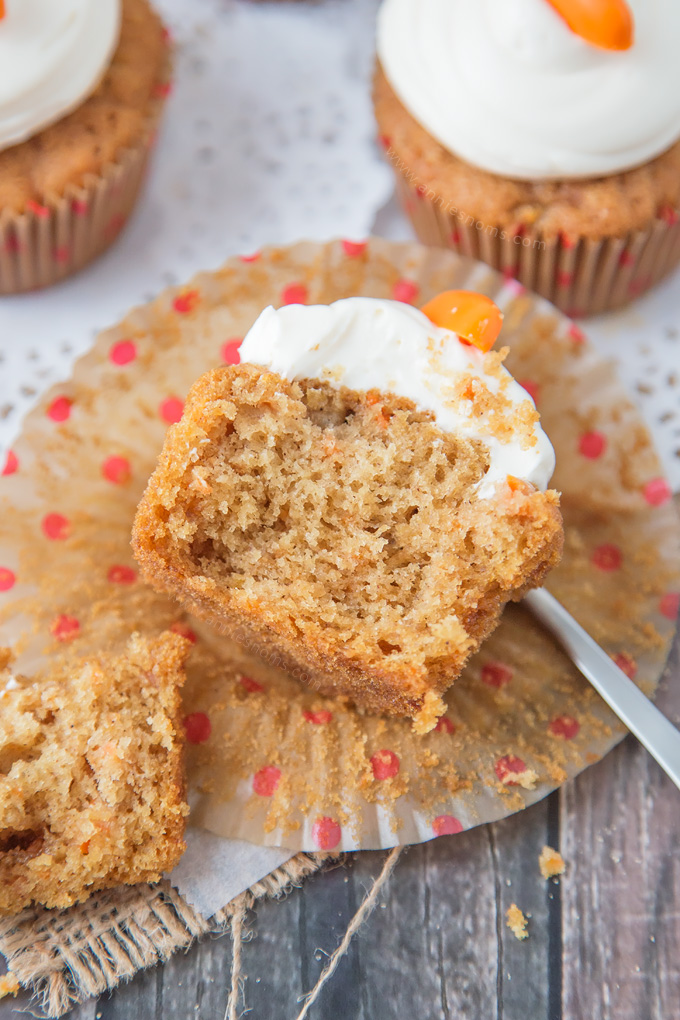 Unlike most of my cupcakes, these ones have a base of oil because no matter how many times I've tried different ways to make carrot cake, it's never better than when it's with oil.
I don't want to say moist… but my spell check just came up with damp, humid, soggy and saturated as synonyms and they don't do these cupcakes justice either, HA, so maybe it will have to be moist.
Yup. These are some fabulous, moist cupcakes. (BLEURGHHHHHHHHH)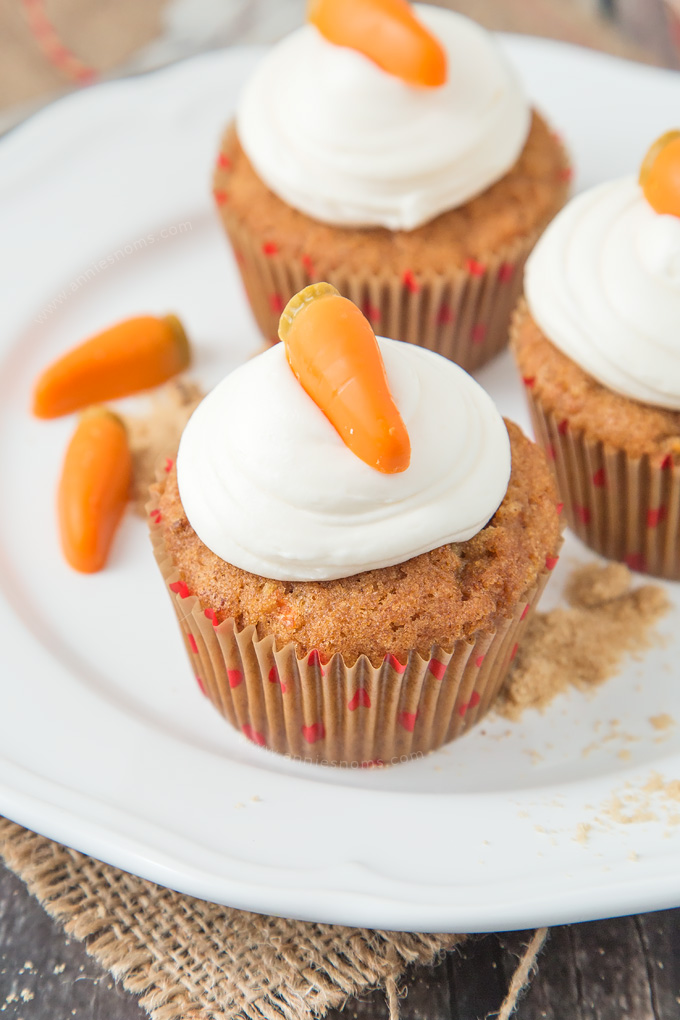 Now, can we take a few seconds to talk about that frosting?! Like SERIOUSLY?!
There's a whole jar of Marshmallow fluff in there. Surely that's the basis of any great recipe??
Along with some butter, icing sugar and vanilla, this frosting is the stuff of dreams. Velvety smooth, sweet and almost cloud like, it is the perfect accompaniment to the rich, spicy cupcake.
I may or may not have eaten it by the spoonful. (OK, I definitely did)
SO, if you are looking for your next Carrot Cake dessert to make, these should be it!

Carrot Cupcakes with Marshmallow Frosting
These Carrot Cupcakes are spicy, sweet, jam packed with shredded carrot and topped with a smooth, fluffy Marshmallow Frosting. Pure heaven in every bite!
Ingredients
For the cupcakes:

2/3

cup

(160ml) vegetable/sunflower oil

3/4

cup

(150g) light brown sugar

2

large eggs

1/2

tsp

vanilla extract

1 1/2

cups

(210g) plain flour

Pinch of salt

1

tsp

baking powder

1

tsp

bicarbonate of soda/baking soda

1/2

tsp

ground cinnamon

1/4

tsp

ground ginger

1 1/2

cups

(225g) shredded carrot

1/2

cup

(65g) walnuts,

optional

For the frosting:

One 212g/7.5oz jar of Marshmallow Fluff

1

stick (113g) unsalted butter

at room temperature

2

cups

(240g) icing sugar,

sifted

1/2

tsp

vanilla extract

1

tbsp

milk
Instructions
Preheat the oven to 180C/350F and line a cupcake tray with 12 cases.

Place oil, sugar, eggs and vanilla into a large bowl, or the bowl of your stand mixer, and mix on medium-high speed until smooth, slightly frothy and well combined.

Place flour, salt, baking powder, bicarb, cinnamon and ginger into a medium sized bowl an stir briefly to combine. Tip into the bowl with the oil mixture.

Add the shredded carrot to the bowl with the flour/oil mix and then mix on low-medium speed until everything is well combined and smooth.

Divide the batter between the cupcake liners, each one should be 3/4 full.

Place in the oven for 18-22 minutes until risen, golden and an inserted skewer into the centre comes out clean.

Transfer to a wire rack to cool completely as soon as possible to ensure the liners don't sit in the cupcake tray and then peel away from the cakes.

Once cool, make the frosting: place marshmallow fluff and butter into a large bowl/the bowl of your stand mixer and beat on high speed until light and fluffy, 2-3 minutes.

Add in the icing sugar and vanilla extract, scraping down the sides as necessary and mix on low until the mixture starts to come together. Once the mixture starts to combine, turn the speed up to medium-high and mix until everything is combined. At this stage, add milk if required to give you a frosting which is pipeable and continue to mix on medium-high until you have light, fluffy frosting with no lumps!

You can either spoon on the frosting, or I prefer to fill a piping bag fitted with a plain, 1/2 inch nozzle and then pipe rounds into the centre of each cupcake. With a plain nozzle, I start in the centre and just wiggle the nozzle around in circles, with constant pressure until the cupcake is covered. If I was using a star nozzle, I'd start to pipe around the edge of each cupcake before continue into the centre.

You can also use carrot decorations for garnish, if desired.

Carrot Cupcakes will keep in an airtight container at room temperature for 4 days, or in the fridge for 5 days.


I link up at these great Link Parties!