My smooth, creamy and utterly scrumptious Strawberry and Mango Smoothie is the perfect Summer refreshment. And, you only need 4 ingredients!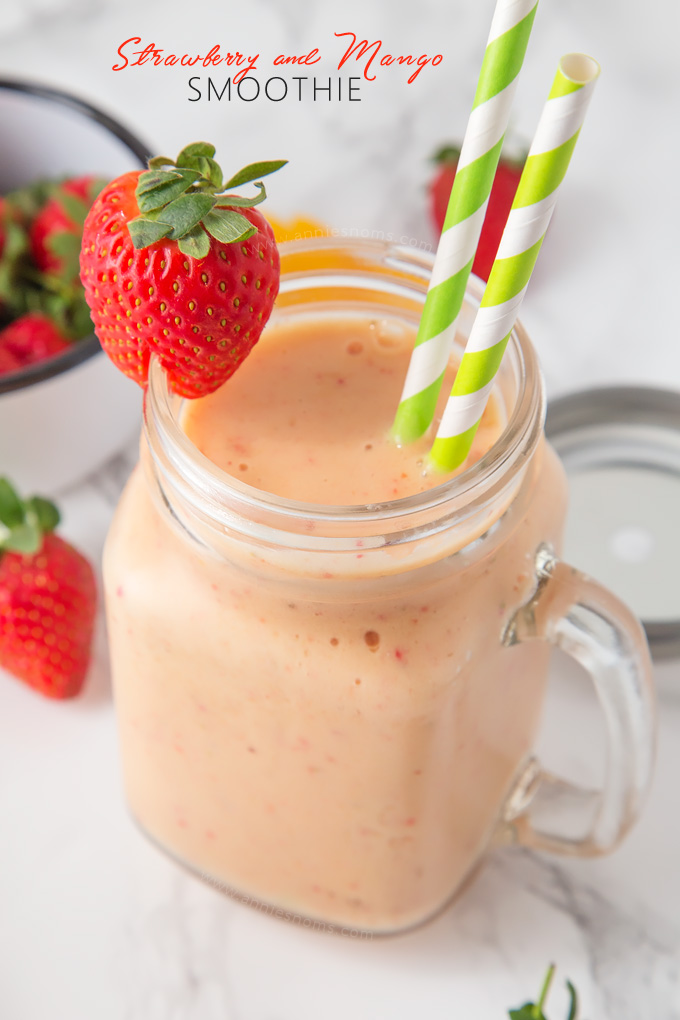 OK weather, I give up. It's almost May and on Tuesday it hailed, then snowed, then was sunny and then snowed again.
I'm just going to sit and sip one of these pretty peach coloured Strawberry and Mango Smoothies and dream of sitting on a beach.
It may not feel like April here, but there is one good thing about this time of year; the strawberries are getting sweeter by the week! OHMYGOODNESS. YES!
Out of all the fruit I eat, I always come back to strawberries. They are by far my favourite. I just adore them. In the Summer, I'm convinced half my body weight is strawberries as I eat so many!!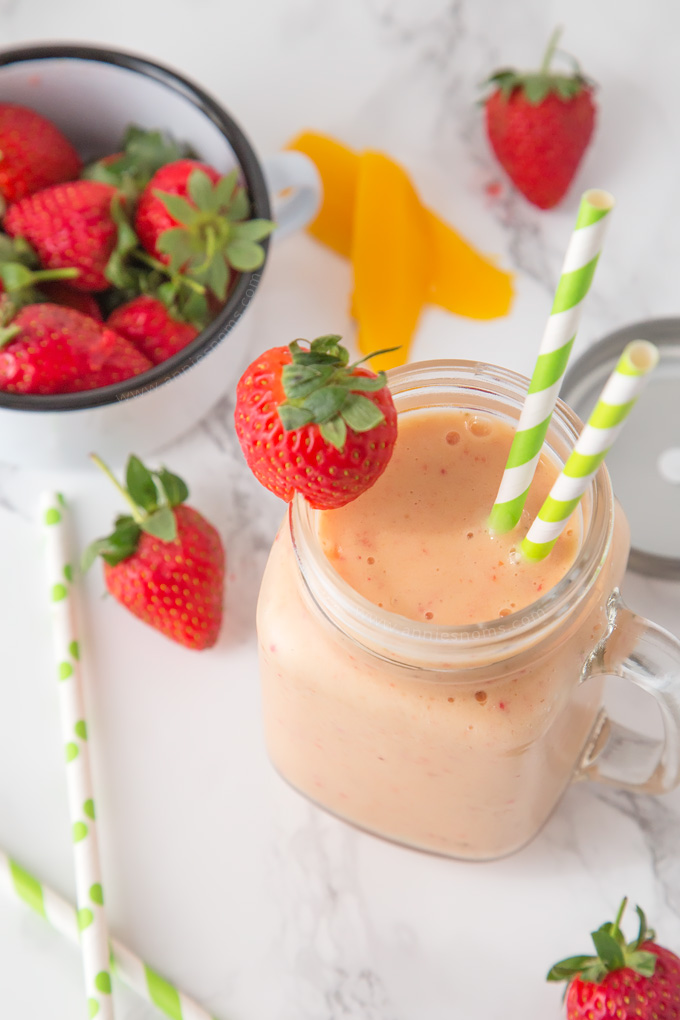 So, it was only right in my opinion to make a new, strawberry filled smoothie for you all!
I've also been having a renewed love affair with mango recently, so I thought it would be amazing to combine the tropical taste of mango, with that sweet, juicy flavour of strawberries.
And of course, I used frozen banana as my base because it's the best.
The best at fooling you into thinking you're enjoying some calorie filled, decadent drink, when actually you're not! 😀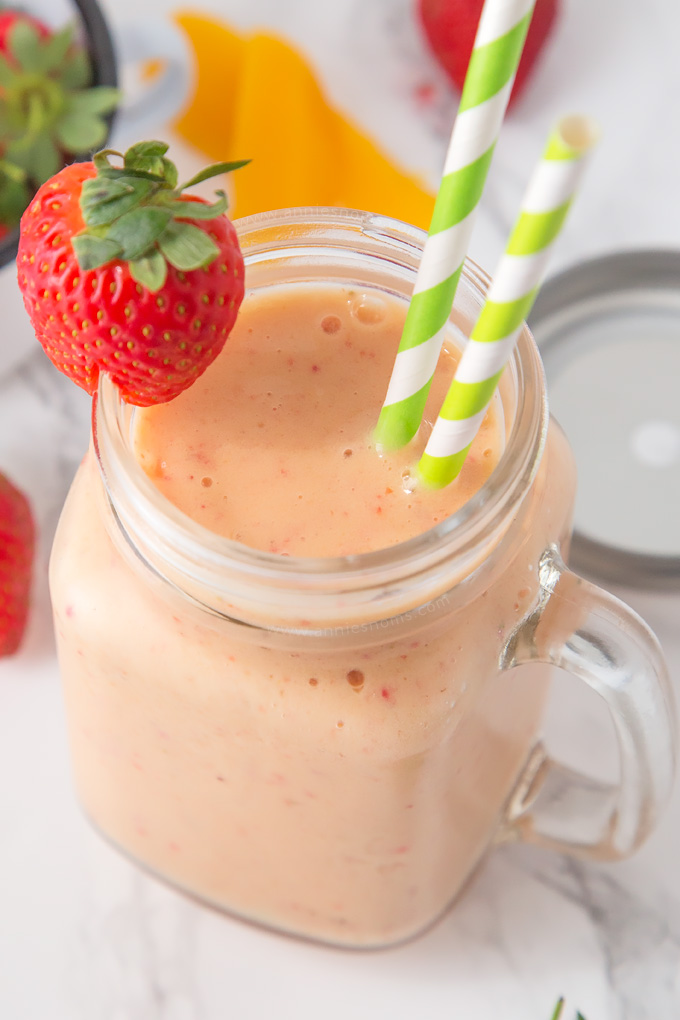 I have also been experimenting with frozen mango and that turns out pretty good too. If you blitz it alone, it becomes a bit more like a sorbet than something drinkable, but it is light and creamy and so, so, SO good!
But, for this smoothie, I wanted that ultra creamy banana base. Frozen bananas can also be used to make your very own healthy soft serve ice cream, but they are more easily made into smoothies and mix with milk very well.
You need quite a bit more milk to get the same consistency with frozen mango, I've found.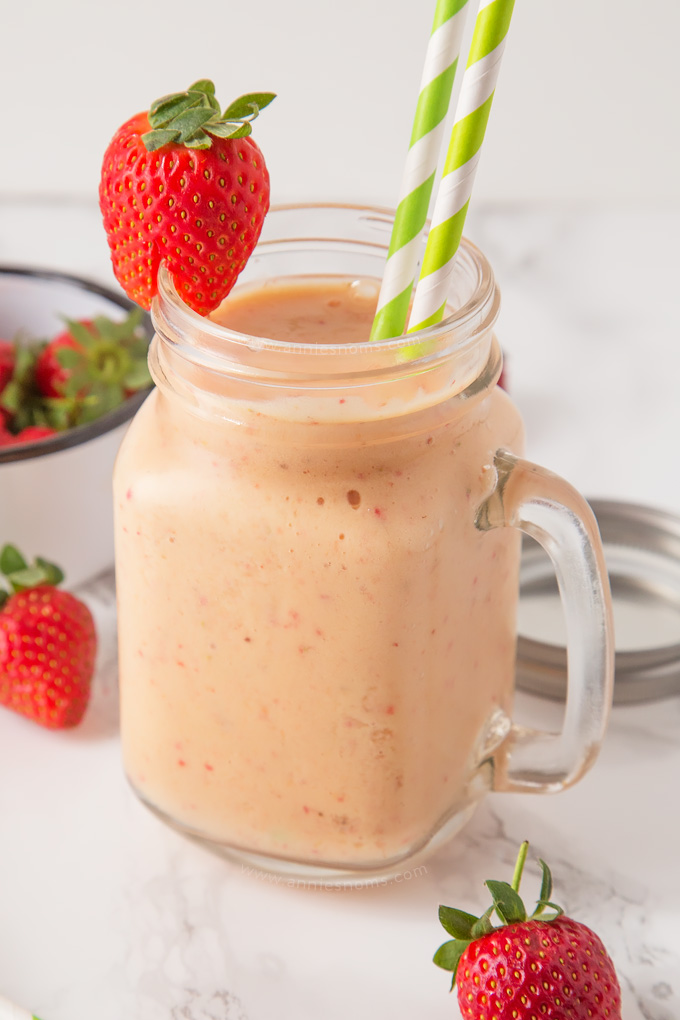 I also think the banana gives this Strawberry and Mango smoothie a smoother, more velvety texture. For me, that is the best type of smoothie; I want it to be so, so smooth and filled with vibrant colours and sweet fruits.
You cannot beat a homemade smoothie. I once saw a frozen "smoothie mix" in the supermarket and after exclaiming "How hard is it to cut your own fruit up?" I then thought, but homemade tastes so much better anyway! WHY?!
I'm not talking frozen fruit, because I agree, frozen fruit is handy and great in Winter when the fruit in stores is lacklustre. I'm talking a whole mixture where you basically put it in the blender and add nothing else.
If we're on that topic; can we also talk about frozen mashed potato pellets. Yes, pellets. They look like animal feed.
I must walk round the supermarket with such a frown on my face sometimes as in my head I'm like "people are so lazy, I cannot believe what you can buy these days".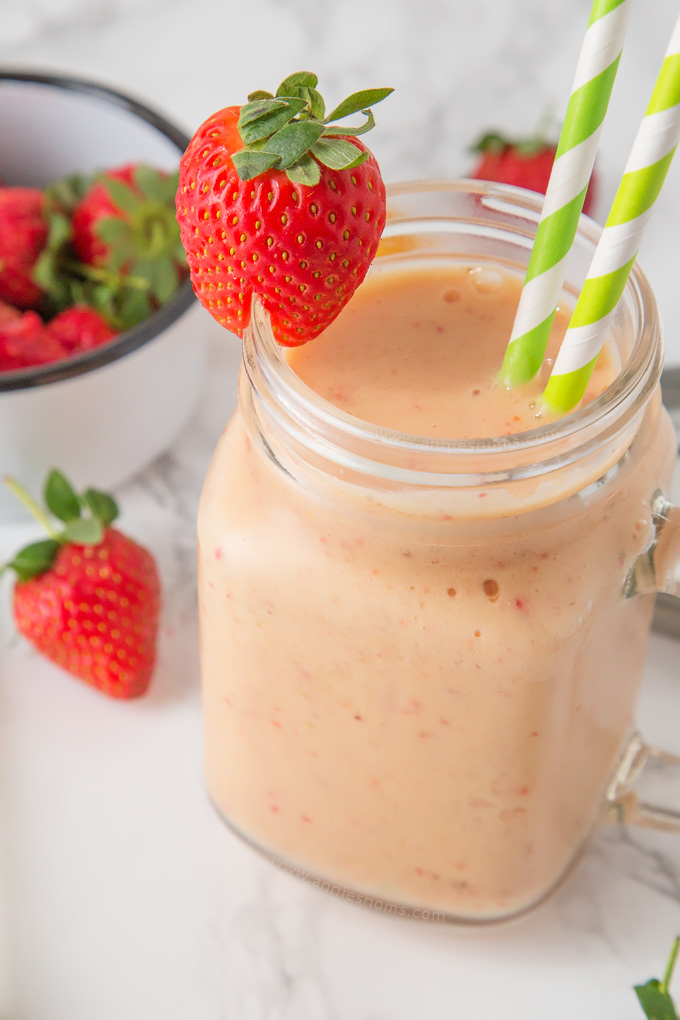 OK, rant over. I understand people work, I do as well, but  I think it's an individual priority thing. For me, eating good, home made food is right up there!
Anyway… basically you need this Strawberry and Mango Smoothie in your life right now. It's sweet, creamy and tropical. It fills me with sunshine when the weather outside is dull and grey. I am just in love with this smoothie!!! It's so divine!

Strawberry and Mango Smoothie
My smooth, creamy and utterly scrumptious Strawberry and Mango Smoothie is the perfect Summer refreshment. And, you only need 4 ingredients!
Ingredients
1

large banana,

previously chopped and frozen

1

cup

(125g) strawberries,

hulled and halved

1

cup

(225g) fresh mango,

diced

1

cup

(240ml) milk
Instructions
Place the frozen banana in to a blender, followed by the strawberries, diced mango and milk.

Blitz ingredients together until everything is smooth, creamy and well combined. I like to pulse the mixture as it ensures things are well mixed.

Pour into a glass and enjoy!


I link up at these great Link Parties!