My Strawberries and Cream Overnight Oats are creamy, sweet and jam packed with fresh strawberries. These are bound to become your new favourite breakfast!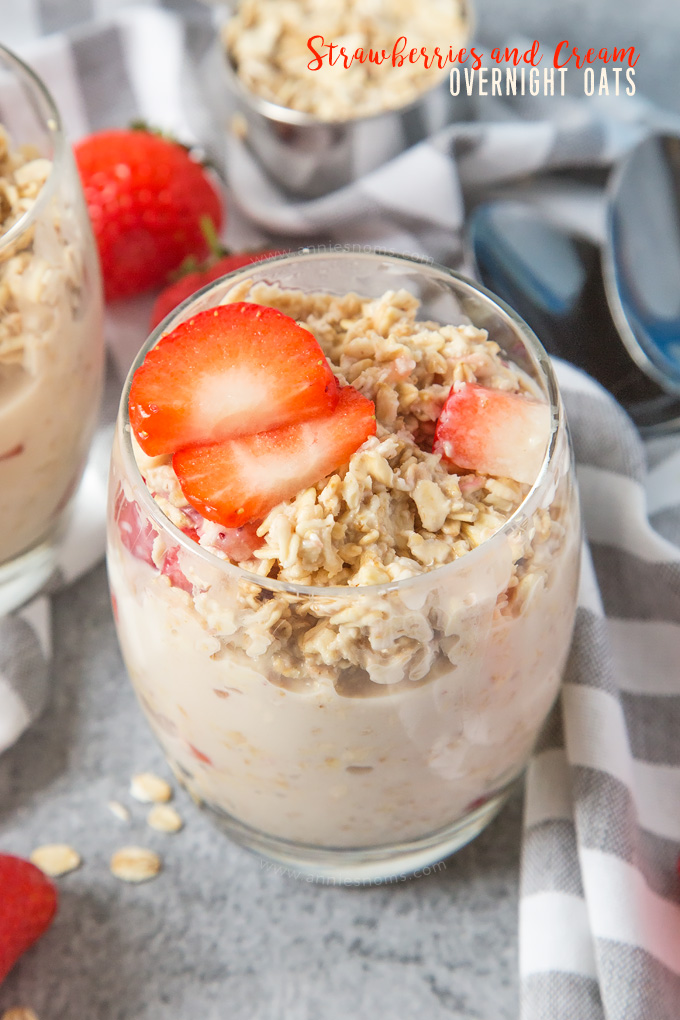 Why, hello there. How's your week going?
Mine has been super busy and filled with flour, sugar and eggs. I had lots of recipes due for clients over the bank holiday weekend, so I didn't really get a break, but it wasn't all bad as I could at least sit next to Mr AN some of the time!
I mean, what is a bank holiday when you're self employed?! Although, I may also be a slight workaholic….
Today, I have an awesome breakfast recipe for you: Strawberries and Cream Overnight Oats!!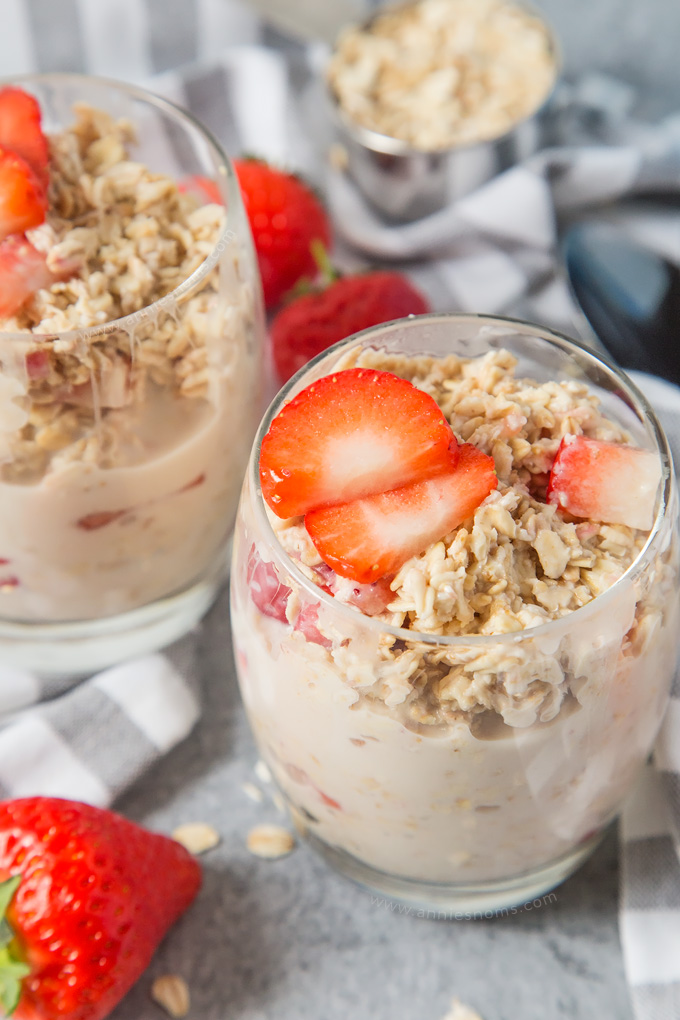 It's full of strawberries, oats, milk, vanilla and a little cream. Along with a bit of optional sweetener.
I wouldn't normally advocate double/heavy cream for breakfast, but there's only 3tbsp in this whole recipe and it serves 3-4, so…. I think it's OK as a treat!
The weather here finally seems to have calmed down and as I write this, I can hear bird song and see nothing but sunshine and I just think this is the perfect breakfast recipe for a warm, sunny morning.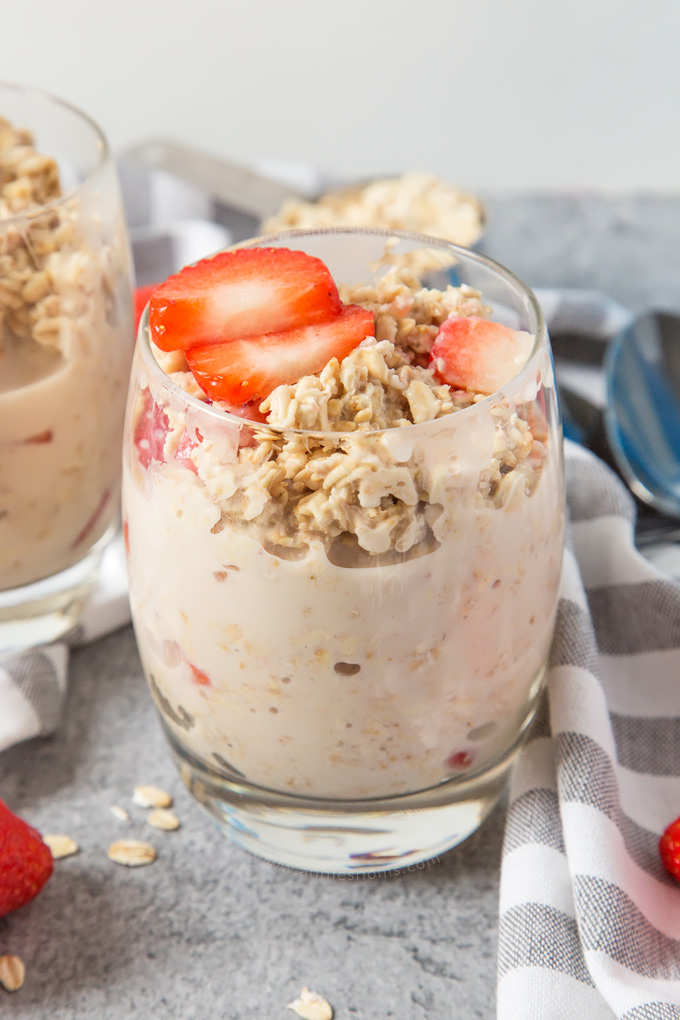 I'm not sure if strawberries and cream is a thing in the US; but here I remember having a bowl of sliced up strawberries with some cream and sugar on top for dessert. It's so simple, yet I used to love it.
For me, I had more sugar than cream as I find cream makes me feel a little ill if I have too much, but the combination of the juicy strawberries, crunchy sugar and smooth cream is unbeatable.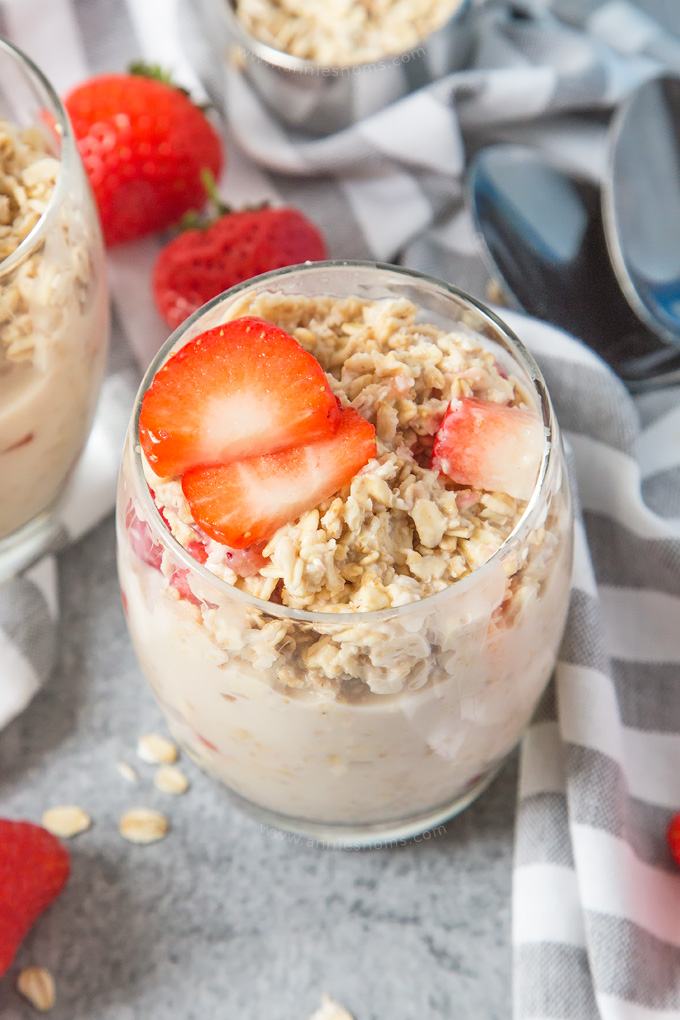 So, I decided that the dessert I used to enjoy as a child needed to be made into breakfast because dessert for breakfast is my favourite thing ever.
Another thing I love about this recipe? The fact you only have to prep it, then leave it overnight to become thick and creamy overnight oats. It takes about 5 minutes, then the fridge does most of the work for you; hello divine, ridiculously easy breakfast!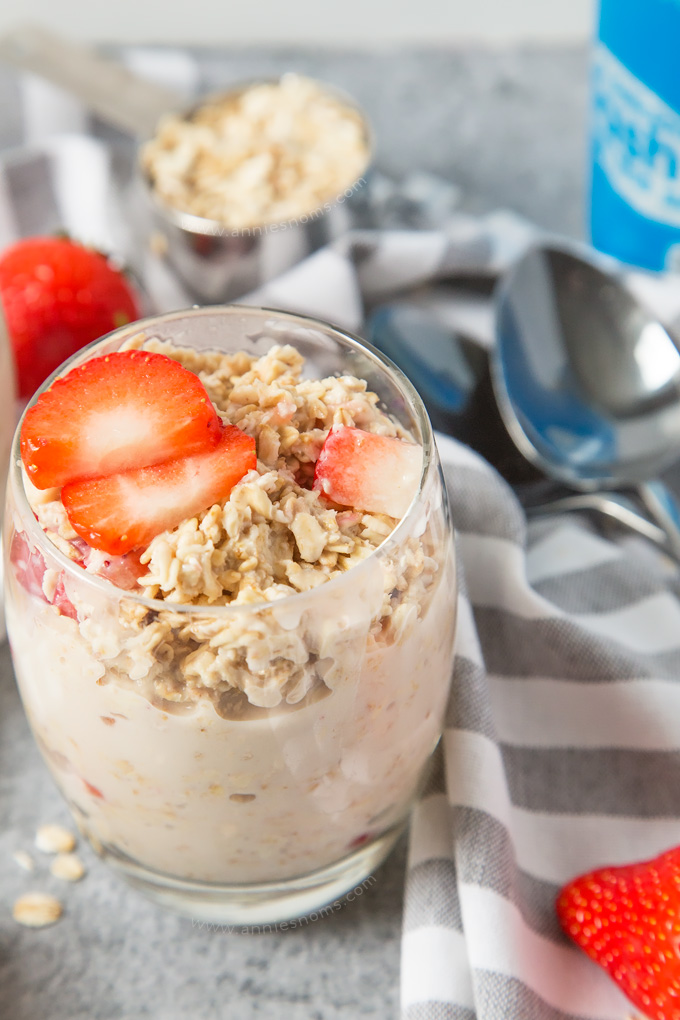 These Strawberries and Cream Overnight Oats should be illegal. I mean they are out of this world amazing. There's just enough cream so that you get the cream flavour/texture, but not so much it overpowers and makes these oats too sickly/rich.
I made sure to add a whole cup of diced fresh strawberries and 3tbsp of sweetener; see I have tried to make this slightly healthier by not using sugar!! 😀
I say that the sweetener is optional, because I know not everyone loves very sweet oats, but to get the full strawberries and cream experience, I would advise adding the sweetener. It took me straight back to childhood as soon as I had a mouthful of these oats.
Oh to be young and that carefree again… 😉 Sometimes having to adult is the last thing I want to do.
I'm off to remember the 90s and eat more of these oats, hope you enjoy them!

Strawberries and Cream Overnight Oats
My Strawberries and Cream Overnight Oats are creamy, sweet and jam packed with fresh strawberries. These are bound to become your new favourite breakfast!
Ingredients
3

cups

(240g) rolled oats

1

cup

(150g) diced fresh strawberries

3

tbsp

sweetener,

optional

1

tsp

vanilla extract

1 1/2

cups

(360ml) milk

3

tbsp

double/heavy cream
Instructions
Place oats, diced strawberries and sweetener into a large bowl and stir until the oats and sweetener are combined.

Place vanilla, milk and cream into a jug and mix briefly with a spoon.

Pour the milk mixture into your oat and strawberry mixture and combine just until all the oats are wet and the strawberries are evenly distributed.

Cover the bowl with cling film and place in the fridge overnight.

You can serve Strawberries and Cream Overnight Oats straight from the fridge, or warm them in a heat proof bowl, in the microwave. I prefer oats straight from the fridge!


I link up at these great Link Parties!