These creamy Lemon and Ginger Cheesecake Bars are easy to make and pack a real flavour punch with their gingersnap crust and zest filled cheesecake top!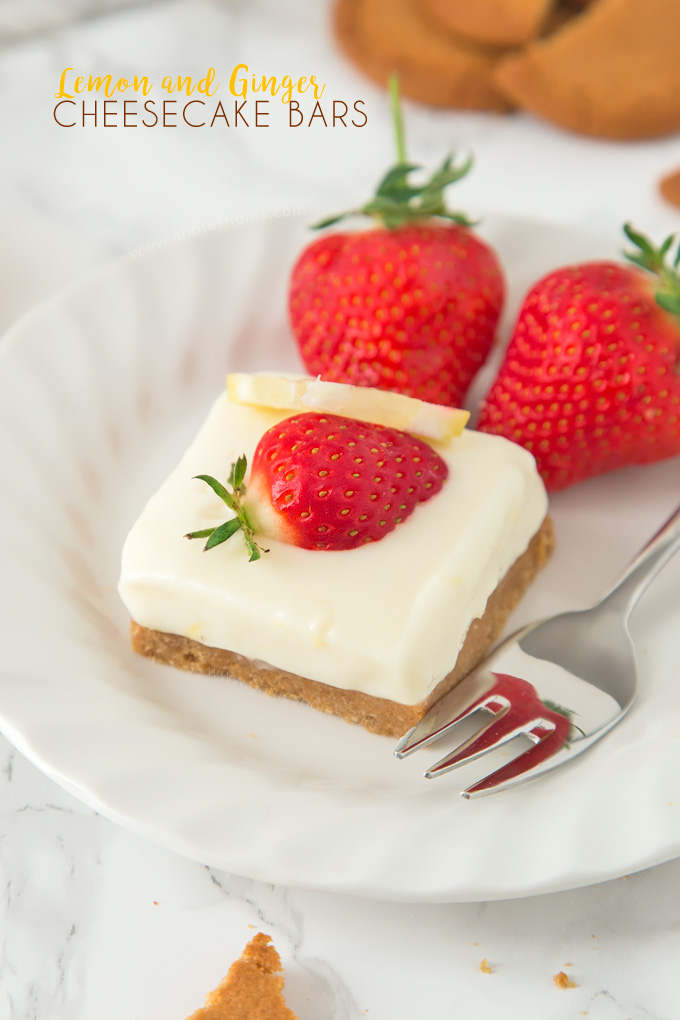 Boy am I glad it's Thursday!
This week has been going SO slowly for me. I've felt ridiculously sick most of the week and had tummy ache/a headache. I can deal with most things, but I just can't shake the nausea and it's really irritating me. I'm one of those people who is never, ever sick. But sometimes I think that's worse, as if I was sick it would get rid of the nausea… Instead I just feel sick all the time and can't do anything about it. *sigh*.
Anyway, after the glorious, sunny weekend, it's all gone a little grey here in south England. So, I made some Lemon and Ginger Cheesecake Bars to brighten up your day.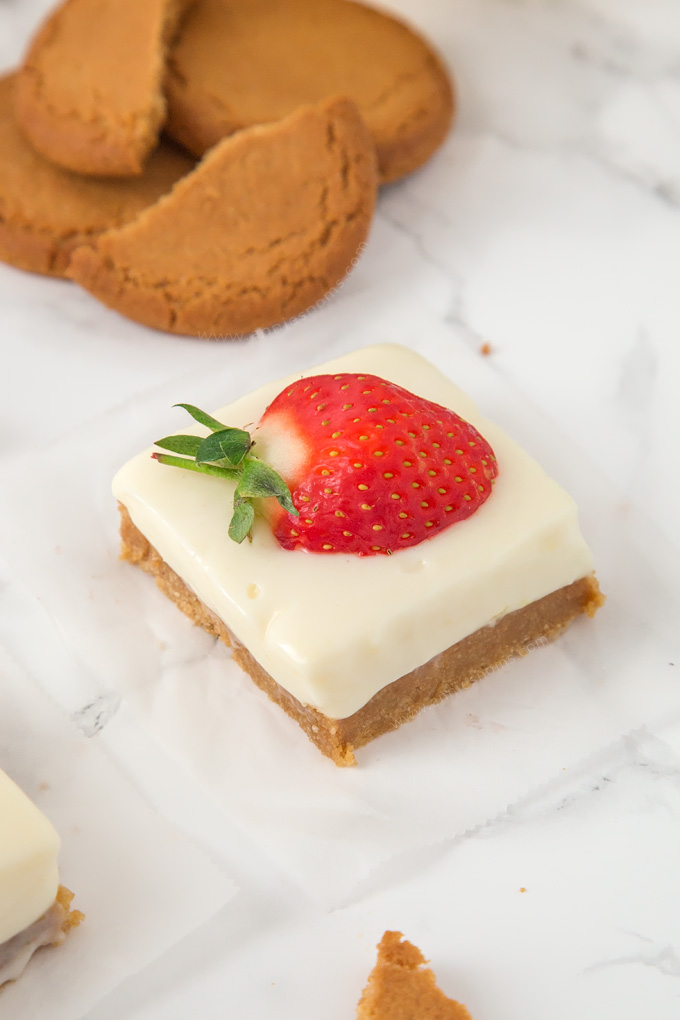 I used gingersnaps for the crust and then made a delightful no bake lemon cheesecake for the top. These are some incredible bars. As soon as you bite into one, you get an explosion of flavours in your mouth.
That slight warmth from the ginger, the tangy lemon and then the sweet, creamy cheesecake. Ohhhhhhh my. These are good.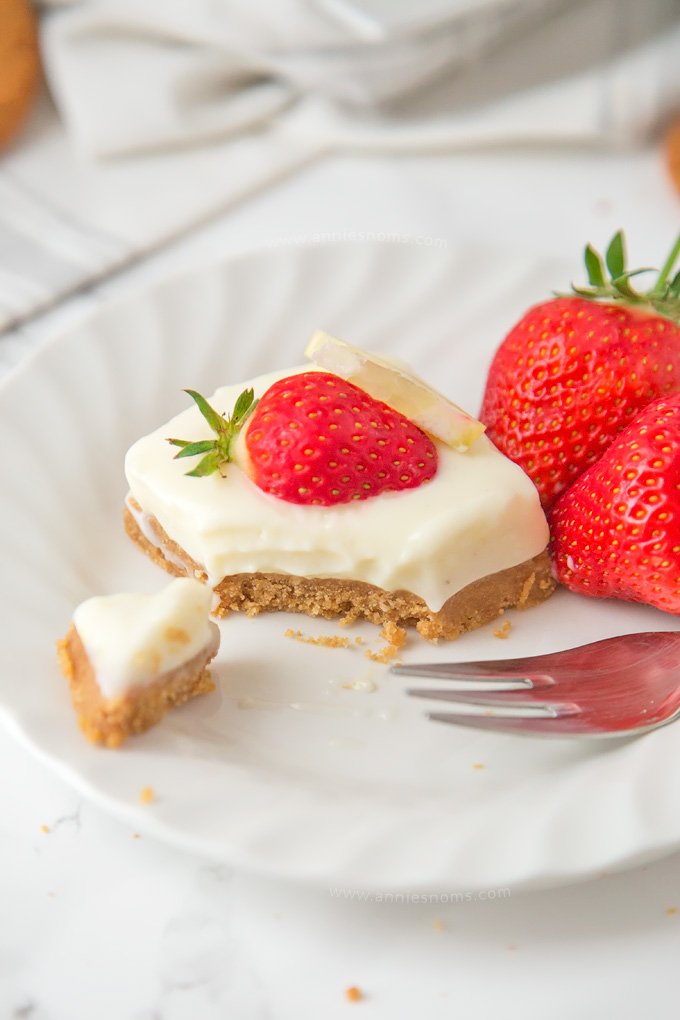 For the first time, I used condensed milk in my cheesecake mixture and then used the lemon juice to flavour the bars and to thicken them up, since these are no bake.
As soon as you add the lemon juice, it's literally like magic! Within 15 seconds the cheesecake mixture has gone from runny to thick and ready for chilling. Science meets baking magic right there. 😉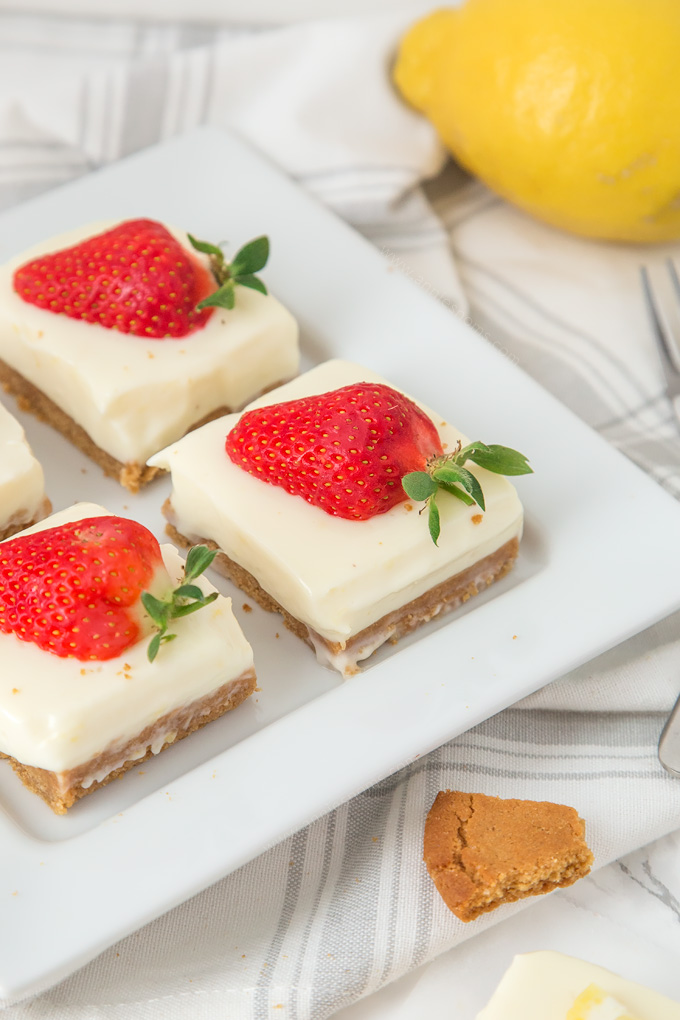 I don't know about you, but I find lemon and ginger the most amazing combination. It's tantalising on your taste buds… I can hardly handle the flavours and textures dancing around in my mouth. These really are bright, sunny Cheesecake Bars!
I think out of all flavours of cheesecake I've ever made, lemon is my favourite.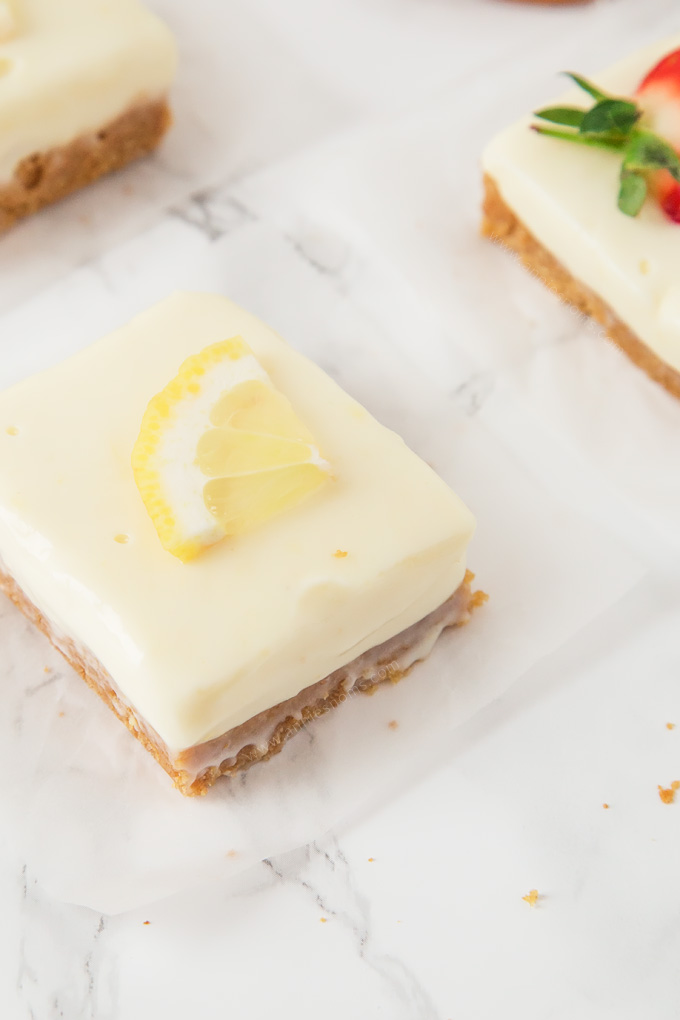 There's just something about tangy cream cheese mixed with lemon and sugar that makes the most amazing dessert. Even in the middle of winter, I will choose to eat lemon cheesecake. Maybe it's because I'm secretly dreaming of a warmer climate, but I just love it year round.
Add ginger into the mix as well and I'm completely sold and in love. These Lemon and Ginger Cheesecake Bars have my heart forever and now I'm sharing them with you, so you can fall in love too!

Lemon and Ginger Cheesecake Bars
These creamy Lemon and Ginger Cheesecake Bars are easy to make and pack a real flavour punch with their gingersnap crust and zest filled cheesecake top!
Ingredients
For the base:

2

cups

(240g) gingersnaps/ginger nut biscuits

1

stick (113g) unsalted butter,

melted and slightly cooled

1/4

tsp

ground ginger

For the cheesecake:

8

oz

(225g) full fat cream cheese,

at room temperature

One 14oz/397g can of condensed milk

3

tbsp

icing sugar,

sifted

Zest of 1 lemon

1/2

cup

(120ml) freshly squeezed lemon juice

Fresh fruit for garnish,

optional
Instructions
Grease and line an 8x8 inch square pan and leave to one side. I used Wilton Bake Easy and grease proof paper.

Place ginger biscuits into your food processor and blitz until you have fine crumbs. Alternatively, you can place the biscuits in a Ziploc bag and smash with a rolling pin until you have fine crumbs.

Place the biscuit rubble into a medium sized bowl and pour the melted butter on top. Stir until all the crumbs are coated in butter, then tip into your prepared pan.

Press firmly into the pan until you have an even layer. I used the base of a measuring cup to ensure I get an even layer. Place in the fridge for 30 minutes.

Once the base has chilled, make the cheesecake: Place cream cheese, condensed milk, icing sugar and zest into a large bowl and whisk until smooth.

Add in your freshly squeezed lemon juice and whisk for 15-25 seconds until thickened and smooth. It will almost be a bit jelly like in consistency.

Tip on top of your chilled base and smooth over with the back of a spoon/spatula.

Place in the fridge for at least 3 hours, overnight if possible, until firm to the touch and it doesn't run when the pan is tilted.

Note: This cheesecake will not be 100% set like a baked one, it will always be a little bit softer, but it will keep its shape!

Once chilled, run a sharp knife around the edge of your pan and lift and wiggle the grease proof paper gently, until the cheesecake comes free. Transfer to a cutting board and slice into 12-16 bars - I find it easier to use a pizza cutter!

Lemon and Ginger Cheesecake Bars will keep in an airtight container, in the fridge for 3 days.


I link up at these great Link Parties!