Golden French Toast is topped with a beautiful Banana Berry mixture that takes this breakfast to another level. Your taste buds will explode with every bite of this amazing breakfast!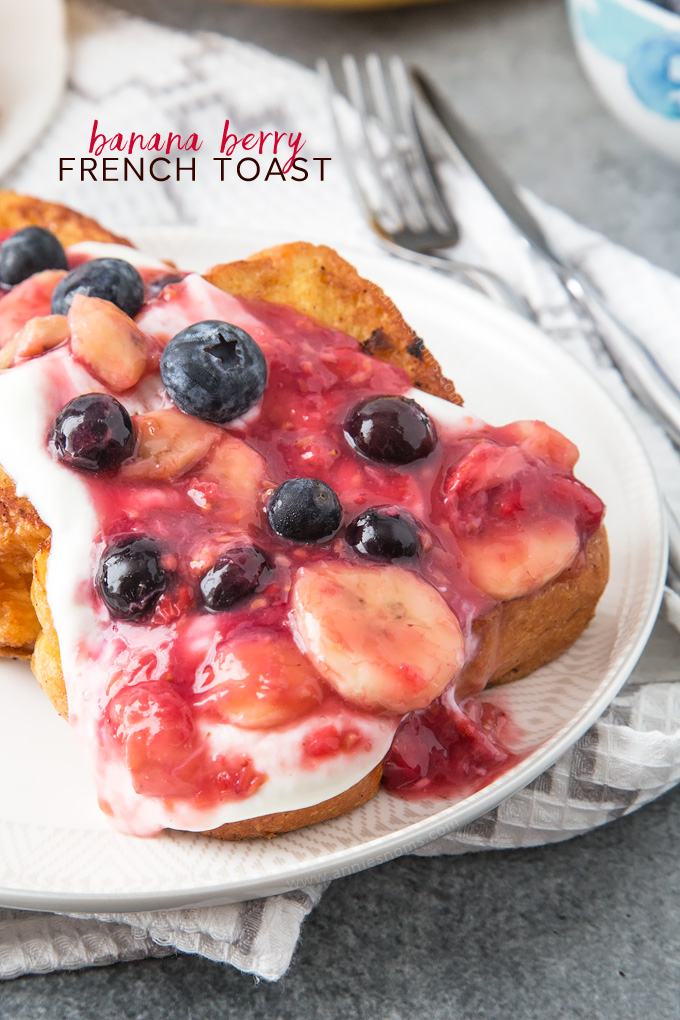 Do you ever find yourself going through… phases is the only way I can describe it?
I've always done it, even as a child. It could be a particular thing I want for breakfast. I will have the exact same thing for as long as a "phase" lasts.. it could be 3 weeks or it could be a year. Or it could be a game I want to play, or I will become obsessed with a particular object or programme. The worst phases for me are the ones that make me buy things. These come and go as they please. In the past it's been cookbooks, then food props, then make up… currently it's clothes.
As much as I tell myself to stop and that this is not normal, I just can't until the phase decides it's over and the next one will start. I really hope it's a free one next time… this one is getting expensive!!! I mean… I now have some gorgeous stuff. But the postwoman hates me because she has to knock on the door practically every day with my new purchases.
To be honest, the make up one was expensive too. I now have an incredible array of expensive make up which I love. But I am glad that phase has passed!!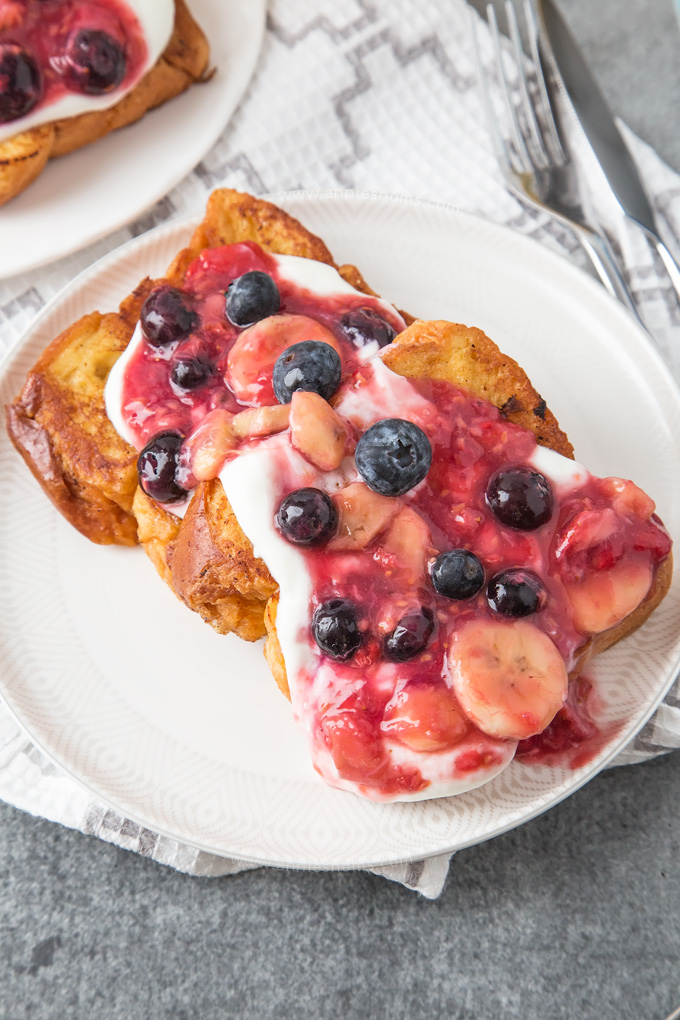 I've never been diagnosed with any kind of obsessive compulsive disorder, but I do sometimes wonder if I have it in some form because every aspect of my life is incredibly ordered to the point where I absolutely have to do certain things, otherwise I can't get on with my day because it will play on my mind. Like laundry; I fold towels the exact same way and they have to go the same way in the cupboard every single time otherwise I cannot leave the bedroom and have to take everything out and start again.
I have to hoover in straight lines and make sure everything is straight on the coffee table. If I do something with one foot, I have to do it with the other and count until it's an even number. I physically could not hop on my left leg and then not do it on my right!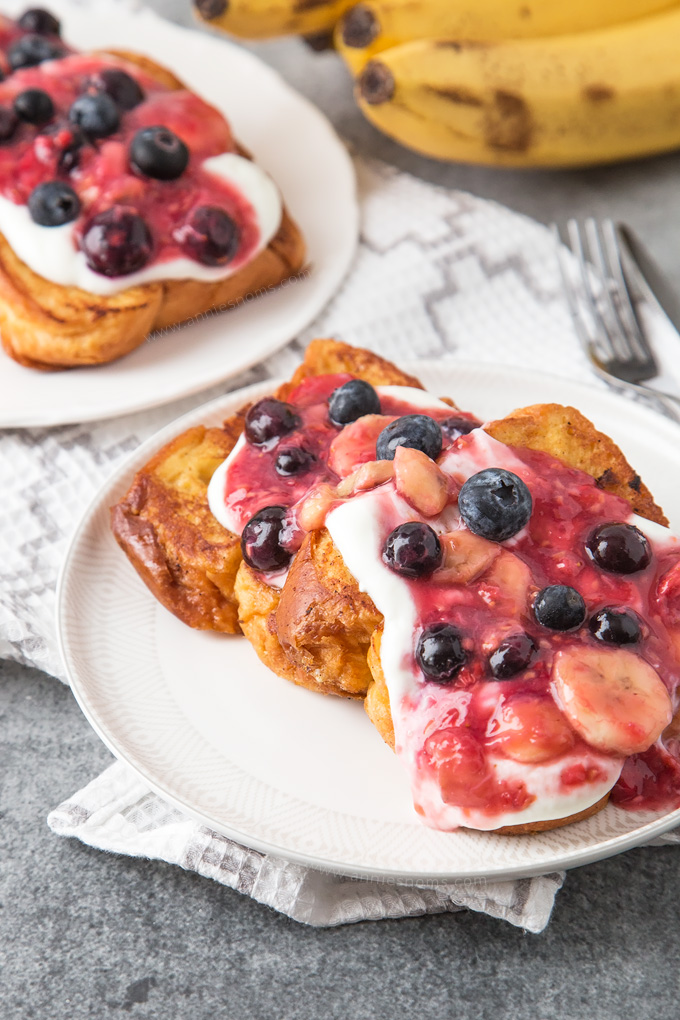 I've always had to have everything symmetrical and at school, I was that person who lined up my pencil case, pencils, calculator and papers up in a perfect straight line every single day.
It's strange how minds work… don't you think?
Although I bet you're probably reading this and thinking "GO TO THE DOCTOR!" 😀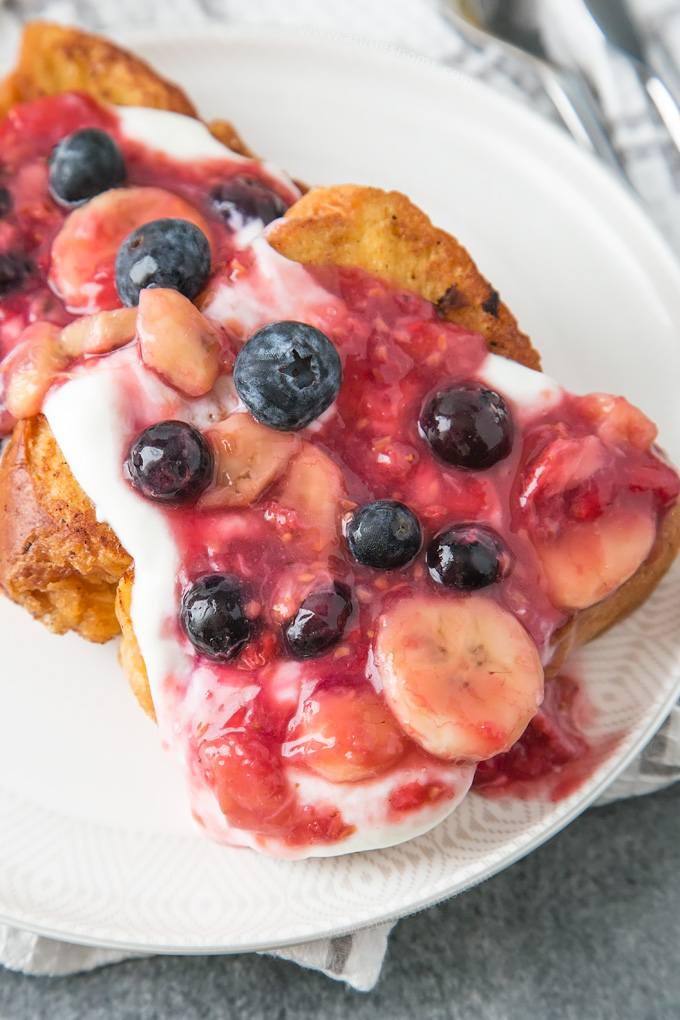 I'm not sure what made me want to share that. I think I'm in a reflective mood. Just sitting here thinking how strange it is that I just hoovered the living room in perfect straight lines!!!
Anyway. Can we talk about decadent breakfasts, like this Banana Berry French toast? (I really hope French toast doesn't become a phase because I will be saying goodbye to my skinny jeans!!)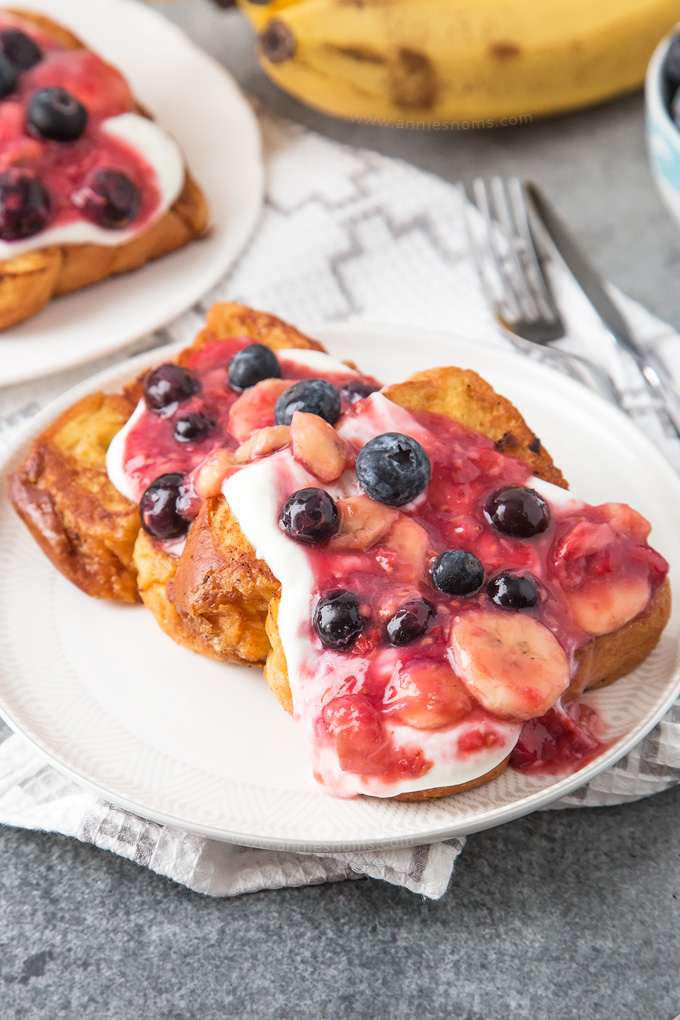 Golden fried bread topped with soft, tender fruit is just incredible though; it's such a wonderful combination. Quite possibly the best! Cooked blueberries just burst in your mouth; the strawberries and raspberries create the most amazing pink tinged sauce. And the bananas are soft, but not mushy. Oh man. This recipe is GOOD!
AND… it's easy! To make the fruit topping; you just place all the ingredients in a saucepan and place on a low heat until it boils and then thickens. Continue to cook it until the raspberries and strawberries become a sauce and the bananas are tender. That's it!
As for the French toast; you need some day old bread and an egg/milk mixture. Dunk the bread into the wet mixture and then fry both sides of the bread until golden. Plop it on a plate, spoon a good helping of the fruit on top and then devour. This truly is the perfect breakfast to start your day off on the right foot!

Banana Berry French Toast
Golden French Toast is topped with a beautiful Banana Berry mixture that takes this breakfast to another level. Your taste buds will explode with every bite of this amazing breakfast!
Ingredients
For the fruit topping:

1

large banana,

sliced

1/2

cup

(75g) blueberries

1/2

cup

(75g) diced strawberries

1/2

cup

(62g) raspberries

1

tbsp

caster sugar

3

tbsp

water

2

tsp

cornflour

For the French Toast:

1-2

tbsp

unsalted butter

6

slices

day old white bread,

thick sliced

2

large eggs

1/2

cup

(120ml) milk

2

tsp

caster sugar

1/2

tsp

vanilla extract

Greek Yoghurt to serve,

optional
Instructions
Make the fruit topping first: Place sliced banana, blueberries, strawberries, raspberries, sugar, water and cornflour into a medium sized saucepan and place over a low heat.

Bring to a boil, stirring frequently, and then cook for 2-4 minutes until slightly thickened and the raspberries and strawberries have cooked down into a sauce and the blueberries and bananas are soft, but still have a little bite.

Leave to cool whilst you make the French Toast: Place the eggs, milk, sugar and vanilla into a shallow bowl and whisk together with a fork until combined.

Place 1tbsp butter into a large frying pan/skillet and place over a medium heat. Once the butter is melted and sizzling, dunk a slice of bread into the egg mixture for a couple of seconds and then flip and dunk the other side.

Place in the frying pan and fry each side of the bread until golden, 1-2 minutes per side. You may have to cook in batches if your pan is not big enough! (Mine wasn't - hence the need for more than 1tbsp butter!)

Transfer toast to a plate while you make the rest of the French toast. (Unless you have a huge pan!) Before you fry each batch, place a bit more butter into the pan and wait for it to sizzle before adding the bread.

Once all the bread is fried. Place 1 or 2 slices of bread on a plate and top with a spoonful of Greek yoghurt in the centre of the slice of toast, if using. Then add a spoonful of the banana berry mixture and serve immediately.

Note: If your bread is a little fresher than you would like, leave it out on a tray for a couple of hours before you make the French Toast and it will dry out!


I link up at these great Link Parties!