These chewy Birthday Cake Blondies are filled with chunks of Oreo cookie and Funfetti to make a fun new dessert to enjoy on your birthday!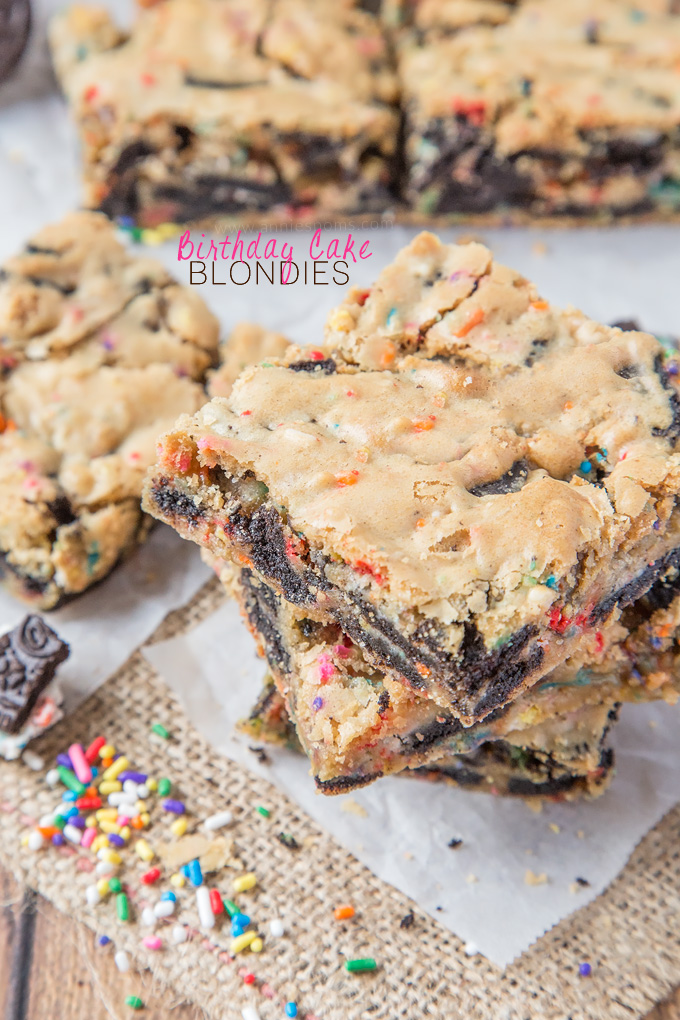 I finally got my hands on some Birthday Cake Oreo's!
Can we have three cheers for finding them in a UK supermarket please?!
I mean they may have cost more than an entire chicken.. But hello new to me Oreo flavour. I needed them.
These Birthday Cake Blondies are chewy, soft and filled with 2 cups of broken up Oreo's. These bars are for those weirdos people who don't like cake. My fiancé included.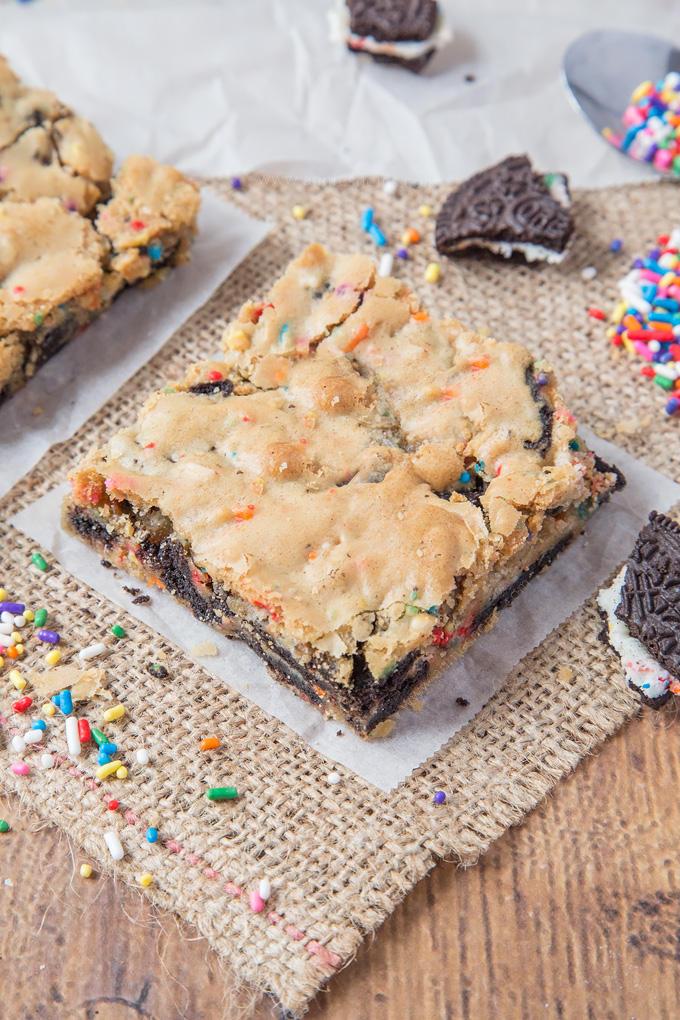 I don't know why my head decided that I absolutely, must make these Birthday Cake Blondies now, but it did. Even though there's no birthday in my family until my Dad's next month. I'm just going to keep blaming things on the fact I'd never tried these particular Oreo's before… 😉 So when I did, I simply had to make something with them ASAP!!
I pray one day common sense will prevail and we will get allllllllllllll the Oreo flavours in the UK. Until then, I have to stalk the American section in every Tesco I walk into and also keep checking a few sweet companies that sell US candy here and don't charge the earth to ship. I mean… I love Oreo's, but I have a limit. £30 for shipping? No thanks.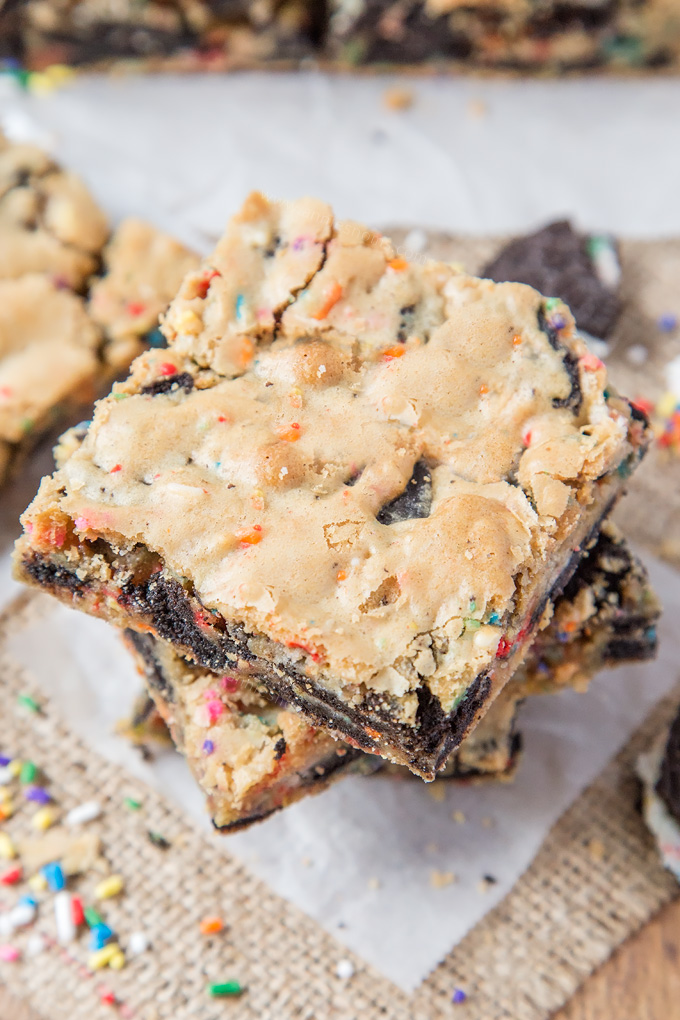 I also haven't made blondies in ages, so that needed to change. I love how simple they are. All you need is melted butter, sugar, an egg, vanilla, flour, salt and baking powder. Then you add in whatever you want, chocolate chips, fruit, Oreo's…. the options are endless. You can honestly make any flavour blondie you want.
As much as I adore a great big, thick and fudgy brownie, I'm aware that there are those of you who prefer a lighter dessert. In that case, blondies are perfect. Strictly speaking, these don't have chocolate in, but you can use this base and add in chocolate chips and then you'll end up with a lighter version of a brownie.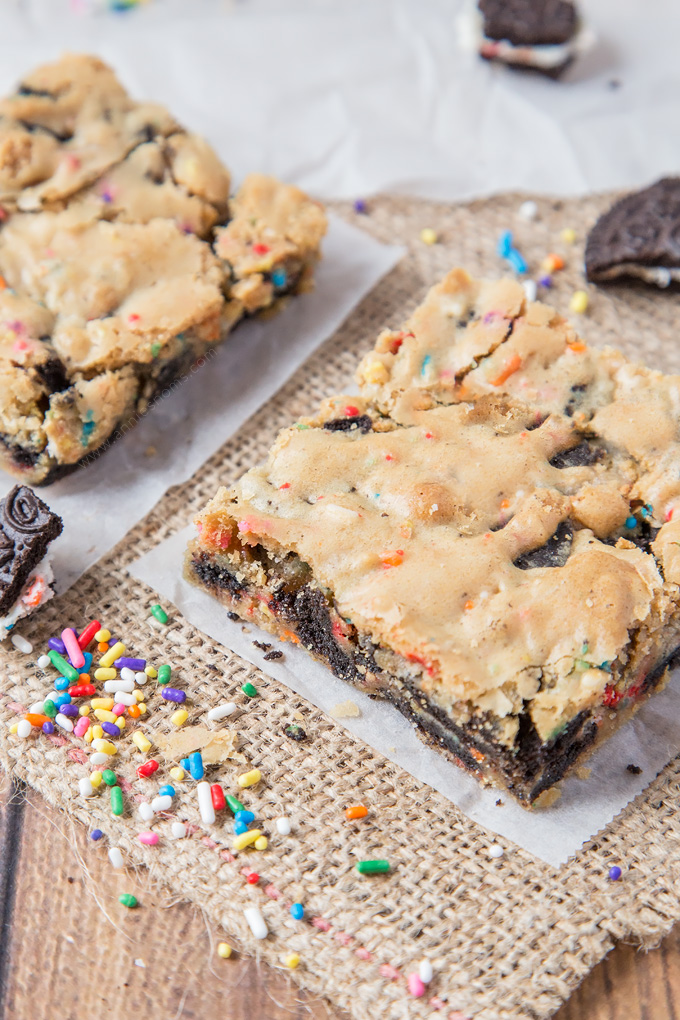 I like to think blondies are the slightly less rich and chocolatey sister to the brownie. 😉
To add to the fun factor of these bars I also added in 2tbsp of Funfetti. If somebody brought me a tray of these with a candle in for my birthday, I honestly wouldn't be disappointed! I think I may even make these for Mr AN's birthday as he can take or leave cake and sometimes it just ends up going to waste after he's had one slice. He's one of those people who loves something when they eat it, but then forgets about it and leaves it for me to clear up in a few days time… STORYOFMYLIFE.
There were no leftovers of these amazing blondies though. Totally addictive and ready in under 30 minutes. My gift to you this Thursday! 😀

Birthday Cake Blondies
These chewy Birthday Cake Blondies are filled with chunks of Oreo cookie and Funfetti to make a fun new dessert to enjoy on your birthday!
Ingredients
1

stick (113g) unsalted butter,

melted and slightly cooled

1

cup

(200g) light brown sugar

1

tsp

vanilla extract

1

large egg

2

tbsp

funfetti/sprinkles

1/2

tsp

baking powder

Pinch of salt

1

cup

(140g) plain flour

2

cups

(240g) Birthday Cake Oreo's,

broken up roughly
Instructions
Preheat the oven to 180C/350F and grease and line an 8x8 inch square pan. I used Wilton Bake Easy and grease proof paper. Leave to one side.

Place melted butter, sugar and vanilla into a large bowl and whisk until well combined and smooth. Mixture will be pale brown and thick.

Add in the egg and mix until well combined.

Add in funfetti, salt, baking powder and salt and whisk until a you have a thick, smooth batter.

Add in the broken up Oreo's and fold in gently with a spoon.

Tip into your prepared pan and spread into an even layer with the back of a spoon/spatula.

Place in the oven for 22-27 minutes, until risen slightly, golden and the top looks matte when the oven light hits it. An inserted skewer into the centre will have a few crumbs on, but not liquid batter. The edges will come out clean when you insert a skewer.

It's important not to over bake the blondies as they will set when cooling and may become like rocks if over baked!

Leave to cool in the pan completely, before transferring to a cutting board to slice into 9-12 bars.

Birthday Cake Blondies will keep in an airtight container, at room temperature, for 5 days.


I link up at these great Link Parties!