This Strawberry Shortcake Cobbler is filled with juicy strawberries, topped with a light as air shortcake and whipped cream; the perfect Summer dessert for sharing!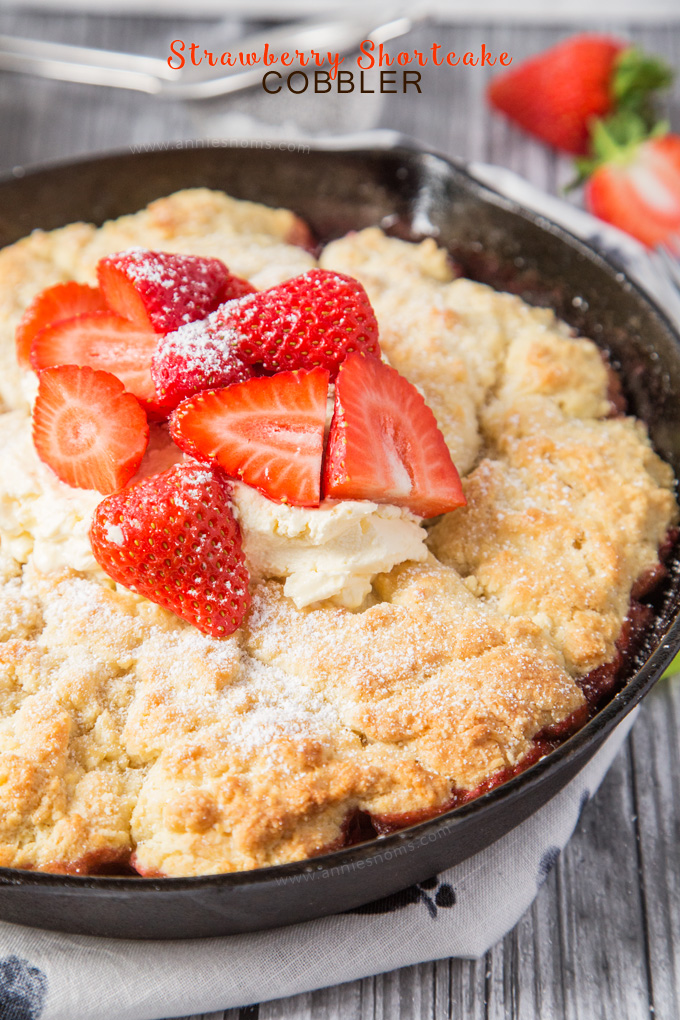 Howdy guys! I hope everyone had a great Bank Holiday weekend! (Memorial Day if you're in the US). I made this insanity. A Strawberry Shortcake served in a skillet, like a cobbler. Hello perfect sharing dessert! Before that… let's talk about the weekend!
Mr AN and I had a date night (by night, I mean we were finished and home for 9pm!!!! #born80) for the first time in ages on Sunday; we went for Sushi and then went to watch Alice Through the Looking Glass. It was SOOOO good! I've always been obsessed with Alice… For as long as I can remember. If something has Alice on it, I want it. Be it Christmas decorations, a mug, artwork for the house….. anything!
Oh and I also bought myself a leather bound version of all of Lewis Carroll's works recently. It's pink with gold pages. Enough said!
Have you seen the new Urban Decay Alice collection? I was incredibly tempted, but then my logical reasoning came in and I realised I probably can't pull off blue or purple lipstick. Shame.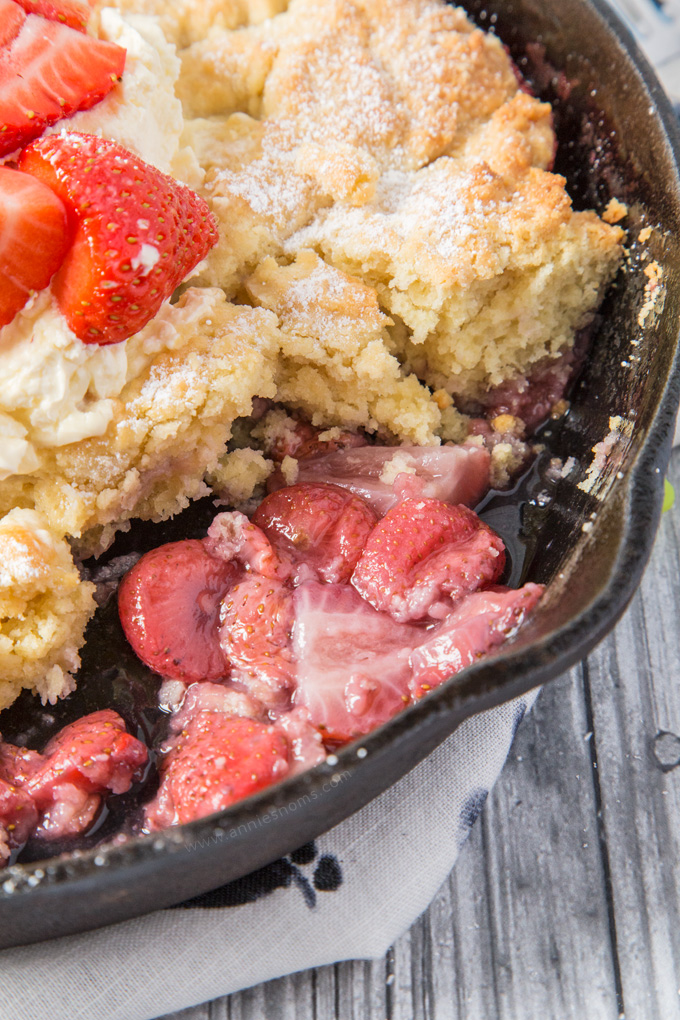 Anyway, let's talk about this Strawberry Shortcake Cobbler. At first I was just going to make a giant Strawberry Shortcake in a skillet, then I thought about maybe making a cake and then topping it with strawberries and cream… then I had a brain wave and thought "actually…. why not make this a cobbler?!"
You know I love a hybrid dessert! 😉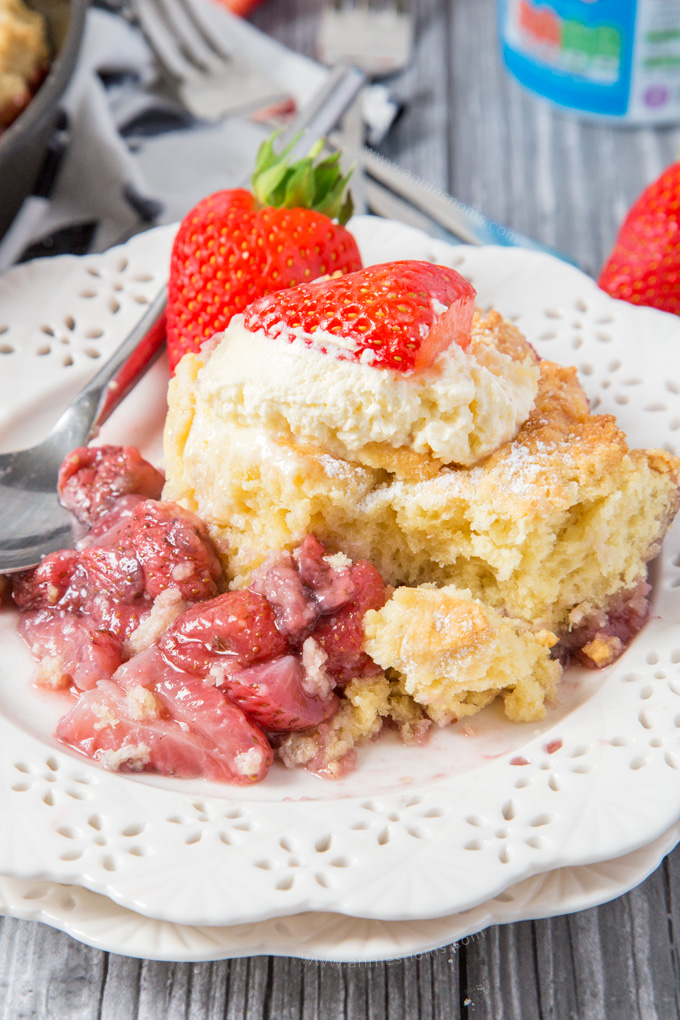 You've probably also guessed that I'm a tiny bit obsessed with my skillet at the moment. I just love how simple desserts in them are; you can both bake and serve from the same pan and they're just perfect for sharing… if you're that way inclined. I'm not personally much of a sharer when it comes to desserts!
In order to make this beautiful, light and fluffy dessert; I started out exactly as I would if I was making standard shortcakes. I mixed my dry ingredients together in a large bowl, then used my fingers to rub the butter into the flour until I had a coarse breadcrumb texture.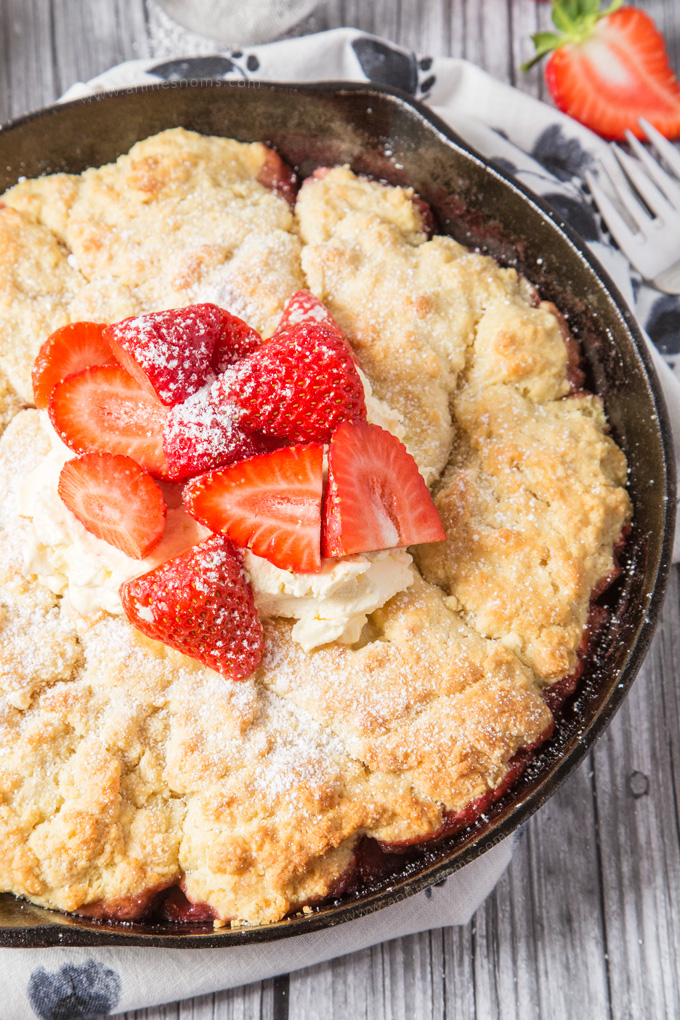 After that, you slowly add in an egg and cream mixture, mixing gently until a soft dough forms. This is where things differed from original shortcakes… 🙂
I halved 1 and 1/2 pounds of strawberries, sprinkled them with a little sugar and then left them for a few minutes to get juicy!
The next stage is marrying these two components together! I spread all the strawberries out into an even layer in the bottom of my skillet, then dropped large spoonfuls of the shortcake mixture on the top. Next was to pop it in the oven to become a risen, puffy heavenly dessert. All kinds of yes. 😀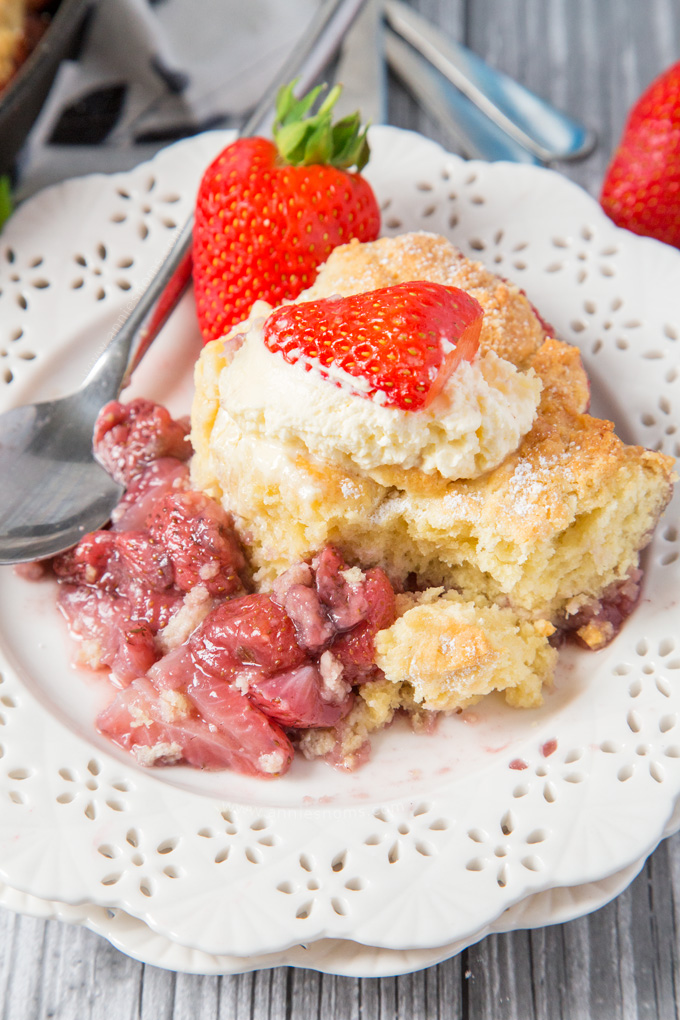 This cobbler only takes around 15 minutes to bake and the crowning glory once it's cooled is to pile it with whipped cream and more strawberries. I mean, if you're going to do a strawberry dessert, do it properly, right?!
Over 1 and 1/2 lbs of strawberries in one glorious place? My idea of heaven! I am the self professed strawberry queen!
So, if you need a dessert that it's quick, easy and delicious, then I have you covered with this amazing Strawberry Shortcake Cobbler. I won't judge if you go back for seconds (or thirds!).

Strawberry Shortcake Cobbler
This Strawberry Shortcake Cobbler is filled with juicy strawberries, topped with a light as air shortcake and whipped cream; the perfect Summer dessert for sharing!
Ingredients
For the strawberries:

1 1/2

lbs

(675g) strawberries

hulled and halved

3

tbsp

caster sugar

For the shortcake:

2 1/2

cups

(315g) plain flour

2

tsp

baking powder

1/4

tsp

bicarbonate of soda/baking soda

Pinch of salt

1/4

cup

(50g) caster sugar

1

stick (113g) unsalted butter,

cold and cubed

2

large eggs

1/2

tsp

vanilla extract

1/2

cup

(120ml) double/heavy cream

Extra cream,

whipped to soft peak, for topping

Icing sugar for dusting,

optional
Instructions
Preheat the oven to 190C/375F and spray a 10 inch skillet with cooking spray.

Place halved strawberries and 3tbsp sugar into a medium sized bowl and toss until all the strawberries are coated in sugar. Leave to one side.

Now make the shortcake: place flour, baking powder, bicarb, salt and sugar into a large bowl and mix briefly to combine.

Add in cubes of cold butter and then either use a pastry blender, or your fingers to cut the butter into the flour mixture until you have a coarse breadcrumb texture. Some pea sized lumps of butter is fine.

Place eggs, vanilla and cream into a jug and beat lightly with a fork.

Add half of the cream mixture to your flour mixture and start to mix with a fork. Add in the remaining cream mixture, slowly (you may not need it all) and continue mixing until a soft dough forms.

Reserve around 1/2 cup strawberries for the top, but tip the rest of the strawberries into your prepared skillet and spread into a level layer.

Drop large spoonfuls of the shortcake mixture all over the strawberries. it doesn't matter if the dough doesn't entirely cover all of the strawberries; it will rise and spread in the oven.

Place in the oven for 15-20 minutes, until risen, very lightly golden and the strawberries are bubbling around the edges. Top will sound hollow if you tap on it.

Leave to cool for at least 45 minutes before serving; it tastes great hot or cold (Yes, I tried!).

Before serving; place a large helping of whipped cream into the centre and top with the strawberries you left to one side; sprinkle with icing sugar, if desired and serve!

Strawberry Shortcake Cobbler will keep in an airtight container, in the fridge for 2 days.


I link up at these great Link Parties!