This light and refreshing Blueberry Lemonade is totally homemade, yet incredibly easy to make. Perfect to make ahead and chill, you will love this sweet beverage!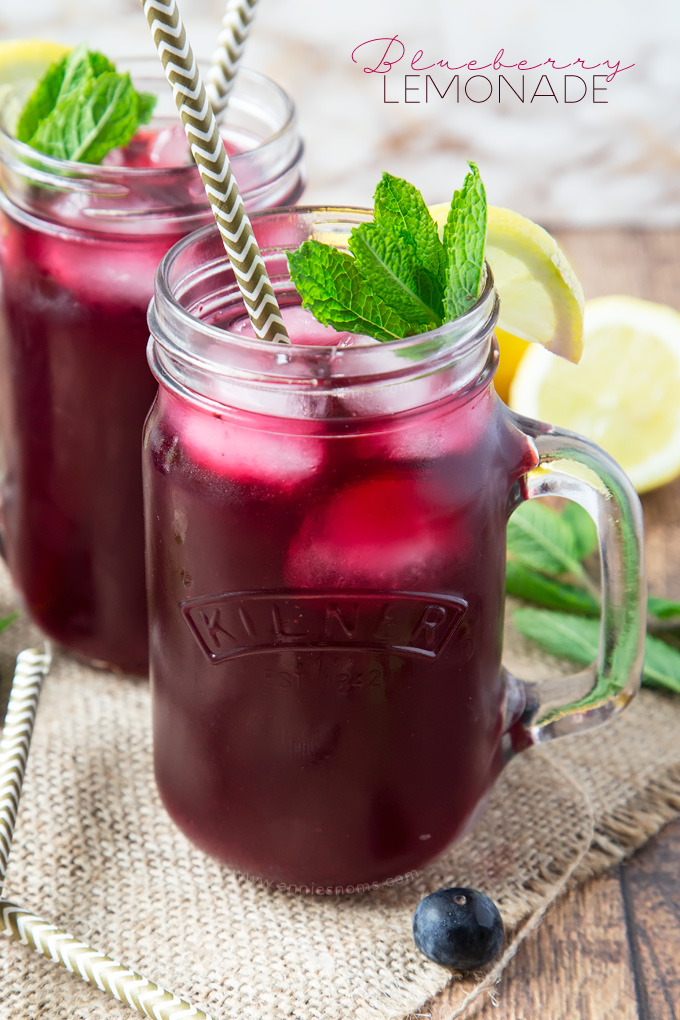 Oh, how I love homemade lemonade! Especially when blueberries are involved!
Cooking up the blueberries to make the simple syrup made my kitchen smell absolutely fantastic, even if I did spray purple blueberry juice all over the hob! Mind you, purple is better than red, right? I would definitely have got some weird looks from anyone walking by if I was smearing red splashes all over the place!
Getting over the fact that I'm seriously messy in the kitchen, can we just take a moment to stare out how pretty this lemonade is?! I'm losing myself in its deep, purple hue!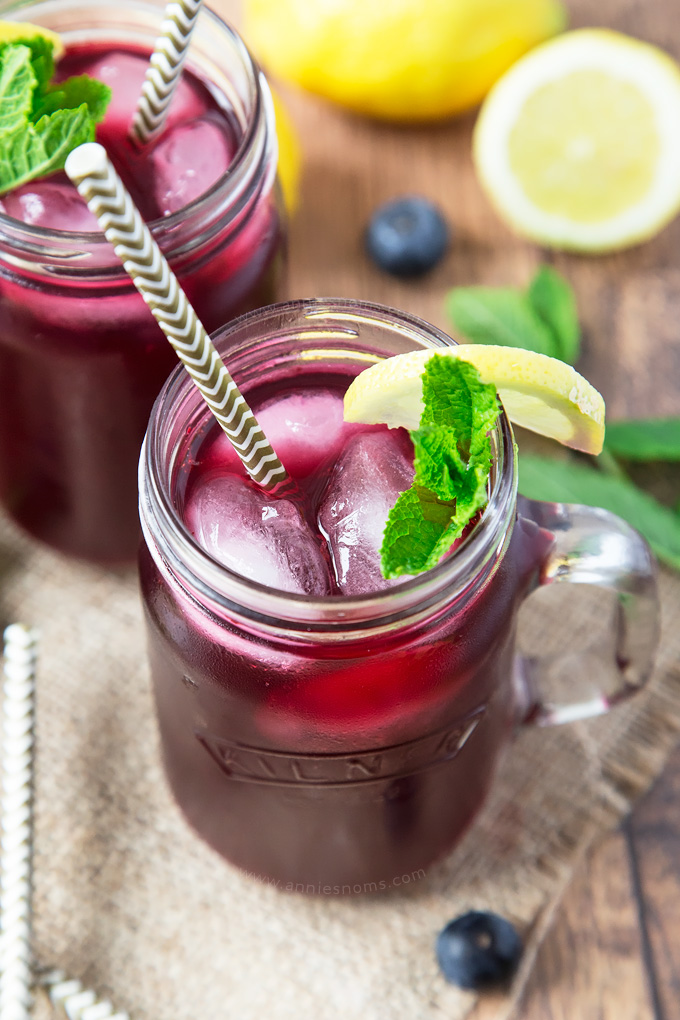 Ugh. Change of topic: Before we talk more about this pretty, glorious lemonade, can I ask if I'm going mad? (OK… maybe don't answer that… you might think I'm already there!).
So. Say you're not invited to a family event. But then the people throwing the event think it's OK to ask someone in my family to be a taxi service to this event we're all not invited to.
(Which also happens to be on my Dad's birthday.)
That's out of order, right????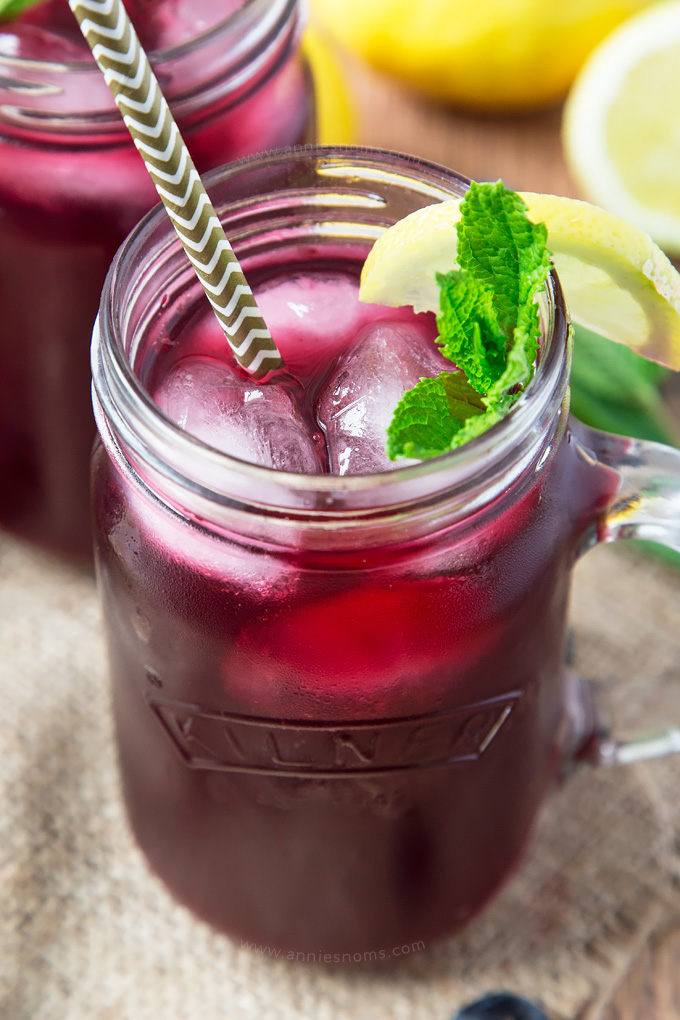 Because I can't fathom what makes anyone think that that is OK. ???? And we are pissed. (BTW this is not the first time something like this has happened which made me even more angry).
This made me come out of Facebook status hibernation. I'm pretty sure I haven't posted anything in 9 months… I'm just not someone who feels the need to live my life on Facebook. I quite like that nobody knows what's going on in my life unless they actually make an effort to talk to me. 🙂 BUT I was cross and I angry posted. Probably not sensible. It included a swear word… sorry Mum! 😉
I do honestly want to know what you think though. Would you treat people like that? Because I was brought up to treat people how I want to be treated.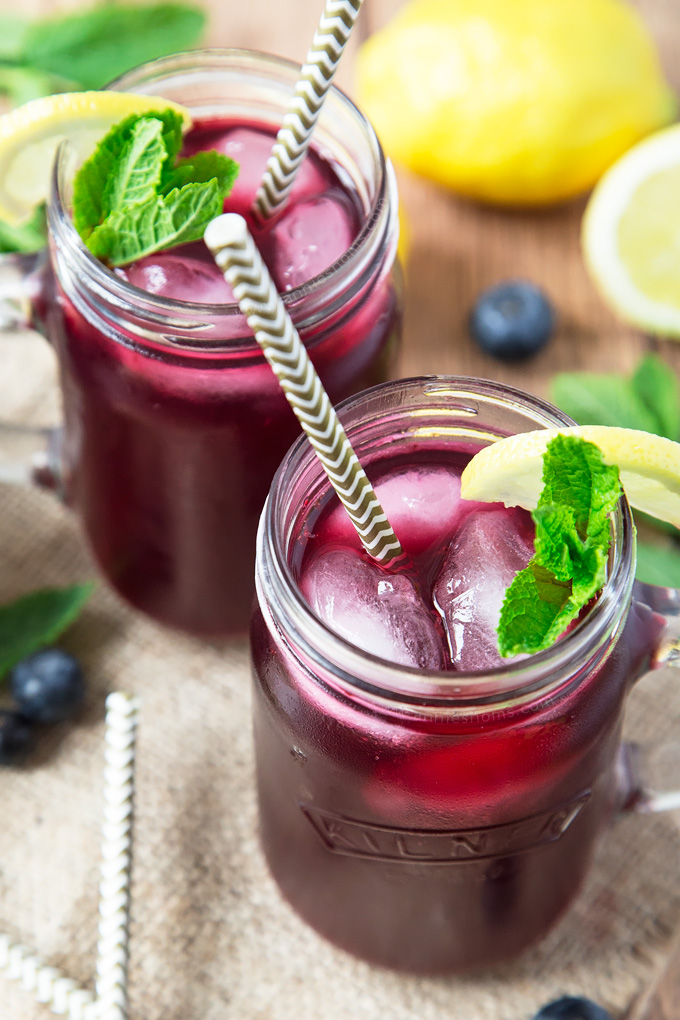 *sigh* This is why I work from home. There's less drama. I can just shut my laptop and any nasty people are gone; so much easier. Face to face you have to do that weird, fake smile where you pretend to like someone whilst actually gritting your teeth and wishing they would leave you alone.
I decided long ago I had no time for people who just take, take, take. Relationships are a two way thing. I work hard, I have 2 jobs, I don't have time for negativity and difficult people; life is too short.
I want to spend as much time as I can enjoying life, laughing until my tummy hurts, spending time with those I love and who love me back. Maybe I'm crazy… But I'm happy.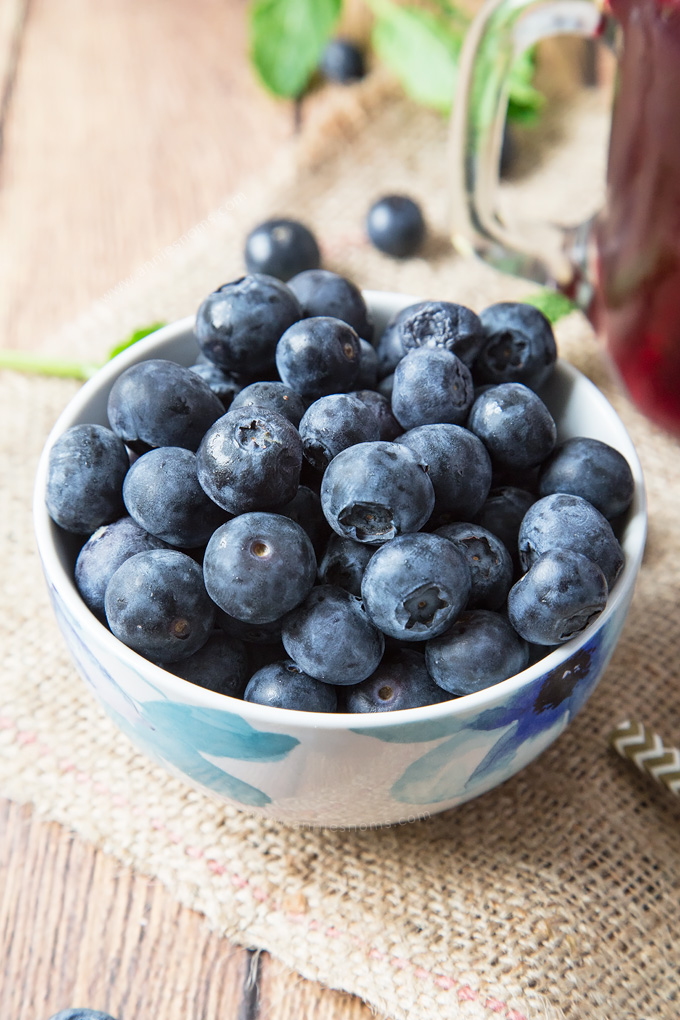 Well, that was a major tangent. I only intended it to be about 4 sentences… sorry! Can we lighten things back up again?!
This Blueberry Lemonade is completely homemade and the hands on time is still under 15 minutes… Well, I didn't make the water… but apart from that, it's homemade! 😀 2 cups of fresh blueberries are mixed with water and sugar to create a dark, intense blueberry infused simple syrup, then cooked until they burst and give up all of their flavour.
The next step is to strain the mixture, before adding in your freshly squeezed lemon juice and water. It can be still or sparkling; I prefer my lemonade sparkling, but it really is down to you. Place it in the fridge to chill and then pour yourself a huge glass with ice cubes and a cute straw! Enjoy!

Blueberry Lemonade
This light and refreshing Blueberry Lemonade is totally homemade, yet incredibly easy to make. Perfect to make ahead and chill, you will love this sweet beverage!
Ingredients
1

cup

(240ml) water

1

cup

(200g) caster sugar

2

cups

(300g) fresh blueberries

2/3

cup

(160ml) freshly squeezed lemon juice

4

cups

(960ml) still or sparkling water
Instructions
Place 1 cup water, sugar and blueberries in a medium sized saucepan, over a low heat.

Bring to a boil, stirring occasionally and then cook for 4-5 minutes until the blueberries burst and cook down into a mush. Mixture will be intensely purple and all the sugar should have dissolved!

Place a sieve over a large jug/pitcher and strain the blueberry mixture to get rid of any pips. Discard the blueberry pulp.

Add in the fresh lemon juice and water and stir until combined.

Place in the fridge until chilled, around 2 hours.

Serve with ice cubes, a few blueberries and a wedge of lemon.

Blueberry Lemonade will keep covered, in the fridge, for 3 days.


I link up at these great Link Parties!