These S'mores Stuffed Strawberries might be bite sized, but they pack a real flavour punch! Sweet, chocolatey and a little crunchy; these treats are completely addictive!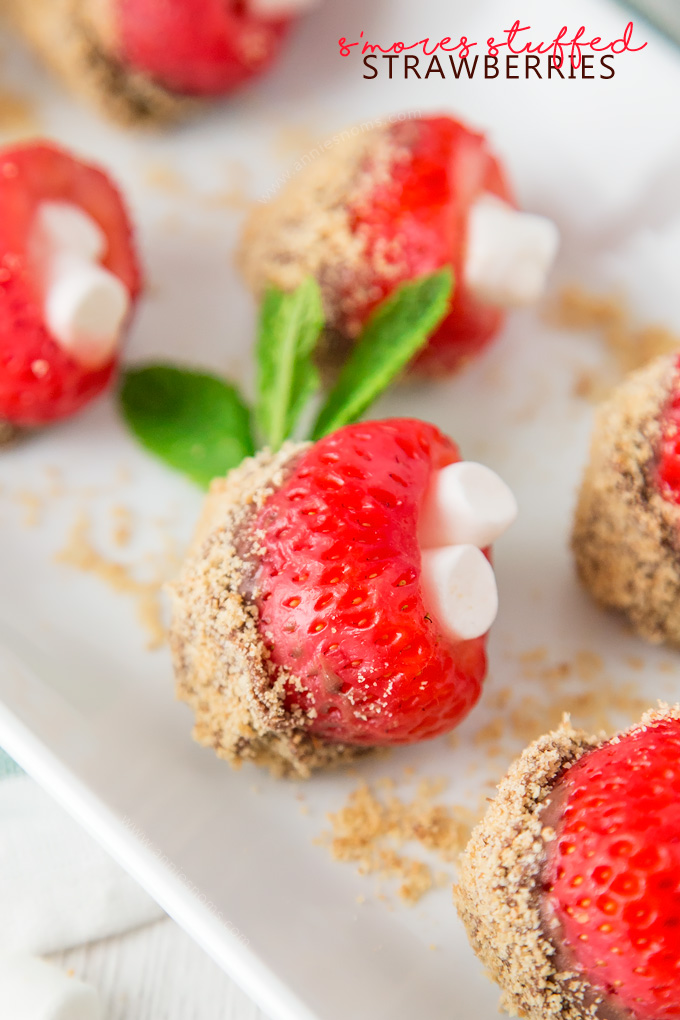 Well, hello there Thursday. Nice to see you. I am glad we've made it more than half way through the week because I am looking forward to seeing my family this weekend!
Also, the sun seems to be back! Last week was a complete write off weather wise; it was dull, grey and we even had to turn the heating on (!!! It's JUNE!) but it seems we are basking in glorious warmth again here in the UK! We may have had one thunder storm here, but it lasted about 10 minutes and then it was back to sunshine!
Which means it's time to turn the oven off for a while and enjoy refreshing homemade lemonade, and these moreish little S'mores Stuffed Strawberries!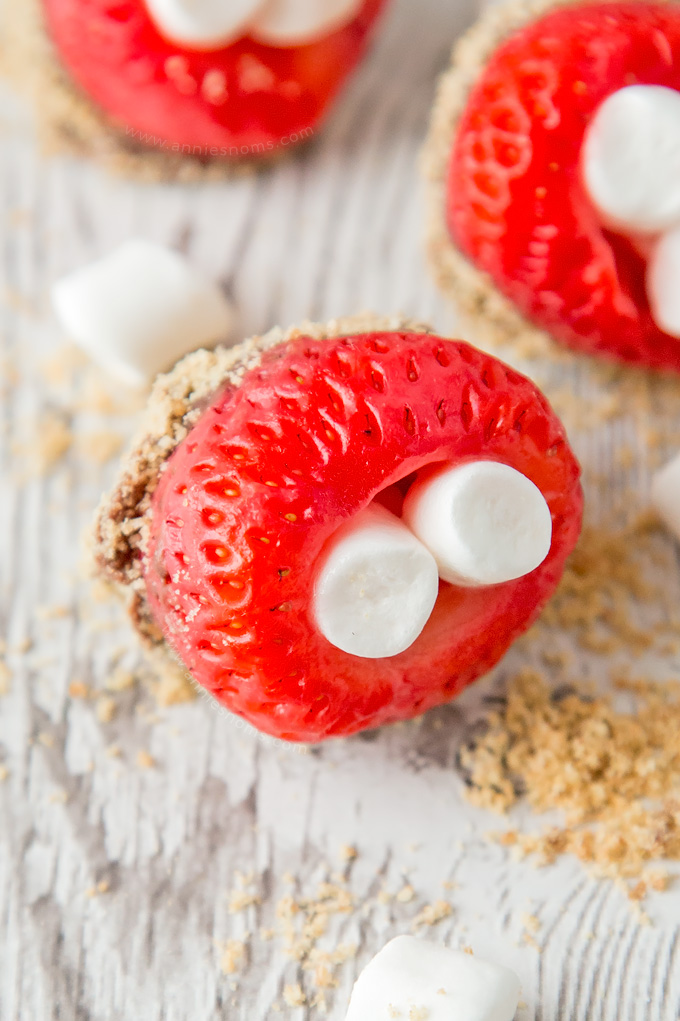 I know S'mores are a US thing, but it makes me so sad we don't have the same love for them here. I mean, what is better than chocolate, biscuit and marshmallow all together?!
I can't think of anything! It's like the best combination ever! Crunchy, sweet and rich; this flavour combination has everything!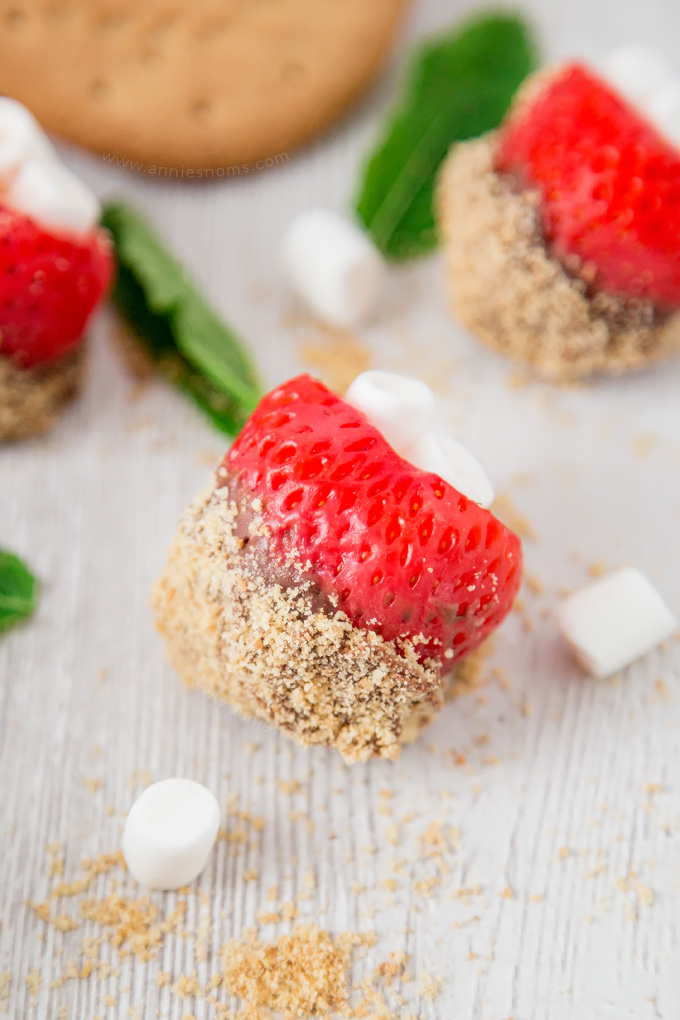 In the past, I've made S'mores Bars, S'mores Cupcakes, S'mores Bark, S'mores Cheesecakes…… You get the idea. I'm a little obsessed with S'mores!!!
So today; I wanted to make an easy, no-bake treat that you can make in next to no time. I think I succeeded with these suckers. Although I warn you now: they will not last long!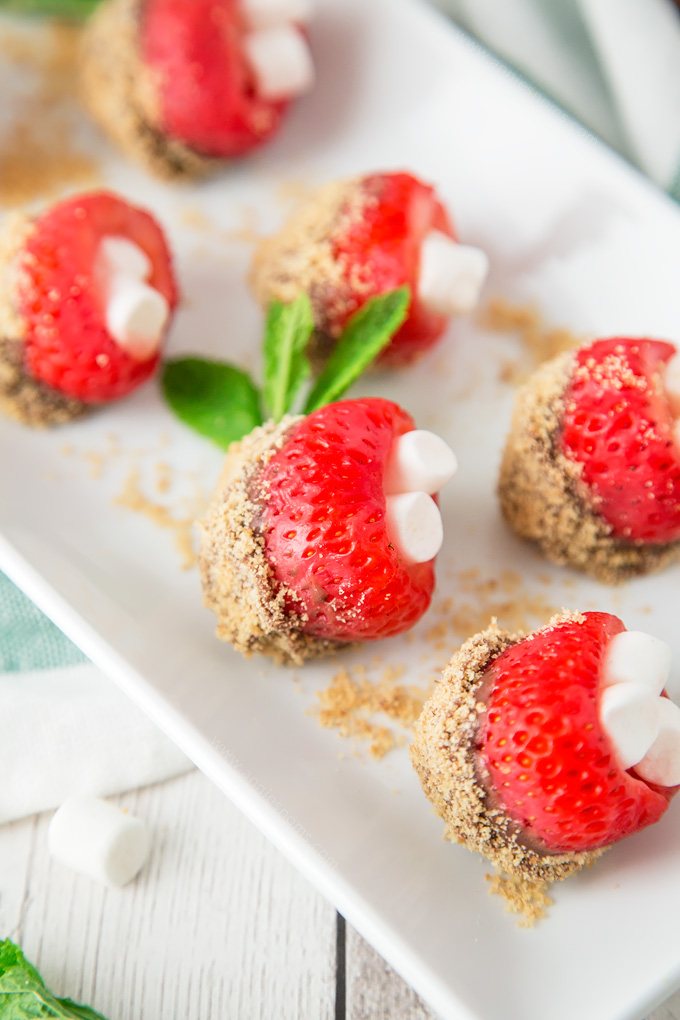 I lost count of how many I ate while making them. It's a miracle any made it to be photographed.
Juicy strawberries, hulled and filled with mini marshmallows, then rolled in melted chocolate and crushed digestives/graham crackers.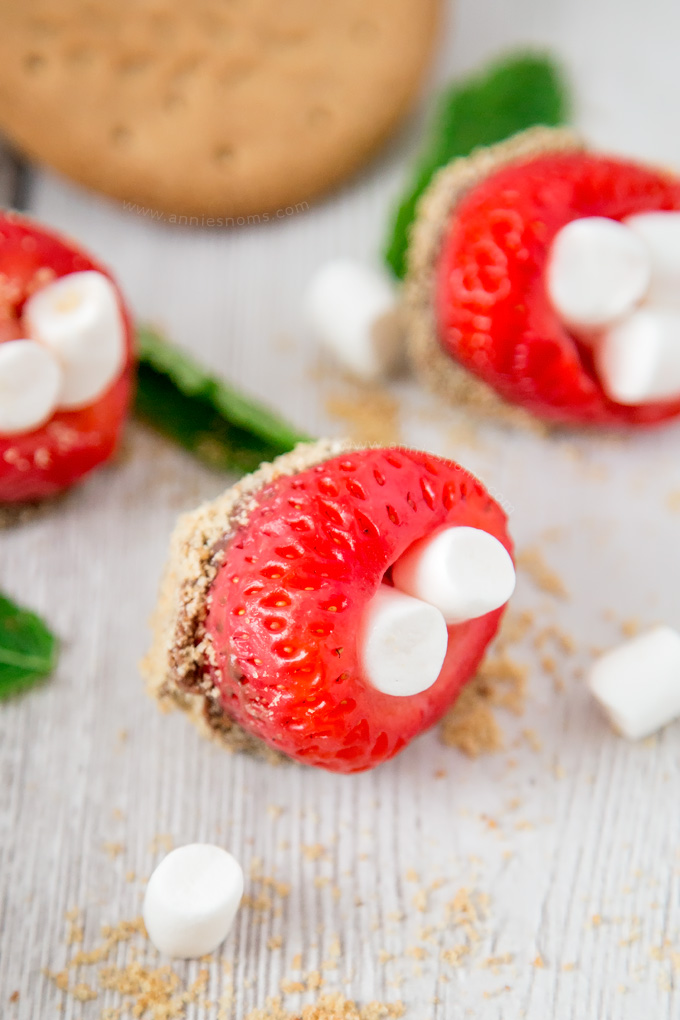 The perfect little treat that feels naughty, but isn't. Well, my argument is that there's fruit involved, so they're healthy… 😉
(Let's ignore the chocolate. Marshmallows are fat free too… So healthy, right?)
The hardest part of this recipe is probably hulling the strawberries. And by hard I mean boring. It's hardly the most riveting thing in the world to be hulling a ton of strawberries, but needs must when the result is this good!
I really hope you enjoy these S'mores Stuffed Strawberries. They were certainly a hit here! Have a great weekend and I'll be back sharing new recipes next week! 😀

S'mores Stuffed Strawberries
These S'mores Stuffed Strawberries might be bite sized, but they pack a real flavour punch! Sweet, chocolatey and a little crunchy; these treats are completely addictive!
Ingredients
1 1/2

cups

(247g) whole strawberries,

this was 12 large strawberries for me

1/4

cup

(15g) mini marshmallows

3

oz

(85g) milk chocolate

1/3

cup

(40g) crushed digestive biscuits/graham crackers
Instructions
Line a baking tray with grease proof paper/a silicone mat and leave to one side.

Slice the top off of each strawberries and then use a sharp knife to remove the core of each strawberry, making sure you leave enough strawberry around the edge for it to be strong enough to stand!

Note: If you have a tool to hull strawberries, then use that! (I really should get one!).

Stuff each strawberry with as many mini marshmallows as will fit. In some I could get 2 in, in others 4!

Place on the lined baking tray whilst you prepare the next ingredients: Place the chocolate in a heat proof bowl and microwave in 20 second increments, stirring in between each increment, until the chocolate is melted and smooth.

Tip the digestive/graham cracker crumbs into a shallow bowl.

Pick up a strawberry and dunk it into the melted chocolate, I decided to only dunk mine so the chocolate would come up half way, but you can cover the strawberries completely if you want; up the chocolate amount to 3.5oz/100g if you do this.

I also found it easier, to prop the bowl up at a slight angle to make the chocolate a little deeper as I didn't have a deep heat proof bowl. I then used a spoon to coax the melted chocolate around each strawberry. Once coated, remove strawberry from the melted chocolate, wait for excess to drip off and then dunk into your digestive crumbs and roll until the chocolate is covered.

Return to lined baking tray and repeat until all strawberries are covered.

Leave to cool for 15 minutes and then place the tray in the fridge for at least 30 minutes, 1 hour is preferable, until set.

Serve straight from the fridge, or remove from the fridge 20 minutes before serving. S'mores Stuffed Strawberries will keep in an airtight container, in the fridge for 2 days.
Notes
I got 12 large S'mores Stuffed Strawberries from this recipe, but it is easily double or tripled!


I link up at these great Link Parties!