These soft and chewy Strawberry Oatmeal Cookies are jam packed with flavour and plenty of fresh strawberries! The perfect accompaniment to your afternoon coffee!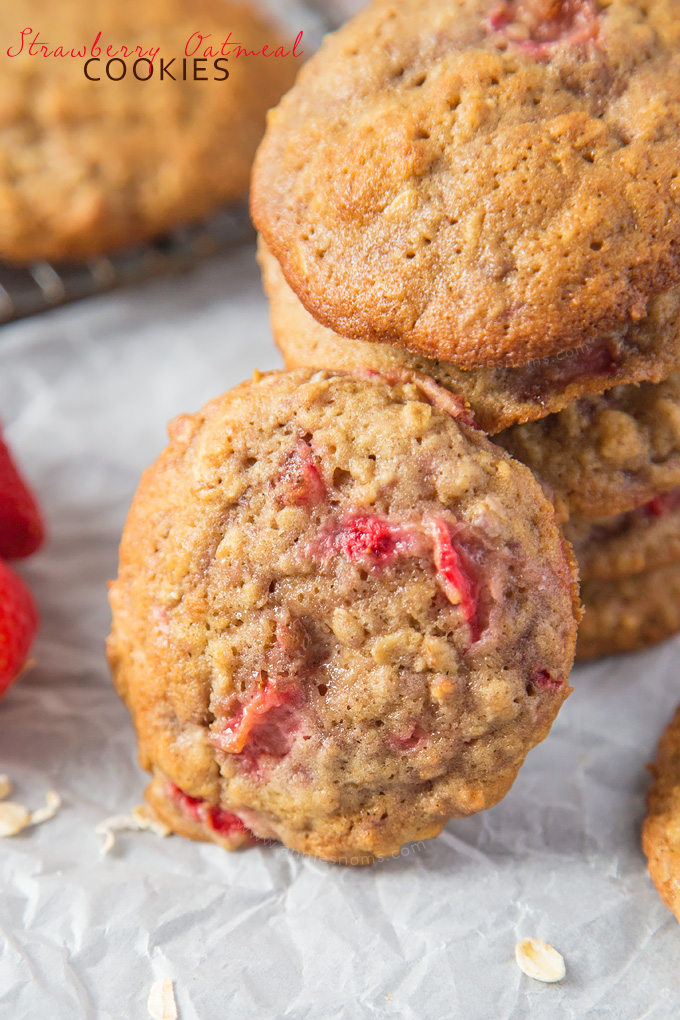 Why do thunderstorms happen at the most inconvenient time?
I mean, I don't like them at the best of times, but last weekend it was a really inopportune moment.
If you've been reading my blog for a while/following me on social media, you'll know I'm a huge motorsport fan. Last weekend was the Canadian Grand Prix; it's always on in the evening here, instead of at lunch time which is the norm because of the time difference.
Anyway… the cars were all lined up, ready to go and *boom* a huge clap of thunder and the Sky Box cuts out.
Then it kept coming back and cutting out and then we were like "ARGHHHHHH get the ipad!"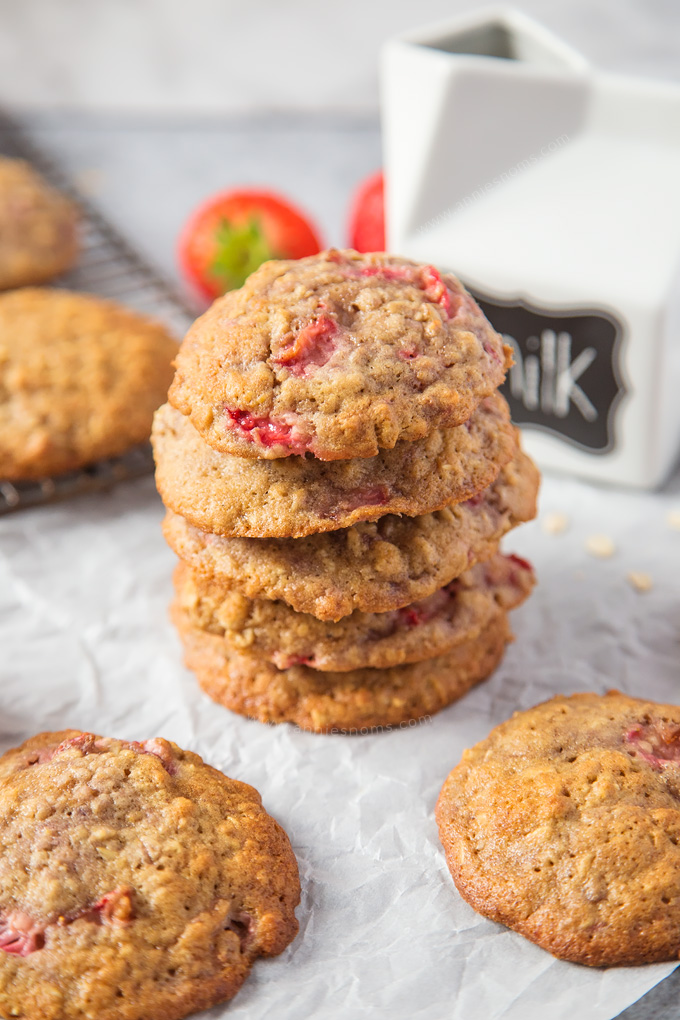 What would we do without technology, eh?
It came back about 15 minutes later and worked for half an hour before being like "girl, bye" and dying for the rest of the evening. I thought the days were gone where we had to crowd around tiny screens…
It was quite a thunderstorm too! It lasted at least 4 hours and there were loads of flash floods around us. I normally love the morning after a storm as it's so cool and fresh outside. This time it stayed muggy as hell, so not sure if we're due anymore this week.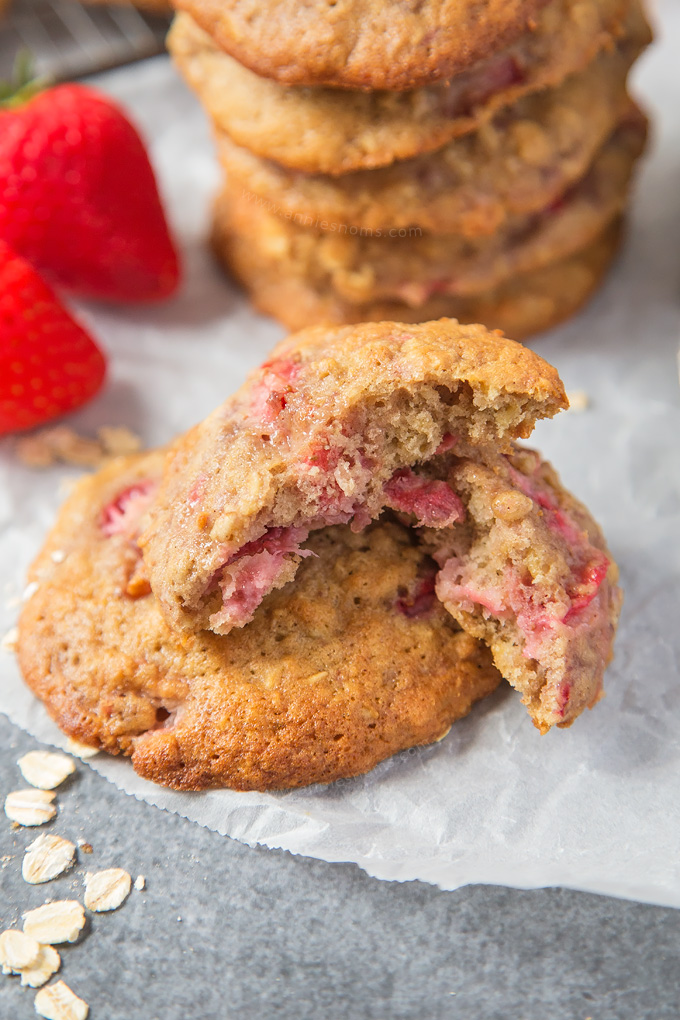 I tell you what would have made my evening better? One of these Strawberry Oatmeal Cookies.
Or three.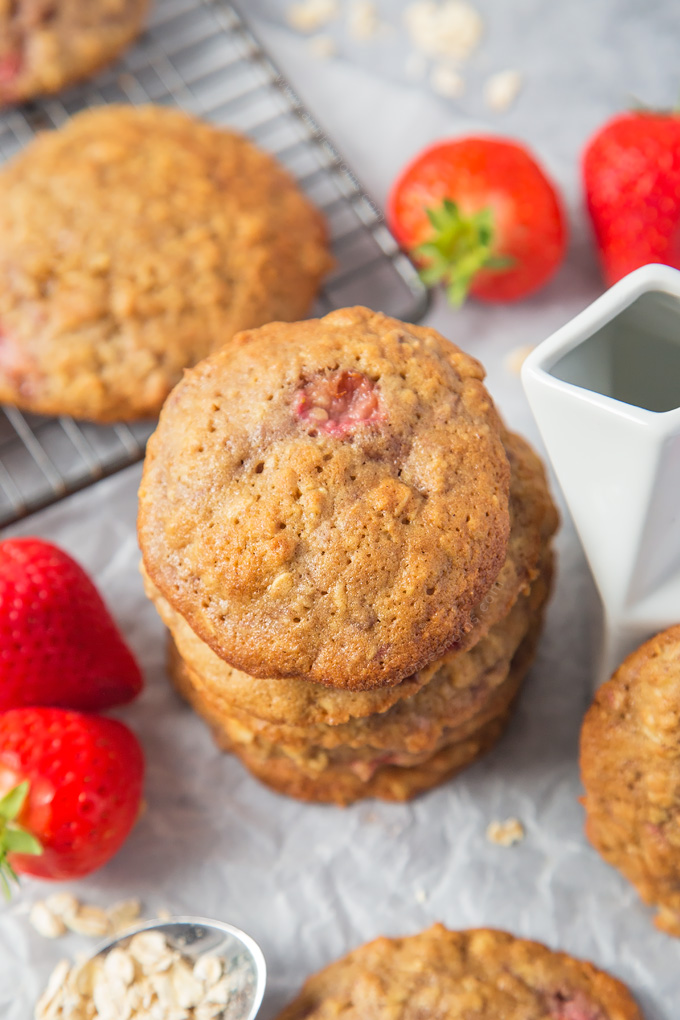 I don't often crave cookies without chocolate chips, but I really was the other day, so I just had to make oatmeal cookies. There's something so comforting about them. They are soft and chewy and I like to convince myself semi-healthy because oats are good for you, right?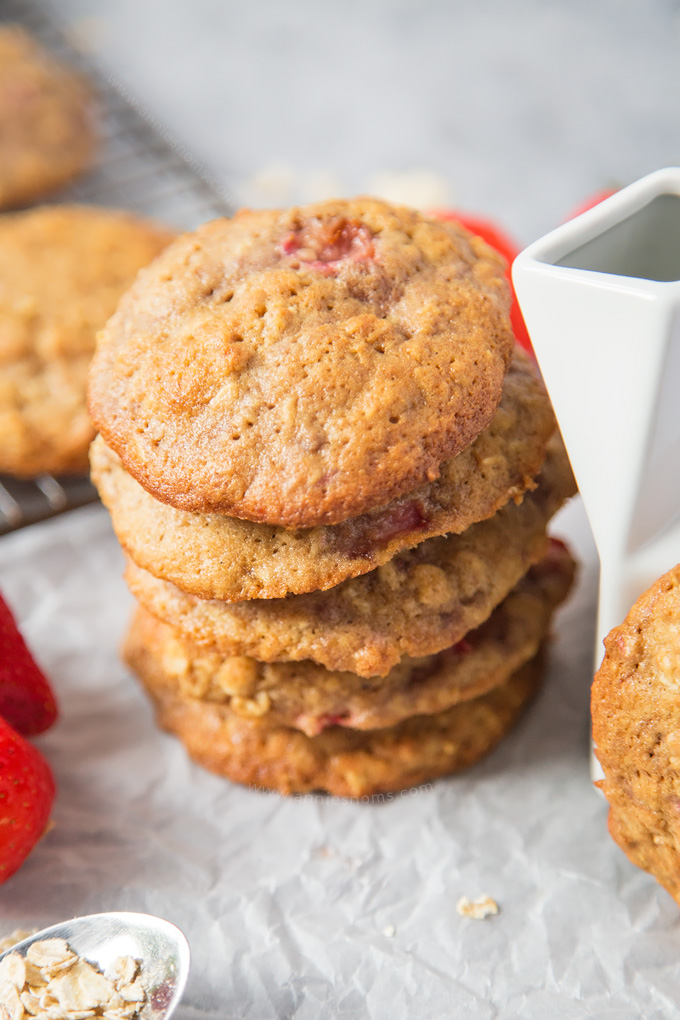 I've made Oatmeal Raisin and Pumpkin Oatmeal Cookies in the past, but this time I was feeling strawberries since it's well and truly strawberry season here and the berries are so unbelievably delicious and sweet I want to bathe in them.
#strawberryobsessedforlife.
These are the perfect oatmeal cookies for those of you who don't like the "surprise" of raisins in your oatmeal cookies. I promise there are no surprises in these cookies. No raisins hiding as chocolate chips. Just oats, a tiny bit of cinnamon and plenty of fresh, juicy strawberries.
Cookie perfection!

Strawberry Oatmeal Cookies
These soft and chewy Strawberry Oatmeal Cookies are jam packed with flavour and plenty of fresh strawberries! The perfect accompaniment to your afternoon coffee!
Ingredients
1 1/2

cups

(210g) plain flour

2

cups

(160g) rolled oats

1 1/2

cups

(225g) strawberries,

diced

Pinch of salt

1

tsp

bicarbonate of soda/baking soda

1/4

tsp

ground cinnamon

1 1/2

sticks (170g) unsalted butter,

at room temperature

½

cup

(100g) caster sugar

½

cup

(100g) light brown sugar

2

large eggs

2

tsp

vanilla extract
Instructions
No need to preheat the oven yet, this dough needs to chill!

Place the flour, oats, strawberries, salt, bicarb/baking soda and cinnamon into a medium sized bowl and stir until all the strawberry pieces are coated in flour. Leave to one side.

Place butter and sugars into a large bowl, or the bowl of your stand mixer and beat until light and fluffy; around 2-3 minutes on medium-high speed.

Add in the eggs and vanilla extract, scraping down the sides of the bowl as necessary, and mix on med-high speed until well incorporated.

Tip in your flour and strawberry mixture and mix on low until a soft dough forms.

Transfer to a medium sized bowl, cover with cling film and then place in the fridge for at least 2 hours, 6 if possible.

Once chilled, preheat the oven to 180C/350F and line 2 baking trays with silicone mats/Silpat/grease proof paper.

Using a 1.5tbsp cookie scoop, place dough balls 2 inches apart and then press them down ever so slightly with your palm to stop them rolling away.

Place in the oven for 10-12 minutes, until risen, golden and they are firm to the touch on the outer edges, but still a little soft in the middle.

Leave to cool on the trays completely and then store in an airtight container, at room temperature, for 3 days.


I link up at these great Link Parties!